Posted on November 03 2021
Shop for mummy and baby essentials, including Bugaboo strollers, at Motherswork's 11.11 sale.
Snag attractive discounts this November at Motherswork during the 11.11 sale from leading brands like Bugaboo, Pigeon, Elvie and Avent. Here are our top picks for mums and your little ones.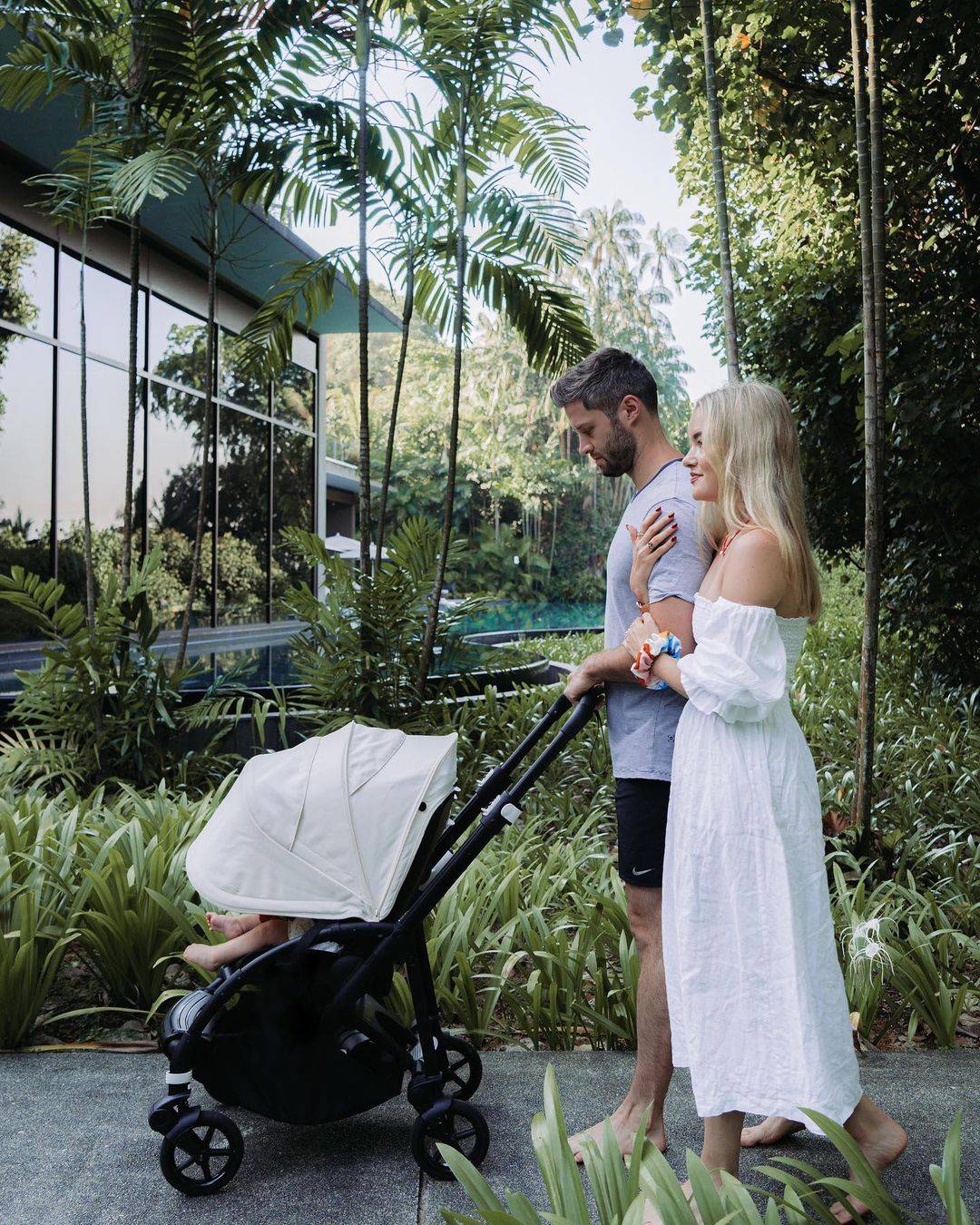 Easily travel around Singapore with Bugaboo strollers, like the Bee 6 pictured here, and its compatible BeSafe car seat.
Bringing the little ones around Singapore during the holidays? Rather than lugging around three separate items, or balancing them like a tower of Jenga, get a car seat that's compatible with your stroller. If the movement of the car has lulled your little one into a rare moment of slumber, you'd simply have to lift the car seat and put it on the stroller, so she can continue sleeping. This 11.11 sale, save on Bugaboo Bee 6, Donkey 3 and Fox 3, with an extended warranty of up to four years on all strollers.
Bugaboo Bee 6
The compact Bugaboo Bee 6 (now $1,199 to $1,299 from $1,329 to $1,429 with free seat liner) features large, puncture proof wheels, one-hand fold and integrated self-stand. It's great for navigating around the city, using public transportation or a taxi. With the Bugaboo baby cocoon or bassinet, you can use it with your newborn.
11.11 Sale Specials: Bugaboo Bee 6 and BeSafe iZi Go Modular X1 Car Seat, including seat fabric, car seat adapter, cup holder, seat cover, and baby mirror - now from $1,584 (UP $1,911)
Bugaboo Bee 6, BeSafe iZi Go Modular X1 Car Seat and Modular i-Size Base, with car seat adapter, seat fabric, cup holder, seat cover and BeSafe iZi transfer - from $1,895 (UP $2,360)
Bugaboo Fox 3
Suitable for any terrain you might come across, the Bugaboo Fox 3 has a four-wheel suspension for a smooth ride. Its ergonomic design supports your baby's development and offers maximum comfort, while its bassinet has a breezy panel for optimal airflow. You can also personalise the base and canopy with a range of colours and chic details.
11.11 Sale Specials: Bugaboo Fox 3 Complete and BeSafe iZi Go Modular X1 i-Size, including free car seat adapter, seat liner and cover and baby mirror - now from $2,334 (UP $2,730)
Bugaboo Fox 3 Complete, BeSafe iZi Go Modular X1 i-Size and i-Size base, with free car seat adapter, seat liner and cover and baby mirror - now from $2,345 (UP $3,179)
Bugaboo Donkey 3
Considering having another child in the future? Try the Bugaboo Donkey 3 ($2,359 to $2,439, UP $2,637 to $2,717 with a free seat liner) that converts into a double stroller in just three clicks. Even expanded side-by-side, the Bugaboo Donkey still fits through standard doorways. The Donkey offers lots of storage space in the underseat and side luggage baskets.
Bugaboo Stardust
The Bugaboo Stardust ($419, UP $474, with a free cotton sheet) offers both a safe play space as well as a sleeping area. Easily unfold the Bugaboo Stardust in a second, with the mattress in it, and fold it in three simple steps, thanks to the unique aerospace technology and smart design. The newborn insert means you can use it from birth and beyond.
Avent Feeding Essentials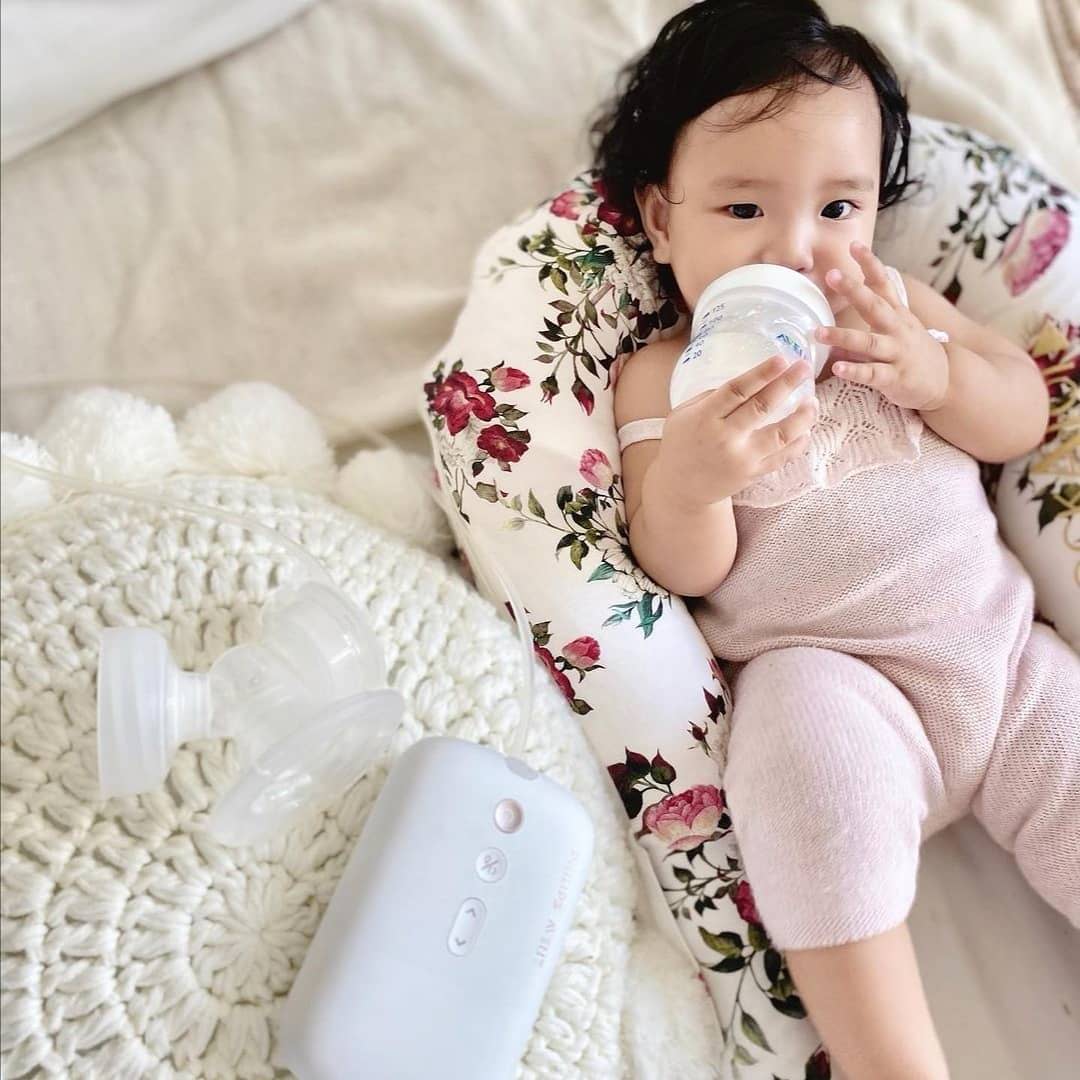 Avent's teats are designed to resemble the breast for breast and bottle feeding.
Cleaning and Heating Up
This 11.11 sale, stock up on some feeding essentials for your newborn. One essential for bottle feeding is the Avent Premium Bottle Steam Steriliser and Dryer ($145, UP $299). Sterilise up to six feeding bottles and their accessories in just 10 minutes, and have them ready and dry in 40 minutes. This steriliser kills 99.9 per cent of germs with pure steam. Keep the lid on and the contents will stay sterile for up to 24 hours.
Next, easily and quickly heat your milk bottles with the Fast Bottle Warmer ($65, UP $79), which can also prepare your baby's milk in three minutes. You can adjust the heating pattern for fast warming and defrost frozen milk and baby food. It also automatically warms to the perfect temperature.
Anti-Colic Feeding Sets
Additionally, try the Avent Anti-colic Silicone Teat (Buy 2, get 1 free for $17.80, UP $26.70). The teat with a vent allows air to be vented into the bottle rather than your baby's tummy. Compared to a competitor's anti-colic bottle, the teat and bottle reduced fussing at night by about 60 per cent. The gift set bundle ($49.90, UP $72.80)includes two 125ml and two 330ml baby bottles, a bottle and teat brush, an orthodontic soother and an AirFree vent.
Another option is the Natural Teats (Buy two get one free at $19, UP $29.70). The nipple is wide, and resembles the breast to promote a similar and natural latch on while also designed to reduce colic and discomfort. Hence, your baby can easily accept both breast and bottle feeding.
For Mums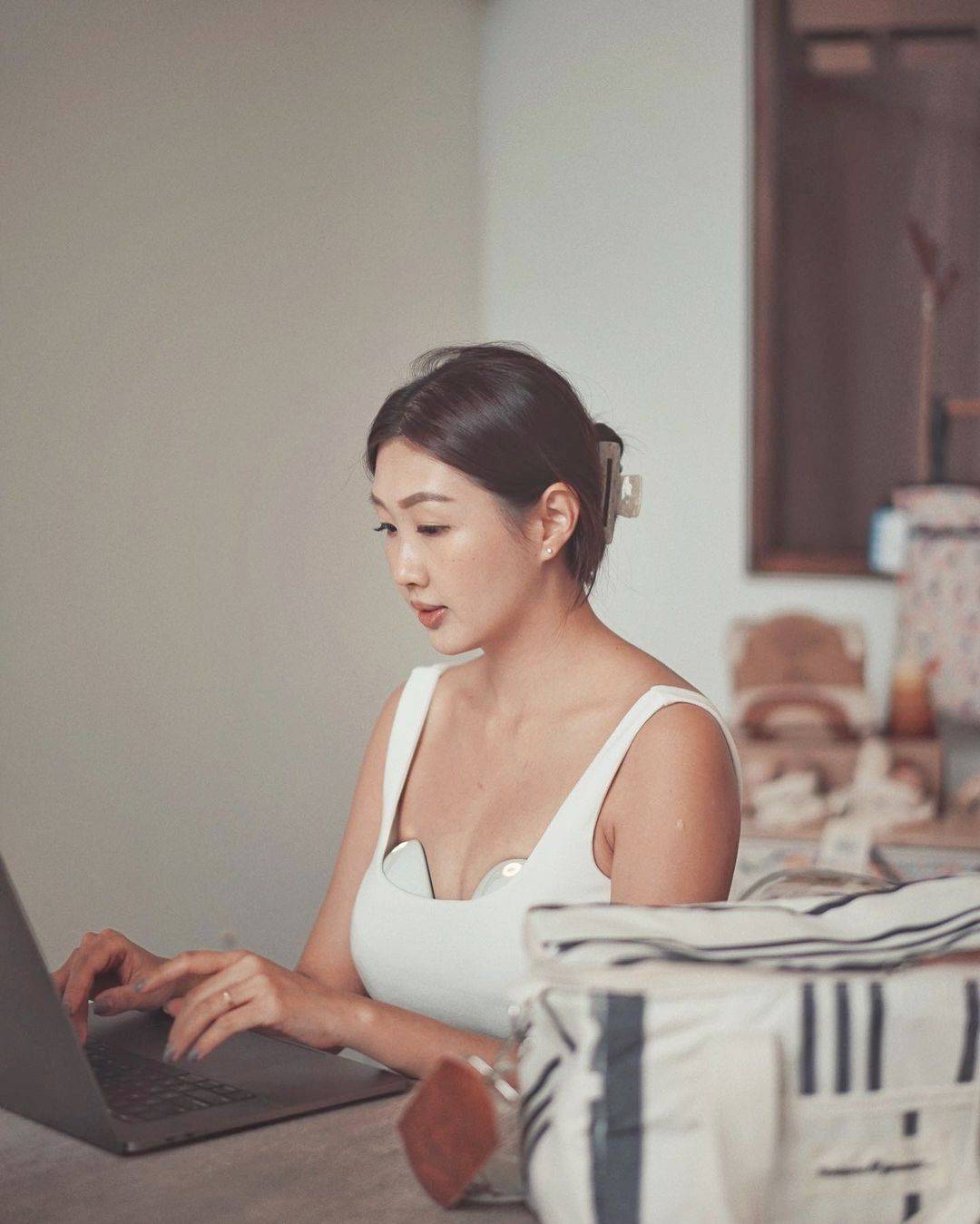 Easily and discreetly pump anywhere with the Elvie Pump.
Breast Pumps and Essentials
Able to adapt to any nipple size, the Avent Electric Single and Double Pump ($256 and $499 respectively, UP $320 and $599) helps busy mums express more milk in less time, using natural motion technology. The soft silicone cushion lets you express milk without having to lean forward. Personalise your pumping experience to suit you, with eight and 16 setting levels. The quiet motor and rechargeable battery also allows you to pump discreetly anywhere you go. Even better, the breast pump remembers your last settings, so you just need to press start.
Alternatively, for a hands-free experience, try the Elvie Pump ($679.15 for the double pump, UP $799), worn inside your nursing bra. Connect to the free app to monitor your milk volume in real time, track your pumping history and to control the pump remotely. Another fuss-free way to express your milk is by using the Elvie Curve ($67.15, UP $79), which uses natural suction via the silicone pouch. This is great for expressing milk on one side while nursing your little one on the other. It also collects up to 120ml of milk. In between feeds, collect any leaks with the Elvie Catch ($46.75, UP $55) collection cups.
Otherwise, collect leaks with the Pigeon Breast Pads Comfyfeel (2 for $18.90, UP $13.90 each) designed for all-day comfort, with its ultra-soft pad reducing nipple abrasion. Additionally, it's lined with aloe vera extract for added moisturisation. It also stays in place with improved adhesive under your clothing.
Pelvic Floor Training
Train your pelvic floor before, during and after pregnancy discreetly with the Elvie Trainer ($271.92, UP $319.90). This award-winning Kegel trainer helps you have better bladder control, faster postnatal recovery and even enhanced intimacy. Pelvic floor problems such as incontinence usually affect one out of three women, and about 80 per cent of new and expectant mothers. With fun workouts, you can see results in less than four weeks.
11.11 Sale Specials: Newborn Care with Pigeon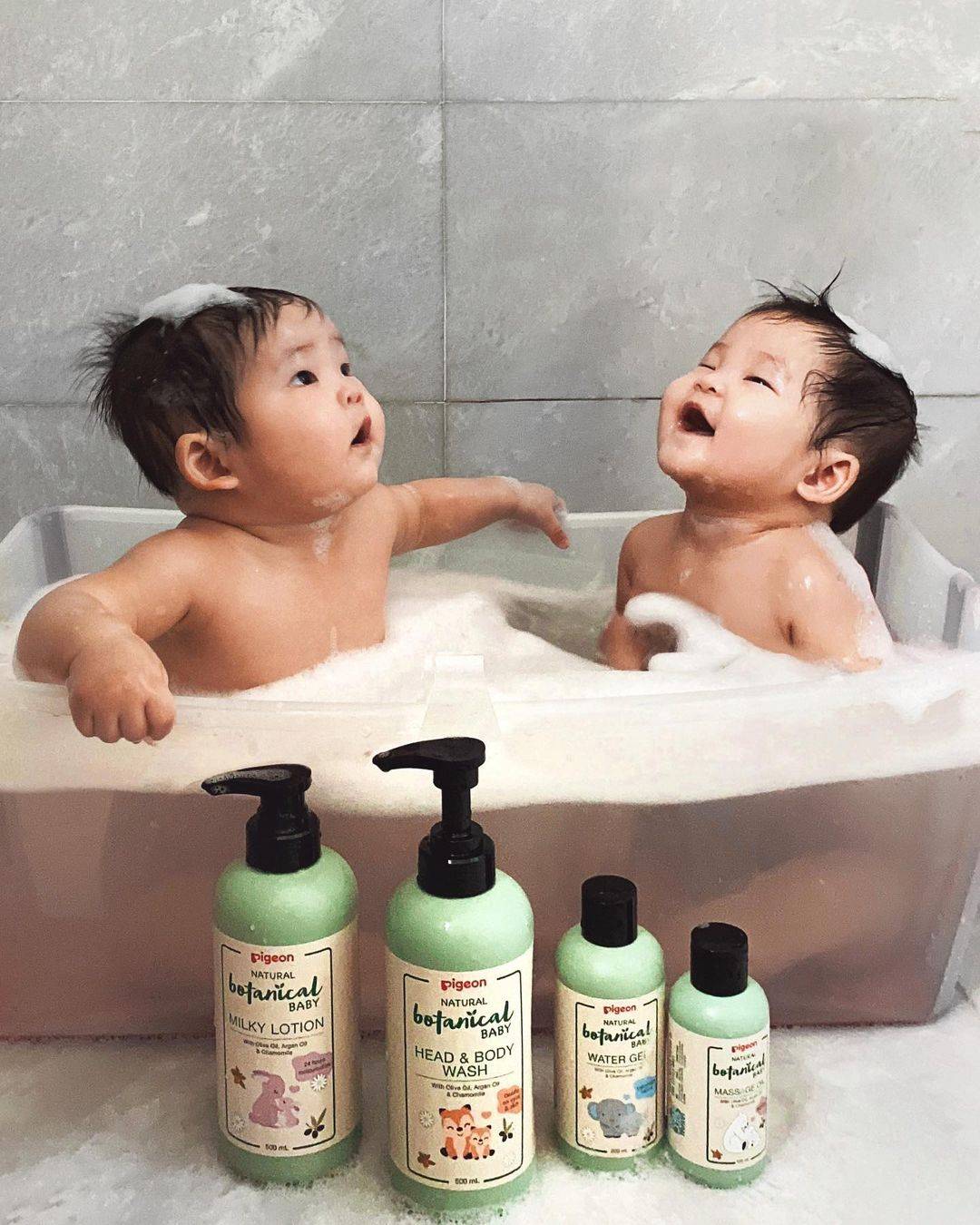 The Natural Botanical range is gentle on your baby's skin, and environmentally friendly.
Skin and Hair
Pigeon Newborn Pure's range is perfect for your baby's delicate skin and hair, safe for all skin types. The Natulayer mimics the vernix, a protective layer found on newborns, and ceramide, for double moisturisation. This range includes the Calming Oil, Moisturising Lotion, Nourishing Shampoo, Purifying Body Wash and Protective Cream ($8.90 to $15.90, UP $11.90 to $20.50)
Another option is the Baby Wash 2 in 1 and Milky Lotion ($4.90 to $10.90, UP $6.90 to $15.90) with Sakura extract. Aside from moisturising dry and rough skin, it also helps prevent skin damage.
Finally, Pigeon's Natural Botanical Baby Oil 200ml ($4.90, UP $6.90) helps seal in moisture with nourishing, 99 per cent natural origin ingredients, while improving your bond with your little one. Even better, this environmentally friendly range uses 20 per cent less new plastic, and supports sustainable palm oil production. Pigeon and WWF Singapore are also working together to support forest restoration efforts in Indonesia.
Toys, Mealtime and Clothes
Keep your little one's belongings clean with the Pigeon Clearbaby Soak and Wash Powder ($7.90 to $9.90, UP $8.70 to $10.90). The powder uses plant-derived cleaning ingredients to float and decompose dirt with the power of enzymes for straws, aprons, tableware and toys. You can also wipe down all of her toys, and other things she touches with the Anti-Bacterial Wet Tissue (2 for $3.30, UP $1.90 each), which kills 99.99 per cent of bacteria.
For her clothes, use the Pigeon Detergent Powder ($6.90, UP $9.90), which is phosphate and fluorescent-free. While being gentle on baby's skin, it also effectively removes stubborn stains, odor and kills 99.99 per cent of bacteria on your baby's clothes.
Relevant Reads: Top 9 Must Haves, Motherswork Great Singapore Sale
Credits: Brie Benfell, oliviaandlunadiaries, Sherlyn Chan, harleyharpertwins