Bugaboo Butterfly Stroller
Please note that this is a pre-order item. Delivery will be in middle to end of June.
Special Offer for Pre-order
Get a FREE BREEZY SEAT LINER BLACK when you pre-order Bugaboo Butterfly. Post the open-box video or image via IG @bugaboosea_ @motherswork. Email the screenshot to sales@motherswork.com.sg to get the free gift. Delivery of the gift will be arranged after 14th June.
New Bugaboo ultra compact stroller
The Bugaboo Butterfly is the one second fold ultra compact stroller for travels near and far.
Behold the ultra compact Bugaboo Butterfly, the one second fold stroller for city and travel life. Fold and unfold the Butterfly at lightning speed and enjoy total freedom on your daily commute or weekend getaway. It's lightweight, easy to maneuver, yet super sturdy for wherever adventure takes you and your growing baby.
Easily fold & unfold in a second without adjusting anything
Small and lightweight (7.3 kg/16.09 lbs), including leg rest, carry strap & seat inlay
Spacious and accessible underseat basket to carry all you need (up to 8 kg/17.64 lbs)
Large and adjustable seat provides first class comfort for your growing baby
Ultra compact fold (IATA compatible) to store in overhead compartments, car trunks or small corridors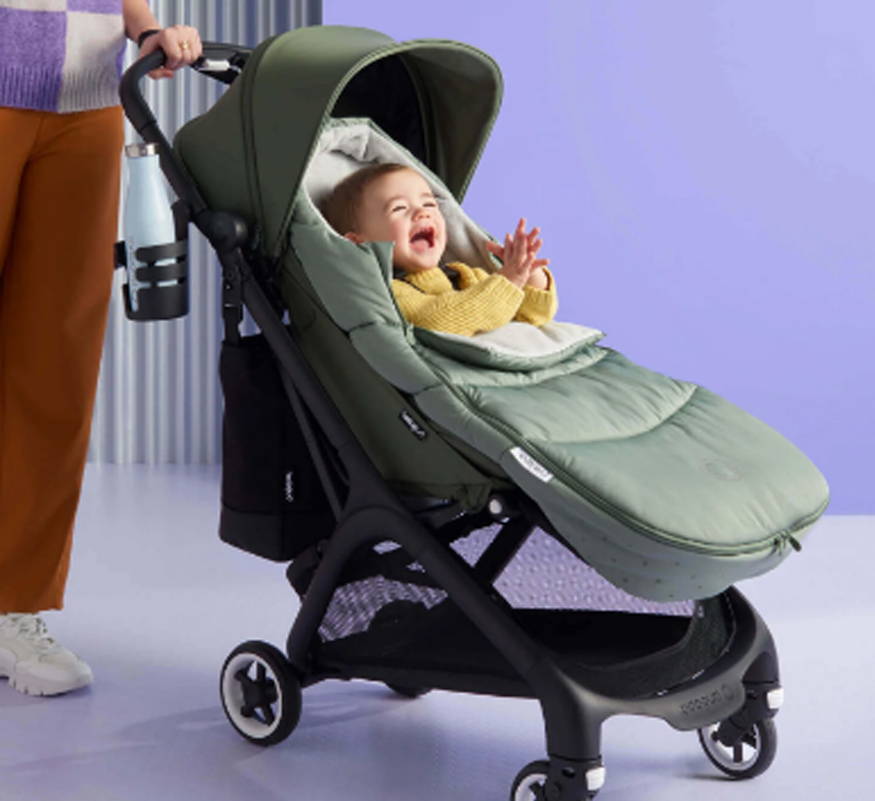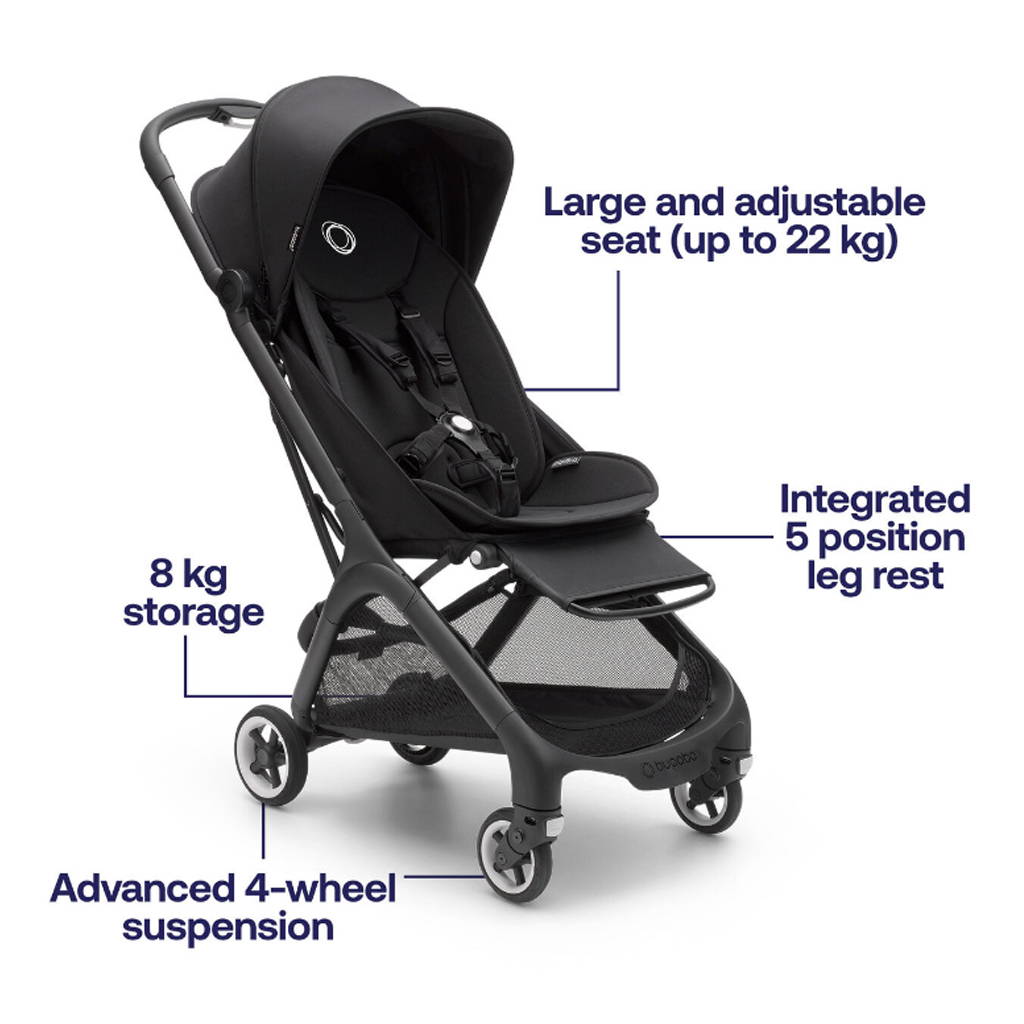 Small stroller for big adventures
Stow it under a table or bring it on the metro. Wherever your adventures take you, the Butterfly can come along for the ride.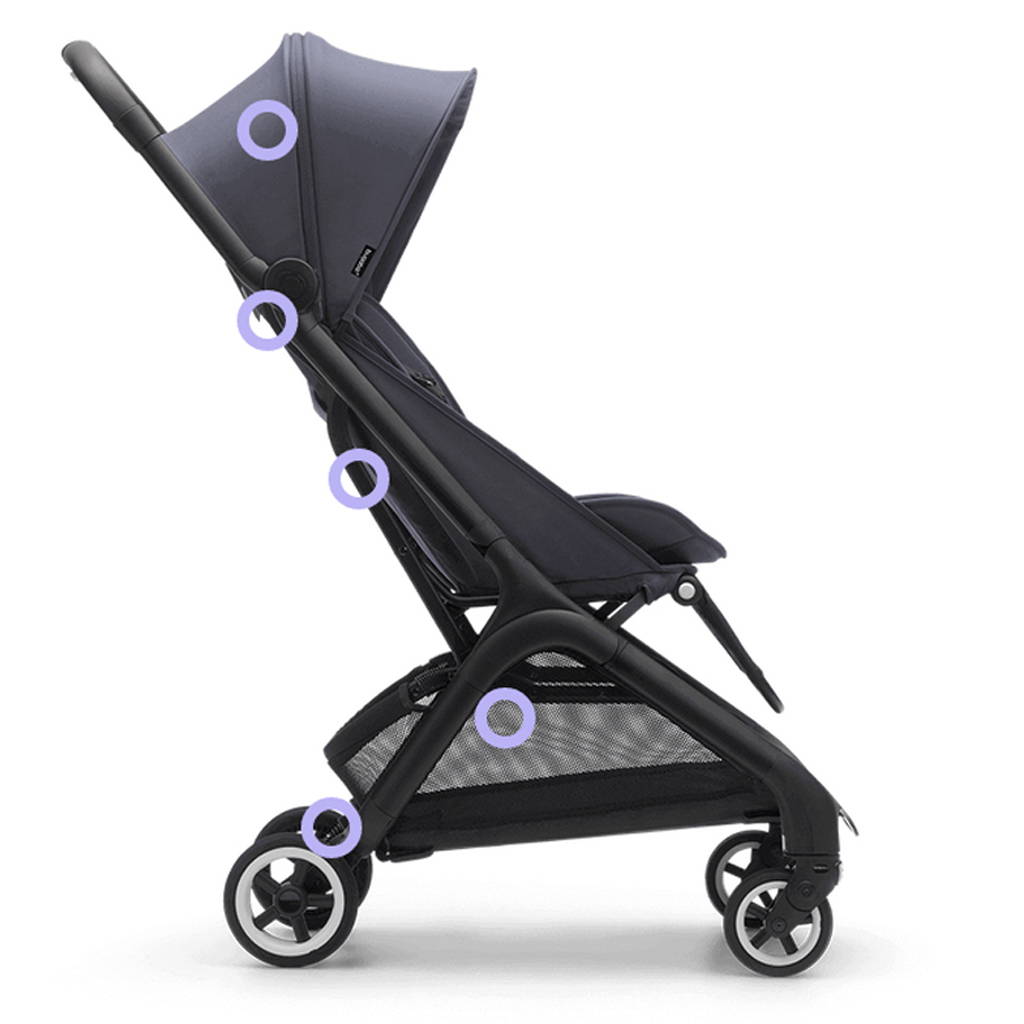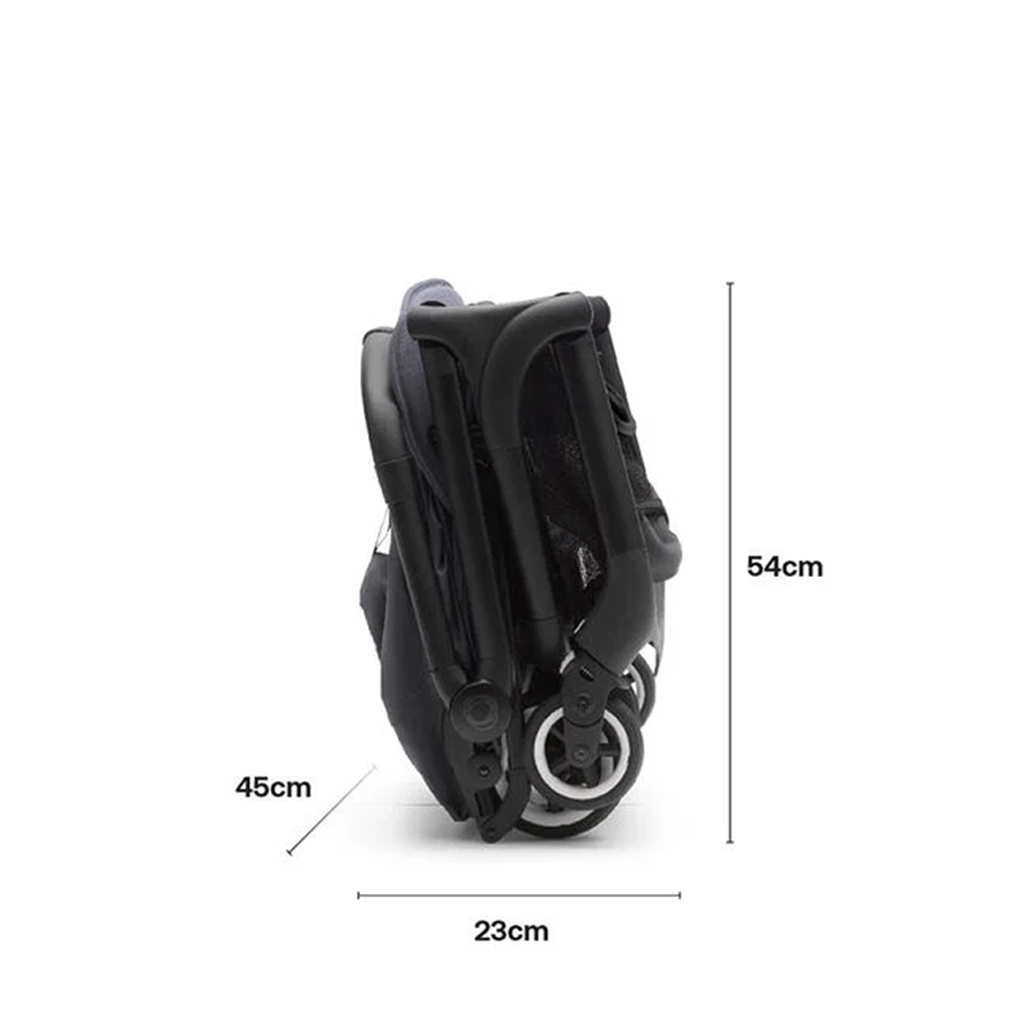 General
Stroller weight - 7.3 kg/16.09 lbs
Age range: 6 months – approx. 4 years old (max 22 kg/48.50 lbs)
Category: Compact stroller
Dimensions
Wheels: Front wheels: 11.9 cm/4.7 in-Rear wheels: 15.2 cm/6 in
Handlebar height: 102.4 cm/40.31 in
One hand recline: 30°–143°
Capacity
On the seat: 22 kg/48.50 lbs
In the underseat basket: 8 kg/17.64 lbs
Folded
Most compact fold (IATA compatible) 45 x 23 x 54 cm/17.72 x 9.06 x 21.26 in
Unfolded
In use, leg rest folded away: 92.5 x 45 x 102.4 cm/36.42 x 17.72 x 40.31 in
Materials
Seat fabric: 100% polyester
Footrest fabric: 100% polyamide
Care instruction
Washing and cleaning
The seat inlay, underseat basket and carry strap fabrics are machine washable at 30°C/86°F. The base seat fabric should be washed by hand. Always consult the washing label for exact instructions.
Chassis with wheels
The pre-assembled base and hardware of your compact seat stroller. Comes with a full set of wheels & wheel caps.


Underseat basket
Extra large underseat basket carries up to 8 kg/17.64 lbs. With a flexible opening at the back for easy access from both the front and rear.


Base fabric set & sun canopy
The complete base fabric set for the seat. Comes pre-assembled with a large 4-panel sun canopy with breezy panel to protect from the sun and wind.


Integrated leg rest
Adjustable to 5 different positions for extra comfort whether playing or napping. You can also fold it away for when your toddler no longer needs it.

Seat inlay
Features high quality fabric and extra padded cushioning for your growing baby's comfort.

Carry strap
Integrated carry strap allows for 100% hands-free carrying mode.
Rain cover
Protects your child from last minute weather changes. Easily install it onto your stroller in seconds.