Stokke Tripp Trapp Chair
Stokke Promotion - 1 March to 15 April 2023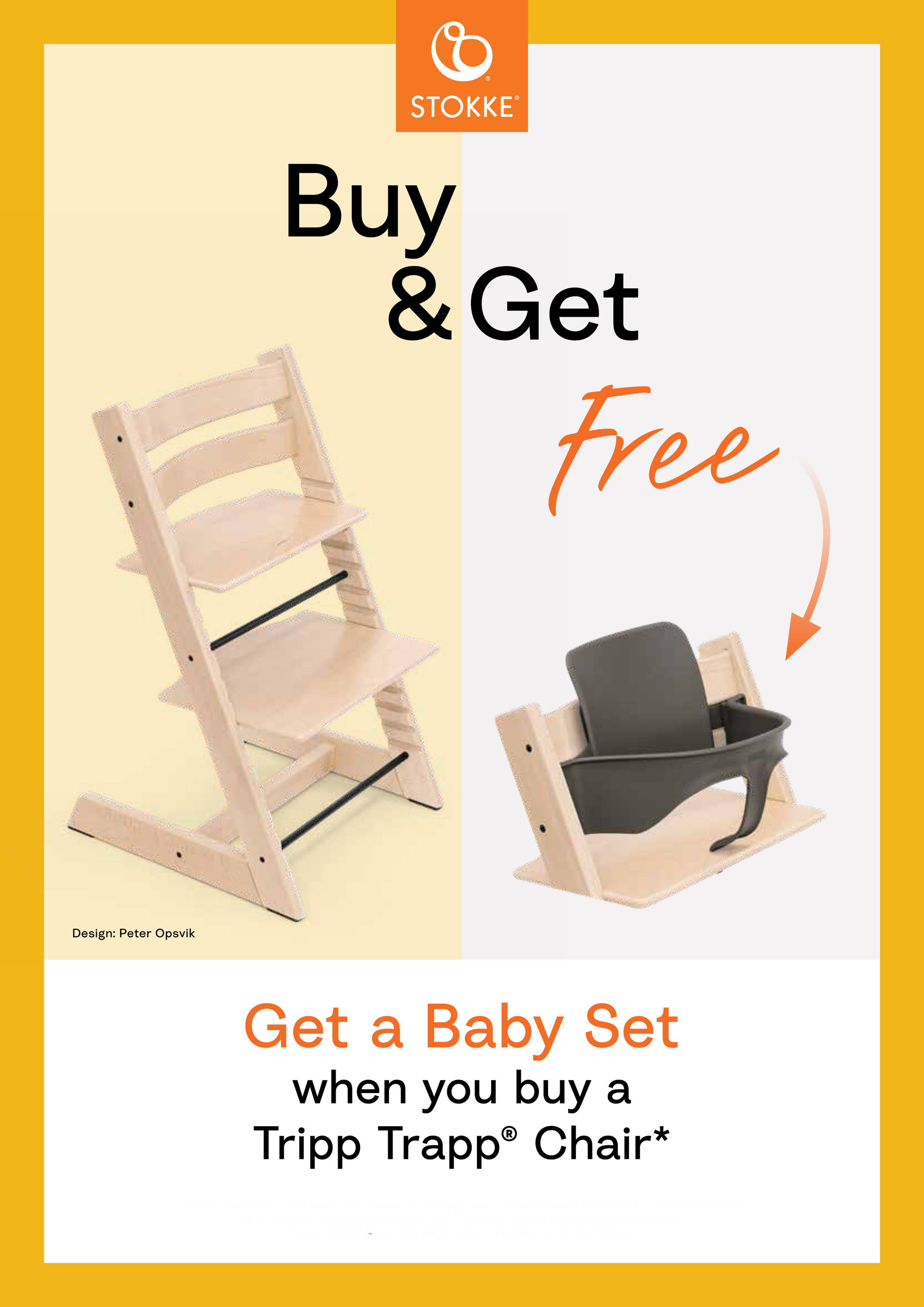 The iconic Tripp Trapp® was the first chair of its kind when designed by Peter Opsvik in 1972. Its intelligent design grows with your child, providing a comfortable, ergonomic seat at any age. It has been made to fit right up to your dining table to bring your baby into the heart of your family, allowing your little boy or girl to eat, learn, play and develop alongside you.
 Stokke Tripp Trapp Accessories
Features:
- Your child can comfortably sit at the dining table and enjoy mealtimes with the rest of family.
- Easy to clean
Comfort & Design
- Classic, iconic design that will never go out of style.
- Unique adjustability of seat and footplate to ensure both back and feet support for any age.
- Stable footrest that supports your child and provides comfort.
- Solid construction that can hold up to a 242 lb adult.
- Array of color and wood choices that match any décor.
Safety

- Easy to clean spills with dampened cloth.
- Extended 7-year warranty available on wooden components
- Water-based, non-toxic paint.
- No harmful substances/free from bisphenol and phthalates.
Specifications

- 7 KG / 15.4 lbs
- 49 CM x 79 CM x 46 CM / 19.3" x 31.1" x 18.1"
- 3 Years to life
*Please note that Stokke Tripp Trapp chair is made of natural wood. The appearance may vary depending on the knots, texture and grain of the wood.
Your personalised Tripp Trapp® is very unique and made especially for you. Therefore, we need seven extra business days to process your order. Please make sure that your requested engraving is written correctly since we are not accountable for any misspellings. Please note that once a Tripp Trapp® has been engraved, it cannot be returned or refunded.

---
Stokke Tripp Trapp Chair Accessories
---
Even your littlest one can join the family table with the Tripp Trapp® Baby Set™. Specially designed for children 6 months to 3 years, the baby set securely and comfortably brings your child to the table. Fits European version Tripp Trapp® chairs produced after May 2003
---
Your little one will enjoy mealtimes with the Tripp Trapp® cushion. It provides a cozy seat by adding lush comfort and support to your child. Made to accompany the Tripp Trapp Baby Set, this cushion will keep baby comfy and happy for every meal.
---
The Tripp Trapp® chair is designed to fit right into your table, bringing your baby into the heart of your family. However, for certain occasions a tray that fits on the chair with Stokke® Baby Set can be a valuable accessory. Turn your Tripp Trapp® into a stand-alone high chair with the Stokke® Tray. Perfect for quick feedings or crowded tables, the Scandinavian designed Stokke® Tray's clean lines compliment the Tripp Trapp® for a unique, stunning seat. Suitable for 6 months to 3 years.
---
For added safety, we have developed the Stokke® Harness to be used together with the Baby Set on the Tripp Trapp® chair. Our harness has been carefully designed with five points and is adjustable. This ensures that your child will be comfortable and secure while still able enjoy full freedom of movement. Please remember that since your baby is constantly growing you need to re-adjust the Stokke® Harness on a regular basis. Most important: never leave your child unattended.