Posted on June 27 2022
Learn all about the colour and consistency of newborn poop and how to make the diaper changing process as easy as possible.
Find out all about newborn poop, when to call your paediatrician, the essentials you'll need for diaper changing and a few hacks to make the process quicker and mess-free.
Newborn Poop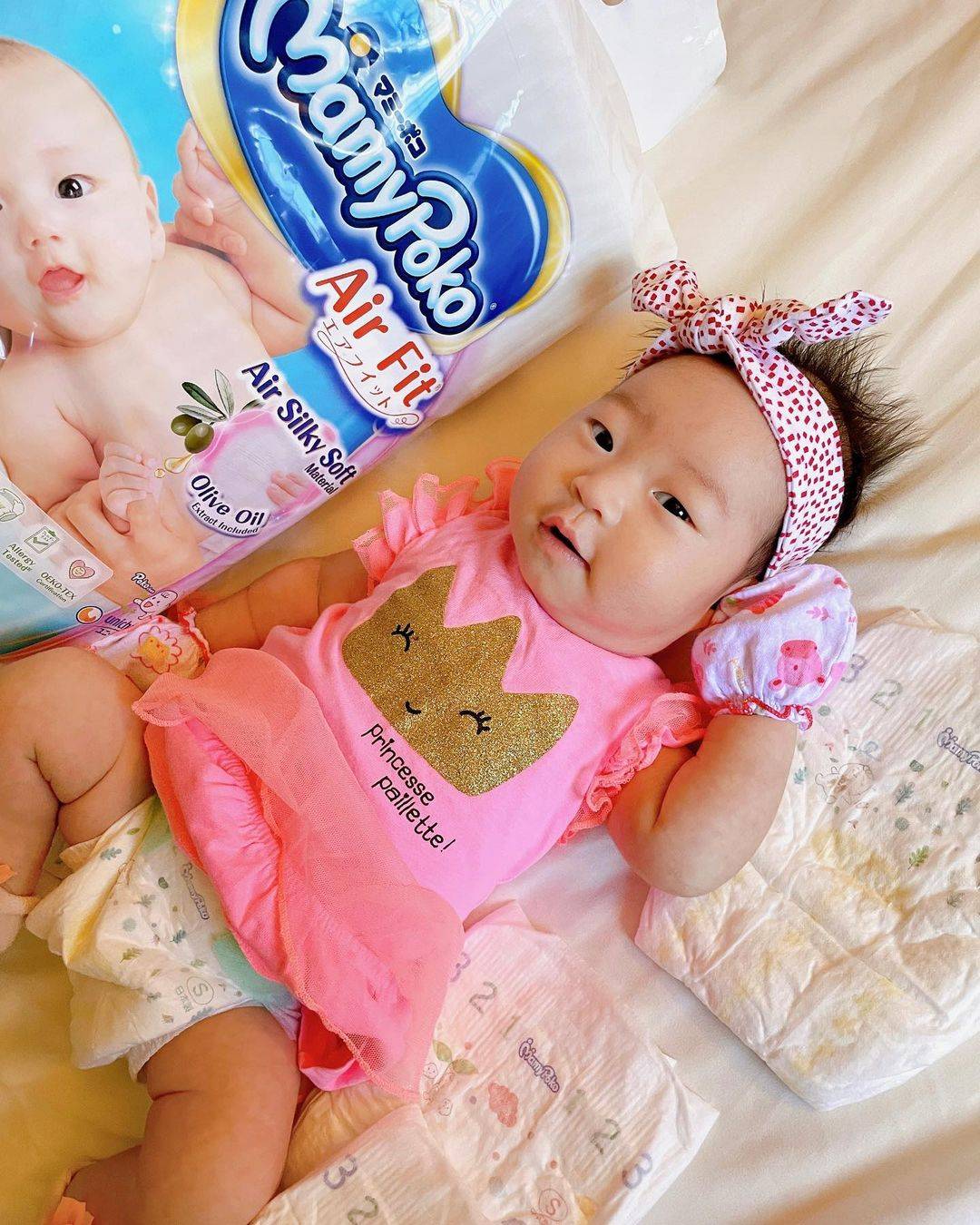 The ultra-absorbent diapers from Mamypoko can reduce leakages and catch all the poonamis - size up to small overnight to go longer without changes.
Colour
Newborn poop starts off with a black, tar-like texture, which contains skin cells, mucus and amniotic fluid. Clean these off with a little olive or coconut oil. After the first few days, call your baby's paediatrician if you see black, white or red stools. While black poop is an indication of digested blood in the gastrointestinal tract, white stools may signify an infection or bile problem. Meanwhile, red is an indicator of fresh blood from the colon or rectum. Sometimes, breastfeeding newborns swallow their mothers' blood from breast skin cracking while feeding. This may show up in their stools as well.
After a few days, this should gradually become yellow-green, yellow or tan. Breastfed newborns usually have yellow-green or seedy, loose bowel movements resembling light mustard. In contrast, a formula-fed newborn might have yellow or tan bowel movements with a little green, and may be a little firmer than breastfed bowel movements. Newborn stools will become smellier as their guts are colonised with bacteria after the first few days. Formula fed-babies often have a more pungent odour than breast-fed babies.
Newborn Poop Frequency
As long as your baby is going once a week without a distended abdomen and isn't too fussy or irritable, don't fret. Some will poop with every feed, and others every five to seven days. Around two to three months, your baby might poop daily or every other day.
Concerning Consistency of Newborn Poop
Babies with extremely loose, watery stool may not be absorbing nutrients well, possibly due to a milk protein allergy, or serious conditions like a gastrointestinal infection. Meanwhile, very hard stools may indicate constipation, either caused by an improper formula or a medical problem. If worried, or if you see mucus in your baby's stool, call your paediatrician. Try to get a picture of the stools in the diaper to show the doctor how loose or hard they are.
Babies may grimace and get red-faced when passing a stool in the first few months. If your baby persistently cries when passing stools, call your paediatrician. This might indicate harder stools or a problem with the rectum's anatomy.
Diaper Changing Essentials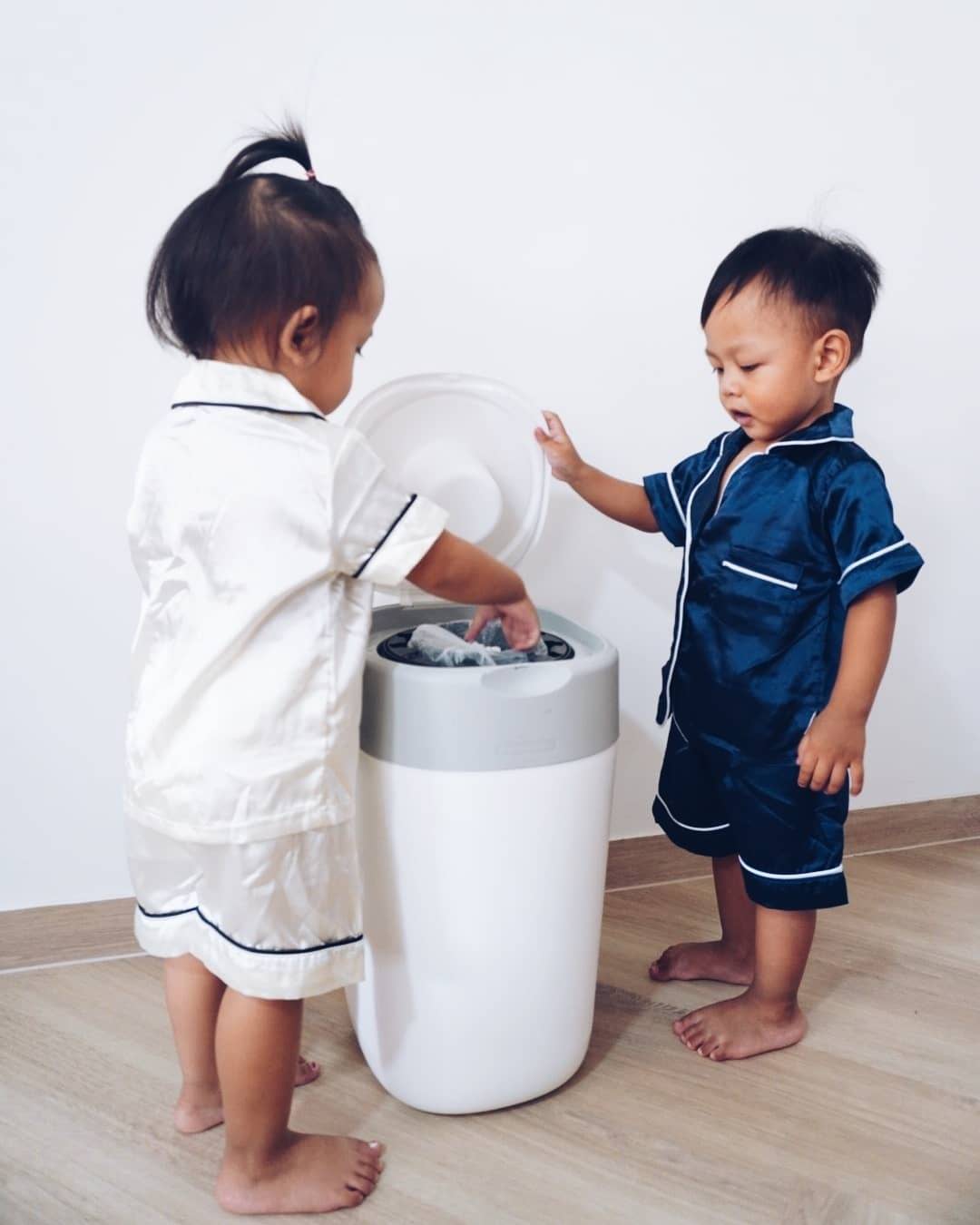 Eliminate all poopy odours from your home with the Tommee Tippee Twist and Click Diaper Bin.
Newborn Diapers
Try the MamyPoko Air Fit Tape Diaper with Curve Fit ($66.10) that follows the contours of your baby's bottom while reducing up to 50 per cent of the pressure around your little one's tummy. Other features include no leakage even with runny stools, a soft, stretchable waist gather and Air Fit leg gathers and can absorb up to 12 hours of urine. Equally helpful for parents is the wetness indicator so they know when it's time to change the diaper, and soft reattachable tape. These diapers also curve around your baby's navel to protect it from getting wet or poopy while the umbilical stump is healing.
Diaper Cream
Create a protective barrier around your newborn's delicate skin with the Mustela Vitamin Barrier Cream to reduce diaper rash.
One essential you'll need for changing diapers is diaper cream. An option is the Naif Diaper Cream ($25.50), made from natural ingredients such as Vitamin E, chamomile and zinc oxide. These help prevent and aid baby skin recover from diaper rash. Similarly, the Mustela Vitamin Barrier Cream ($15) uses natural active ingredients such as avocado perseose, alcacea oxeoline, sunflower oil distillate, and zinc oxide. Clinically tested, you can use this on babies right from birth, including babies discharged from neonatal care. Additionally, it's clinically proven to reduce more than 80 per cent of diaper skin discomfort.
Wet Wipes
Another essential for diaper changes are wet wipes, such as the Pigeon 100% Water Wipes ($18.95). These feature an intricate weaving technique for the fibres, so that they soothe your baby's skin without tearing while cleaning. Furthermore, these are paraben, fragrance and alcohol free and have been micrologically tested.
Otherwise, try the Pigeon Natural Botanical Baby Plantmade Gentle Wipes ($4.90), which are made with soft, sustainable and biodegradable bamboo eco-fibres. These are formulated with minimal ingredients to reduce skin reactions, and are made with 100 per cent purified water. Another alternative is to use some soft wash or burp cloths ($19.90 to $64.90), and wet them with water as needed to clean your little one's bum.
Diaper Bins
While you could throw all the diapers into your regular trash can, the newborn poop fragrance will likely linger long after you've disposed of them. An alternative is to get a diaper bin like the Tommee Tippee Twist and Click Advanced Nappy Disposal Sangenic Tec Bin ($80), which seals each diaper to block out odours. Its antibacterial multi-layer film also kills 99 per cent of germs. With the new twist and click system, each wrap uses less film and waste. Additionally, the bin can also hold up to 30 diapers.
Otherwise, the Umee Odorless Diaper Pail ($69.90) has a special sealing and "odor stop" system, and can store up to 25 diapers, using any plastic waste bag. Easily toss the dirty diapers in with one hand, and prevent curious little fingers from reaching in with the child lock safety system.
Other Essentials: Trash bags ($7.90 to $8.90), Tommee Tippee Twist & Click Nappy Disposal Refill ($49)
Changing Mat and Dressers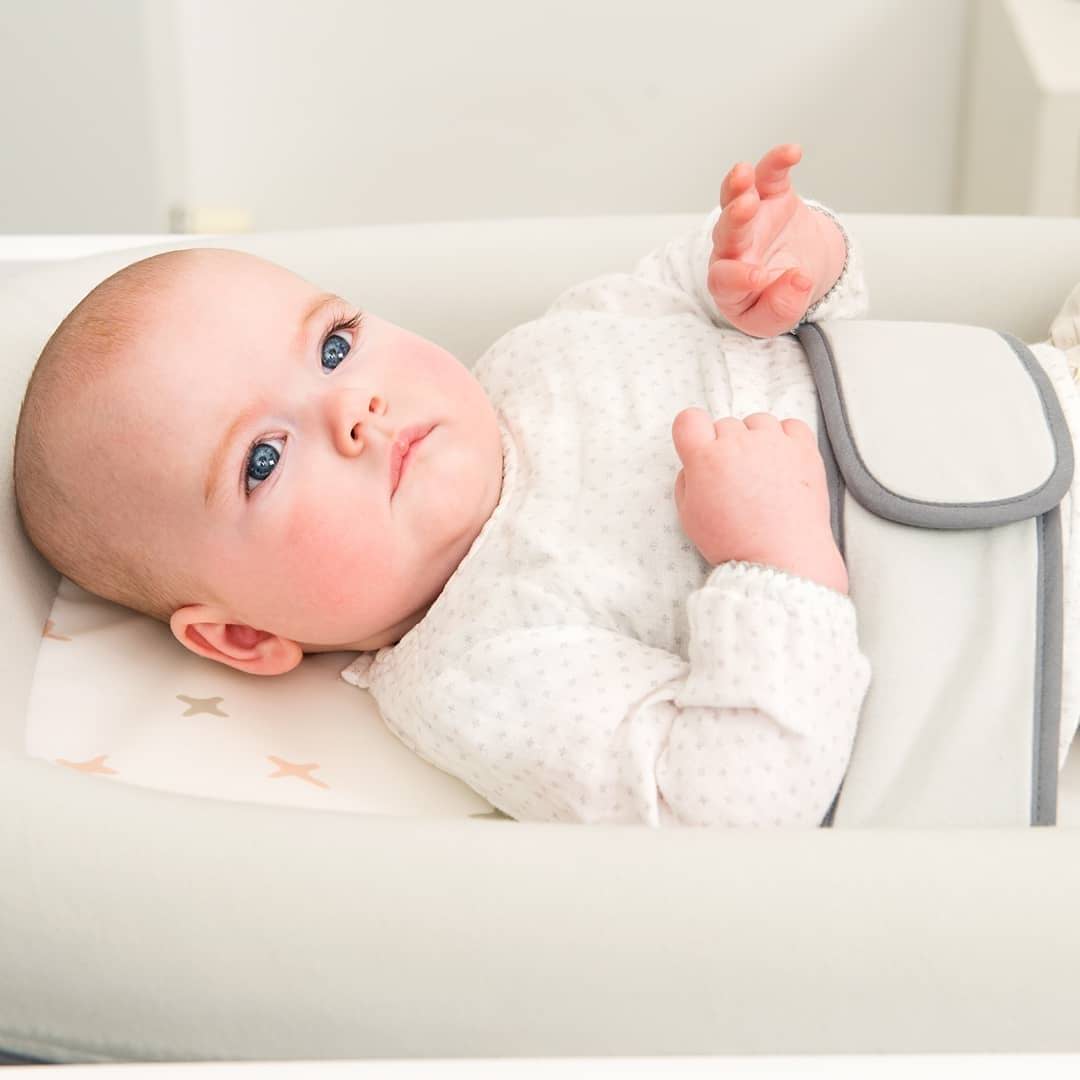 Keep your baby safely on the changing table with the Doomoo Cosy Care Changing Mat's security belt.
Change your little one on the Doomoo Cosy Care Changing Mat ($112.90), suitable from birth onwards. Comprising a security belt, soft stand-up edges and an additional pad, this makes diaper changes a little more safe and relaxed. Its additional pad has PVC free waterproof material on one side, and super-soft water repellent cotton on the other.
Motherswork Recommends: Doomoo Absoplus ($42.90) and Little Palmerhaus Wonder Pad ($19.90) to catch any leaks in the crib.
Diaper Changing Hacks
Dress your babies in nightgowns such as these from Raph & Remy, which make diaper changing in the middle of the night a little easier as you won't have to fuss with snaps or buttons.
Onesie Hacks
Experiencing a poonami? Use the onesie's shoulder flaps to ease your baby's arms out of the sleeves and pull down the onesie instead. This reduces the likelihood of your baby's face and body coming into contact with their stools. Another way is to roll your baby's onesie up, tuck their arms in the onesie and then place the back of the onesie around your baby's shoulders and connect the snaps.
Diaper Changing Time
A portable diaper changing basket should include diapers, wipes, diaper rash cream, baby powder if you're using, hand sanitiser ($3.50 to $24.50), a fold out change mat and trash bags. When changing your little one, wait a while to make sure your baby is well and truly done before changing to reduce the number of diaper changes you'll have to do. Next, place a clean one under the dirty one, wipe, clear the dirty diaper and then put your baby down on the clean diaper. Always ensure the leg ruffles are out to reduce leakage.
At Night
It'll take some practice but you'll soon be able to change your baby in near darkness. Meanwhile, try having a little night light ($49.95 to $69.95) to help you see what you're doing, while keeping your baby as sleepy as possible. Try using knotted gowns such as this one in the Raph & Remy Newborn Essentials Collection Gift Set ($228) or zipped rompers ($36). Hence, you won't need to fuss with snaps or buttons in the middle of the night. Reduce the number of night wakings and diaper changes by sizing up the diaper to hold more pee and reduce leakages.
On the Go
While out and about, always make sure you have spare diapers, wet wipes, and a portable change mat ($39). This is especially vital in the event your child decides to pee and poop in rapid succession. Stash an extra set of clothes for yourself and your baby in a gallon-size ziploc bag in the diaper bag ($129 to $239), and consider having an emergency car diapering kit as well. Other changing mats include these from Skip Hop and Pigeon ($22.90 to $54.90).
Relevant Reads: Deciphering Newborn Needs
Credits: Helena Lopes, Jessie,  Diyanah Yahya, Joanne, Germaine Fraser