Bugaboo Donkey 5 Mono Complete
Motherswork 25th Anniversary Sale
5 - 31 May 2023
Buy Bugaboo Donkey 5 Mono Complete
FREE Bugaboo Dual Comfort Seat Liner ($129)
The spacious stroller that grows with your family
Prepare your family for the future with the new and improved Bugaboo Donkey 5 Mono. It converts from a single to double stroller in only three clicks—just in case you decide to have another child one day. It's versatile, easy to maneuver and super comfortable for babies and parents from your very first stroll together.
Key features:
Elevated seat and bassinet mean your child is never out of reach
Improved self-standing one piece fold makes storing the stroller easier than ever
Breezy bassinet & aerated mattress keep your baby comfy no matter the weather
Large puncture proof wheels for smooth strolls on all terrains
Integrated wheeled board and cupholder attachment points for your favorite accessories
This item contains the complete Bugaboo Donkey 5 Mono including a chassis with handlebar and carry handle, wheels, seat frame, canopy wires, canopy clamps, rain cover, seat fabric with comfort harness, bassinet stiffeners, bassinet bottom, bassinet fabric with mattress, apron, sun canopy fabric, side luggage basket and underseat basket.
Everything your child needs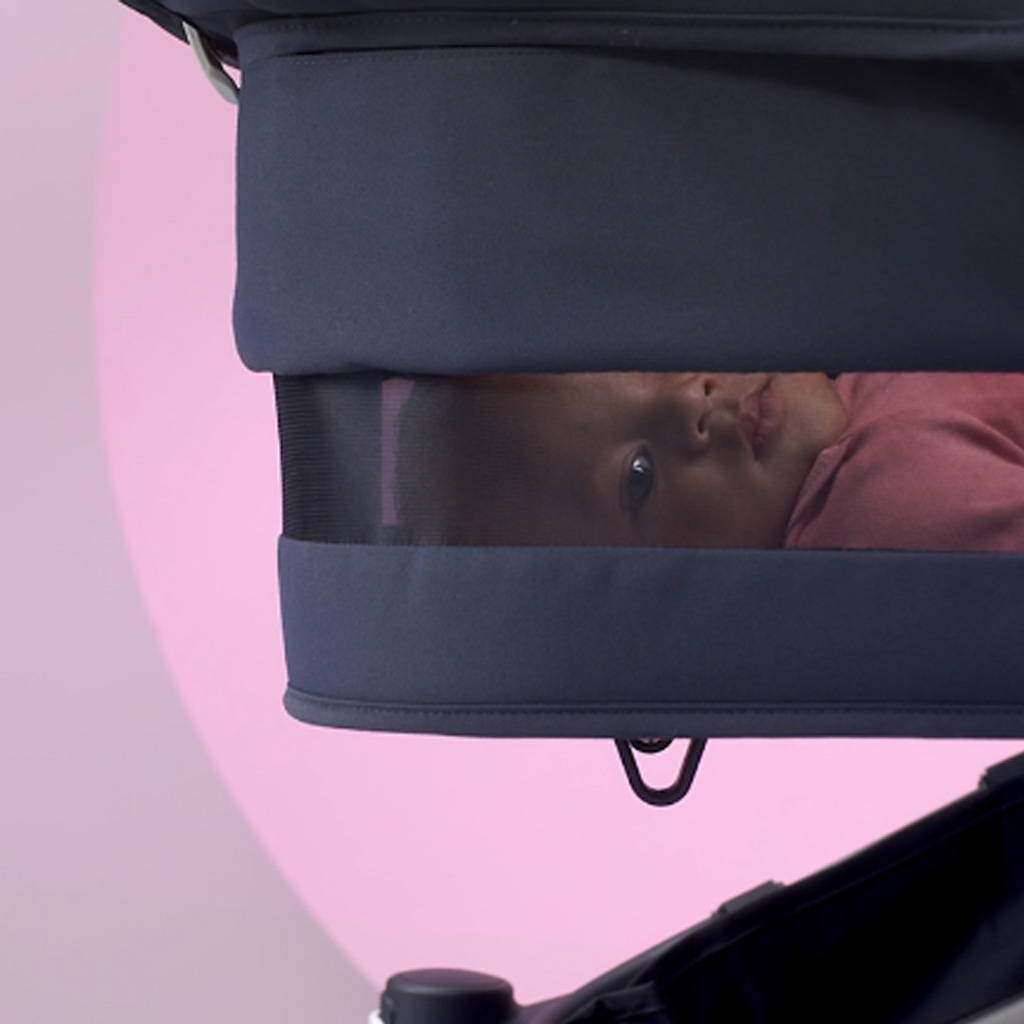 A sneak peek of the world
The breezy bassinet keeps your baby cool & comfy while giving them a glimpse of what's going on outside. When it gets windy, seal the panel shut for some extra warmth.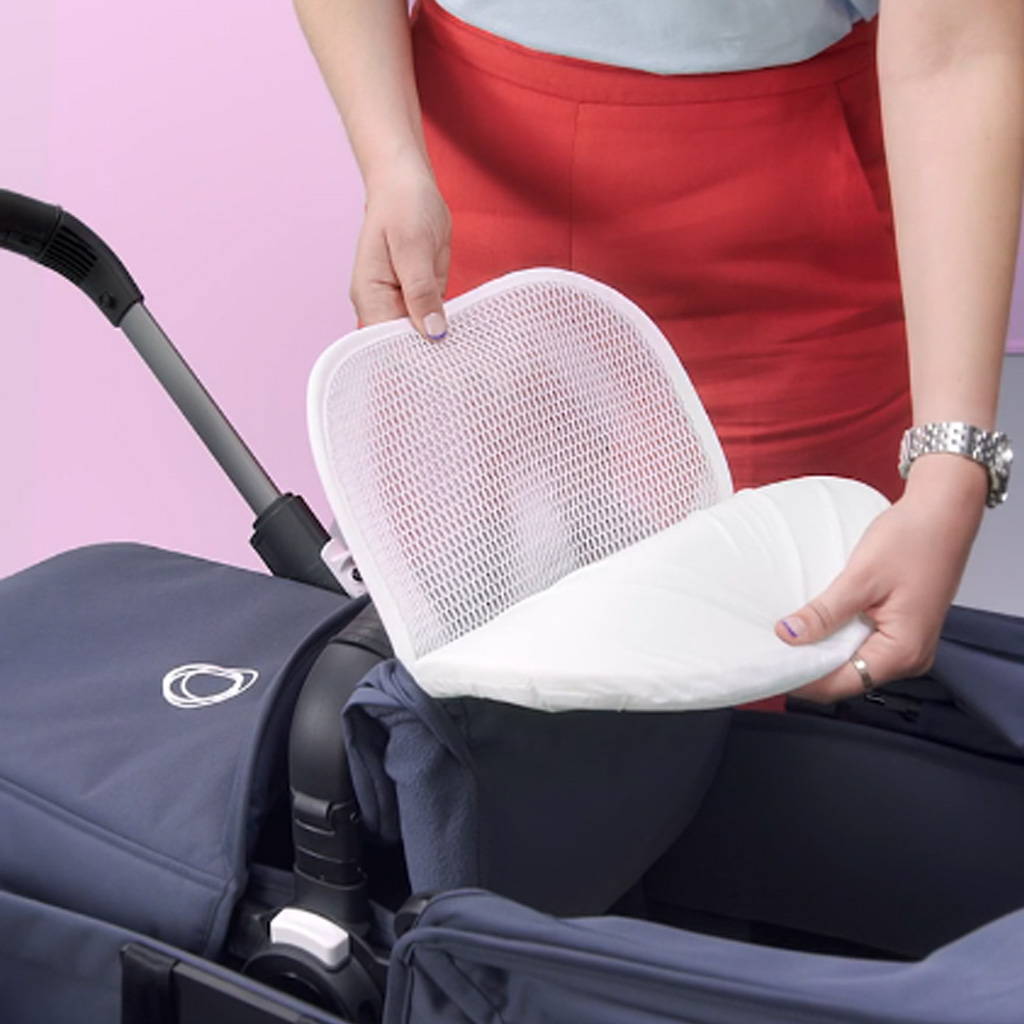 Softer bed for longer naps
The aerated mattress lets your newborn sleep and breath easily even when lying flat on their tummy.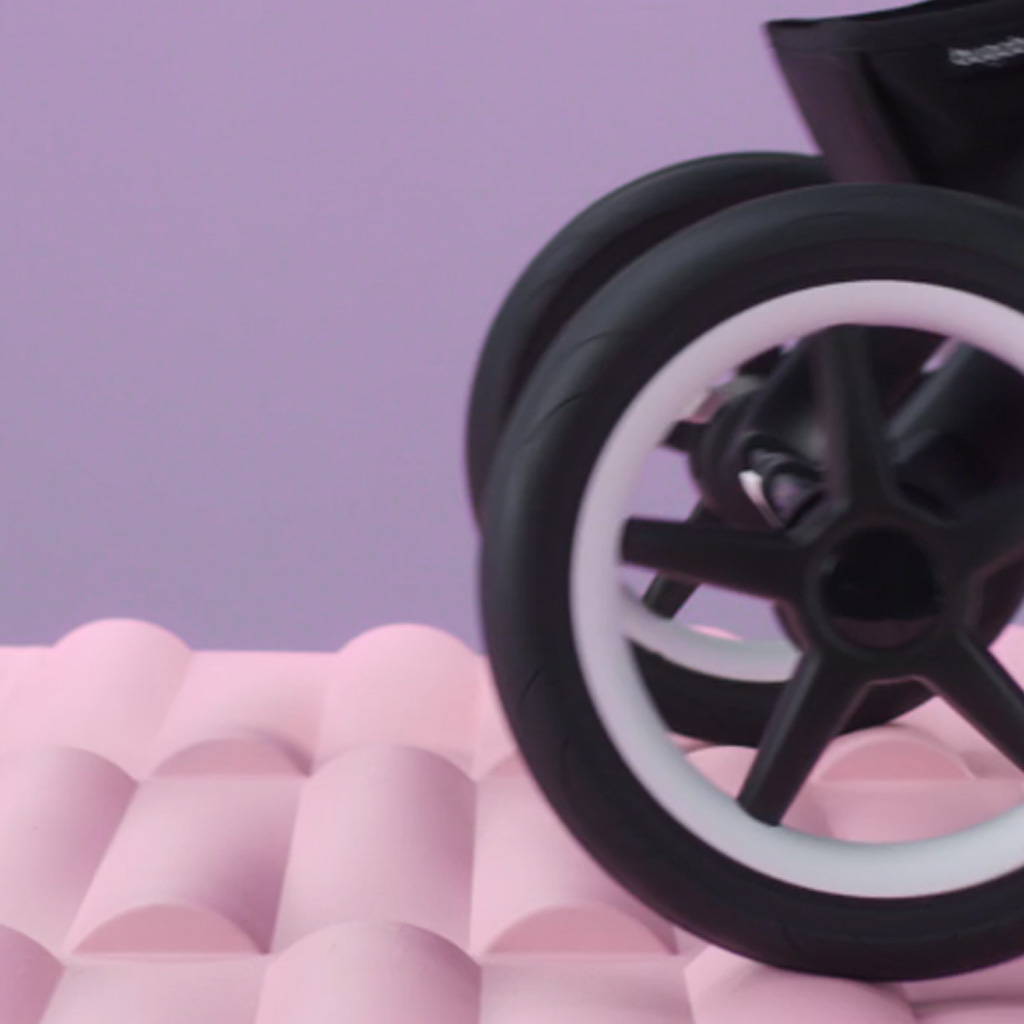 Bump-free adventures
Navigating a crowded sidewalk or exploring the great outdoors is super smooth, thanks to the large puncture proof wheels.
All the features you'll love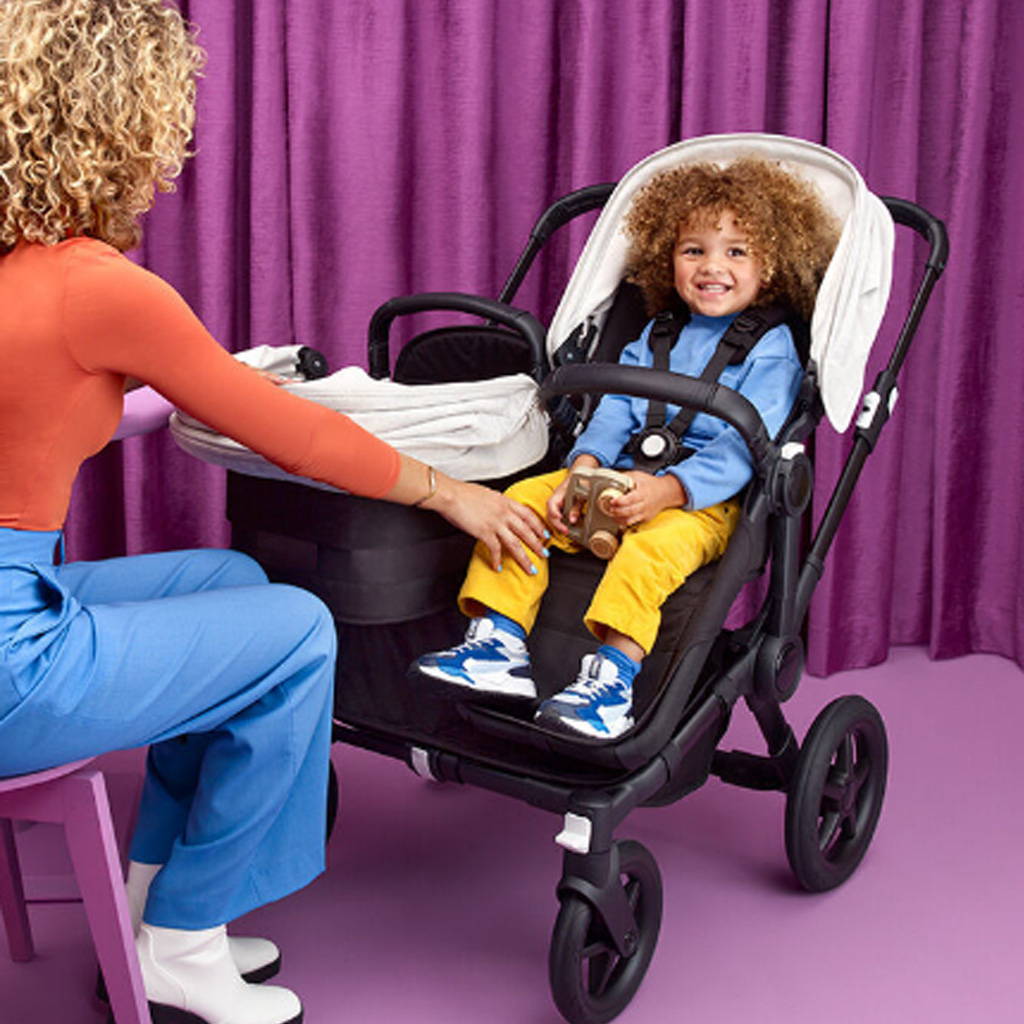 Room for one or two
Planning to grow your family one day? The Donkey 5 converts from Mono to Duo mode in three clicks to add a second seat, which means you can let your little pilot fly solo or with their future wingman.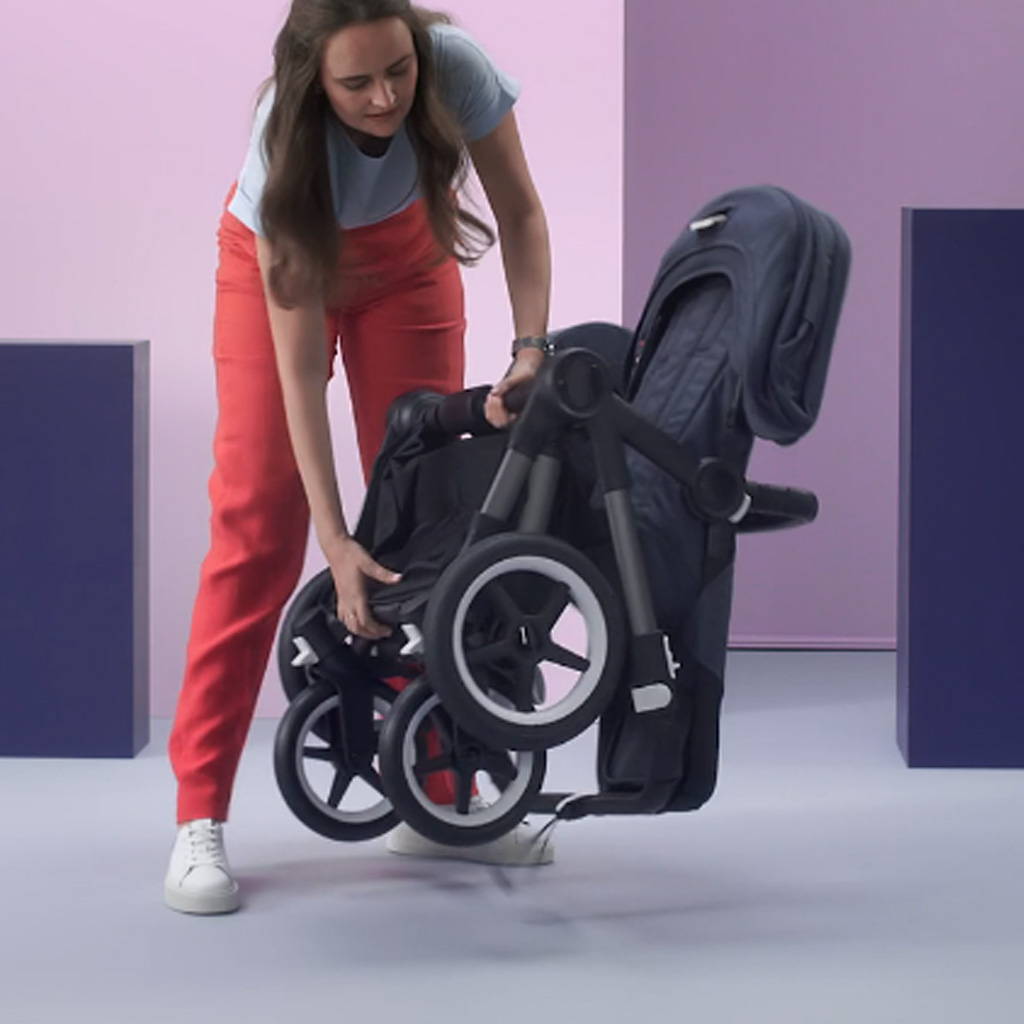 Grab, fold & go
Make your double stroller compact in seconds with the self-standing one piece fold design. Unfolding is just as quick and easy—the advanced friction lock lets you get it up and running without pushing any buttons at all.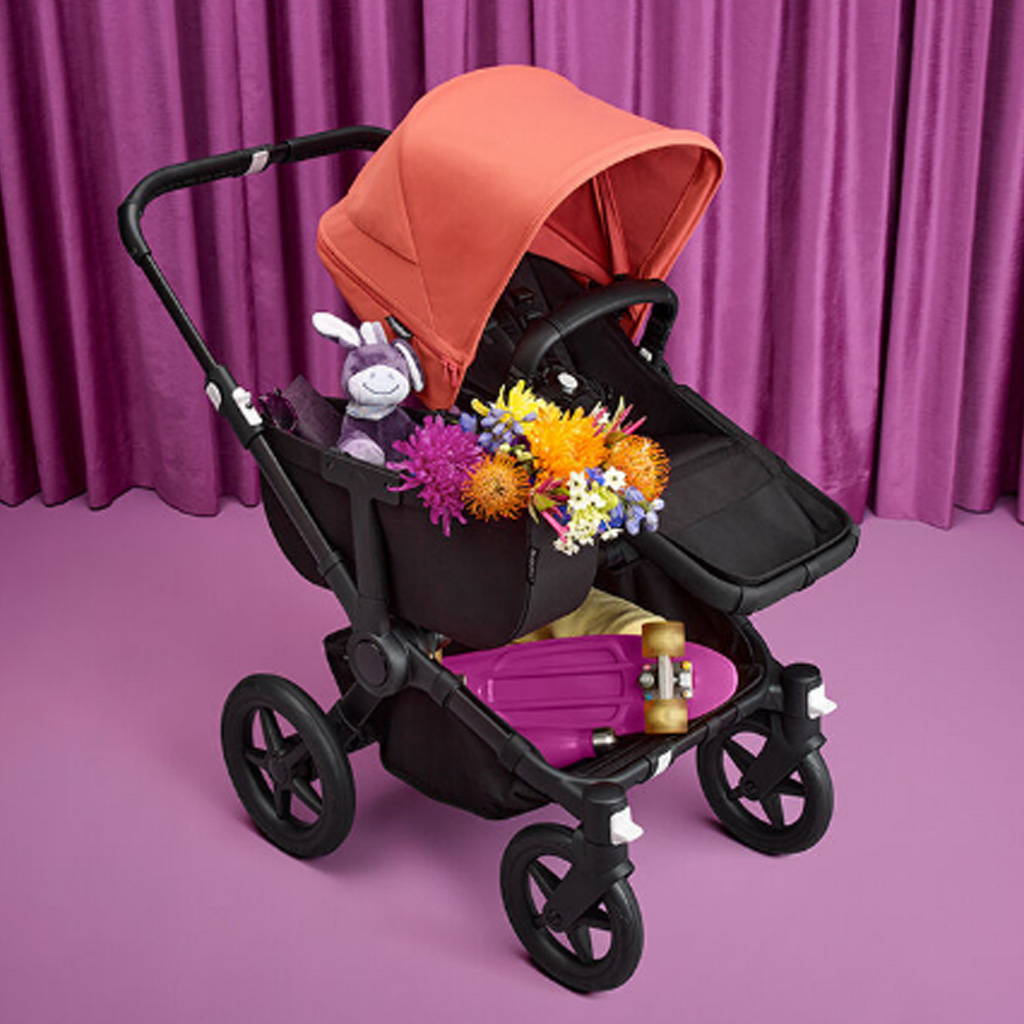 Storage galore

Bring all the snacks and toys along on your family adventures with the extendable side basket. Need even more space? The underseat basket has you covered. The two baskets combined can carry up to 44 lbs worth of goodies, so you never have to choose what to leave behind.
General
Stroller weight : 26.9 lbs (Mono configuration)
Stroller width : 23.6 in (Mono configuration)
Age range : 0 months – 4 years

Dimensions:
Front wheels : 10 in
Rear wheels : 12 in
Min – Max adjustable handlebar height : 33.8 in – 41.7 in

Capacity:
On the seat : 48.5 lbs (per seat)
In the underseat basket : 22 lbs
Side luggage basket : 22 lbs
Folded
Compact two-piece fold : 35 x 23.6 x 13.8 in (L x W x H)
One-piece self-standing fold : 20.5 x 23.6 x 35.4 in (L x W x H)
In use
Lowest handlebar position : 33.5 x 23.6 x 43.7 in (L x W x H)
Highest handlebar position : 41.7 x 23.6 x 43.7 in (L x W x H)
Materials
Inner and outer fabric : 100% polyester
Handlebar grips : 100% PU faux leather material
Mattress cover : 100% polyamide

Care instruction
Washing and cleaning
All fabrics are machine washable at 86°F. The faux leather grips can be cleaned with a damp cloth. Always consult the washing label for the exact instructions.
Chassis with wheels
The base and hardware you'll need to assemble your stroller. Comes with a full set of wheels, wheel caps & pre-assembled grips.

Bassinet & seat frames
Easily attach the frames to the chassis with a click. Complete it with the bassinet and seat fabrics.

Bassinet & seat fabrics
The bassinet fabric comes with a bassinet apron, and the seat fabric includes a comfort harness.

Aerated mattress
Made from high performance 3D mesh to regulate your baby's temperature. Includes mattress foam, mattress cover and aerated inlay.

Sun canopy
Features a new design including our signature peekaboo window. Includes the canopy fabric, wires and clamps.

Rain cover
Protects your child from last minute weather changes. Easily install it onto your stroller in seconds.

Side luggage basket & underseat basket
Offers plenty of storage options for your strolls. Maximum capacity 22 lbs in each basket.
What is new about Bugaboo Donkey 5?
Our new Bugaboo Donkey 5 has been improved in all aspects to provide the best experience for your family's adventures. The higher seat, bassinet & side luggage basket bring your child 3 cm closer to you for an easier reach at mealtime or playtime. We also have a new advanced breezy bassinet with a better ventilation system, regulating your baby's temperature and keeping them cozy whether you're inside or outside. Other new features include integrated attachment points for the Bugaboo wheeled board and cupholder, an improved folding and unfolding mechanism, among others.
Will the breezy bassinet protect my baby from the cold?
The breezy bassinet's ventilation panel can be sealed to offer superior protection against the elements, which we tested using a turbine at approximately 50 km/h.
How much does Bugaboo Donkey 5 weigh?
The Bugaboo Donkey 5 weighs 26.9 lbs when used in Mono configuration, and 32.8 lbs when used in Duo/Twin configuration.
What are the folding dimensions of Bigaboo Donkey 5?
The Bugaboo Donkey 5 can be folded in either a self-standing one-piece fold or a compact two-piece fold. The one-piece fold is 20.5 x 23.6 x 35.4 in (LxWxH). The two-piece fold is 35 x 23.6 x 13.8 in (LxWxH).