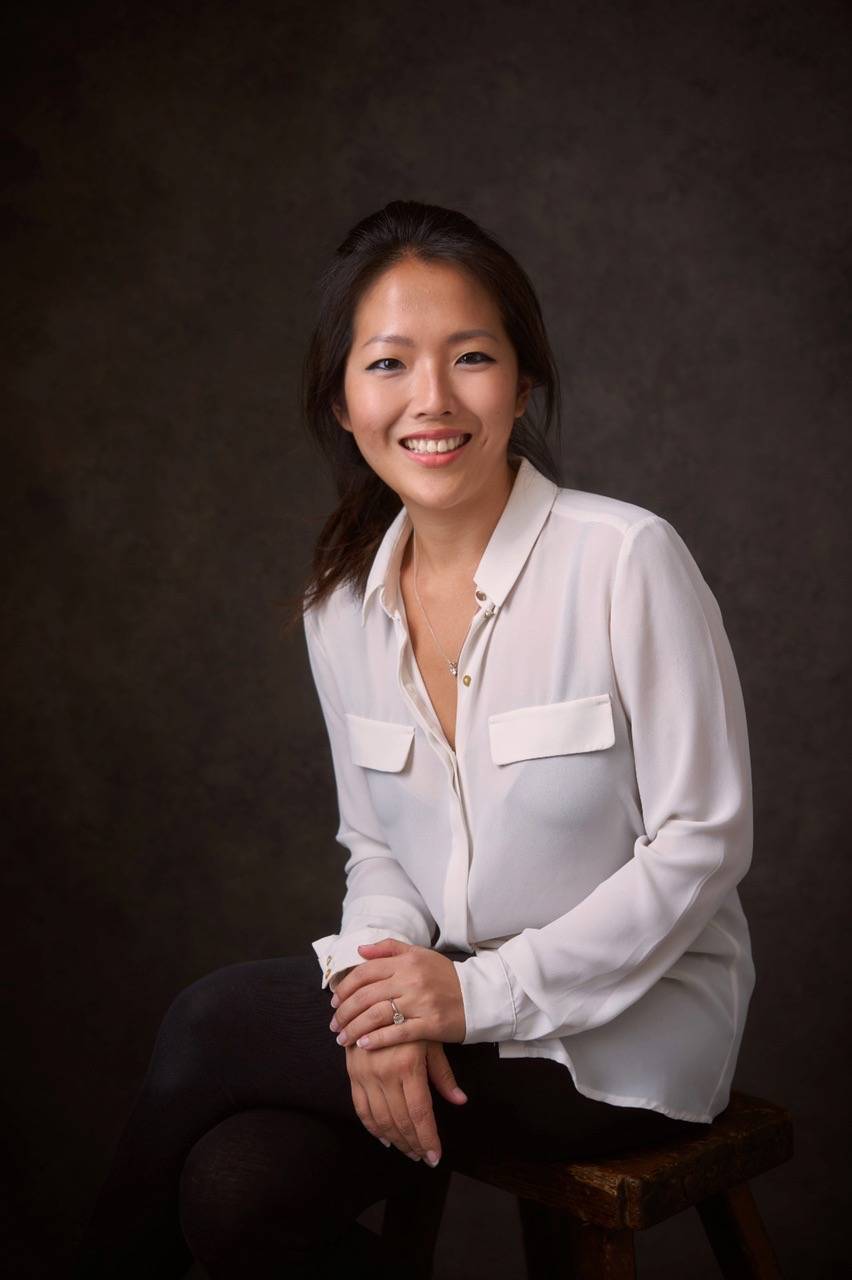 Leila Ng
Birth & Baby Coach
Leila Ng Caceres is one of the most certified and qualified birth and baby coaches in Singapore, having assisted hundreds of parents. She guides them through pregnancy, labour, birth and postpartum, helping to achieve better birth and baby experiences. Her passion is to advocate for parents to choose the birth they want and make informed decisions, without fear, judgement or regrets.
Leila is a US-trained and certified DONA Birth & Postpartum Doula, Lamaze Childbirth Educator and is currently qualifying for her Childbirth International Lactation Counsellor certificate. In Singapore, Leila works closely with many top OBGYNs and nurse-midwives from Thomson Medical Centre, Gleneagles Hospital, Mount Elizabeth Hospital and Mount Elizabeth Novena Hospital. She has attended and assisted hundreds of births, ranging from natural (hospital/water/home) to caesarean births.
Moms love working with Leila because she is kind, fun, approachable and calm. They tell Leila that the reassurances she gives and the coaching she provides helps them through one of the toughest challenges life has to offer. Ultimately, they are deeply comforted by the knowledge that Leila understands, as a mother of two children herself, and she always has their best interests at heart.
LCCE – Lamaze Certified Childbirth Educator
CD/PCD(DONA) – Doulas of North America (DONA) Certified Birth and Postpartum Doula
RYT® 200 – Yoga Alliance Registered Yoga Teacher
CBI CLC – Certified Lactation Counsellor (On-going)
Leila believes the surest way to ensure a smoother, more positive birth and postnatal experience is for parents to equip themselves with the most recent, evidence-based and objective information on all aspects of pregnancy, labour, birth and parenting.
Being a mother of two herself and always juggling to balance work and family, Leila's approach to coaching and instruction is focused on delivering comprehensive information that is practical and easy to remember. Most mothers and fathers comment that her classes/consultations are fun, real, hands-on and all the knowledge shared is easy to apply!
How it all started...
Leila had a complicated first pregnancy that led to many classes, spending numerous hours researching on Google and books, chiropractic sessions, TCM, spinning babies, acupuncture, moxibustion, sleeping upside down, meditation, watching countless YouTube videos, changing doctors in the final weeks, labouring for over 40 hours, and ultimately birthing a breech baby naturally. Her postpartum recovery and breastfeeding journey was even tougher than the labour and birth process.
After her harrowing experience, Leila spoke to many fellow mothers and found out that many of them had similar or worse experiences! What was even more heart-breaking was that most of these parents did not know they had other options. They also did not know how they could find more information and support.
Women have been birthing for centuries, Leila was sure it did not have to be this way for so many new parents, so she set about training to become a DONA certified Doula and Childbirth Educator with some of the top trainers in the USA and with Lamaze International. Lamaze is the most recognised childbirth education organization in the world that promotes informed decision making using the latest evidence based maternal and fetal care/practices. She brought everything she learnt and experienced back to Singapore and started helping women, birth after birth after birth. The parents that Leila supported had a better understanding of their birth and parenting options which led to smoother and more positive births and recoveries.
With her second pregnancy, Leila applied the knowledge, experiences and tools she teaches all her clients and she gave birth to her second son in 4 hours, drug-free, standing up, without any tears, and she could walk immediately after.
Today, she is still breastfeeding her toddler.
What do antenatal classes teach?
Our workshops cover topics that many parents have requested us to, what exactly is happening during the different stages of labour, when to go to the hospital, what happens when your waters break, is labour painful, when is the best time to use the epidural, how to be successful in breastfeeding, how to bathe my newborn, fragile baby, and so on! It is also hands-on and catered for modern couples who want to get comprehensive information, delivered in a fun, practical and easy-to-remember way!
Why should I attend a class instead of researching online?
Leila's fun, hands-on workshops cannot compare to doing your own research online because
it saves you time and effort from Googling and having information overload, or worse, being misinformed
it is a safe, non-bias space that you are free to ask all your questions and
it allows you to meet other couples who are going through similar experiences as you.
Ask any parent and they'll tell you that it "takes a village to raise a child." Many of our moms and dads meet at our workshops and form lasting friendships! There are so many reasons to attend a childbirth class. The biggest question is: Why wouldn't you?
What is the difference between Leila & Co.'s classes and other antenatal classes?
Our classes are One-Day Crash Courses! They are always filled with laughter and lots of real, tried and tested tips that you can use during labour, birth and when baby is here!
These classes were designed after speaking to many parents!
We are very proud to say that during the workshop, we prepare your partner and you for all aspects of birth, baby, and breastfeeding. We focus mainly on two things, ensuring your birth partner is your best pillar of support and you are both ready for curveballs that are thrown at you – because as we all know, birth and baby are unpredictable to say the least!
Are birth partners supposed to join in the classes?
YES! It is crucial that your husbands or partners join you! They are the only constant support that you have in the labour ward. During the class, I will help be equipping them with all the tools to help you during labour and birth, breastfeeding and baby care too!
When should I join an antenatal class?
I would recommend you consider joining an antenatal class after your Fetal Anomaly scan which usually happens between week 20 to 22. Some parents are worried that they might forget whatever they have learnt if they attend the classes too early. Since my class is a crash course, you can consider joining us even at week 35-36!
What is a Prenatal Birth Consult?
Prenatal Birth Consult is a zoom session with both your partner and yourself. We dive deeper into your preferences and questions that are specific to your own labour, birth and postpartum period. We also discuss in detail any fears, worries, concerns that you might have and Leila assist in finding solutions for these. Sometimes we spend this time discussing your birth options if you have a complicated pregnancy.
How long is each consult?
Each consult is scheduled for 60 minutes. If you have never attended any antenatal classes, the consult might be longer as we will have more things to cover.
A birth plan is a written document that communicates your labour, birth, baby and breastfeeding preferences to doctors, nurses and the hospital staff. Your final birth plan is usually signed off by your OBGYN.
A doula is a birth professional who provides physical, emotional and informational support. In my personal opinion, the 2 best parts about having a doula are
Advocacy – Your doula is someone who advocates for you, they are your cheerleaders and the ones who have your back!
"Concierge services" – As a doula, I help them with all aspects from pregnancy, labour, birth and baby; from exercise to baby's diapers, breastpumps to pelvic floor physiotherapists , my clients always say that I am like a concierge + Google + Siri but specialised, specific to belly, baby and boob!
Why should I consider hiring a doula?
Research has shown that having a doula at your birth helps to reduce labour time, the use of drugs, medical interventions and caesareans. Having a doula around also helps women have better birth experiences and have better breastfeeding success!
Most parents find that the most valuable benefit of hiring a doula is that they can draw from the doula's extensive experience in pregnancy, birth, and baby care. The wealth of information the doula has collected from attending numerous births can prove to be an invaluable resource for parents.
There are so many good reasons to hire a doula!
How will a doula support my partner?
While your partner might know you inside and out, the doula knows birth inside and out!
Doulas usually work in tandem with your partner, as an extra pair of helping hands is always needed during labour and birth! With the Doula's support, the mother is almost never left alone when the partner needs to eat, nap, use the bathroom, or just get a breath of fresh air.
How is a Doula different from an OBGYN, Midwife?
If you are birthing at a hospital, it is likely you have a selected OBGYN. Before the doctor shows up to help birth your baby, the labour ward nurses are the ones who care for you. Most of the time, nurses are monitoring a few women at any one time and therefore they will not be able to offer consistent care. You do not get a choice of nurses, it depends on who is on duty and throughout your labour. Additionally, the people taking care of you might change when their shift ends.
A doula is someone who is with you from the very beginning – she meets you and works with you during your pregnancy - before you ever begin labour - and is by your side throughout the labour. She provides comfort measures, suggests a change in position, makes sure you eat and drink enough, and offer suggestions to your partner for how he/she can best be there for you.
Basically, a doula is the perfect complement to your medical team!
When do I need to hire a Doula?
There is no specific time to hire a doula, however, the earlier you hire one, the more she can help you prepare for labour, birth and baby. It is also always good to start building a rapport with your doula as soon as possible!
Do you recommend exercise during pregnancy?
Yes! If your doctor gives you the green light to exercise, I highly recommend it. In all the births I have attended, I notice a big difference between women who exercised and who did not. The two main benefits are
Stamina – Exercise builds both mental and physical stamina – both are VERY important for labour and birth!
Going back to pre-pregnancy size – many mothers who exercise regularly before giving birth and during pregnancy, they usually go back to pre-pregnancy size faster than women who did not exercise.
Can I drink coffee while pregnant?
According to ACOG, moderate caffeine intake of about 200mg a day is safe. Do take note that caffeine is not only found in coffee but it can be found in chocolates, teas and some carbonated drinks.
What if my baby does not come by my EDD?
A very common question I get. Well… EDD stands for estimated due date… not expiry date! When your baby and body is ready, you will go into labour and birth your baby!
When do I pack my birth bag?
Packing your bags between week 36-37 is a good idea! Some women can go into labour as early as week 37? However, about 75% of first time mothers actually go into labour between week 40+5 and 41+3. It is always better to be prepared though.
What is the difference between mucus plug and bloody show?
Mucus plug is a thick, mucousy substance that prevents the fetus from getting an infection while he/she grows safely in the womb. When your cervix starts to soften and ripen during early labour, the mucus plug loosens and you might see a thick, snot-like substance that is discharged from your body; it is a one off thing.
Bloody show is more like period bleeding – usually you see more of this as contractions get more regular.
Does losing your mucus plug mean you are in labour?
Losing your mucus plug is a sign of labour, however, some women might not go into labour for a few hours, few days, even a few weeks!
When should I join an antenatal class?
I would recommend you consider joining an antenatal class after your Fetal Anomaly scan which usually happens between week 20 to 22. Some parents are worried that they might forget whatever they have learnt if they attend the classes too early. Since my class is a crash course, you can consider joining us even at week 35-36!
Is labour and birth painful?
If you allow labour to begin on its own, I always tell my clients that labour is not pain-free, but the pain is manageable. During the pushing stage, many mothers actually report that it is more intense than painful. Trust the birth process, trust your body and give it a try! You might even surprise yourself.
When is the best time to get an epidural?
There is no actual "best time" to get an epidural. I always tell my clients to try early labour without epidural first, and get epidural when:
You are past 5-6cm
You can't talk or walk when a contraction is happening
This is to help baby move through the pelvis and birth canal by moving. It also helps when you stay upright, allowing gravity to work!
A birth plan is a written document that communicates your labour, birth, baby and breastfeeding preferences to doctors, nurses and the hospital staff. Your final birth plan is usually signed off by your OBGYN.
Are Doulas only for Water Births?
Doulas are for all kinds of births! We support you, no matter how you want to birth and what your final birth outcome is!
May I have a doula for a Caesarean Delivery?
Yes! Doulas are for supporting all kinds of birth! Our doulas can help you prepare for caesarean births, what to expect from the process, how to ensure you get to bond and breastfeed with your baby ASAP. On the big day, doulas will be there to help you get ready, and when your baby and husband is out from the operating theatre, they can assist with skin to skin. Thereafter, they help you with breastfeeding. Some doctors and hospitals allow your doula inside the operating theatre with you too!
Can doulas deliver my baby?
No. Doulas do not deliver babies. We will also not perform any medical tasks such as blood pressure taking, checking the dilation of the cervix, fetal heart rate monitoring, making any medical diagnosis, administering or prescribing medication, or any other procedure that qualifies as practicing medicine. We only provide physical, emotional, and informational support.
Will I poop during pushing?
Many people have the misconception that during the pushing stage, they will poo a big turd in front of many people. Fortunately, that is not true and usually, by the time you are pushing, this is the last thing on your mind!
What do I do if my baby is breech?
Most babies turn head down by week 34, usually if your baby is still sitting upright in your belly by then, your doctor will tell you that your baby is breeched. If your baby remains breeched by week 36, most doctors will recommend a caesarean. Some things that you can consider doing to turn a breech baby include chiropractic care, moxibustion, Spinning Babies techniques, sleeping tilted, etc. Some doctors can perform an External cephalic version (ECV) at week 37 to try to turn the baby head down.
There are many options to think about if your baby is breech at week 34, do reach out to me if this is your situation.
After my waters break, will my baby fall out?
Whenever I get asked this question, my reply would always be: "I wish!" We would have so many more babies if babies just fall out! Unfortunately, (or maybe, fortunately), they do not!
Birthing is quite different from what the mainstream media shows us. It takes time for your body to birth your baby!
What do we discuss during postnatal consults?
Postnatal consults are usually done either via zoom or any other forms of video call. Most parents need help with correcting their latch for breastfeeding, asking questions with regards to mother's physical, emotional and mental well-being, as well as baby care – diapering, bathing, soothing, etc
How long is each consult?
These consults usually last between 60-90 minutes long.
Can you help with lactation issues?
Yes! Leila is both a postpartum doula and a qualifying Lactation Counsellor.
How do I know if my baby is drinking enough?
If you cannot measure the input, you look at the output – pee, poop and weight gain!
Trust the breastfeeding process! Get help if you are unsure.
Why is my baby drinking all the time?
In the beginning, babies are born with very small tummies, therefore it cannot hold a bigger capacity to tide them through longer hours. Sometimes, babies going through a growth spurt or a mental leap might cluster feed. These usually only lasts a few days.
How do I know if my latch is right?
Most people tell you that if your latch is right, you will not feel pain. That is true. The other thing to also look out for is efficient drinking, if your latch is right, your baby will be seen to have a suck suck swallow rhythm.
What do I do if I have engorgement?
Engorgement between 3-10 days post birth is normal. It is part of the physiological process of breastmilk production and breastfeeding. My best tips are, latch your baby on demand – your baby is the best pump,
What is a postpartum Doula?
A Postpartum Doula helps the new family in the first few days/weeks. In ancient times, a community of women would typically support new mothers just after their birth. In modern times, after a few days in hospital, mothers are sent home alone to face the challenges of parenthood and postnatal physical recovery. A postpartum doula helps recreate the community village of women.
What do Postpartum Doulas help with?
Most postpartum doulas offer lactation support, help parents with baby cues, feeding, changing diapers, basic newborn care, bathing and soothing the baby. They also offer non-judgemental emotional support & physical recovery tips to the mother. If they feel the need for you to see someone professional, they have a repertoire of resources to refer you to!
Why is my baby crying all the time?
Babies can only communicate with you by crying. They could be cold, too warm, uncomfortable, has a dirty diaper, hungry or just want some love and comfort. There are many reasons why they cry; mostly it is because the world is a foreign and cold place and they are using all of their senses and bodily functions for the first time!
When can I introduce bottles?
I usually recommend parents to introduce one bottle feed between weeks 3-5 IF baby has a good latch and your breastfeeding journey is going well.
When can I exercise again?
Usually between 6-8 weeks post birth, once you have seen your care provider and they have given the green light for you to exercise again. I would also recommend that you start slow and if you start bleeding again after you have stopped, it is your body's way of telling you to slow down, take a few days' break before you work out again.