Posted on March 25 2019
Baby Carriers
Even with a stroller, most parents love to get a baby carrier in order to promote parent-child bonding. It can be especially nice for fathers, who did not have the "benefit" of carrying a child inside them for nine months. Some may just find it the easier alternative to a stroller. When deciding what type of carrier to use, keep in mind your baby's development as well as your own body. Two important considerations are your child's weight and whether they can hold their head up. Moreover, take into account your own size, strength, and how much back support you need.
Carriers shouldn't be used while carrying out activities like cycling, jogging, or anything that's strenuous.
Exercise caution when bending to pick something up while carrying a baby. Use your hand to hold baby in place, and bend at the knees rather than at the waist.
Don't cook with a baby on your front in a carrier.
Be careful when reaching for things that could fall on your baby.
Pay attention to age, weight, and stage requirements for different styles of carriers.
If you get a sarong-style sling, some coaching at the be ginning can be very helpful in getting the fit right
Travel Cots
A travel cot is an essential item for parents who enjoy travelling with their baby. Whether you are going abroad or spending a weekend away from home, a travel cot can make your stay more relaxing for you and your baby. Your baby can sleep or rest in a familiar environment away from home, or have a safe place to play if a friend's house is not baby-proofed. Their usefulness makes them a definite candidate for your baby's packing checklist. A travel cot is easy to pack into the trunk of your car with the rest of your luggage, so it's not surprising that they are one of the top travel accessories for parents today.
You can get the most out of your travel cot if you have room to use it at home as well as when you are away. Some parents use them for their baby's daytime naps, so they get used to sleeping in it before they go away.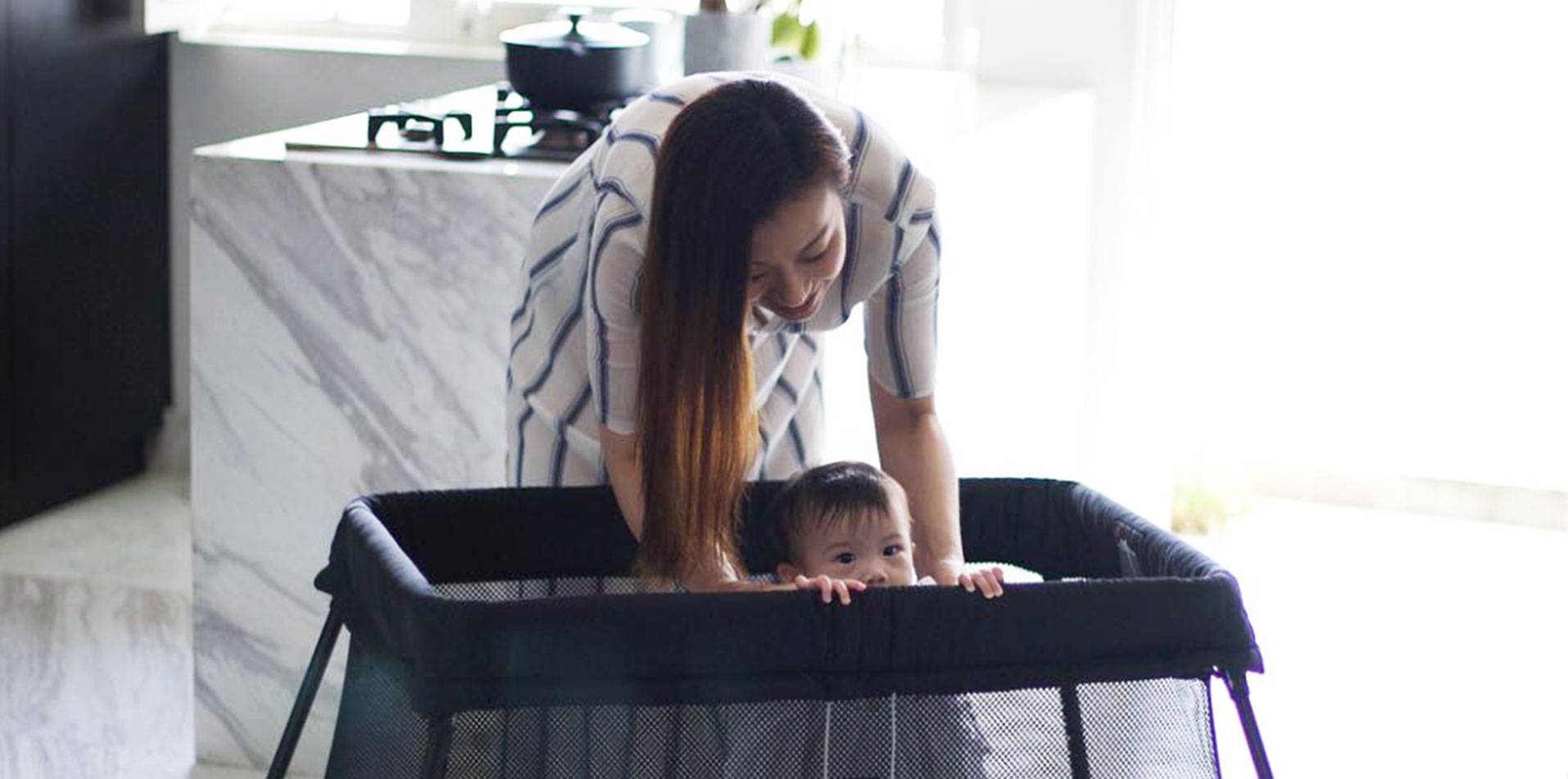 Here are some features to look for in a travel cot:
Ease of use
Ask the retailer to give you a demonstration of how easy it is to assemble and collapse the travel cot before purchasing. Make sure to check the weight of the travel cot, as this will affect how easy it is for you to lift it and put it down, and also get it back into its bag.
Carry-bag and wheels
A lightweight travel cot that comes with a carry-bag and wheels can make transporting a lot easier.
Machine-washable covers
Fabric covers that are removable and machine washable can make keeping the travel cot clean much easier. If you intend on using the cot a lot, then this could be a high priority for you.
Mesh window
If at least one side is made from mesh, it will enable you and your baby to see inside and outside. A roll-down blind to cover the mesh if you want to make the cot darker is also useful. This is ideal if you are going to share a room with your baby while you are away.
Dual-purpose
Some travel cots are designed to double up as playpens. They occasionally come with detachable toy flaps or a toy tidy that is included in the price.