Posted on May 12 2021
Have your little one join you at the table for meals with a high chair like this one from Stokke, which can be used from infancy to adulthood.
When your baby reaches her half-birthday, you can also unlock another milestone in her life - introducing her to solids and starting baby weaning. According to the World Health Organisation and UNICEF, babies should preferably be exclusively breastfed for the first six months of life if possible. Of course, you should supplement with formula milk if necessary.
Starting Solids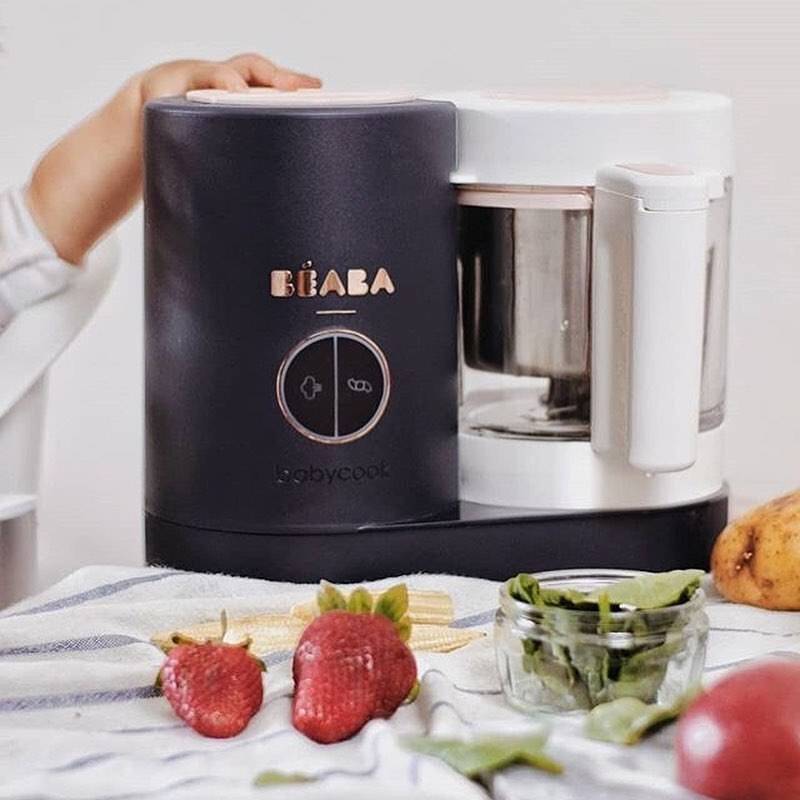 Cook solids in the Béaba Babycook Neo to ensure that the texture is soft enough for your little one to gum on.
Some indications that your little one is ready to try solids include being able to hold her head in a steady and upright position. She should be able to sit with support, mouth her hands or toys and open her mouth. Check with your paediatrician before starting your baby on solids. Start with single-ingredient foods without sugar or salt. Examples include beef, chicken, avocado or cooked carrots, whether pureed or served in strips. Wait three to five days between each new food to see if your baby has any reactions like diarrhoea, rashes or vomiting, then give these in a combination.
Food preparation: Prepare your baby's food in the Béaba Babycook Neo ($420), which makes up to 1,250ml of food, and steam cooks, blends, reheats and defrosts in 15 minutes or less.
Baby Weaning: What to Feed Your Child
Foods to Avoid
Let your little one practice drinking from an open cup, like this one from Babybjӧrn.
Before one year old, there are a number of foods you should avoid giving your baby. For instance, cow's milk may increase the risk of iron deficiency and is unsuitable for a baby's nutritional needs. Another one to avoid is honey, which can contain spores causing infant botulism. Additionally, refrain from giving your little one seeds, nuts, popcorn and hard candy as they can choke on these. As for meat, cheese, grapes, raw vegetables and grapes, cut these up into small pieces so they don't choke. While your baby can drink water after six months, juice is unnecessary, may lead to weight problems and can lead to tooth decay. Limit giving 100 per cent fruit juice to about 120ml a day.
Drinking Water: Open Cups - Babybjorn Cup 2-Pack ($25.11) and EzPZ Tiny Cup ($13.18) and Straw Cups ($10.32 to $36.40).
Good First, Iron Rich Food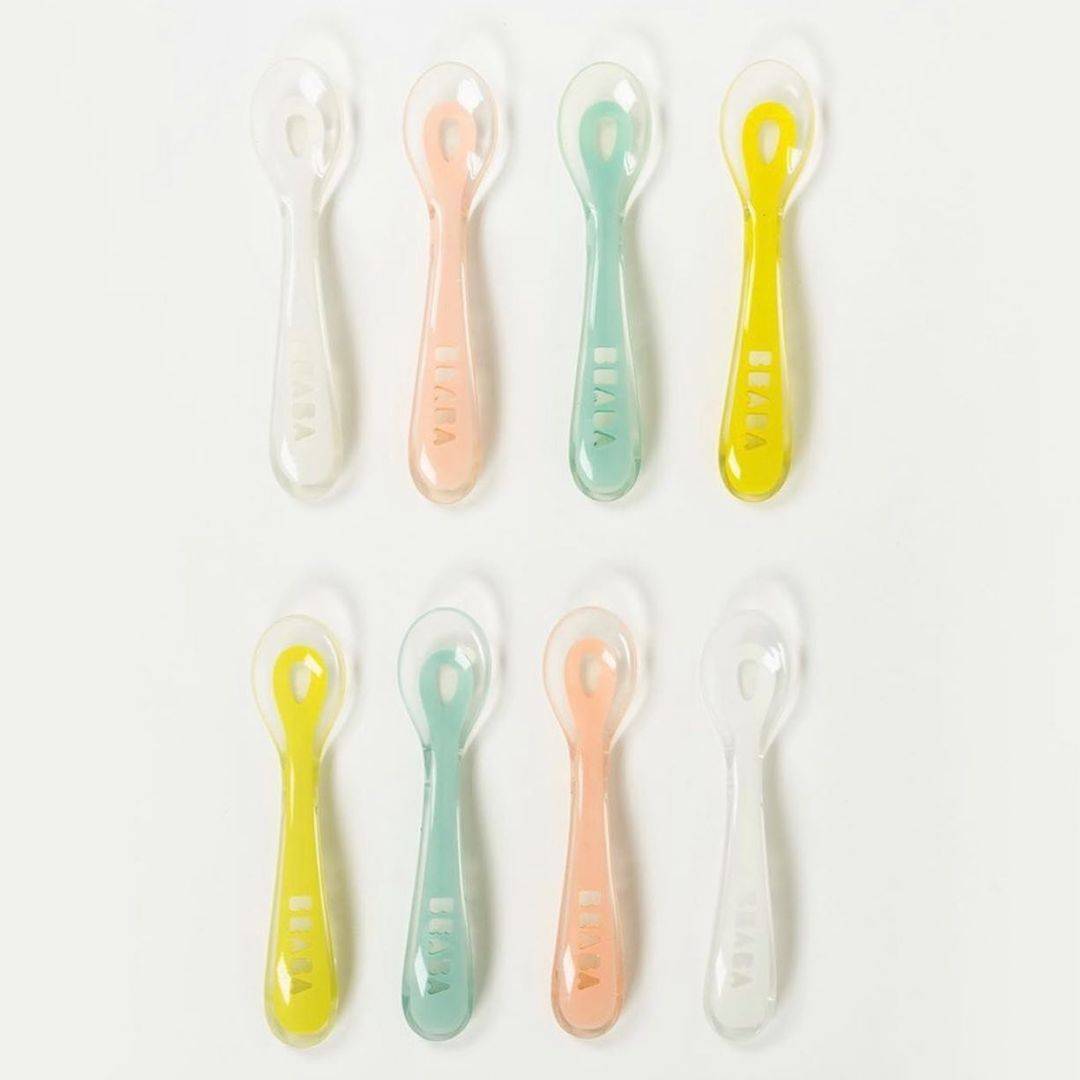 These 1st age ergonomic silicone spoons from Béaba are BPA, lead and phthalate free and are designed so parents can easily feed their babies.
Babies between 7 to 11 months need 11mg of iron daily, so start with iron-rich foods like beef, poultry, beans, legumes and eggs. Cook meat or fish at internal temperatures of 70 to 82℃, checking with a meat thermometer. Serve these pureed or in 5 - 7.5cm logs twice a day. Pair these with vitamin C rich foods like papaya, and broccoli for optimal absorption.
Mix one tablespoon of single-grain, iron-fortified baby cereal ($7.90 to $10) with four of breast milk or formula. After her main feed, give your baby one or two teaspoons of the cereal, gradually increasing the amount and thickening the mixture as your baby becomes adept at swallowing. Avoid giving rice cereals as these may contain arsenic.
Infant Spoons: Munchkin 6 Pack Soft-Tip Infant Spoon ($5.90), Skip Hop Easy-Feed Spoons ($15.92), Béaba Ergonomic 1st Age Silicone Two Spoons & Case ($25.20)
Food Allergies
Do also offer potential allergens like peanuts and tree nuts, cow milk products, wheat, fish, soy and crustacean shellfish. Trying these early on can decrease the risk of her developing a food allergy. Introduce tree nuts and peanuts into her diet via nut powders or flours, or nut butters. Make sure these nut butters contain as little ingredients as possible, and spread them thinly onto a cracker or banana strip. If your close relatives have any such food allergies, check with your paediatrician who may recommend oral antihistamines.
Traditional or Baby Led Weaning
Each method has its pros and cons, so it depends on which your baby favours, or what works for you and your family.
Traditional Weaning
Food pouches like these from Little Étoile Organic are convenient and can help your little one practice swallowing when you squeeze out the contents into a bowl and feed her with a spoon.
Chances are you'd have heard your parents talking about starting them on purees and cereals - which is what you'd serve your little one if you're doing traditional weaning. You'll also feed your baby from a bowl with a spoon, which may reduce the amount of mess created during the meal. Next, your baby will gradually transition from purees to mash and then solids. In terms of portion sizes, begin with just one or two teaspoons of a single-ingredient puree and then increase up to one to two tablespoons. Rather than making your infant finish her food - organic food is expensive after all - follow her fullness cues. These could include pushing food away, closing her mouth when offering food and turning her head away from food.
Purees: HiPP, Little Étoile Organic, Little Freddie, Piccolo, and Only Organic (from $3.70 to $4.90 each)
Baby Led Weaning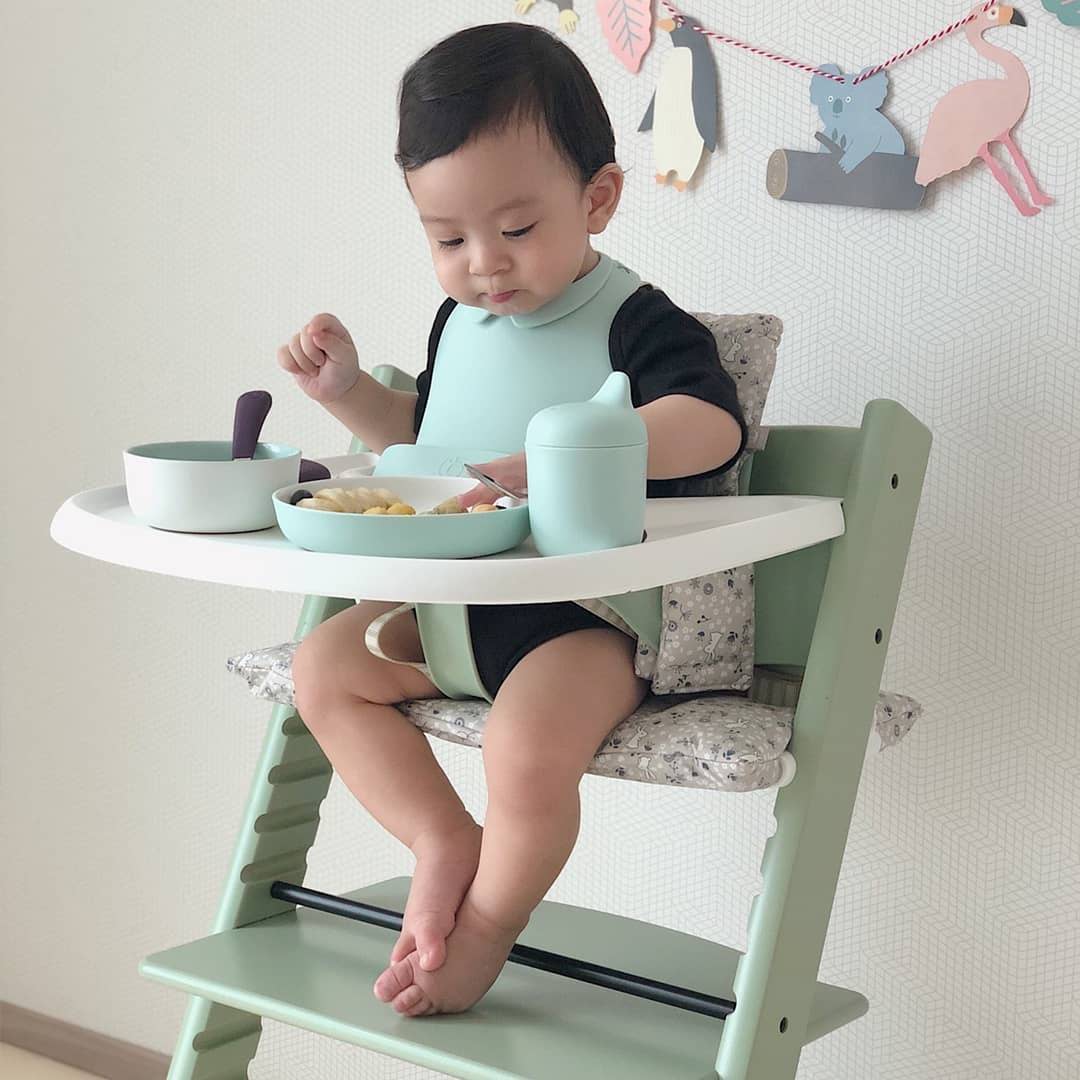 Ensure your little one is sitting 90 degrees upright in his high chair, like this Stokke Tripp Trapp, and watch him while he feeds himself in case he chokes.
With baby led weaning, you can prepare the same food for the whole family, albeit ensuring that the texture is soft enough to mash between your fingers. Of course, since you're letting her attempt to feed herself, it's going to be messy, with food strewn everywhere, including her high chair and bibs ($7.12 to $39.20). Babies can also try a range of different textures and foods. Remember to let her eat till she's full, starting with just one or two pieces of finger food and one to two tablespoons of mashed food.
High Chairs: Stokke Tripp Trapp, with baby set, harness, and cushion (special bundle at $799), Stokke Clikk High Chair ($299), Stokke Steps Baby Set ($389) and Chicco Baby Hug 4-in-1 Air and Mealtime Kit ($448 and $100 respectively).
Snacks: Little Blossom ($5.50) and Kiddylicious ($2.90 to $10.90)
Weaning off Breast Milk
As far as possible, it's recommended to keep breastfeeding while giving your baby solids for at least 12 months. If you wish to wean her off earlier, start with the feed your little one is least interested in and replace with infant formula, expressed breast milk or cow's milk (after a year old), from a cup or bottle. Drop a breastfeed at a time, waiting for a few days or a week before dropping the next. If you have to cease breastfeeding quickly, you may have engorged breasts and need to express your milk - express just enough with breast pumps until you're comfortable. When your baby has stopped breastfeeding, you might have lumps in your breasts, indicative of blocked ducts or even mastitis. Try massaging the lumps or expressing the milk or see a GP if you develop flu-like symptoms.
Relevant Reads: Self-Feeding, Baby Cooking Hacks