Posted on May 02 2023
Founder and CEO of Motherswork, Sharon Wong
Celebrate Motherswork's 25th anniversary with us! We're throwing a big party with a Carnival and our biggest sale of the year! Join us from the 5th of May for 25 days of celebration with up to 75% off, $25 off every $400 spent and a chance to win even bigger prizes through our games and lucky draw! Read on for more info on the sale and some milestones from the last 25 years!
Motherswork's 25th Anniversary Carnival Invite
25 is a huge milestone for us; and what better way to celebrate than by throwing a party! From May 6th – 15th we will be taking over the atrium at Great World with a fun filled carnival. You can dive into the ball pit, jump on the bouncy castle or take a family photo in our dome. We also have arcade games to play! Test your skill and win tickets to redeem for prizes; or try your luck with one of our claw machines and win your own Baa Baa Sheepz Pillow! Every $100 spent in store or online, entitles you to 1 ticket which can be used to have fun at any of our carnival attractions.
The excitement continues upstairs in-store! We have the best discounts of the year so far. To celebrate 25 years, we have up to 75% off. On top of all the great discounts we're offering, you'll also get $25 off every $400 spend - this is a celebration you do not want to miss! Our hottest deal is the new Joolz Aer+ stroller at an unbelievable 25% off; but you've got to be fast! The Joolz Aer+ sale is limited to the first 25 to purchase in-store. Yes, we know…we like 25.

A Look Back at Motherswork's Milestones Over the 25 Years
Since its inception in 1998, Motherswork has achieved several major milestones, including establishing our distribution network, becoming a global company with the opening of our stores in China and becoming an omnichannel business with the launch of our online sales channels and website.
Motherswork's 25th Anniversary Collaborations
Motherswork and Maison Q collaborated together for a limited edition Chinese New Year print, featuring swallows, peonies and hydrangeas.
At Motherswork we also have a strong history of working with local brands and supporting local entrepreneurs. For our 25th anniversary, we have many exciting collaborations with several local brands such as Bynd Artisan, Hegen, Skin Inc, Our Second Nature, The Paper Bunny, Lepetit Society, Baa Baa Sheepz, Urban Li'l, Scent by Six, Little Rei and Nodspark! These exclusive collections will be available during our Anniversary sale and later on throughout the year.  
Take home our 25th Anniversary
Motherswork have collaborated with illustrator Kristen Kiong to conceptualise a special print for our Anniversary. Over the last 25 years, we've seen babies transition into young adults and parents become grandparents. Kristen came up with a print that has a multi-generational balloon motif. The hot air symbolises motherhood being the toughest thing a mum does in her life. However, it is exactly this hot air that makes the balloon rise into the sky and when you look down at the view, the big picture is beautiful.  This exclusive print will be available to commemorate our 25th Anniversary on notebook, wrapping paper, swaddles, baby apparel and more!
Balloon Illustrations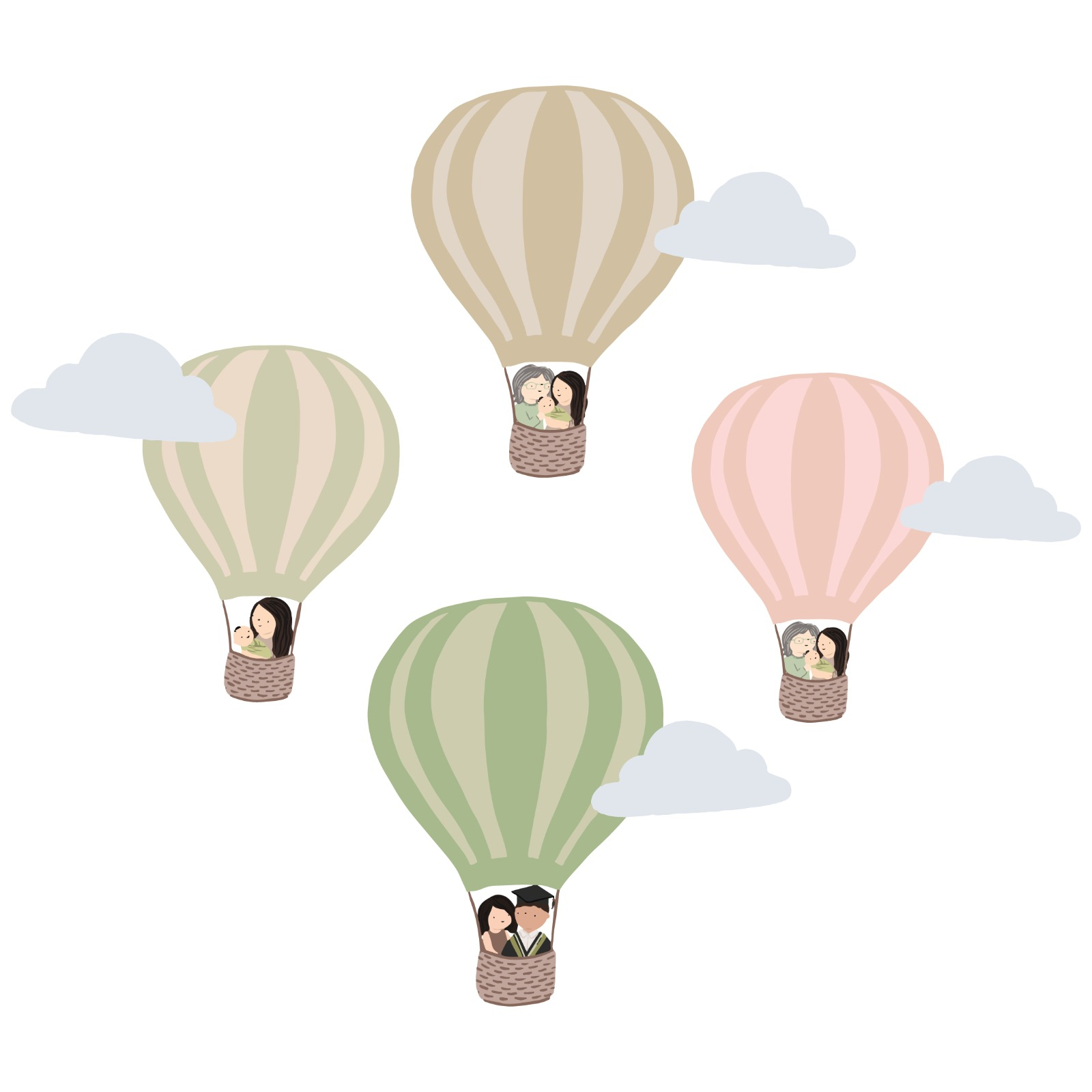 Kristen Kiong's illustrations for Motherswork's 25th anniversary
Motherswork's Journey Over 25 Years
Every milestone over the last 25 years has been made all the more special by you; our Motherswork community. We are incredibly excited to share in the celebration with all of you in the coming weeks! Follow us on our Instagram and Facebook pages as we release more details on the great deals and events coming very soon!