Posted on September 29 2020
Choose a stylish yet safe crib for your little one that suits your lifestyle, whether it's an expandable, travel or bedside cot. Looking for cribs for your little one? We've rounded up some of the best options, complete with what safety features to look out for.
Aside from choosing an aesthetically-pleasing crib for your little one to sleep in, do also bear in mind the various safety features to look out for. Options available include drop-side cribs, extendable and travel cots.
Crib Safety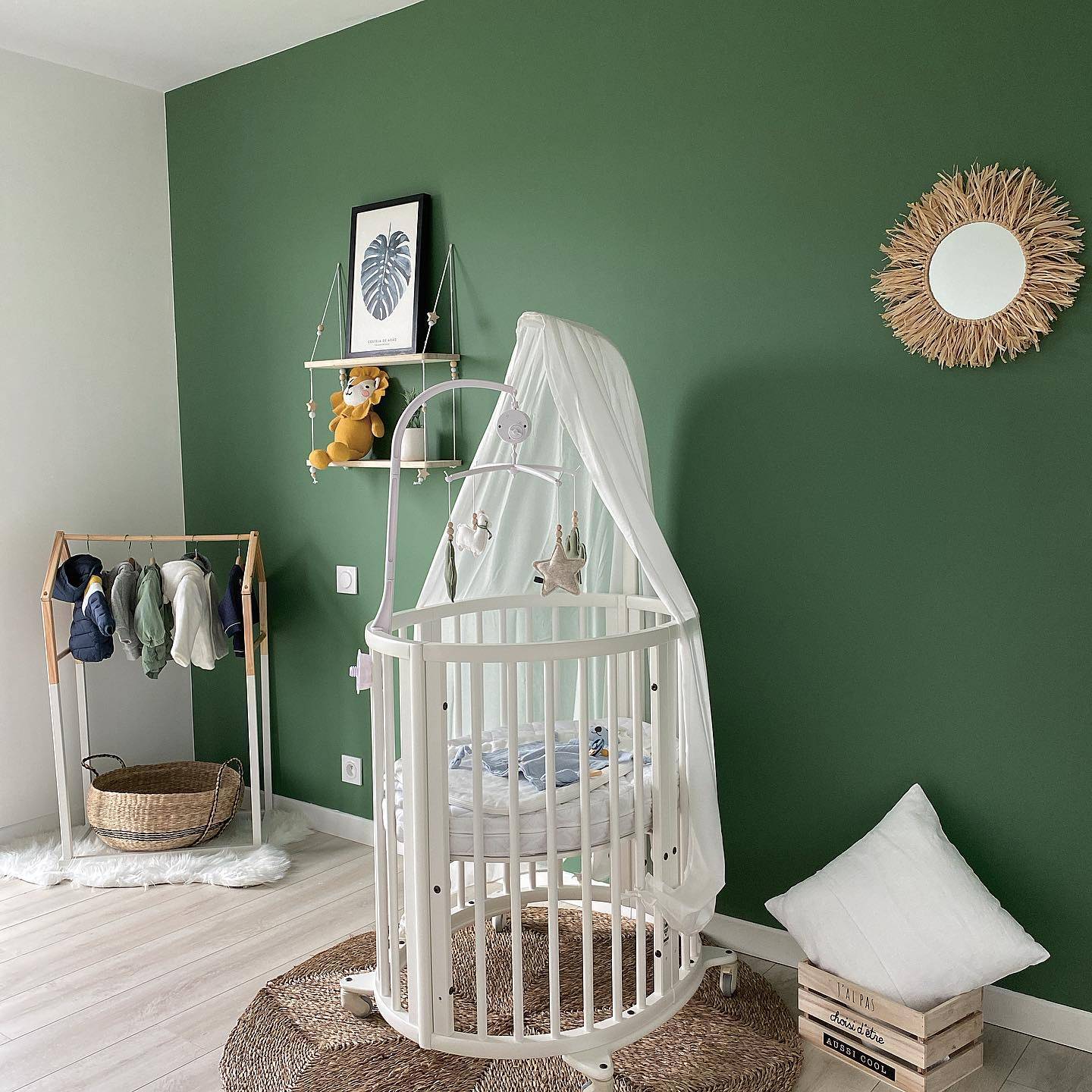 Some safety features include ensuring the bars are space 6cm apart, and the base should be able to be lowered as your child grows.
What to Look Out For
If your crib has bars, they should be spaced a maximum of 6cm apart. The raised crib sides should be about 66cm above the mattress support, and you should be able to lower the mattress as your child grows. Next, ensure that both the head and footboards are solid, without any decorative cutouts. Additionally, avoid using cribs with drop rails as they are not safe.
When assembling the crib, use original screws, bolts, nuts, plastic parts and other hardware. Always get replacement parts from the manufacturer and ensure they're all tightly in place to secure the crib. Otherwise, your child's activity may cause the crib to collapse. Next, check the crib weekly for any hardware damage, loose joints, missing parts, or sharp edges.
Where possible, buy new if you can, otherwise make sure your used crib has been recently purchased. Additionally, check the Consumer Product Safety Commission's crib website for recalls.
Within the Crib
Inside the crib, avoid using crib bumpers, large toys and stuffed animals, thick blankets, duvets, pillows and rolled blankets or other products to support your baby. In particular, crib bumpers pose a risk of suffocation and entrapment, while older babies may use them to climb out of the crib. SImilarly, large toys and stuffed animals can have a leg up and over the rail. Meanwhile, pillows, bulky comforters and heavy blankets can cause a baby to smother under there.
Instead, keep the cot uncluttered, with just a waterproof pad and fitted sheet. You may want to get machine washable bedding - just use a mild, unscented detergent, and use a swaddle blanket to keep your baby warm. Furthermore, make sure to vacuum the underside of the crib often, and try to keep your pets off the crib to avoid the spread of fur and marking.
Placing the Crib
Moreover, be careful where you place the crib. For example, the crib should be away from windows, direct sunlight and drafts, which make your baby uncomfortable. There should also be no strings from blinds or curtains that could wrap around your baby's neck. By the time your baby is about 90cm tall, he/she should sleep in a bed, or on a mattress on the floor.
The Mattress
Aside from the crib, do also make sure the mattress is the same size, so there are no gaps to trap any body parts. As a gauge, there should not be space for more than two fingers between the mattress and the sides or the ends. Of course, remove and destroy all the accompanying plastic wrapping material.
Choosing Cribs


Bedside Cots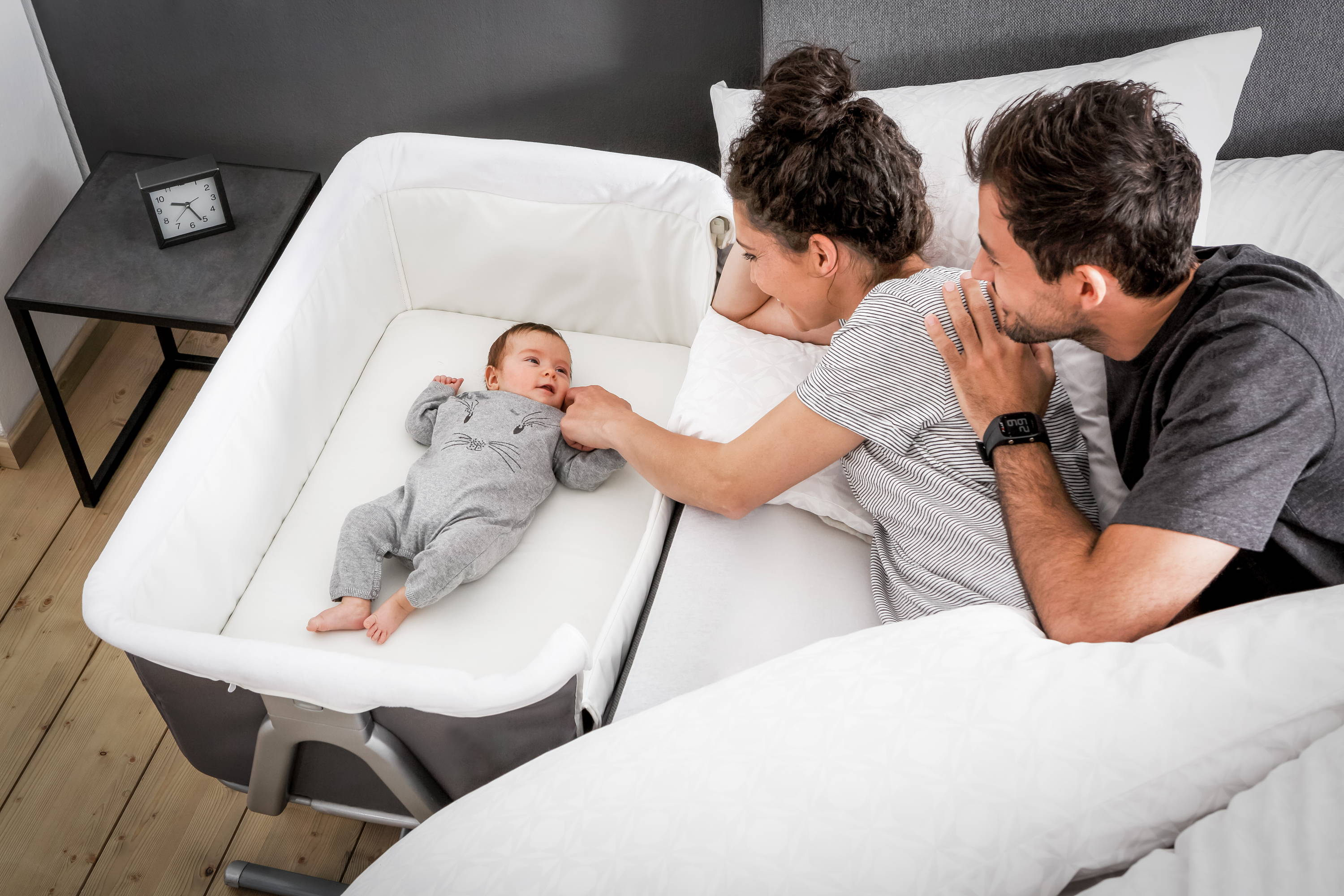 Easily reach for your little one during the night to nurse or to soothe, with the Hauck Bedside Cot.
Hauck Face to Me Bedside Cot ($289) has five adjustable heights from 66 to 86cm, ensuring you can easily reach for your baby during the night no matter how high your bed is. When fixed to your bed with the belt system, you can zip down the side panel for co-sleeping. Even when the side panel is down, the construction of the cot ensures your baby is unable to roll out of it. Otherwise, it folds up easily and can be tucked away. This cot is suitable for babies up to 9kg or about six months - up to 12 months depending on your little one's actual weight and height. However, do note that this item is a pre-sale, and delivery will happen three to five days after order confirmation, usually between 2 - 6pm on weekends and weekdays, and 11am - 3pm on weekends.
Promising Review: Onelle says, "Perfect for the sleepy newborn days! We use this with our snuggle me lounger and couldn't be happier! I searched high and low for a bassinet tall enough for our bed (our is rather tall because we have storage drawers underneath) and this was the perfect fit. I'm so glad we got rid of our pack and play especially since we have limited space. This bassinet is large enough to be stable but doesn't have an extremely large footprint like a crib does - perfect for our small apartment!
Expandable Cribs
Stokke Sleepi Mini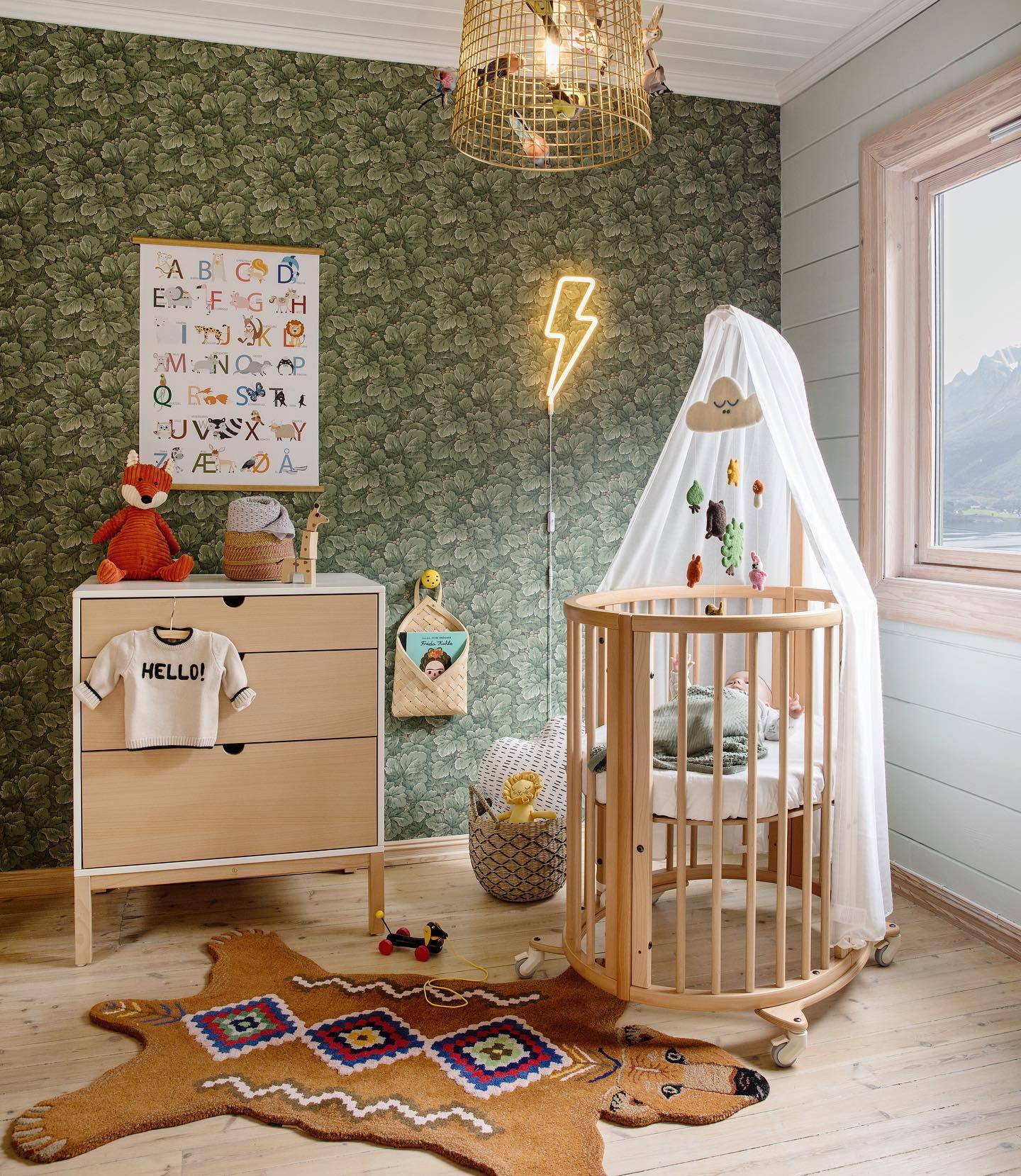 The sleek yet stylish Stokke Sleepi Mini crib fits neatly in a corner, and complements various decors.
Like the Hauck Bedside Cot, the Stokke Sleepi Mini ($939) is also perfect for newborns up to six months, with adjustable height positions. Its tiny size is great for small rooms, while its wheels enable you to move your sleeping baby from room to room if necessary. Unlike the Hauck, this bed can expand and grow together with your little one. With the conversion kits ($249 to $590), this Sleepi Mini can transform into a toddler, so your child can sleep in the bed until he/she reaches 10 years. After this, you can easily turn the bed into two chairs.
Promising Review: JPatriciaPrinz says, "It's the perfect cradle, super functional, with wheels so you can put it next to your bed or wherever you want and also is beautiful. 100 per cent recommended!"
Shop the Sleepi Mini's accessories.
Boori Alice Cot Bed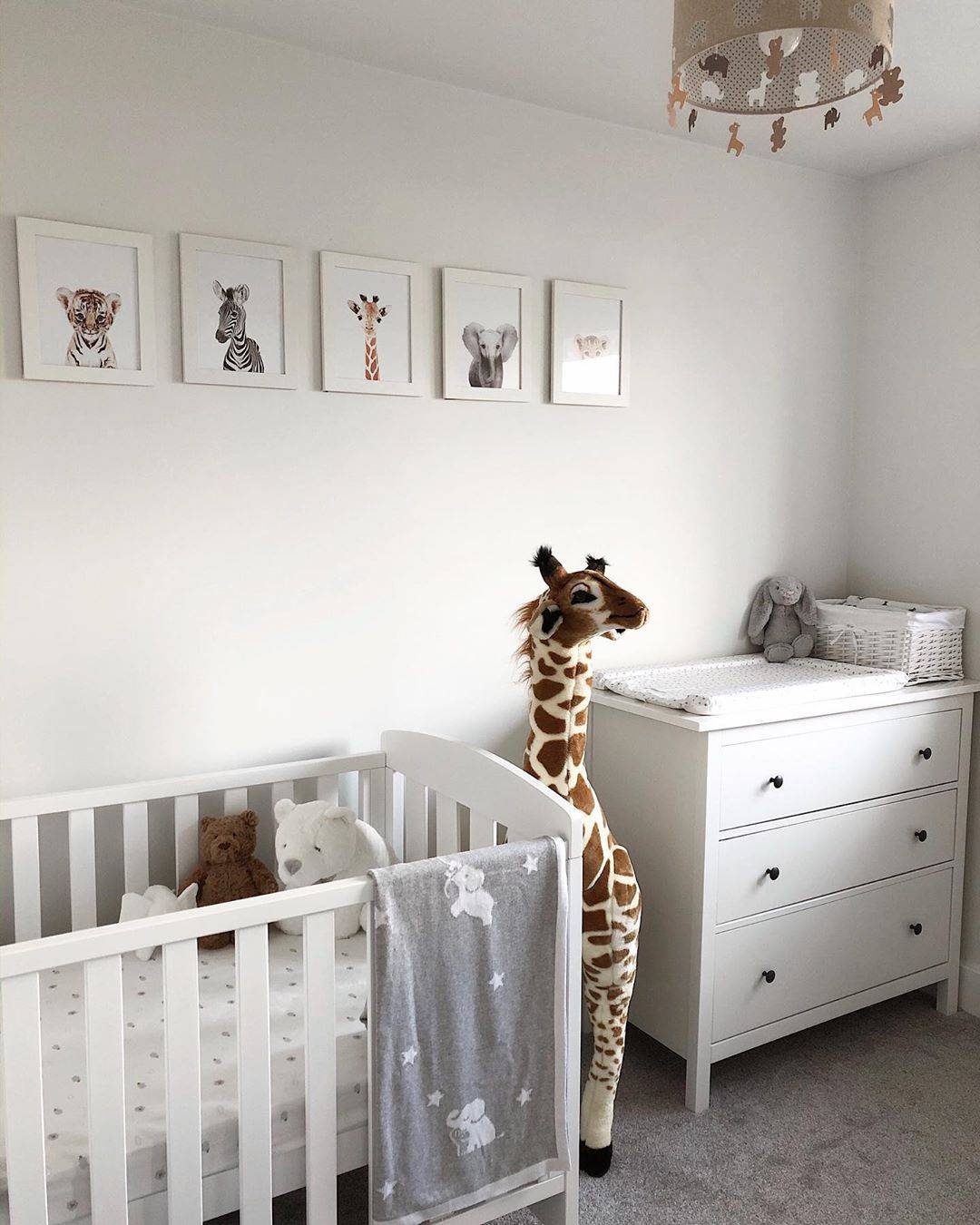 Choose durable, long-lasting designs like the Boori Alice cot, which can last your little one till he/she's about five years old.
Next, the Boori Alice Cot Bed ($599 to $828) is made with solid and sustainable Australian Araucarian wood. Additionally, it's finished with the unique Eco-Blend Bio-Paint, with renewable plant extracts. Your little one can sleep in this bed from birth all the way till he/she is about five years. Moreover, the bed has two base heights, the higher one for parents to easily carry their newborns, and the lower when he/she is able to pull him/herself up. When converted to a toddler bed, you can also rotate the fixed side panel to provide a low side.
Promising Review: Natasha says, "The Alice cot has been outstanding. Three years of use and I couldn't be happier. Easy to assemble, excellent quality, and best of all bub has been comfortable and safe. Now a toddler, my little girl still loves sleeping in it as a toddler bed."
Shop the Boori Alice's mattress and Halo Net & Stand.
Bonbijou Osito 5-in-1 Baby Cot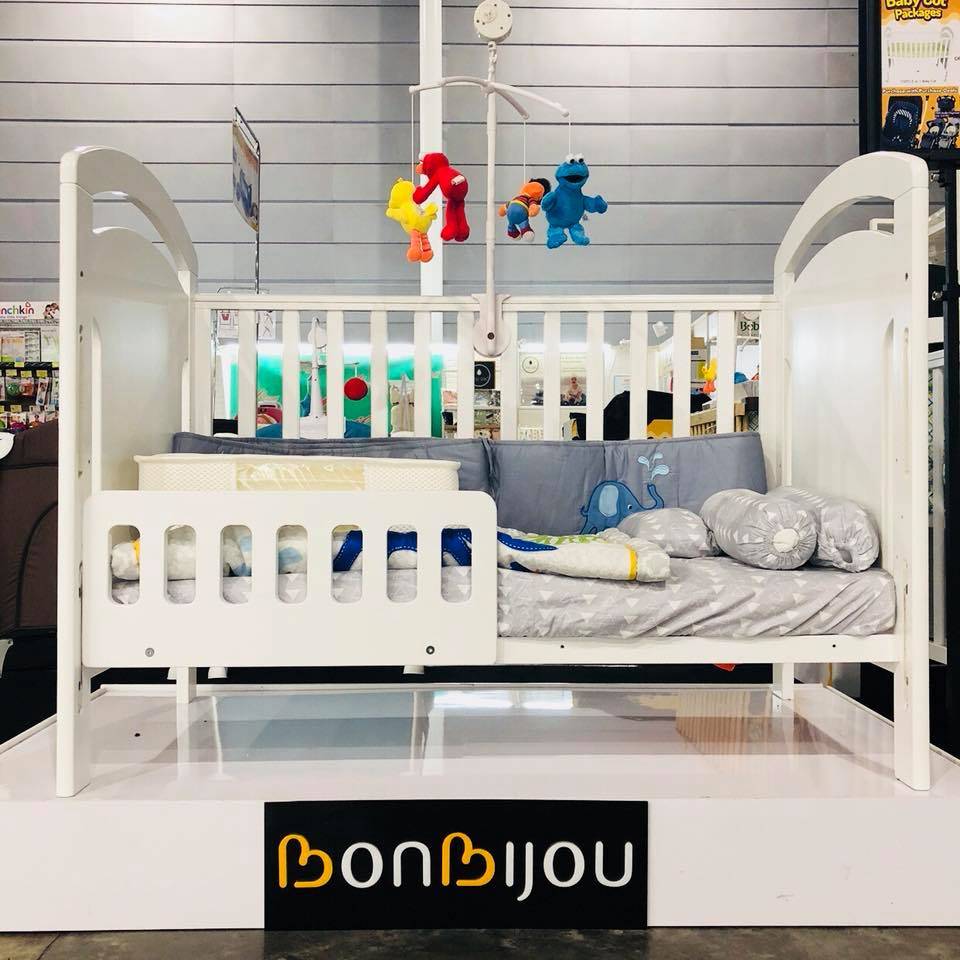 The Osito crib from Bonbijou can be used for newborns, and later on as a toddler bed, among a variety of other configurations.
Suitable for your newborn from birth till he/she weighs up to 60 kg, this Bonbijou five-in-one baby cot ($399, U.P. $499) can transform into a junior or toddler bed, a desk, a sofa and a playpen. Additional carpentry for the child's desk sold separately. From birth, set up your cot for the tallest height, so you can easily pick up your newborn. Additionally, the one-handed, drop-side mechanism helps you get your baby out effortlessly, which is also helpful when needing to nurse him/her at night. Crafted with high quality New Zealand pinewood and Medium Density Fibreboard, the cot is very sturdy and complies with the EN716 safety standard. Moreover, the cot also has durable teething rails on both sides so your baby's gums and teeth are protected. When turning this into a junior bed, a bed guard can also be installed for your child's safety.
Travel Cribs
Skip Hop Play to Night Expanding Travel Crib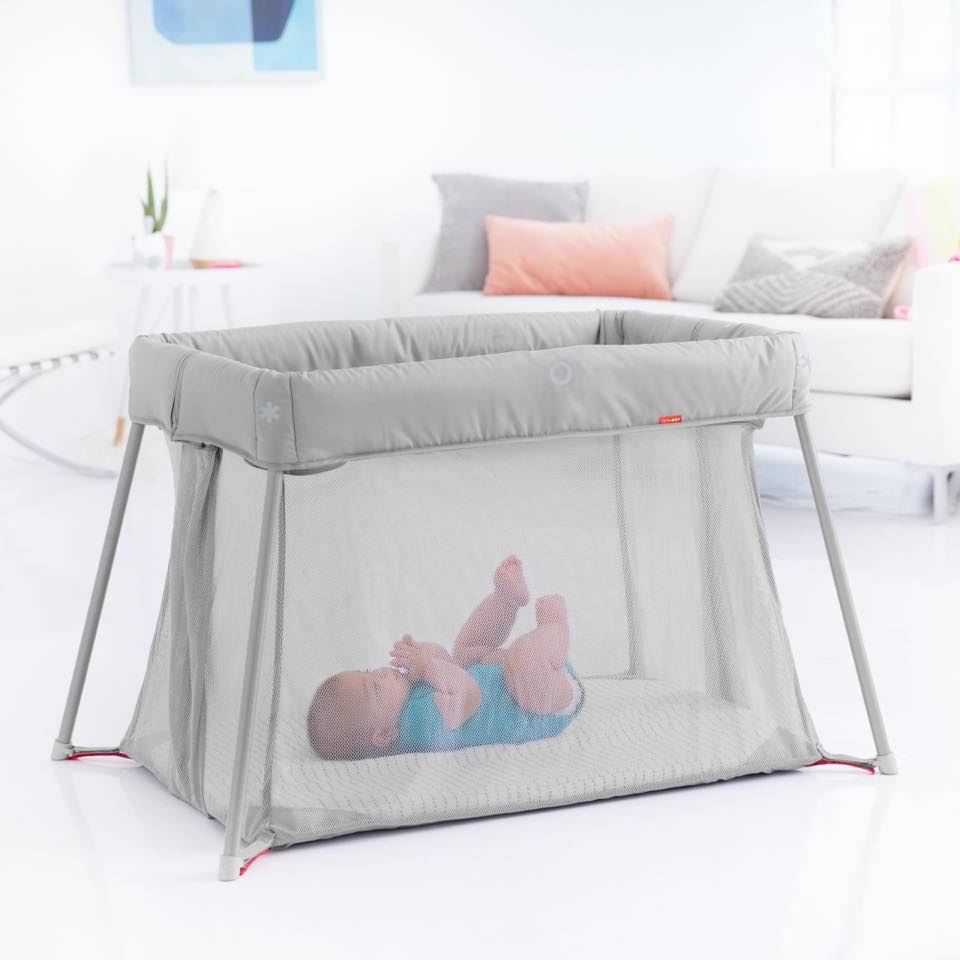 The versatile travel crib works both as a cot and a play yard, and can be brought on all your travels.
Another option are the travel cribs, which expands from cribs to play yards, and are extremely portable. First, the Skip Hop Play to Night Expanding Travel Crib ($359.20, U.P. $449) includes a crib mattress and sheet for your baby's sleep. Suitable for newborns up to three years old, the crib unzips to expand for playtime, with a wipe-clean mat and a decor-friendly print. Additionally, you can keep an eye on your baby with the breathable mesh fabric sides. Of course, this is also travel-ready and packs into its own bag so you can bring it on all your travels, or visits to your parents or in-laws.
Promising Review: Stephen Williams says, "This is the only other place, other than his crib that my little two-year-old will sleep on through the night. I love the size flexibility, sturdy and well-built. Easy to put up and put down. I've travelled with it three times and I'm really satisfied! I especially like how it comes with two mattresses, one for each mode. I usually fold the large one and put it under the cub mode mattress for extra comfort. Blissful nights... Worth the money!"
Babybjorn Travel Crib Easy Go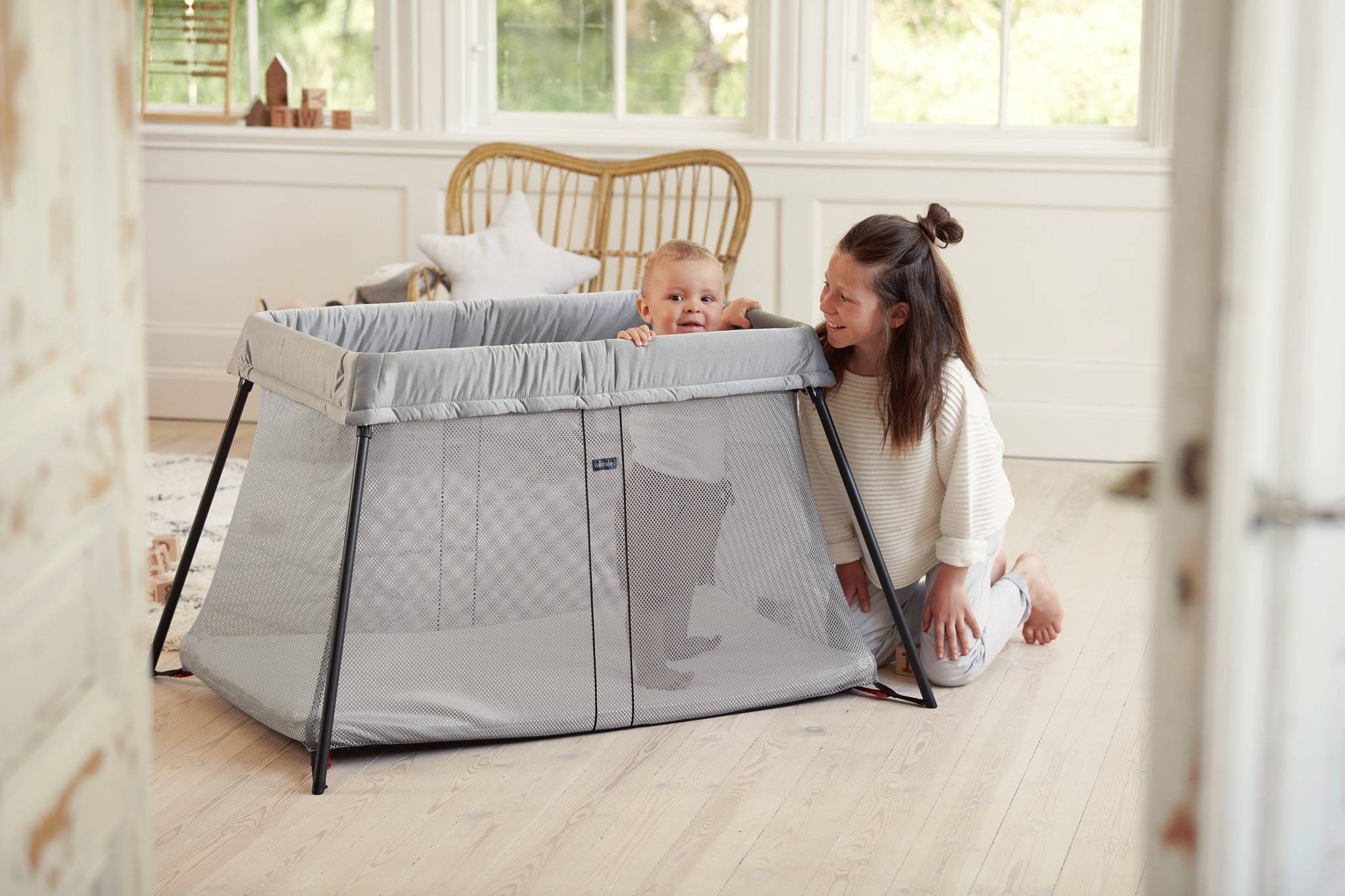 The BabyBjörn Travel Crib Easy Go, or the Travel Crib Light, are identical except for the range of colours offered - both can be set up in seconds, and brought everywhere you desire.
Finally, the BabyBjörn Travel Crib Easy Go ($358 to $459) can be set up in seconds, and your baby will then have a comfortable place to sleep. Its portability allows you to bring the travel crib along to a friend's house or to sleep over at your parents' or in-laws' place. Of course, you could also bring this on your travels overseas. Suitable for newborns and children up to three years old, they can sleep well no matter where they are. Additionally, this includes a fitted mattress, but the fitted sheet can be purchased separately. All materials are safe for your little one's skin, and safe for him/her to taste. These are safe from harmful substances and approved according to Oeko-Tex Standard 100 for baby products. Finally, the fabric is easy to remove and is machine washable. One thing to note, though, these travel cribs may not be easy for some parents to reach into and pick up your baby.
Promising Review: Amanda says, "This crib is fantastic, very lightweight, great straps for carrying and easy to assemble. We have used it a few times when we have gone on little stay-cations and the baby loves it, sleeps through the night and has plenty of space to move around, and the baby can breath easily if he rolls against the soft mesh fabric. I like the shape as it will be difficult for him to get any leverage in order to pull himself out of the crib."
Relevant Reads: Breastfeeding Essentials and Car Seats
Credits: alexandercho, kristinstoylen, Kamile Alex,