Posted on December 31 2019
Volunteering with Your Children
Aside from all the presents and feasting around the holidays, Christmas is also a time of giving and being a little more charitable. Help your kids have a taste of this spirit by volunteering and donating to some of the following charities.
1. Prepare Food at Willing Hearts Soup Kitchen
Younger children can help out in the Soup Kitchen by sticking on labels and doing simple tasks. Image credit: Willing Hearts
The Willing Hearts Soup Kitchen opens every day, even on weekends and public holidays, and starts from 5am to 4pm. There are four shifts, limited to 50 persons each. A typical day's activities include cooking, packing, cleaning, and preparation. First-timers can chop vegetables, open cans and packets of food, seasonings and sauces, line the lunch boxes and then pack the food inside, or clean and wash all the used trays and items. Children volunteers can do simpler tasks like sticking labels etc. There are no age restrictions, but parents must watch their children. These packed lunch boxes are then sent across the island to 40 different locations.
2. Help the Elderly at Lion Befrienders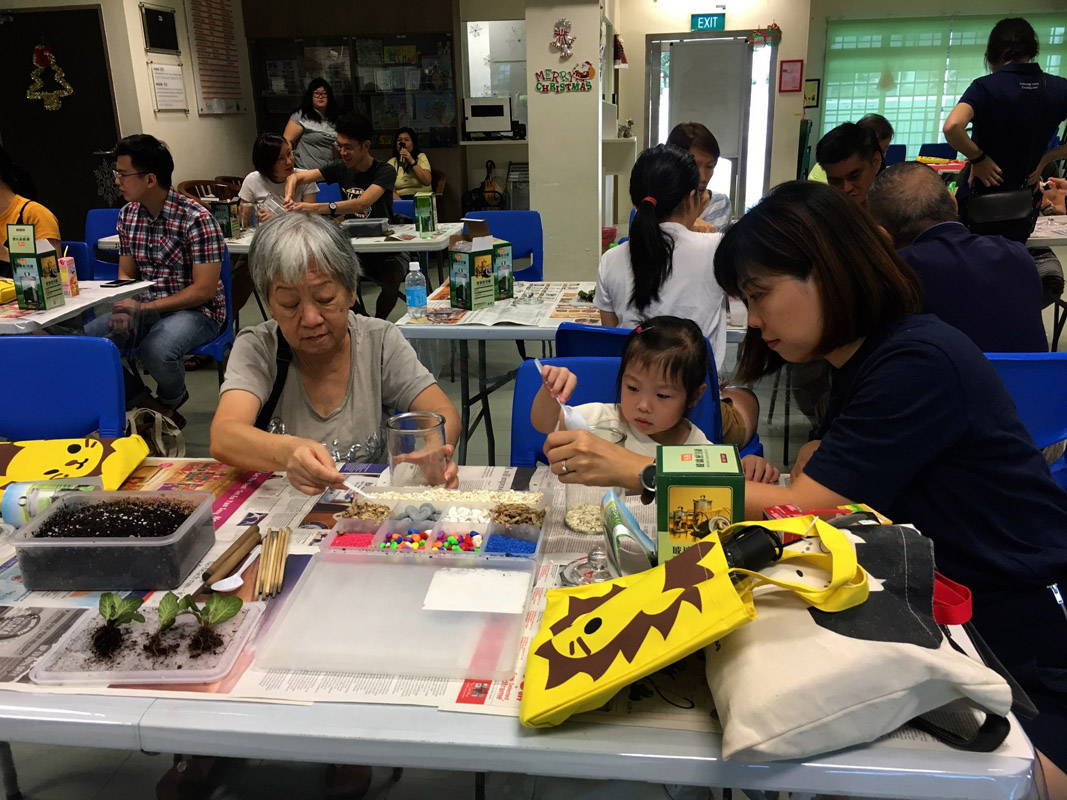 Children, accompanied by their parents, are welcome to visit the centres to help befriend the elderly. Image credit: Lion Befrienders
Volunteers can either go down to the Lion Befrienders' Senior Activity Centres to chat and accompany the elderly in some activities, or visit their homes to befriend them. Children under six are welcome to join, but should be accompanied by parents at all times. At the centres, volunteers can engage the seniors in activities like handicrafts, doing simple exercises and teaching languages. Volunteers can also support centre activities and aid in fundraising.
Should you want to be a Befriender, being able to speak Chinese dialects, Malay or Tamil is an advantage, as is being able to commit to regular weekly visits. Responsibilities include providing social and psycho-emotional support to them, as well as submitting visit reports regularly. Volunteers should also observe the seniors for signs of unusual behaviour, including depression or suicidal tendencies and report it to the Befriender Executive so professional help can be given.
3. Raise Funds for Salvation Army by Kettling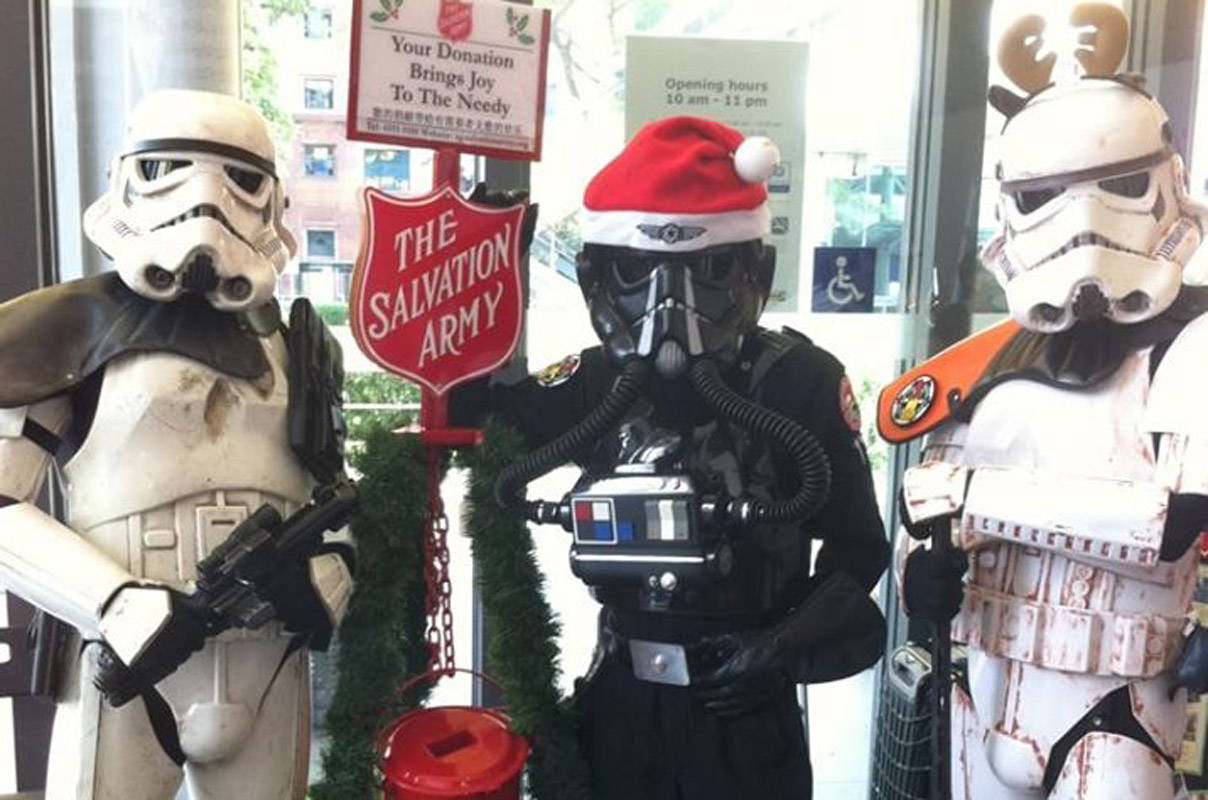 Even the stormtroopers help out by kettling during Christmas. Image credit: Salvation Army Singapore
You've seen them at malls islandwide. Join the volunteers from 22 November to 23 December in managing the Kettle stand and ring the bell to encourage donations from passersby. Each shift is two hours long, with two people max from 1pm onwards, great to give your children a taste of volunteering without taking up too much time.
Register here to volunteer. View other volunteering opportunities at Salvation Army's site.
4. TOUCH Community Services' Meals on Wheels Programme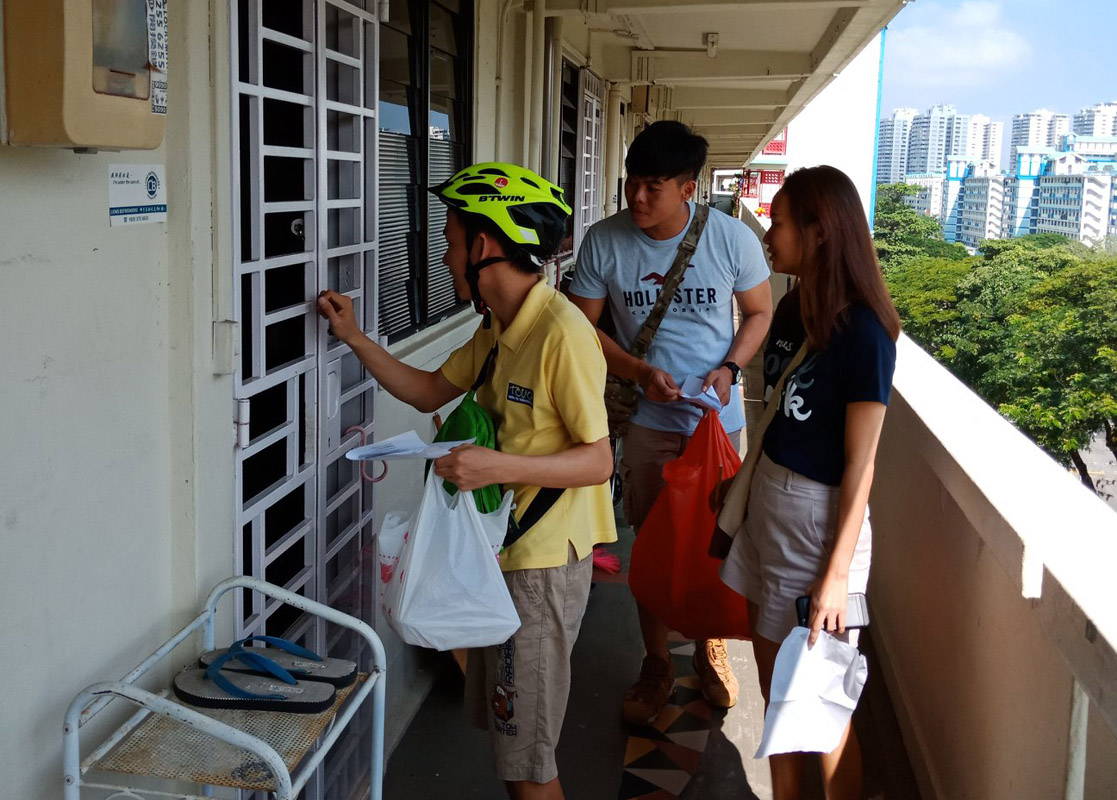 Show your kids a good example of volunteering by giving the home-bound elders their food. Image credit: TOUCH Community Services
Another place you could volunteer with your child tagging along is at TOUCH Community Services for the Meals on Wheels Programme. This programme delivers meals every day to home-bound seniors who generally live alone. Currently, volunteers are needed for locations like Ang Mo Kio, Jurong, Bukit Batok and Toa Payoh. You'll start your shift at TOUCH Home Care office to collect the food and then following the route to deliver the packages.
Each team usually comprises a driver - with their own vehicle - and a runner to deliver the meals. While you can choose to be either the runner or the driver, there are some who prefer to do both. Should you not have a vehicle, you can still drop off some meals via public transport in selected locations. Of course, if your child is accompanying you, make sure to take care of his/her safety.
Christmas - A season for Charity Events
5. Kids of Hope Bicentennial Charity Carnival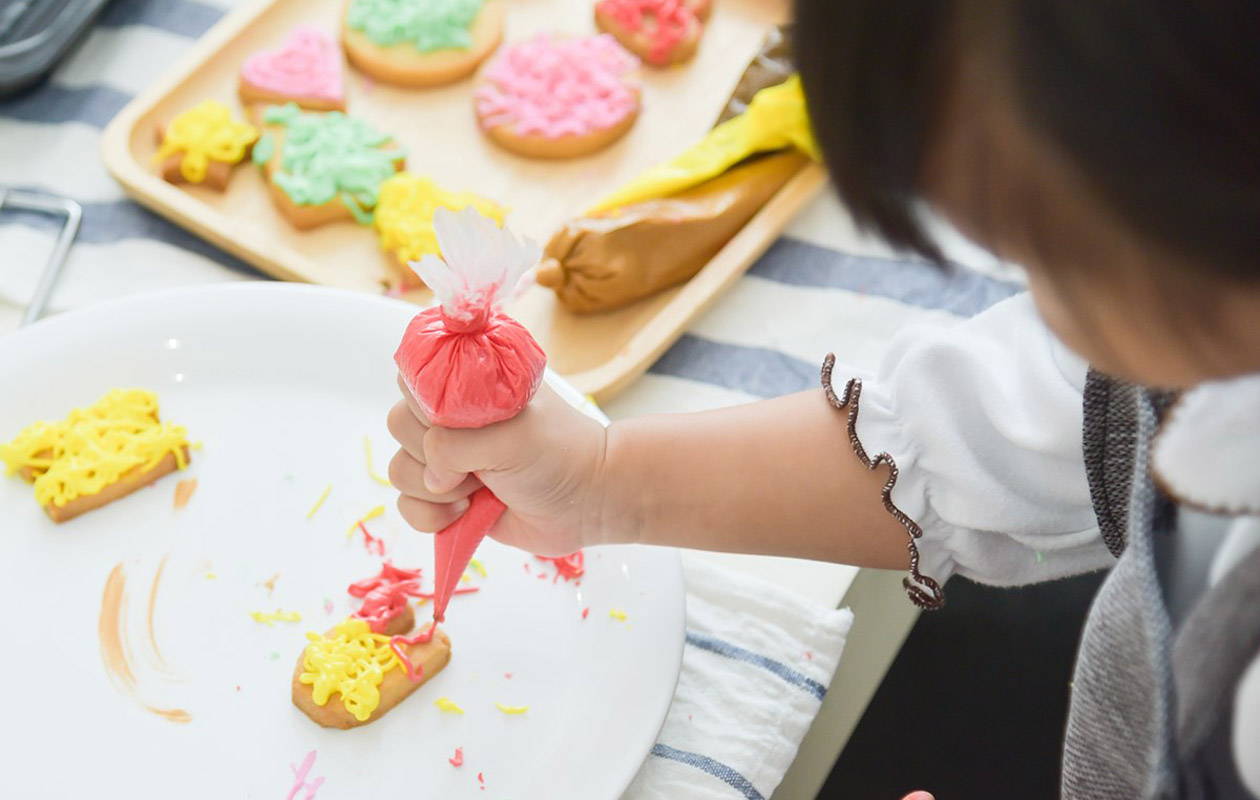 When: 21 December 2019, 1- 6pm
Where: Anchorpoint Shopping Centre
Decorate cookies and have a fun time playing carnival games and eating candy floss. Image credit: Anchorpoint Singapore
Enjoy exciting activities like carnival games, magic shows and even a cookie baking session and decorating contest at this charity carnival organised by Universal Event Productions. In fact, to celebrate Singapore's Bicentennial, Kids of Hope wants to break the Singapore's Book of Records for the "Most number of cookies to form 'Singapore 200'". To take part, purchase a set of coupons at $20 each, of which $10 will be donated to the Children's Cancer Foundation. This donation will aid the foundation in delivering free programmes and services to the children and families affected by childhood cancer.
6. Support Migrant Workers like It'sRainingRaincoats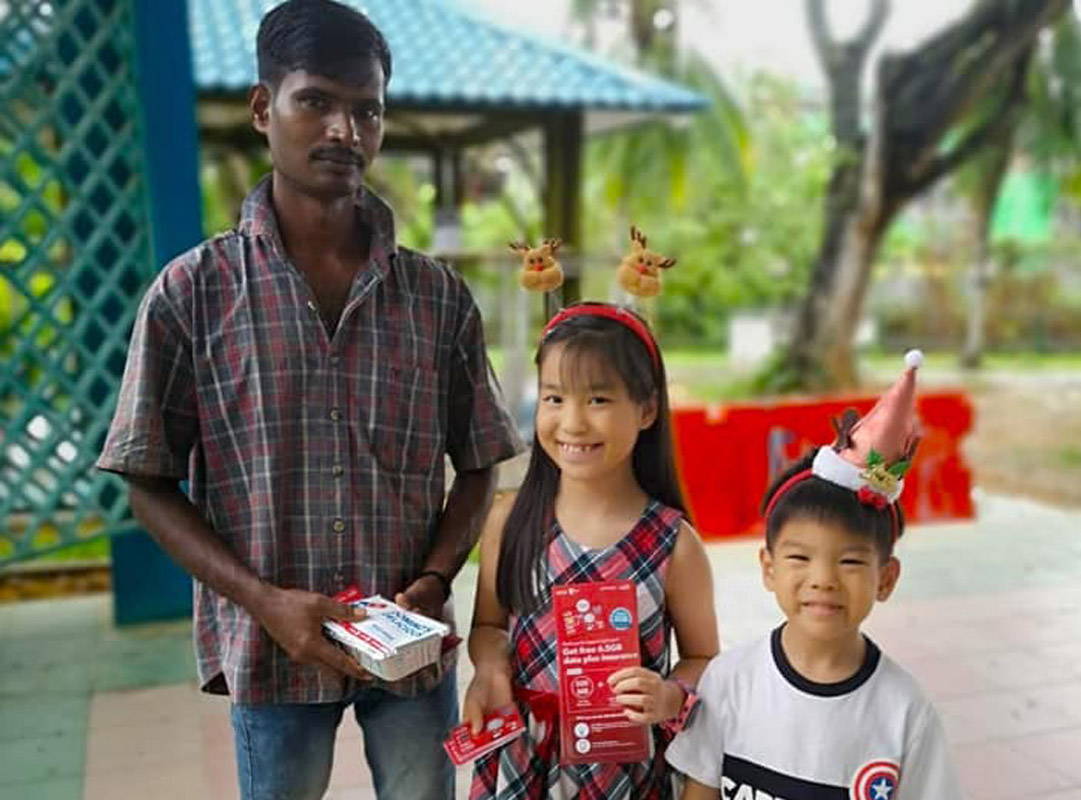 Children learning how to be more empathetic towards migrant workers, iimage credit: It'sRainingRaincoats,
When: 21 December, 8am, 11.30am and 5.45pm respectively                          
Where: AllHome SG, Clementi Peaks; Kranji Loop and Laguna Coast Golf Course
This rainy season, let your little one show kindness to a migrant worker by simply offering him a disposable raincoat. While the gesture might be small, this has several benefits. First, it reduces the chances of him getting sick, which in turn may help to reduce workplace accidents. Stock up on some raincoats and pass them out to migrant workers - rain or shine!
7. Making an Active Charitable Contribution at Sports Hub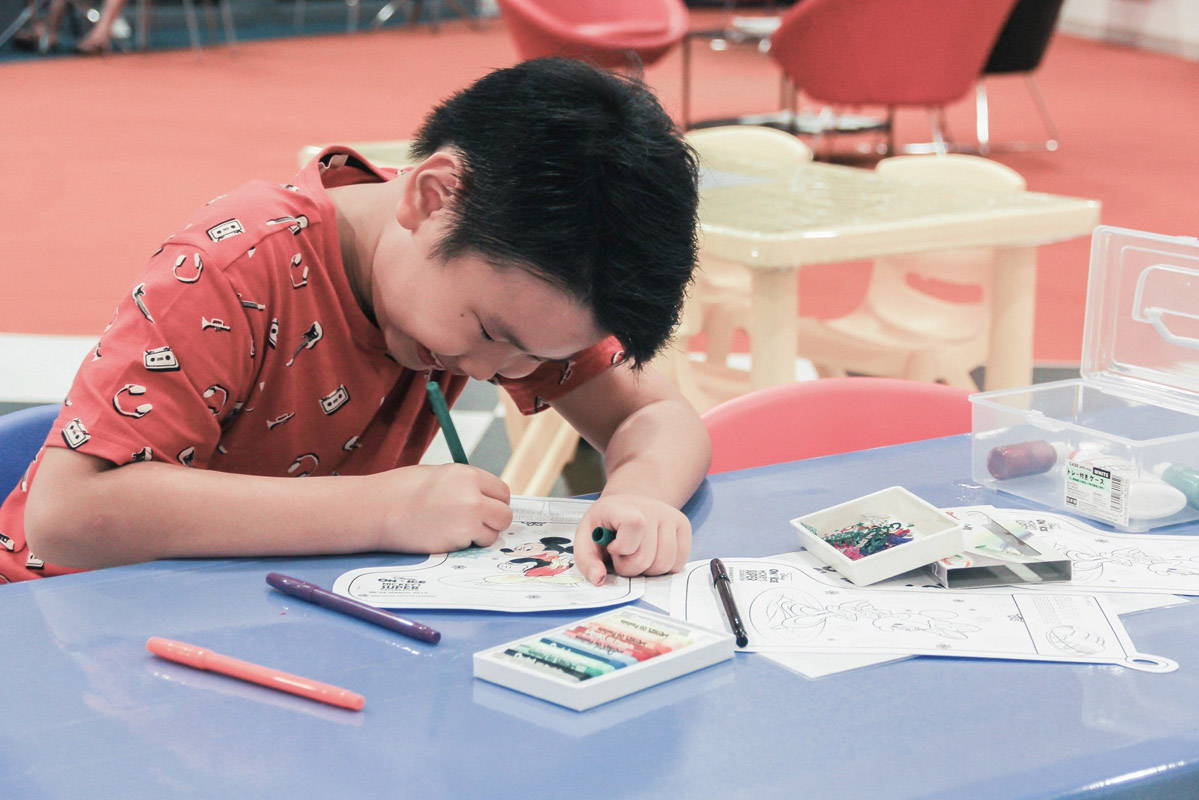 Take part in the pizza colouring contest and stand to win prizes, while helping people from low income families, Image Credit: Singapore Sports Hub.
When: Daily till 31 December, 10am - 8pm                                            
Where: Singapore Sports Hub
There are a slew of exciting ways your child and you can help someone this Christmas. First, exercise your creativity and design your own dream pizza. Each submission gets the Association for Persons with Social Needs (APSN) a slice of pizza, donated by Pizza Hut. You too will be rewarded with a limited edition Pizza Hut premium, while stocks last. The grand prize for the most creative entry.
Next, rent a festive open deck canoe from 7am to 7pm on 21 and 22 December and Singapore Sports Hub will make a donation to Club Rainbow Singapore. Finally, on 28 December, at 10 and 11.30am, 1.30, 3 and 4.30pm, join in the 60-minute Jump for Hope activity, organised by Jumping Singapore. Not only does this give you and your children a great workout, all nett proceeds from the participation fee ($10 per person) will go to New Hope Community Services. This charity provides people with temporary shelter and empower them to improve their situation. Book your slot here.
8. Donate to a Cause Online
Get your kids involved in fundraising, even if they don't want to volunteer in person. Help the Society for the Prevention of Cruelty to Animals fulfill items on their wishlist to take care of the animals it fosters. Discuss with your kids which items you should donate and let them watch the whole process of donating online. Another charity you can consider is the Boys Brigade, which will send food hampers to the needy via FairPrice. Donations can start from as little as $20.
9. Make it a Habit
Even after the Christmas ornaments are put away, let your children still do good and give back to society by volunteering. Here's some ways even they - young as they may be - can contribute!
10. Become a Red Cross Junior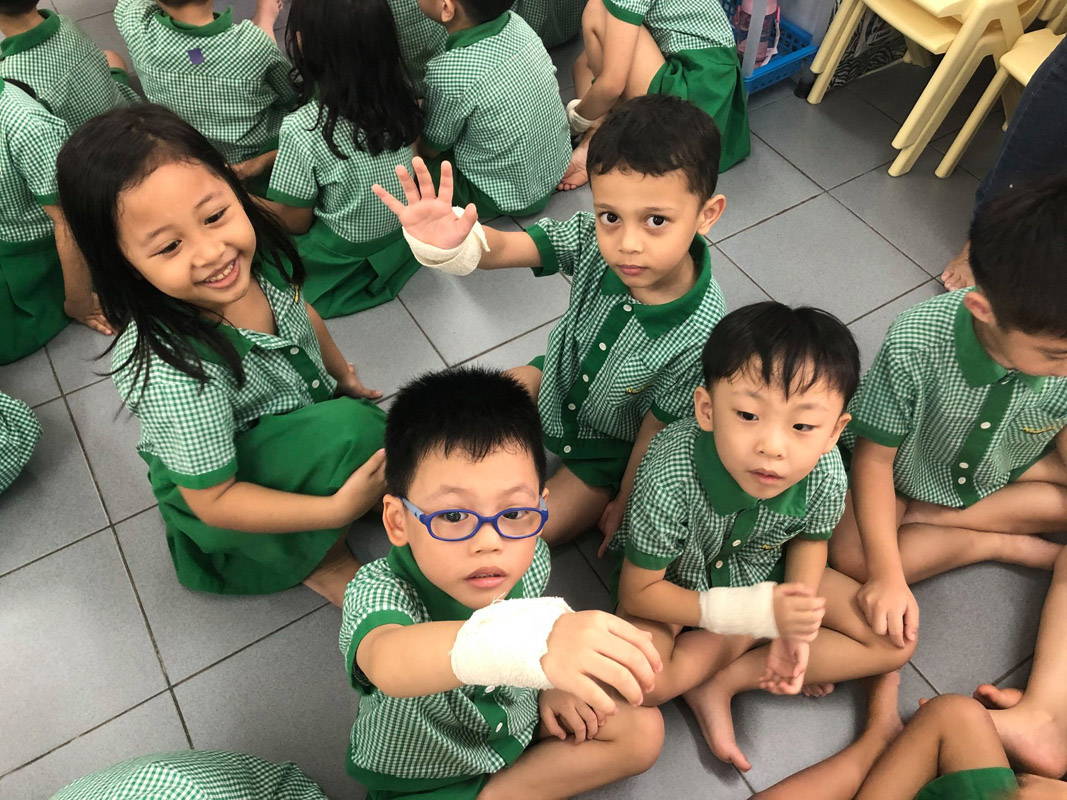 Don't worry, they're not hurt: these pre-schoolers are just learning the basics of first aid to become a Red Cross Junior. Image Credit: Singapore Red Cross
For 5 and 6 year old children who want to volunteer over a longer period of time, check if their preschool has the Singapore Red Cross Junior programme. First, they have to complete two out of three modules, namely Care for Safety (a compulsory first aid course) and either Care for the Elderly or for the Differently Abled. Apart from learning these things, they can also participate in Singapore Red Cross events like Flag Day, and attend learning journeys. Once they've completed the curriculum and received their graduation lanyard, they can participate in volunteering activities, preferably with their parents.
11. Habitat for Humanity: UnLitter Red Dot Volunteer
Even pre-school children can join in making Singapore's neighbourhoods cleaner. Image Credit: Habitat for Humanity
Children aged five to six can join in this volunteering activity as an UnLitter Red Dot Volunteer. This program aims to reduce the amount of trash around Singapore, especially in residential estates and rental flat neighbourhoods. During the two hour sessions, volunteers will first attend a safety briefing, followed by getting their litter-picking supplies. These include tongs to pick the litter, gloves, wet wipes, mosquito repellent, and if necessary, extra trash bags. However, do remember to bring your own water bottles and plastic bags from home to reduce waste.
Following the briefing, you'll collect the trash, have it weighed, pose for a group photo and then debrief. Aside from this activity, Habitat for Humanity Singapore wishes to start a conversation with volunteers on how to care for a living space beyond the home, and create a generation of compassionate citizens who will advocate change. Do remember to bring your own water bottles and plastic bags from home.
Increasingly, companies in Singapore are becoming more socially responsible. Motherswork, too, has its Motherswork Gives Back program to empower women and children. The program started in 2009, where the team often organises events in the stores to create awareness and fundraise for various charities. In 2015, this extended to supporting new local baby-focused businesses. Finally, for the festive season, shoppers can help make Christmas wishes come true with the Giving Tree program, launched in 2016.