Posted on September 28 2021
Follow the manufacturers' age guidelines to choose safe and developmentally appropriate toys for your little one.
When choosing toys, follow the manufacturers' age recommendations even if you think your child is a genius or developmentally advanced. These guidelines ensure your child can engage with the toy, and that you've chosen a safe toy.
Preventing Hearing Loss From Loud Toys
.
Steer clear from loud toys like cap guns, horns, sirens, squeaky rubber toys like the rubber chicken. These can produce noise as high as 90 to 120 decibels, equivalent to a motorcycle about 8m away, and a thunderclap. Noise at 120db of sound is painful and may result in permanent hearing loss. Hence, don't let your little ones put such noisy toys close to their ears.
Avoid Choking Hazards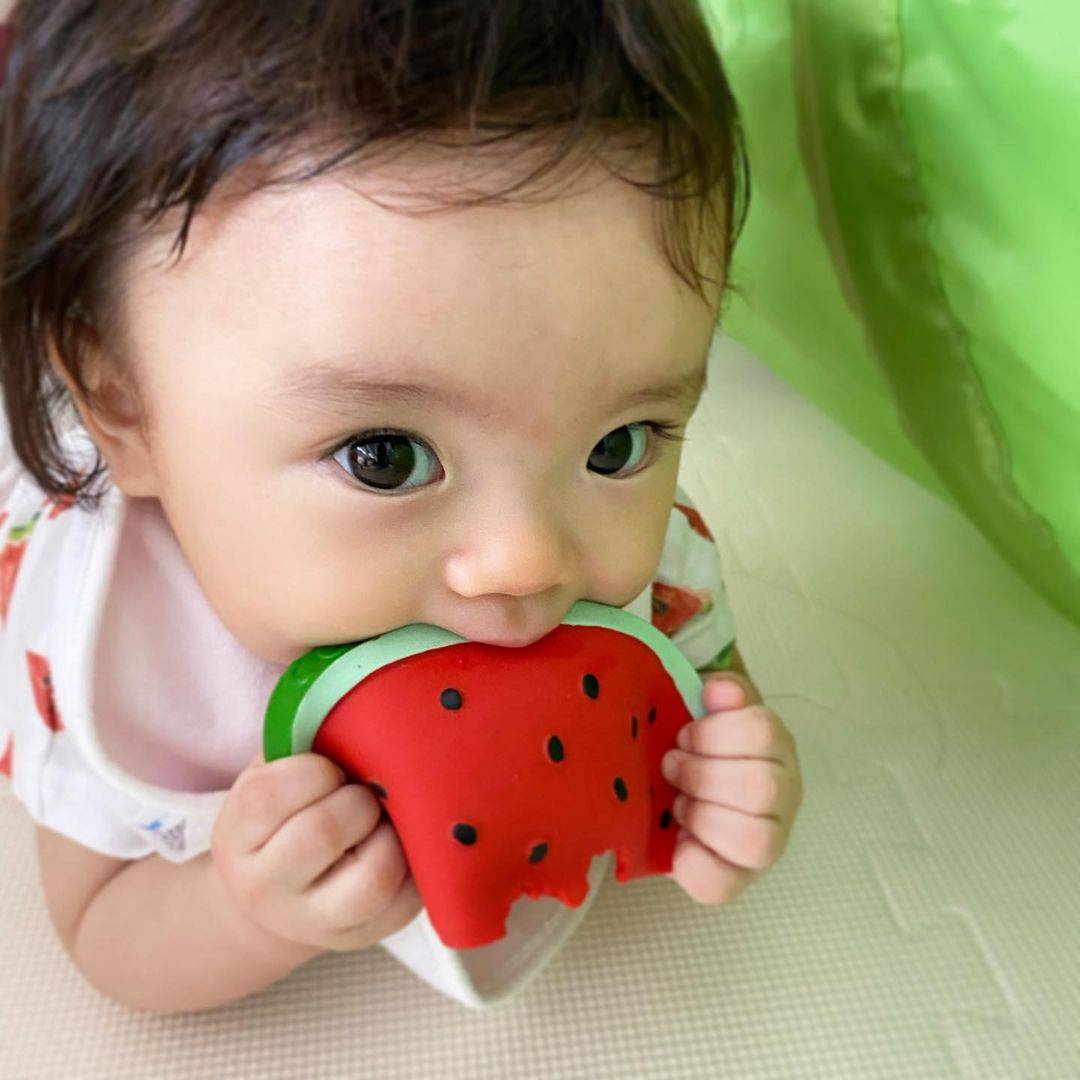 Let your little ones gnaw and bite away to their hearts' content with safe teething toys like this watermelon from Oli&Carol.
Babies and infants put everything they can hold in their tiny hands in their mouth. Oral exploration is a key developmental stage, allowing babies to discover the tastes and textures of various objects. It could also be a sign that her teeth are emerging. Since this stage lasts up to three years old, refrain from buying toys with small parts that pose a choking danger. These include toys with parts that can fit in a tube with a diameter of 3cm and 6cm long. Check also for small ends that could reach the back of the mouth, long strings 18cm or longer, or parts that could pinch small fingers.
Furthermore, don't let children under eight years old play with uninflated or broken balloons, marbles and balls with a diameter of 4cm or less, and toys with magnets or magnetic pieces. Any battery-operated toys should have cases that can only be opened with screws, so that your little ones cannot pry them open. Accidentally ingesting batteries and battery fluid may cause choking, internal bleeding and chemical burns. Give your babies and toddlers unbreakable toys, strong enough to withstand chewing. For example, these safe toys ($9.90 to $69.90) are great for teething babies.
Avoid Sharp, Electric and Toxic Toys
Safe toys should be well-made, with eyes, noses and other parts tightly secured. Since your infant thinks everything is a toy, put sharp objects such as scissors and matches far away from her reach. For preschoolers three to five years old, avoid toys with sharp edges and points, or made from thin brittle plastic that can snap easily. When purchasing art materials, look for the designation ASTM D-4236, meaning a toxicologist has reviewed these and labeled any essential cautionary information. At this age, skip getting toys with magnets, even in building or playsets. Paint should also be lead-free. Where possible, choose non toxic, phthalate-free, safe toys such as these from Skip Hop, Mother's Corn and Mushie ($14.90 to $299).
Additionally, electric and plug in toys can be a fire hazard. Instead, try these Micro scooters ($135 to $240), that test your child's motor skills and balance. If you can't resist the adorable mini Vespas ($129), follow the manufacturer's guidelines strictly and charge them up to 10h only.
Children can use riding toys once they can sit up well unsupported, but check the manufacturer's recommendations before placing them on the toys. Rocking horses and wagons should have safety harnesses or straps and be secure enough to not tip over. Be sure to strap your little one in her bouncer or rocker ($169 to $599), especially once they're more mobile. Check hand me down and homemade toys, as well as stuffed toys carefully before giving them to your infant. Any soft toys should be washable, and cloth toys should not be flammable.
Taking Care of Toys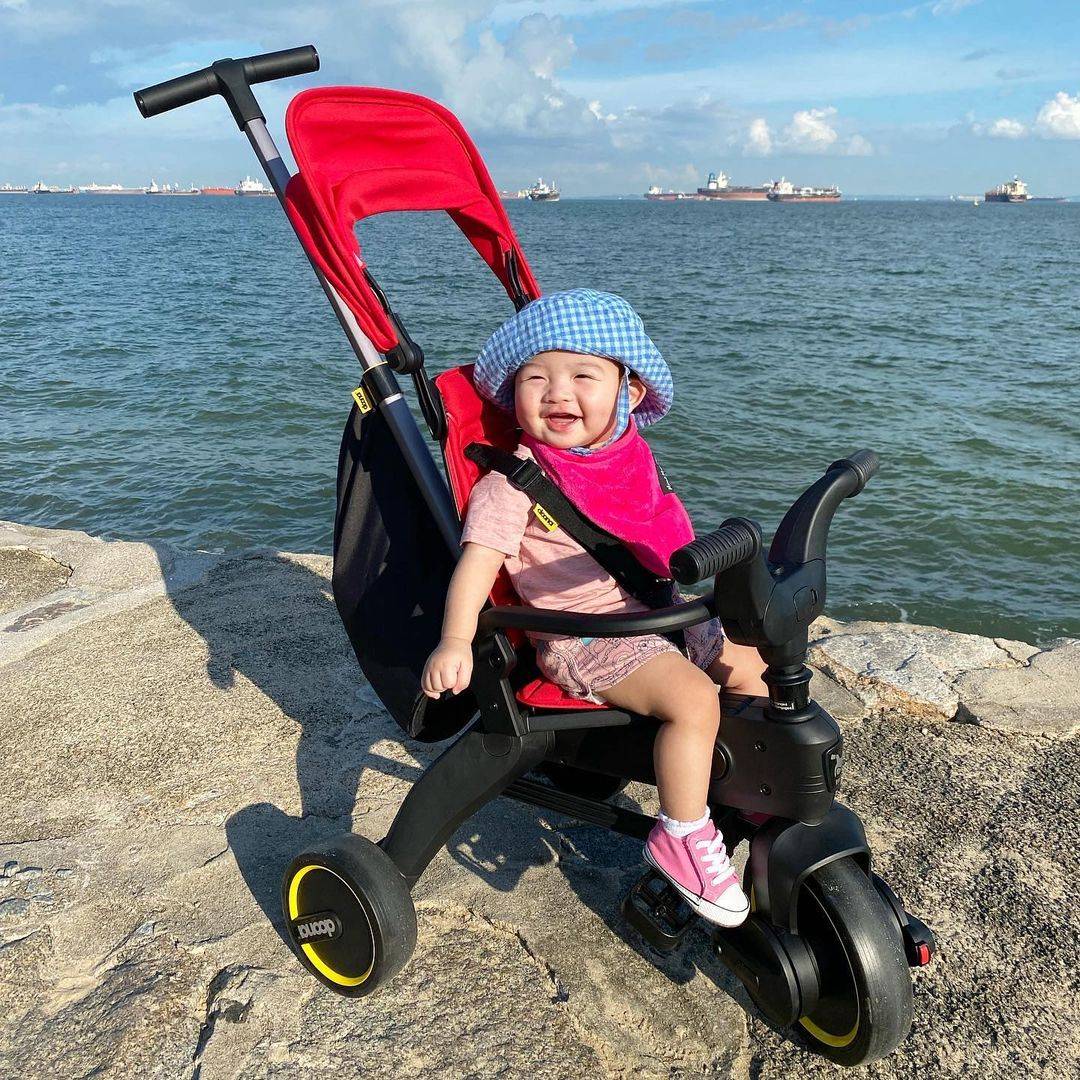 Protect outdoor toys, like the Doona Liki trike, which your little ones can steer and pedal on their own, from the elements when not in use.
Teach your little ones how to take care of and use the toys, by supervising their play and how to keep them away to prevent falls. Aside from putting toys away after playing with them, you should also check to make sure that the toys aren't broken or unusable. Look for any rips or snags on stuffed animals, battery leaks, or plastic parts wearing down or feeling sharp, peeling paint and rust. Throw broken toys away or repair them immediately, and store outdoor toys ($8 to $240) to keep them out of the elements. Clean the toys in the dishwasher, if possible, or mix antibacterial soap or mild dishwashing detergent with warm water, rinsing them afterwards. Put stuffed toys in a pillowcase, seal with a zip or string, then wash them on a gentle cycle. Dry them on low heat or air-dry them.
Relevant Reads: Learning Through Play
Credits:  Juan Encalada, yuri.2020nov, Winnie Chia, ​​Alyna Najihah