Posted on December 01 2022
Sharon and her team at Motherswork's Christmas party in 2019.
Started in 2016, Motherswork's Giving Tree charity drive has bloomed into an annual affair, benefitting many families in Singapore. Read on about how this drive was started, and how it has positively impacted the recipients, and how you too can help the beneficiaries.
The Origins of the Giving Tree: Timothy Wong's Experience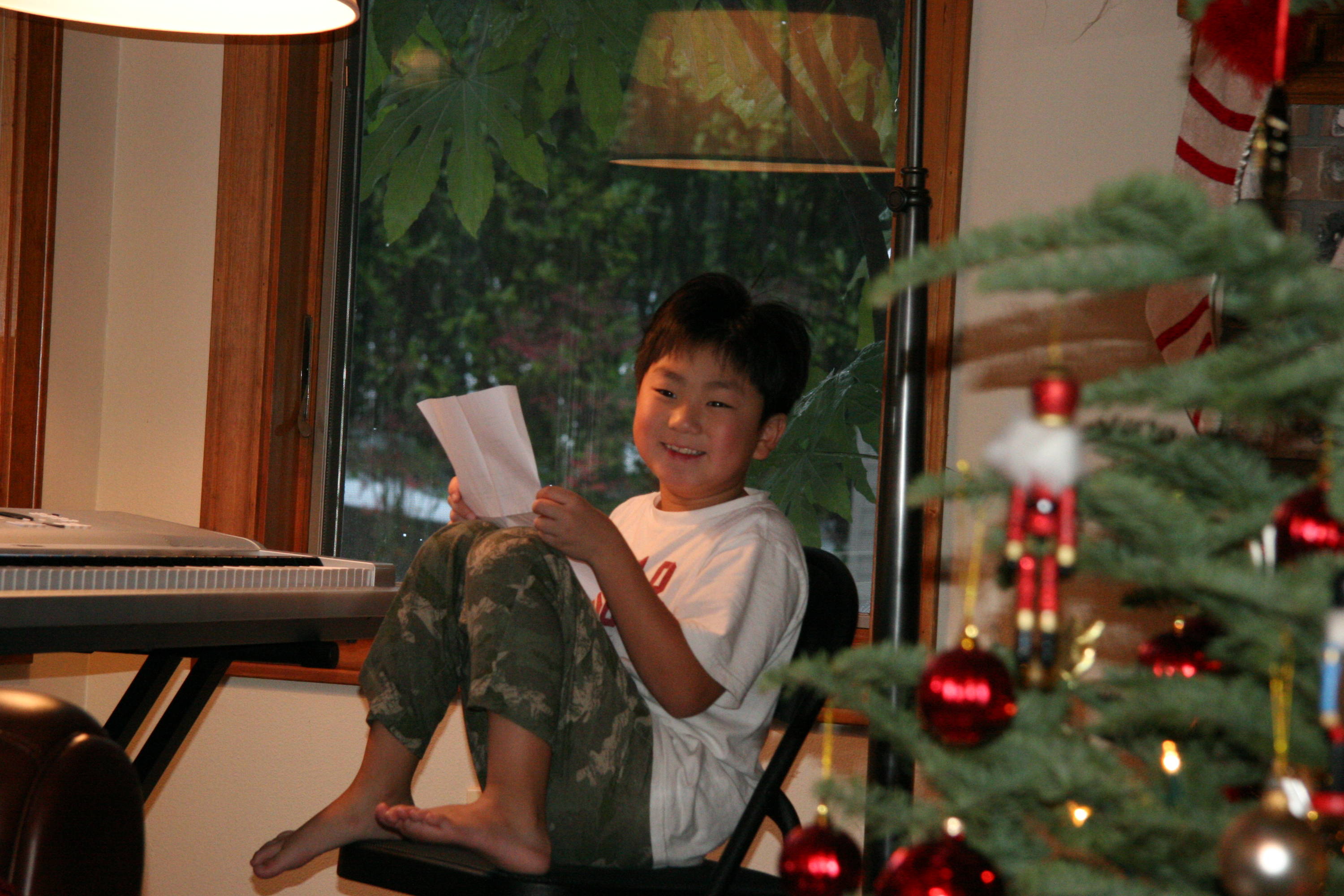 Timothy Wong reading his letter from Santa when he was 6 years old.
When Timothy Wong was 6 years old, he received a letter on Christmas morning together with his presents. It read that he had been good, and deserved all the presents. However, Santa also said there were many other kids who did not receive presents. His mum, Sharon Wong, then said, ""Imagine if those kids get presents too." Hence, he and his sisters chose three presents to keep and gave away the rest. Being the youngest, some years he got to keep four.


Gifts He's Kept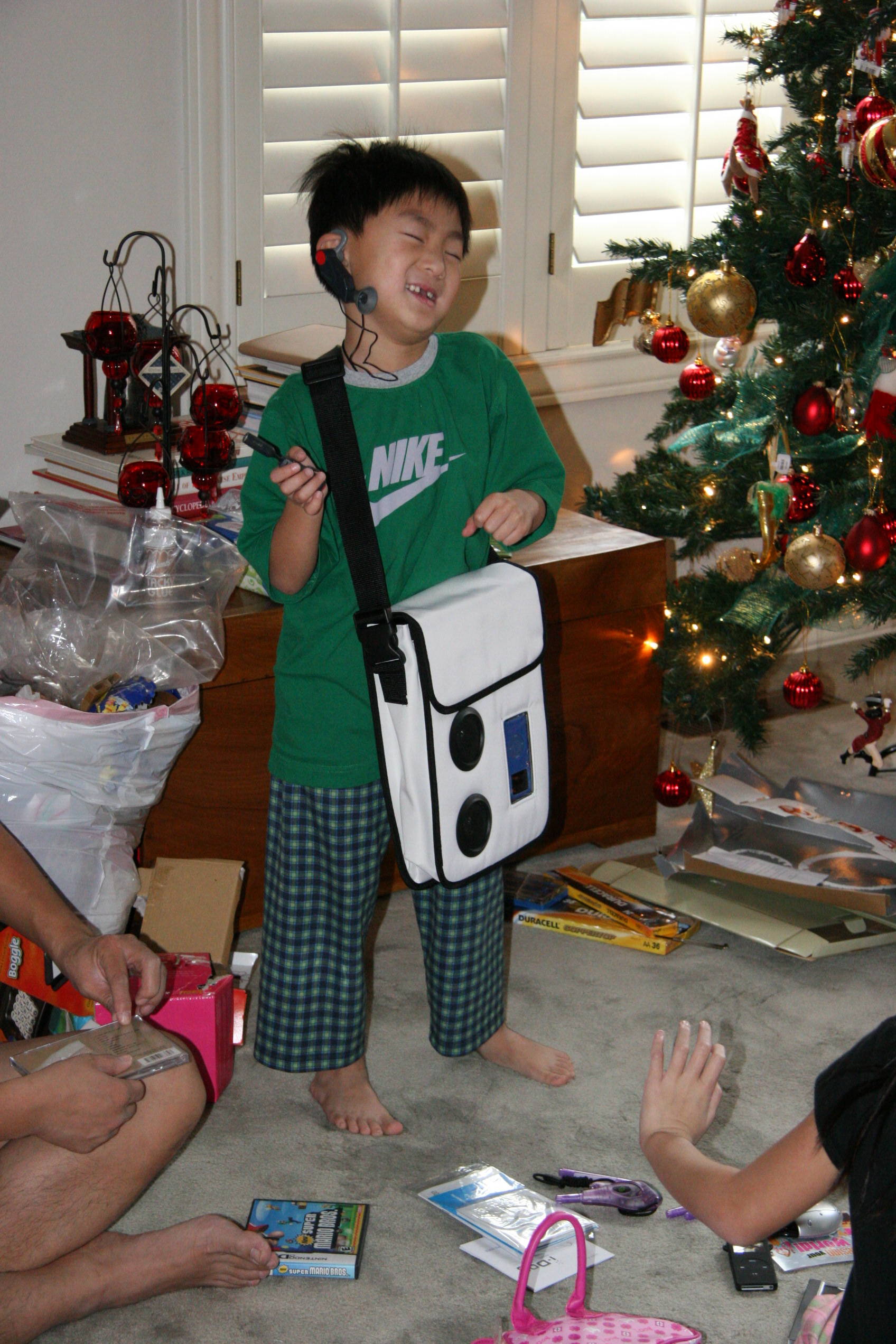 Tim rocking out to the beat with his bag and speaker connected to the iPod.
Some memorable gifts include his "mum and dad's unconditional love", and a bag with a speaker connected to the iPod to indulge his love for dance. He's also kept a lightsaber, still in his room in Singapore, R2D2 and a black hoodie. After keeping three or four presents for a few years, he and his sisters accepted that Santa was actually their Mum and Dad. Gradually, their lists became shorter and they instead used the money to fulfil the toy drives during Christmas. He says, "I was always happy that another child has at least one present."
Starting the Giving Tree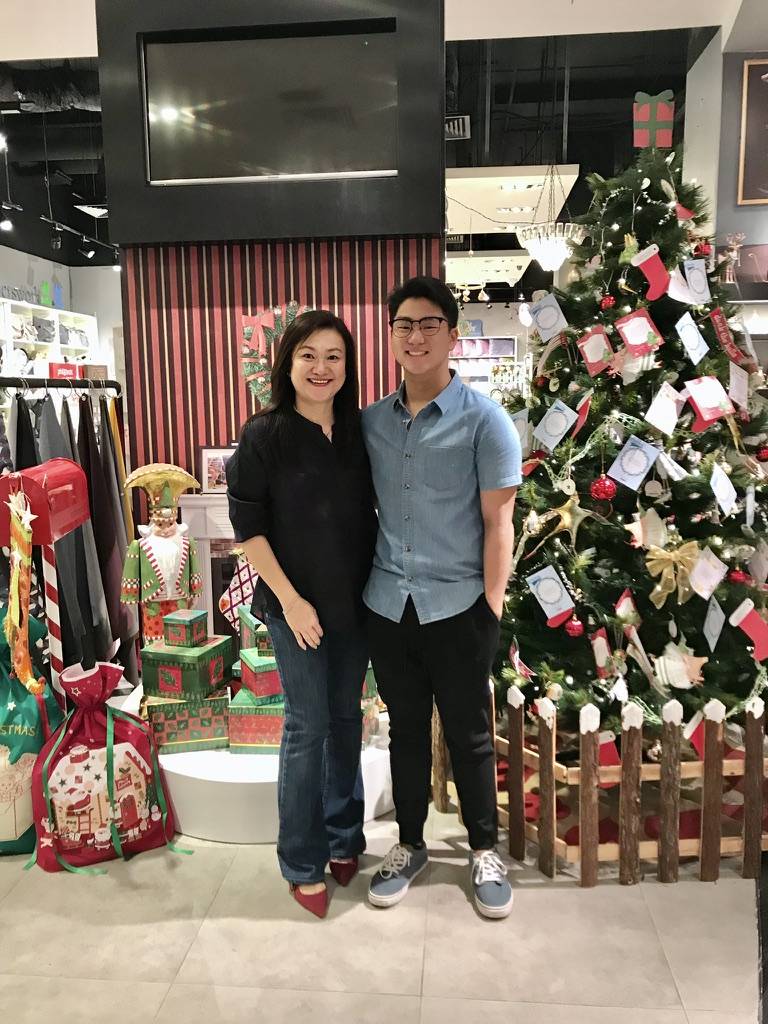 Sharon and Tim at the Giving Tree at Motherswork
Later on, he asked Sharon, founder of Motherswork and his mum, to start the Giving Tree at Motherswork stores. He wanted to remind everyone of the joy of giving, so families would remind their children that others have less. Since 2016, the Motherswork Giving Tree has become a tradition.


His Personal Involvement
With his teacher as Santa, and he and his sister dressed as elves, they delivered the presents to some happy beneficiaries.
When he was in Singapore for the first few years, he and his sisters would work with the Motherswork team to collect wishes. Then, he would hang the wishes on the tree, wrap and deliver the presents. One year, he even got his teacher to play Santa, and he and his sister dressed up as elves to deliver the presents to the beneficiaries. Sharon says, "Now that Tim is away at school, our team at Motherswork has taken over." She adds that the Giving Tree campaign is "very much an annual event at Motherswork."
The Future of Giving Tree
Timothy wishes to be able to see Giving Trees at every mall one day. He also hopes that children will want to be part of this Giving Tree. Additionally, he hopes they would collect wishes, give their time and fulfil the wishes on the Giving Tree.
The Effects of the Giving Tree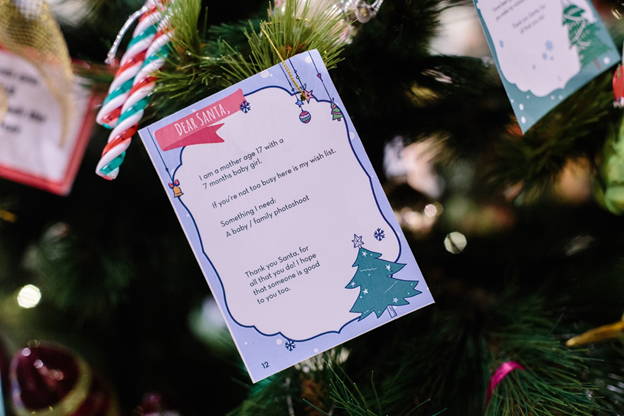 An example of a Christmas wish hung on the Giving Tree
Helps Financially Constrained Families Enjoy Christmas
Giving back has always been part of Motherswork's corporate mission, starting by organising in-store events to fundraise and create awareness for the respective adopted charities. Once the Giving Tree event started in 2016, we could fulfil children's wishes from the various charities. Sharon Wong shares, "It is to give joy to children." She adds that it's to remind us of the joy that we give to a child.
Pearlyn Tan of Babes says that those who choose parenthood in the Babes community "often struggle with financial challenges." This is on top of "coping with the difficulty of caring for a young life when they are so young themselves", she adds. Hence, she says "the Giving Tree programme gave them the opportunity to receive items that they dearly need."
Alicia Ang of Down Syndrome Association Singapore says,"It helps reduce the financial and mental burden of trying to purchase a gift for their children. People from the public coming together can help make Christmas wholesome for their children." Even better, those with Down Syndrome can celebrate Christmas with a different group of people. She also appreciates that "Motherswork really rallies their shoppers to adopt their wishes."
Helps Families Have Access to Different Toys and Games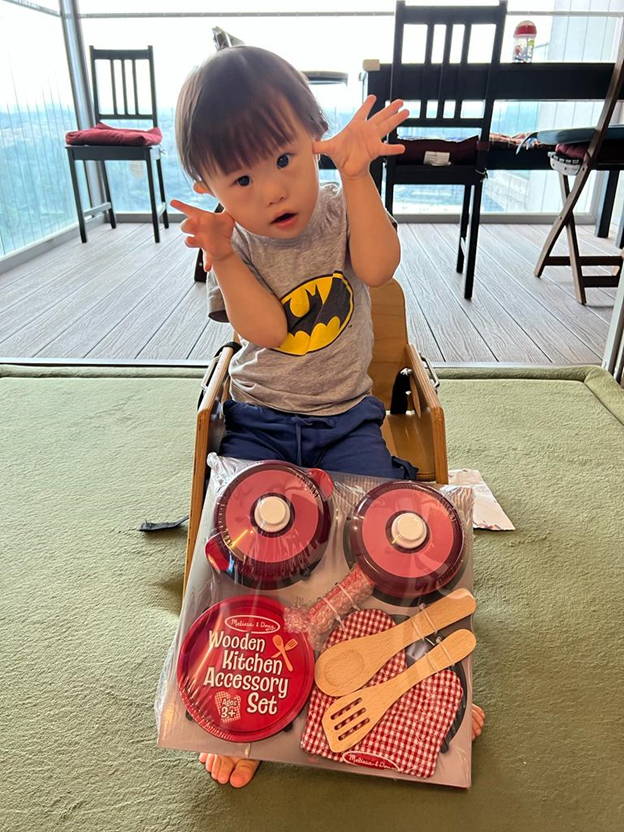 Jacob with his brand new kitchen accessory set that helped him learn pretend play.
Often children receive the necessities rather than something personal, like a toy, a special book or makeup for young adults. Sharon says, "So we ask for wishes from the beneficiaries of the various charities and hang them on the Giving Tree." Every year, we fulfil approximately 200 to 300 wishes. For example, Babes' mums often request for toys and games - items their children want but they could not afford. Upon receiving such gifts, the children's reactions brought a lot of happiness to the family.
Additionally, the Giving Tree gives children with Down Syndrome access to different toys. Alicia says, "These toys can help with younger kids' developmental milestones like fine and gross motor skills." Carol, mother of Jacob and a DSA beneficiary, says, "Jacob received his first set of kitchen toy accessories and was very pleased with it. Since receiving the gift, he has been learning pretend play which is a great development for his age and it helps with his fine motor skills too."
Helps Beneficiaries Feel Less Alone
Pearlyn adds, "It also reminds them that there is kindness around them and that help is always available. They never have to journey alone." A few girls also shared with Babes that they were thankful their wish list was granted and it was a very unexpected surprise for them.
Alicia agrees, saying, "The Giving Tree brings Christmas cheer to families. Parents feel encouraged and feel that there are people around them who understand Down Syndrome." Another DSA beneficiary, Faizal, mother of Fazlul, says, "My family feels there are people around us who care for people with disabilities and we are not alone. I would like to thank the Giving Tree for all that it has done for us. It really means a lot, and makes our little boy feel special."
Helping Out in These Organisations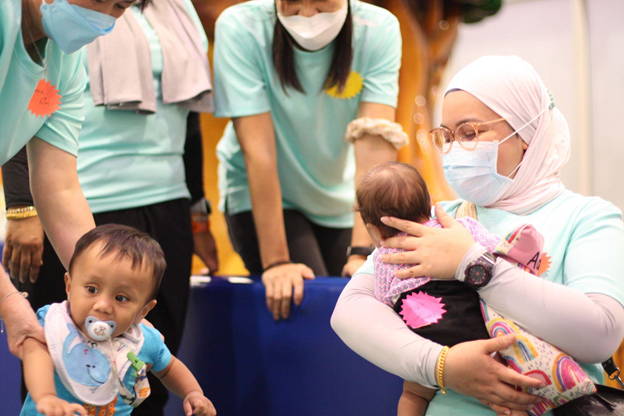 Babes welcomes volunteers to be helpliners, ad-hoc event facilitators and befrienders.
Both DSA and Babes are always on the lookout for volunteers. For the latter, volunteers can become helpliners for their 24-hour helpline, befrienders, skilled volunteers and ad-hoc event facilitators. Other than helping out at DSA's programmes or their activities, you can also make a general donation or donate to a specific programme. DSA fundraises about 80 per cent of their programmes and services on their own. These programmes must remain affordable for families who also have health, medical and living expenses. Hence, it would greatly help if the public can help by donating to their programmes and services.


Volunteering with Kids

Babes welcomes volunteers to bring their child with them for children-friendly activities or events. However, volunteers must be responsible for the safety and care of their child when volunteering.
DSA works with a few preschools throughout the year as part of the Start Small Dream Big campaign. Alicia says, "The beauty of working with preschools is that we believe inclusive education starts from young." At this age, you can import different values to them and also share with them that there are different communities within the society. She adds, "It's very heartwarming when you see the preschoolers interacting with the beneficiaries and having a fun time together." Other than conducting awareness talks, five or six preschools collaborate with the adult programme to engage in activities together with their beneficiaries. Sometimes, even the preschool kids can plan or conduct the activities for the adult beneficiaries.
Kids wanting to volunteer at DSA should be able to socialise with the beneficiaries and not depend too much on their parents' care. Ideally, the kids should be between 5 to 7 years old when they start volunteering.
Giving During the Pandemic
Pearlyn shares that initially many members of their community were hit hard as their livelihoods were affected. During the pandemic, they received an outpour of support to continue serving their community. She adds that they hope people "do not forget that even a small gift can have a big impact on someone" even as we recover from the impact of COVID.
Alicia adds, "Especially in 2020, there was really an outpouring of support especially from like individuals of the public." They managed to tide over the challenges that year with the increase in donations, especially on their online channels. As companies were going through uncertainty, there was a drop in corporate support. Thankfully though, members of the public and a few companies did step up during that period. After that, the support has tapered down a little, and this year's funding is comparable to the pre-COVID times, but not as robust as it had been. She noted that the trend for corporations is now to volunteer rather than sponsoring the programmes and services.
Motherswork's Giving Tree During the Pandemic
Through the pandemic, Motherswork continued the Giving Tree tradition - last year, the wishes were listed online to make it easier for customers to fulfil.
As for Motherswork, we continued the Giving Tree tradition even through the pandemic. The first year in 2020, Motherswork and our staff fulfilled most of the wishes. In 2021, Sharon says, "We had the wishes listed online to make it easier for our customers to fulfil." This year, the Giving Tree will be back in store from 24 November to 15 December. To celebrate, she says we will have a Giving Tree party on 2 December. Additionally, for those who fulfil at least one wish on the Giving Tree this year, Motherswork will have a large Jellycat up for lucky draw.
Giving Tree Party at Motherswork
Come join us for an evening of fun and activities on 2 December. Enjoy performances and kids' activities, Peranakan bites by Grace Kee and a photobooth with Lucy Sparkles' elves. Pick up the goodie bags, and stand a chance to win amazing prizes in our first festive Lucky Draw. Of course, you can also bring cheer to the Giving Tree recipients.