Posted on December 11 2020
Stumped by gift wrapping for awkwardly-shaped presents or huge items? We share our tips and tricks for wrapping these. Learn how to wrap odd-sized and large items with these tips. Work around awkwardly-shaped, and too-large presents with these gift wrapping tips.
Found the perfect gift but facing difficulty wrapping the presents? Here are some ways to solve your gift wrapping conundrums, and others to get around it entirely.
Odd-Shaped Popular Gifts
Balls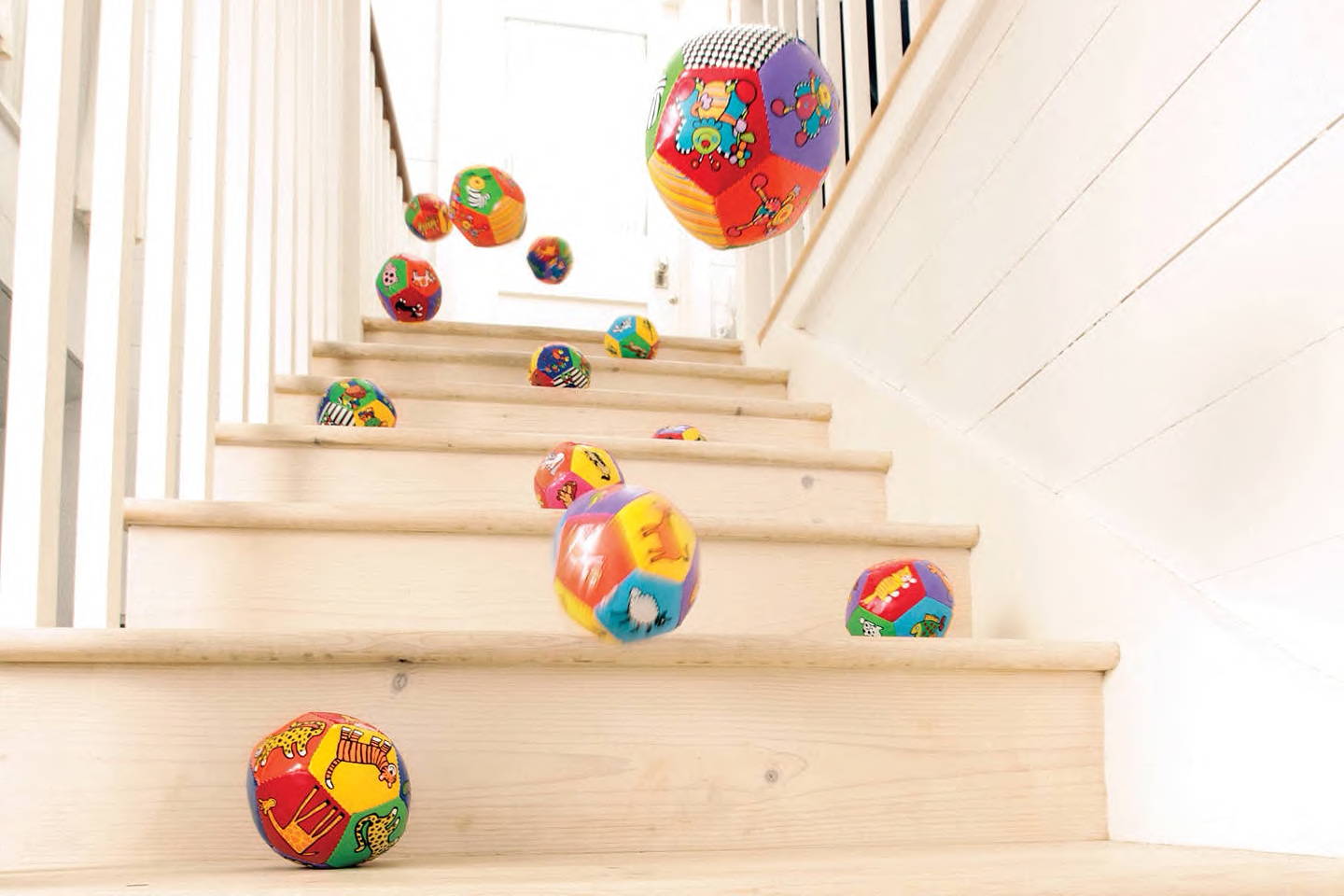 Start your child on his/her learning journey with these colourful balls from Jellycat - he/she can learn fine motor skills, timing and force.
Balls help your infants and toddlers develop skills like fine motor skills, sensory learning, hand-eye coordination, collaborative play and force. Some newborn-safe options are the Jellycat Boing Balls ($22.90 to $24.90). Using the colourful pictures, parents can aid their children in building their vocabularies with names of colours, animals and other objects.
Other Options: Infants above 10 months can play with Moulin Roty's Soft Ball and Le voyage d'Olga Solf Ball, both $14.90. The Crocodile Creek Rubber Playground Balls ($15.20 to $20)for children three and above, is perfect for kickball or dodgeball and promotes outdoor activity.
Wrapping The Gift
With enough wrapping paper to cover the ball, proceed to cut these into strips. Wrap these around the ball and tape as you go, ensuring that the pattern matches throughout. Embellish with a large bow, gift card or tag. Otherwise, use a larger piece of wrapping paper, placing the ball in the middle. Fold and press the paper into a seam, hold at the top and repeat till all the folds cover the ball. Secure with a ribbon.
Jellycats
Irresistibly cuddly and cute, these Jellycats are the perfect gifts for newborns and infants.
These super cute and cuddly Jellycats may be difficult to wrap or find a suitable gift box due to their shapes. Get around wrapping these with the Jellycat Gift Sets ($69.90 to $199), pre-wrapped in organza bags, or in gift boxes.
Wrapping The Gift
Otherwise, make a gift bag with wrapping paper and tape, best for moderately-sized Jellycats. First, ensure your bunny's width is completely covered by the wrapping paper. Tape down the middle, and press the sides of the bag flat. Next, fold the bottom upwards to form a diamond. Fold the bottom and top triangles, meeting in the middle, and tape the hexagon securely. Trim off the top if it's too long, then fold the top down twice and secure with double sided tape. Decorate your present with bows, and a gift tag.
If you're getting a Really Big or Very Big Jellycat, use a Christmas-printed tablecloth or bedsheet. Put your Jellycat in the middle and then gather the fabric up to form a sack. Tie the top with a festive ribbon and add a gift tag.
Personalise your gift: Getting a Jellycat bunny? Embroider ($19.90) its right ear with your recipient's name in English.


Bigger Gift
Car Seats
BeSafe iZi Go Modular X1 i-Size Car Seat
Great for newborns up to a year old, the BeSafe Modular X1 i-Size car seat offers little ones utmost safety and protection.
The BeSafe iZi Go Modular X1 i-Size car seat ($469), suitable for babies from birth up to 12 months, has a five-point harness, additional side impact and head protection. Additionally, the car seat has wide harness belts and shoulder pads for increased safety. The car seat's wedge provides stability, support and to optimise the angle of recline. This lightweight, i-Size approved seat easily installs into the base, and the Magnetic Belt Assistants make it a cinch to lift the baby in and out of the seat. Furthermore, this car seat is compatible with most strollers.
BeSafe options for older children: Infants up to four years - iZi Modular i-Size ($649), iZi Flex Fix i-Size ($559) and iZi Up X3 Fix Carseat ($399) for children up to 12 years.
Complete Travel System: Go Starter Set - Stroller ($1,290)
Clek Liing Infant Car Seat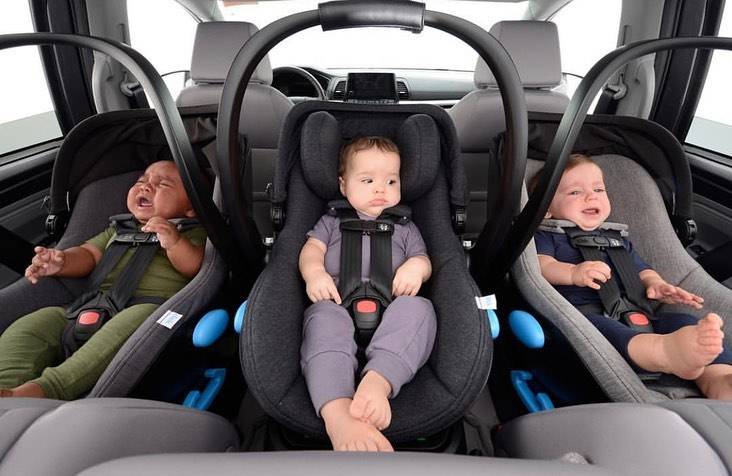 Families with three children can sit safely in the back seat in their car or booster seats.
Another option is the Clek Liing Infant Car Seat ($639.20), designed with safety features like a metal load leg, secure rigid-LATCH installation and seven different recline positions, perfect for newborns. Use either the Rigid-LATCH or the belt-tensioning system to securely install the car seat. Up to three kids can ride safely in their respective car or booster seats. Finally, choose from jersey knit, standard C-Zero Plus that feels like plush terry cloth and 100 per cent Australian merino wool fabrics.
Clek options for older children: Clek Foonf Convertible Seat ($929) for babies six months up to seven years old and Clek oobr Full Back Booster Seat ($599) for children four and up.
Wrapping The Gift
Both car seats come in large cardboard boxes, so wrap these in multiple stages, starting with one half or third. Tape down, and repeat until you've covered the box fully, matching the seams as much as possible. Fold in the sides, and embellish bows or gift tags.
Diaper Bags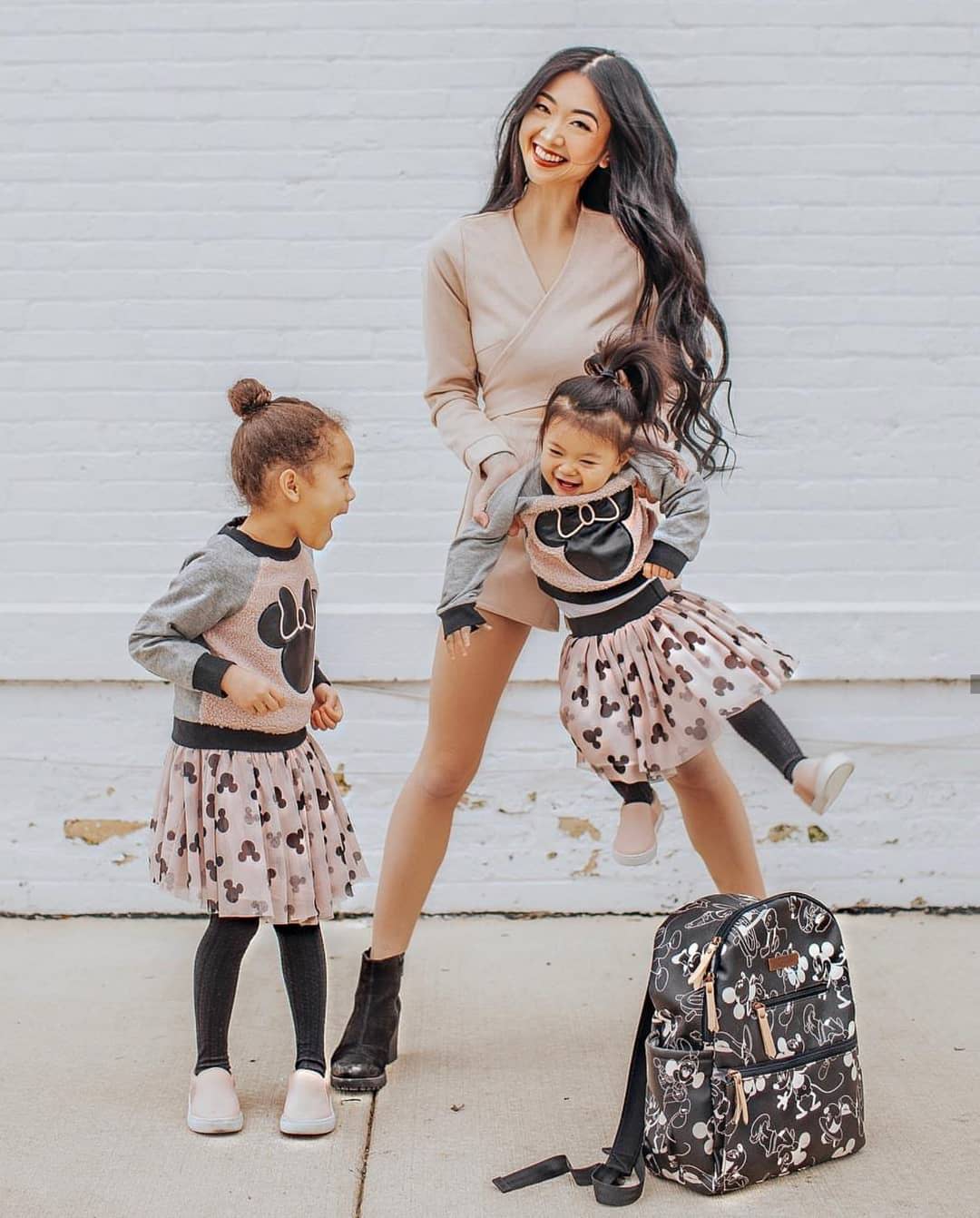 Perfect for Disney fans, this diaper backpack is cute yet super functional with multiple pockets and a spacious main compartment.
A caveat: check which diaper your recipient prefers, or purchase the one from her baby registry where possible. That said, here are a few options. First, the Petunia Pickle Bottom Ace Backpack in Mickey's 90th Vintage Black & White ($239) is perfect for Disney fans. The design pays homage to some of Mickey's adventures, while keeping mums organised via front zippered and deep exterior pockets and a spacious main compartment. Its printed, glazed coated canvas exterior and water-resistant linings are also easy to clean.
Another special edition backpack is the Bedford Avenue Stop ($191.20) from the same brand. This features a changing station, multiple pockets, magnet closure, stroller straps and two ways to carry this bag. Similar to the Ace Backpack, its canvas exterior and linings are also easy to clean.
Other Options: Skip Hop Forma and Duo Signature, Petunia Pickle Bottom Black Neoprene Inter-Mix and Work & Play Backpacks ($59.90 to $191.20)
Wrapping The Gift
Secure all handles, buckles and zips by taping down a layer of bubble wrap over the bag, then wrap in a gift bag following the steps above. Use thicker wrapping paper or purchase a gift bag or sack. Another option is the already-wrapped Go Starter Set Carrier ($183.20), with a Babybjorn Carrier Move Anthracite, Teething Bib and a Petunia Pickle Bottom Boxy Backpack.
Cylindrical Objects
Kitchen Essentials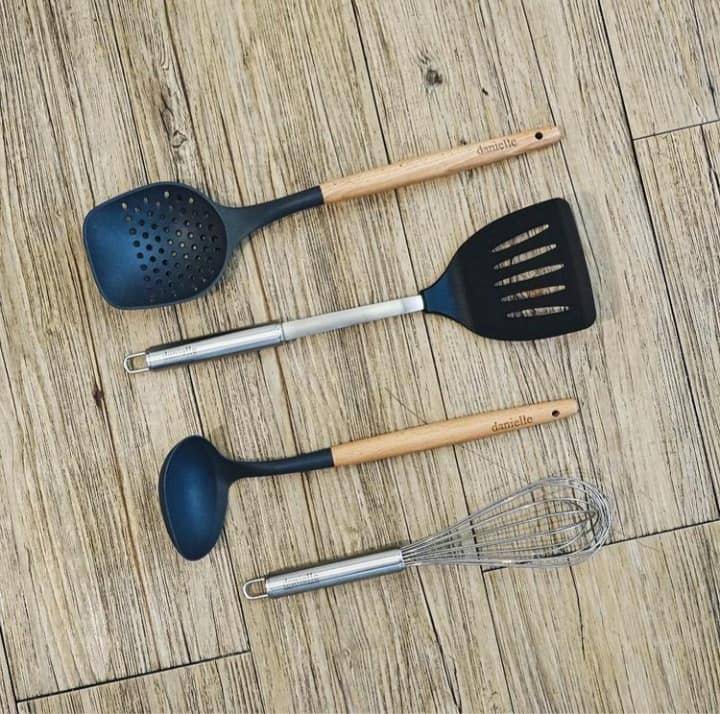 With these kitchen essentials, aspiring chefs can whip up amazing meals in their kitchens.
Gift the aspiring Masterchef a set of kitchen essentials, such as Danielle Peita Graham's kitchen shears, a spoon, slotted spoon, soup ladle, turner, and chopping boards (prices from $9 to $79). In particular, the turner, slotted spoon, spoon and ladle are all LFGB food-grade certified, featuring natural beech wood handles strengthened with glass fibre to prevent rust and thawing. These are perfect to use with non-stick cookware.
Wrapping the Gift
Create a cylindrical bundle with the apron ($32.90). Place the kitchen utensils into the pockets and then fold the top and bottom towards the centre, then roll from one side to the other. Fit this into a cylinder or glass jar, wrap the length, and then twist the sides and tie with ribbon to form a cracker-like design. Alternatively, get the Danielle Peita Graham Kitchen Essentials & Cookbook ($119), bundled together for easy wrapping.
Skip Hop Doubleplay Reversible Playmat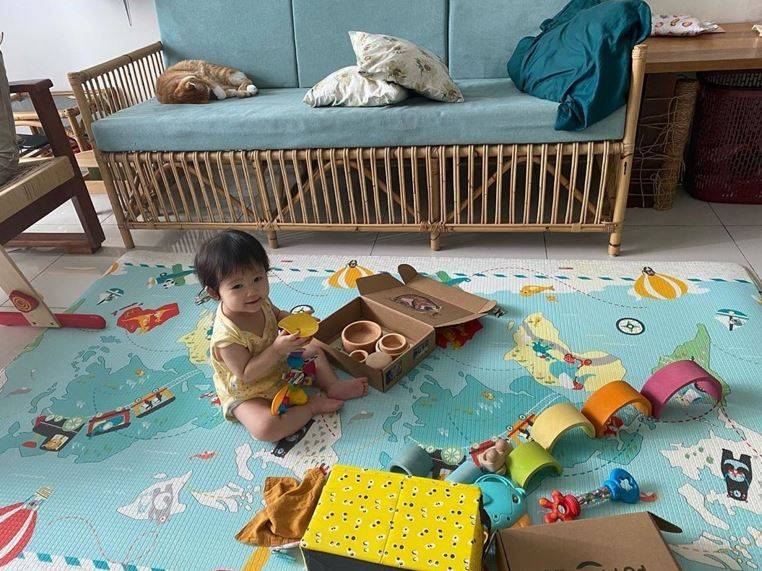 This two-sided PVC-free playmat features a colourful world map for newborns to play on, and is waterproof and easy to clean.
Doubling as a modern decor rug and a playmat for newborns, this completely PVC-free foam mat ($159.20) provides a large, cushioned play space. Additionally, this mat is waterproof and easily wipes clean. Available in two designs, the Zoo and Little Travellers, the colours stimulate little ones' senses, and can be a learning aid to differentiate colours, animals and places.
Wrapping the Gift
Packed in a cylindrical shape, wrap this with a few sheets of wrapping paper, either in a single design and colour or two complementary designs. Combine the sheets of wrapping paper together with double sided tape, then wrap around the length of the playmat, and tape to secure. On the top of the "tube", create pleats around the circumference, then secure with tape. Repeat for the bottom.
Wrapping and Delivery at Motherswork
Request for free wrapping in the special instructions when ordering online, where your gifts will be wrapped in Motherswork wrappers and sent to your recipients. In-store, avail of the gift wrapping service when you purchase wrapping paper (prices from $2 to $13.80). Afterwards, send these gifts to your recipients (charges apply, multiple locations possible).
Resources for Gift Bags and Gift Sacks
Relevant Reads: Gifts for Parents and Kids (links when up), Seasonal Decorations (links when up) Deals and Christmas events at Motherswork
Credits: Bru-no, yankaykay, Bertilla Wong, shoptadpole, Michelle Nhu, infiniti_trio