Posted on October 06 2020
Introduce your little one to solids with soft foods that she can easily grasp. Eating outdoors also minimises the amount of cleanup later.
Starting your baby on solids? Here's what to be aware of, and some tips and tricks to make mealtimes a lot easier, as well as some Asian baby led weaning recipes. If your child is able to hold his/her head up, and can sit well in a chair, and reaches out to try your food, you can start him/her on some solid foods. Ensure this is a safe and fun experience for everyone involved by knowing the differences between gagging and choking - and taking a firstaid course if necessary. Also, we share some tips and tricks that might make mealtimes a little less messy.
Gagging Vs Choking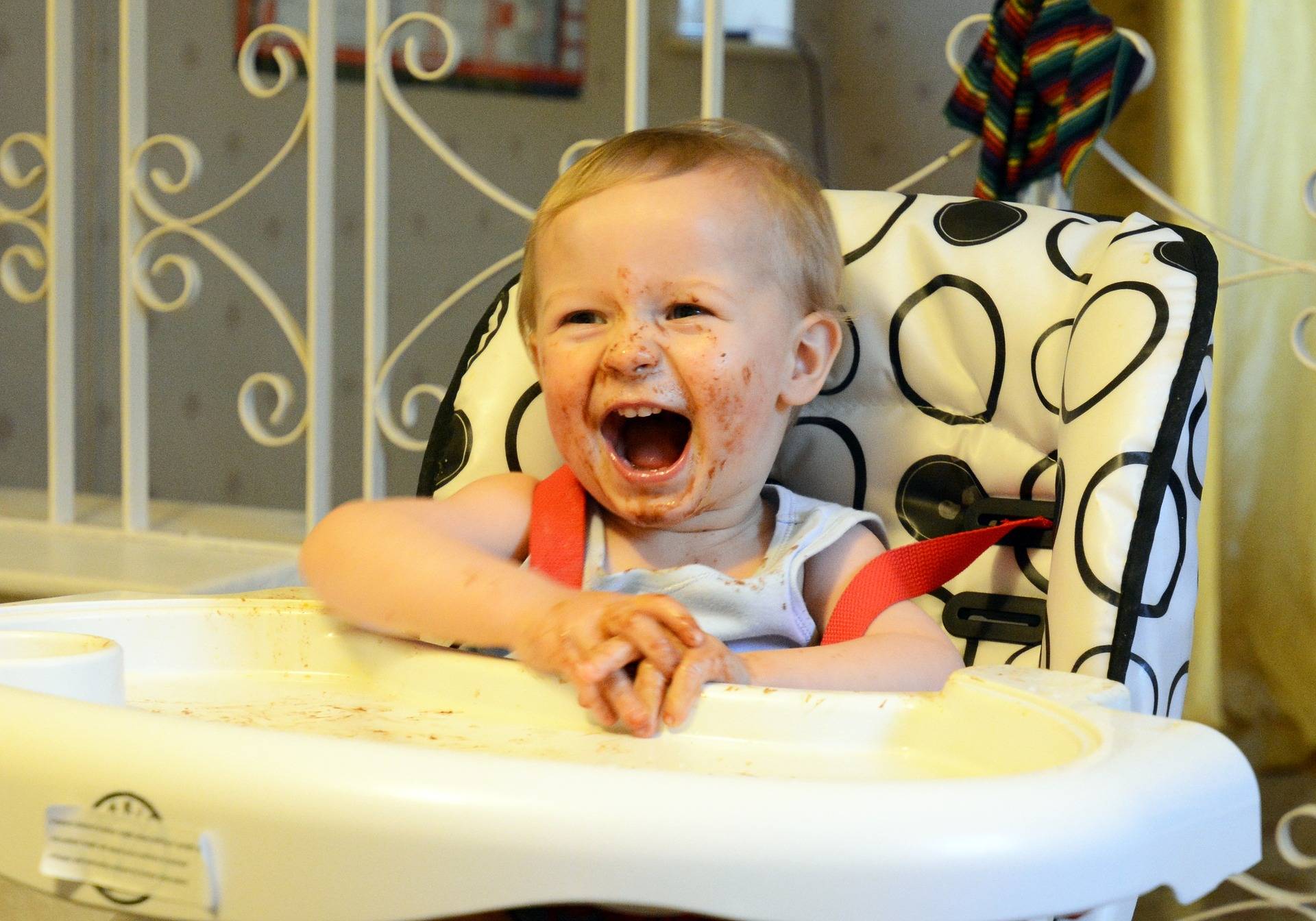 As your baby starts learning how to eat solids, he/she may gag, turn red and cough.
When a baby puts too much food in her/his mouth, or if the food is too far back, he/she gags as a safety reflex. It's fairly common for your little ones to gag when they start weaning to solid foods, especially since their gag reflex is located at the tongue's tip. Rather than showing a dislike of the food, your baby is learning how to eat and try different textures.
Some signs of gagging include your child opening his/her mouth and thrusting his/her tongue forward, and turning red. Another indication is that your child is sputtering or coughing, and looking frustrated or uncomfortable.
In contrast, choking is the opposite of gagging, and occurs when your child's airways are blocked. His/her face will turn blue, and be unable to make noise. Alternatively, he/she might begin coughing. In the most severe cases, your child may lose consciousness.
Prevent Choking
First, to prevent choking, ensure your baby is sitting upright when eating. Ensure they don't eat when distracted, and don't leave them unattended. Don't force feed your little one, or interrupt the gagging process. Next, avoid foods that are potential choking hazards like nuts, grapes, popcorn and bones from fish and meat. Additionally, be aware of portion sizes.
Infant First Aid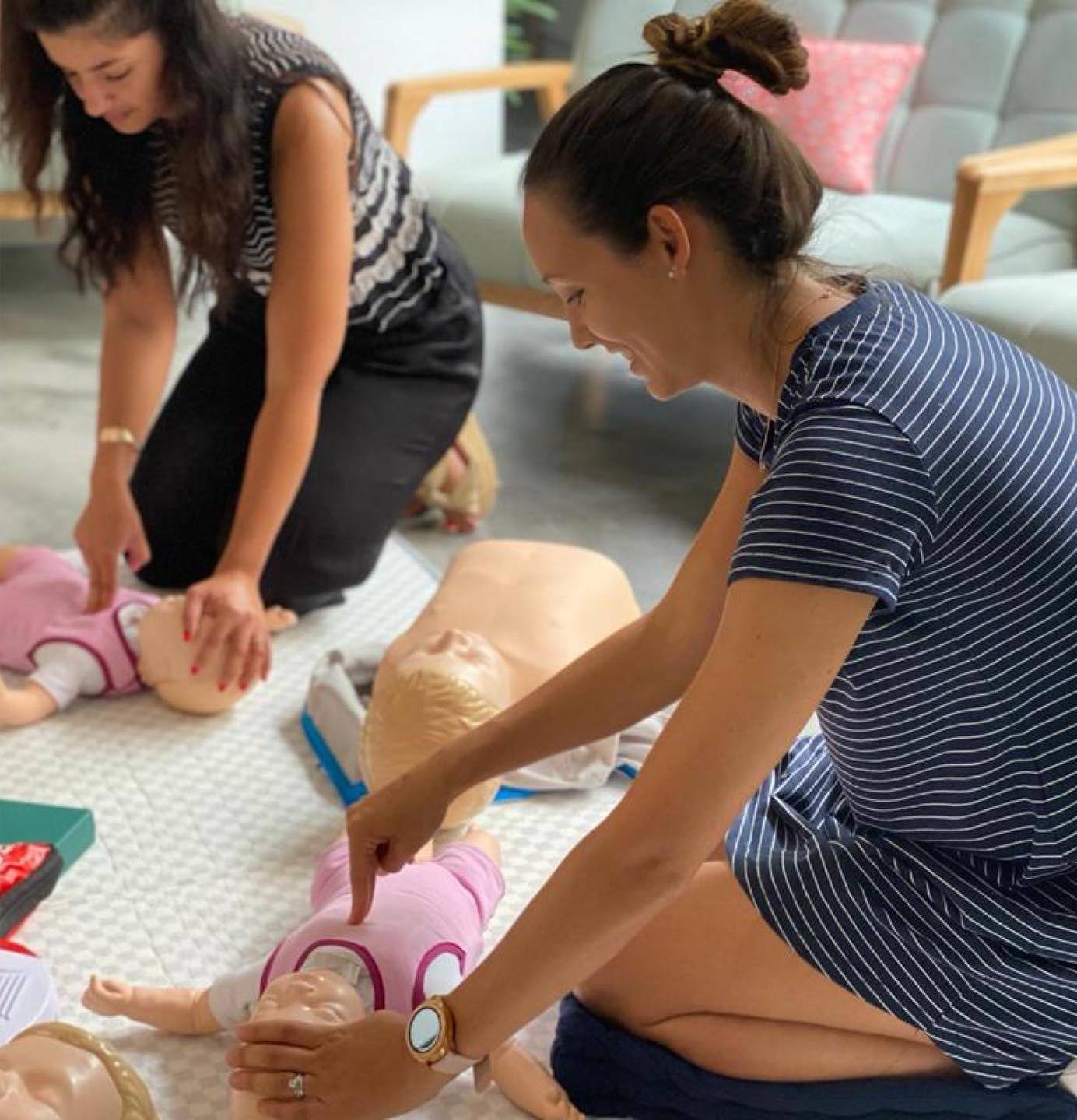 Learn how to help your baby if he/she shows signs of choking with an infant first aid class.
If your baby shows the above signs of choking, you can quickly tend to him/her. First, carry and position your baby with his/her head on your palm and the body on your forearm. With the other hand, support his/her jaw with your thumb on one side and fingers on the other side. Finally, place the forearm on your infant's chest. Place your baby's face down with the head lower than the body, and with the forearm, support your baby's chest on your thigh. Next, deliver five back blows forcefully between the shoulder blades with the heel of your other hand.
If it doesn't dislodge, turn your baby over so he/she is facing upwards, and place two fingers in the middle of his/her chest right below the nipples. Next, push sharply downwards up to five times. Repeat these steps over until the blockage is dislodged. You may also want to call an ambulance.
Learn first aid for your little ones at these places, such as Red Cross, MHI Training, Beloved Bumps, and Mother and Child. Other options include Singapore Emergency Responder Academy, and Singapore Resuscitation and First Aid Council.
Mess Proof Your Home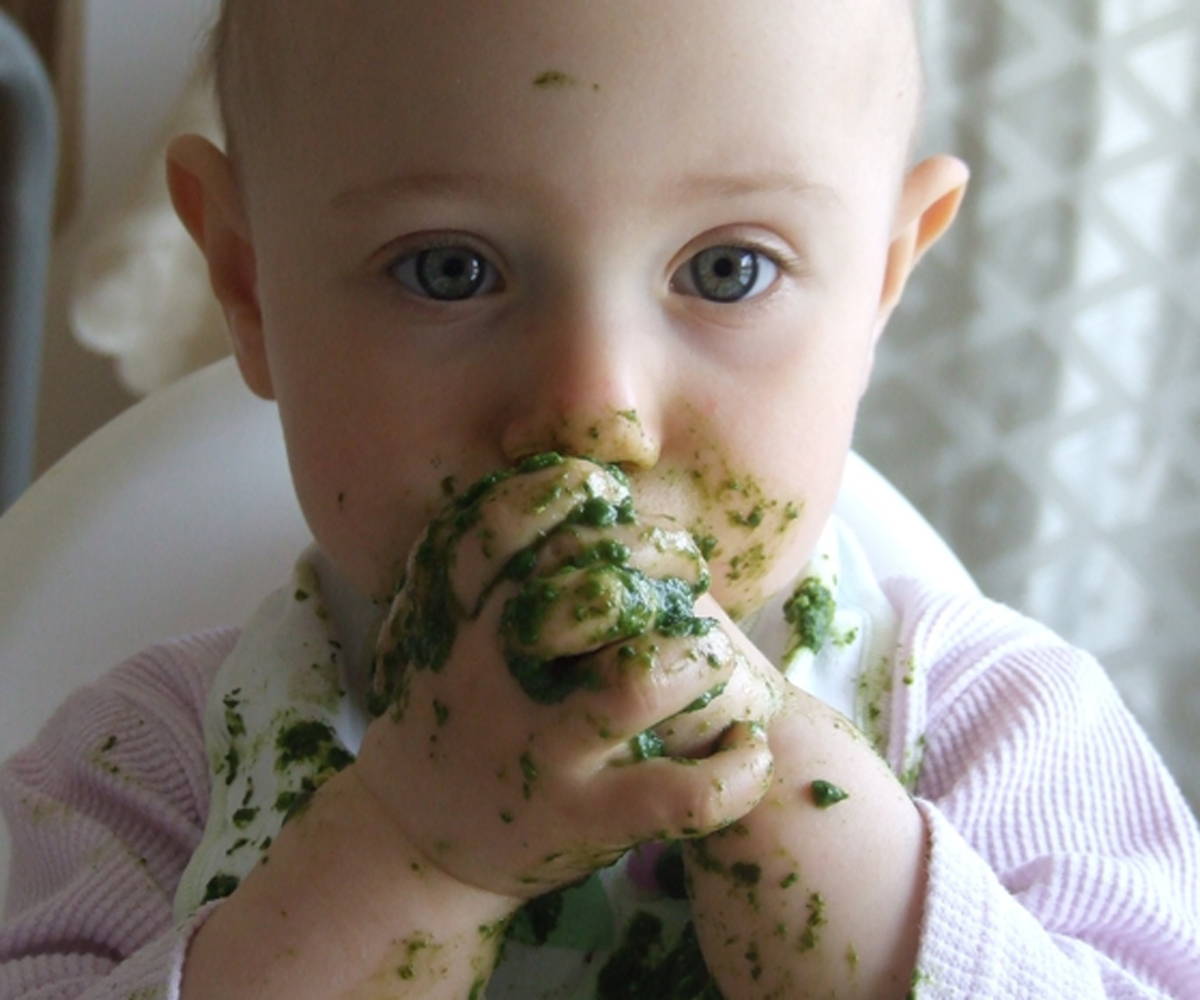 Some essentials for your baby's baby led weaning journey include bibs, an easy-clean high chair and a waterproof sheet below the chair to make cleaning up easier.
When your baby is learning to feed him/herself, it's most likely going to be a mess. First, join your little one in discovering the various textures and colours to help him/her learn. Next, get them dressed appropriately - go without clothes except for a diaper and wear a bib. Additionally, get an easy-clean high chair, and start off baby led weaning by eating straight off the high chair tray. Options for bowls and plates include those with suction. Moreover, consider offering easy-to-grasp foods, and giving them just a little food at a time (this helps with cleaning up too). Also, try to avoid distractions like the television or screen time, so your little one can focus on eating.
Other ways to minimise the mess include a splash mat or even just plastic sheets on the ground which can be disposed of after meals. Alternatively, if it's possible, have a picnic in your garden or in parks near you and leave the house clean. Finally, as much as you might be tempted to, wait till your little one is done with mealtime before cleaning everything.
Tips and Tricks for BLW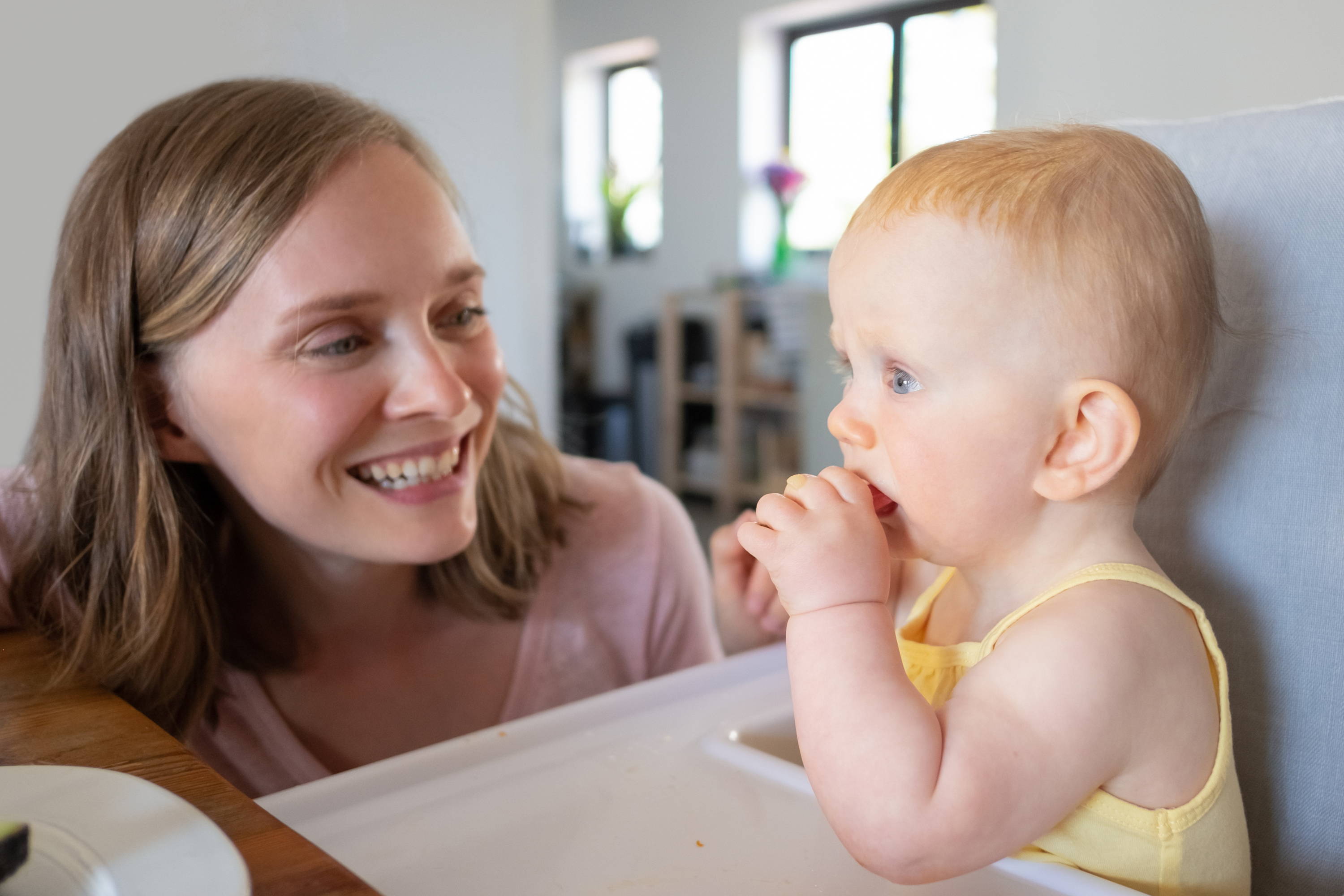 For little ones under one year old, it's a time for them to explore food rather than their primary source of nutrition, so let them have fun trying out a variety of food.
First, nurse or bottle-feed your little one an hour before he/she tries solids, so he/she won't be hangry. Secondly, do manage your expectations - your child may not eat much at first, and if he/she does, it will take a longer time. Although you might be wary of your baby choking on his/her food, the food should be large enough for him/her to grasp with his/her fist. You may want to use a crinkle cutter (found on Lazada or Shopee) or roll the food in oat flour for your baby to grasp easily.
Rather than cooking food separately for your baby, you can serve him/her the same food - just cut into appropriate-sized pieces, and leave out the salt and sugar. Try not to overload the plate and introduce a maximum of five different foods at each meal. Additionally, family mealtimes are great for your little one to socialise with the whole family and a chance for him/her to copy them eating. Although baby led weaning typically focuses on your little one grasping food with his/her hands, you can also let them try a bit of your food by feeding them a few spoonfuls. Above all, don't fret that they're not eating enough - you can still supplement their diet with formula or breast milk.
Essentials You'll Need for Baby Led Weaning


Food pouches to train your baby's sucking reflex: 6 months and above, and reusable pouches
Baby led weaning-friendly snacks: Kiddylicious, Happy Baby Puffs and teethers
Sippy cups for drinking water or milk
Asian Recipes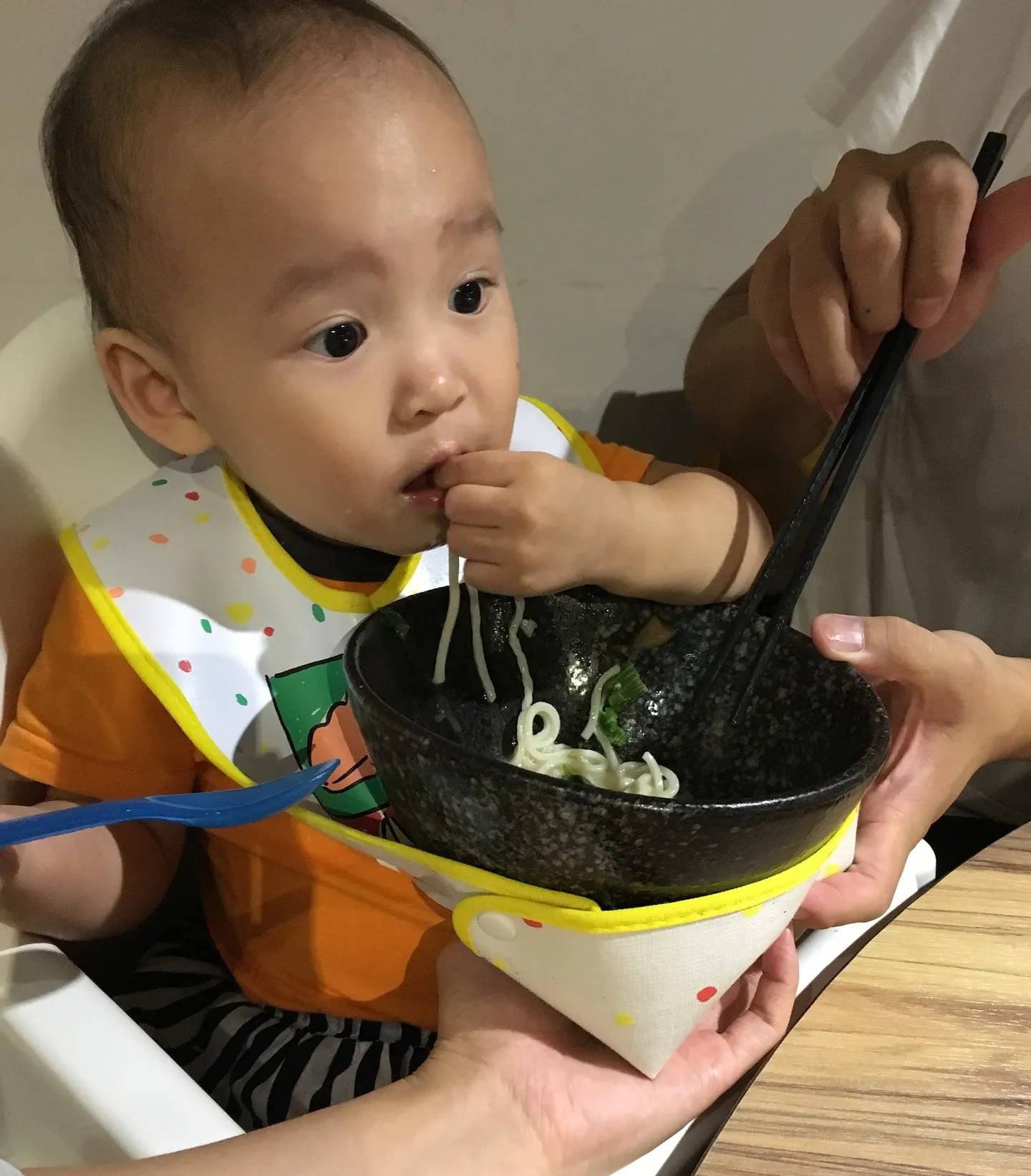 Try some of these Asian recipes for your baby, including soba noodles, sushi tuna balls and more, which are easy for him to grasp.
Salmon Soba Noodles


Ingredients You'll Need


2 fillets of boneless Wild Fresh Salmon or a 200g can of wild Alaskan boneless pink wild salmon
2 servings of organic soba noodles
125g of baby corn
1 lemon
Additional: You can make a quick pesto sauce or full fat Greek yoghurt.
Directions
Place the salmon fillets in the oven at 200°C for 20 minutes until cooked through.
On a stove top, boil the baby corn in water until cooked for 5 minutes.
Cook the soba noodles for two minutes until cooked, then drain under warm water until the water is clear. Otherwise, steam the soba noodles in the pasta/rice insert of the Babycook, with water level 3 for around two minutes as well.
Next, pour these noodles and cooked corn into a large bowl, break up the salmon into big chunks and then mix everything together.
After this, cut the lemon in half and squeeze it over the noodle dish.
For babies eight months old, load the noodles on small forks, e.g., stainless steel cake forks, with the baby corn whole or cut up and small chunks of salmon. This helps your little one practice his/her pincer grip. You can also use the Béaba Babycook to cook the salmon fillets, baby corn and the soba noodles separately.
Sushi Tuna Balls


Ingredients You'll Need


1/2 cup of sushi rice
1 small can or 125g of Tuna Light in spring water
1/2 avocado


Directions
Cook the sushi rice as per instructions, then wait until it cools.
In a bowl, mix all three ingredients together, and then form balls about the size of your baby's fist and then serve.
For this recipe, do note these are freezer-friendly for up to three months. You can use the Béaba Babycook to cook the sushi rice and defrost the frozen balls.
Asian Pork Balls with Rice Noodles
Ingredients You'll Need


For the Meatballs:
500g pork mince
1 large carrot, finely grated
3 tablespoons of finely grated ginger
Serve with:
225g rice vermicelli noodles
1 broccoli head
8 baby corn
To make the sauce, combine four tablespoons of rice vinegar with one lime. Serve this separately so your little one can see if he/she needs it.
Directions
Preheat the oven to 200°C. In a large bowl, mix the pork mince, carrot and ginger together, and then roll out your balls. They should be about 5cm in diameter.
To oven steam the pork balls, first line a big sheet of foil onto a baking tray. Lay out all your pork balls into the middle section lengthwise on the foil.
Next, fold up the foil, and squeeze the ends of the foil together and up, making sure all the balls are secure with no gaps to ensure the meatballs steam. You'll want to cook it in the oven for 18 minutes until they're cooked through.
Boil enough water to cook your rice noodles on a stove, and boil the broccoli and corn until tender in a separate pot.
Serve your baby one to two pork balls, some noodles, broccoli and corn. To make it easier, you can cook the rice noodles, broccoli and corn in the Babycook.
Baby's First Korma
Ingredients You'll Need


1 tablespoon olive oil
1 tomato, washed, deseeded, and grated
Pinch of ground turmeric
Pinch of ground cumin
1/4 teaspoon minced garlic
1 medium white potato, washed, peeled and cubed
2 tablespoons unsweetened desiccated coconut
200ml of water
1 medium carrot, peeled, washed and chopped
40g peas, frozen and washed


Directions
Heat the oil in a pot.
Add the tomato, turmeric, cumin and garlic. Next, stir-fry for one to two minutes.
Add the potato, coconut and water, then stir and bring to the boil.
After this, simmer on low heat for 15-20 minutes until tender, then mash and set aside.
When the potato is boiling, you can steam the carrot and peas in a steamer or the microwave in a microwavable dish.
Add two tablespoons of water. Now, cover the dish with either a lid or cling film and steam on high for about a minute to 1 1/2 minutes.
Then, drain and add to the mashed potato. Afterwards, mash or blend as necessary to your baby's desired consistency
With the subtle new flavours, this is also excellent for baby led weaning. Your little one can pick up the soft, textured pieces. Additionally, you can pair this with rice - short-grain and sticky - or soft bread pieces for your infant.
Store any leftovers in these Beaba containers, or these Stasher bags.
Recipes from Zainab Jagot Ahmed and Baby Led Weaning Ideas,
Relevant Reads: Baby Food Cooking Hacks and Introducing Solids to Your Baby
Credits: dhanelle, Tom Staziker, Beloved Bumps Singapore, pch.vector, miriam chu