Posted on October 02 2020
Other options for babywearing include sling rings, wraps and infant baby carriers. Learn how to safely wear them for optimal comfort. Let your little one explore the world from the safety of a baby carrier, such as this one from Phil & Teds. In the second part of the series, check out the various baby wraps, ring slings as well as carriers for infants.
Aside from the soft-sided and Mei Tai carriers, parents can also have additional options when babywearing. Examples are baby wraps, ring slings, and infant carriers. Learn how to safely wear these carriers.
Newborns
Baby Wraps
7.   MOBY Evolution Wrap Batik
Made from 70 per cent bamboo viscose and 30 per cent cotton, this MOBY Evolution Wrap ($78.40) distributes your baby's weight on the shoulders and hips. Additionally, it aligns your little one's center of gravity close to your body and weighs just 900g. Machine washable, this is suitable for newborns up to 15kg and for caregivers of all sizes. Moreover, it's ideal for all climates and seasons and accommodates various hip and front carry positions.
Customer Review
This ranks 4.5 out of 5 stars over 427 ratings, and is #15 in Child Carrier Slings. Sonya says, "Love this MOBY! It's cooler to wear than the original fabric and I love that I don't get as sweaty. There is a learning curve to use it, but it was easy enough to remember how to do it after watching a YouTube video. My newborn loves being in the wrap!"
How to Wear It
Put the wrap across the waist, with the label facing out. Cross the two ends behind your back, and bring them over your shoulders to create an X on your back. After taking the long tails and slotting through the centre, pull down to tighten the wrap. Crossing the tails again, bring them around the back, then double knot it either the front and back. There should be an X on both the front and back.
With your baby facing you, put the leg on your left side through one side, with his/her butt resting on the fabric. Repeat on the other side then spread the fabric across the butt and back. Next, tuck your baby's legs into the horizontal section around your waist until the logo is on his/her shoulders, and your baby's legs in an M position.
Baby Carriers - Ring Slings
8.   MOBY Sling Ring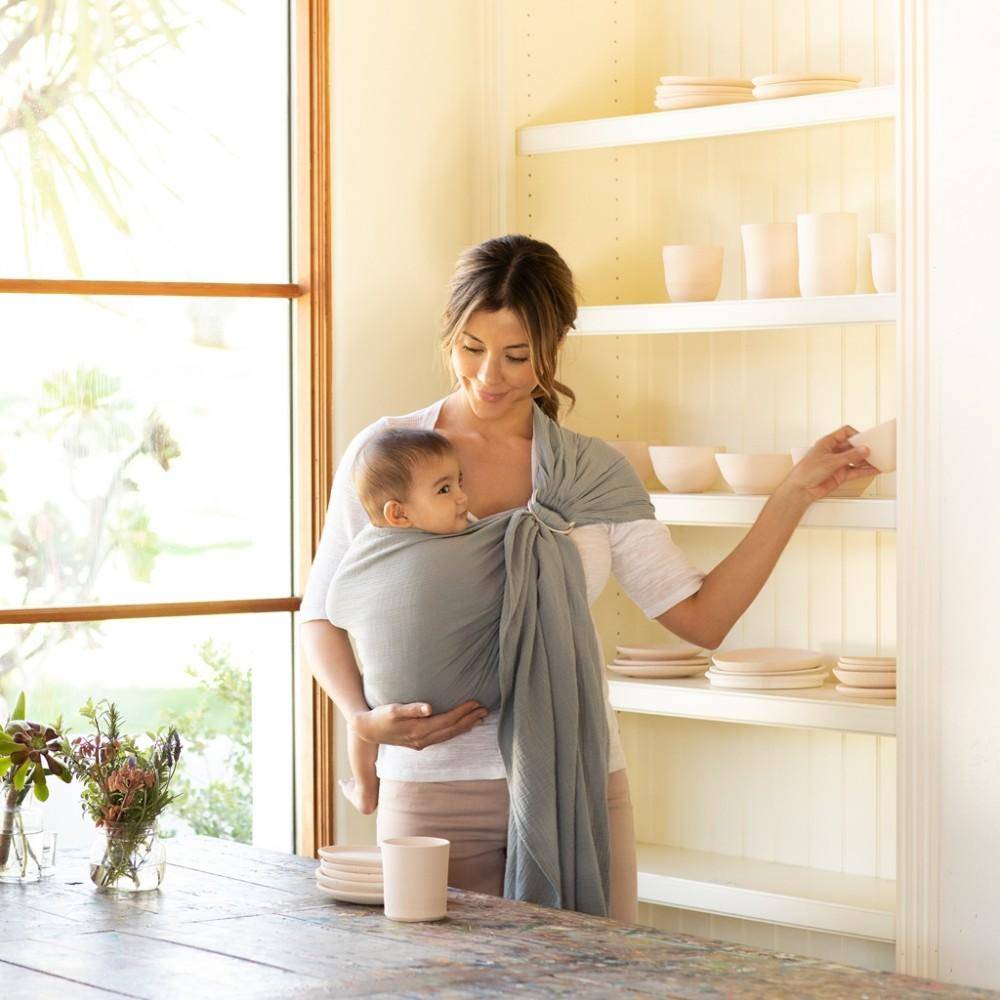 Carry your baby in the front or hip-carrying positions in the comfortable MOBY Sling Ring.
An alternative to the classic wrap design, the super-comfortable MOBY Sling Ring ($62.40 to $78.40) offers both front and hip-carrying options. Made of 100 per cent, breathable and soft cotton, all caregivers can use this for newborns and toddlers up to 15kg.
Customer Review
The MOBY Sling Ring is rated 4 out of 5, across 178 ratings, and #39 in child carrier slings. Charlotte says, "Really love this carrier. Perfect for my three month old and hope to use it until she is a toddler. Lots of YouTube videos available for optimum threading and baby positions. Very quick to place the baby (into the carrier)."
How to Wear it
Slide the sling over one shoulder and the opposite arm as you would a sash. Tighten or loosen the sling by pulling on the excess fabric from the circular ring. Next, put your little one's legs through the fabric and around your waist, so he/she sits on the fabric gathered around his/her bottom. Pull the fabric up across his/her back and bottom, then tighten any slack fabric.
9.   Mini Monkey Mini Sling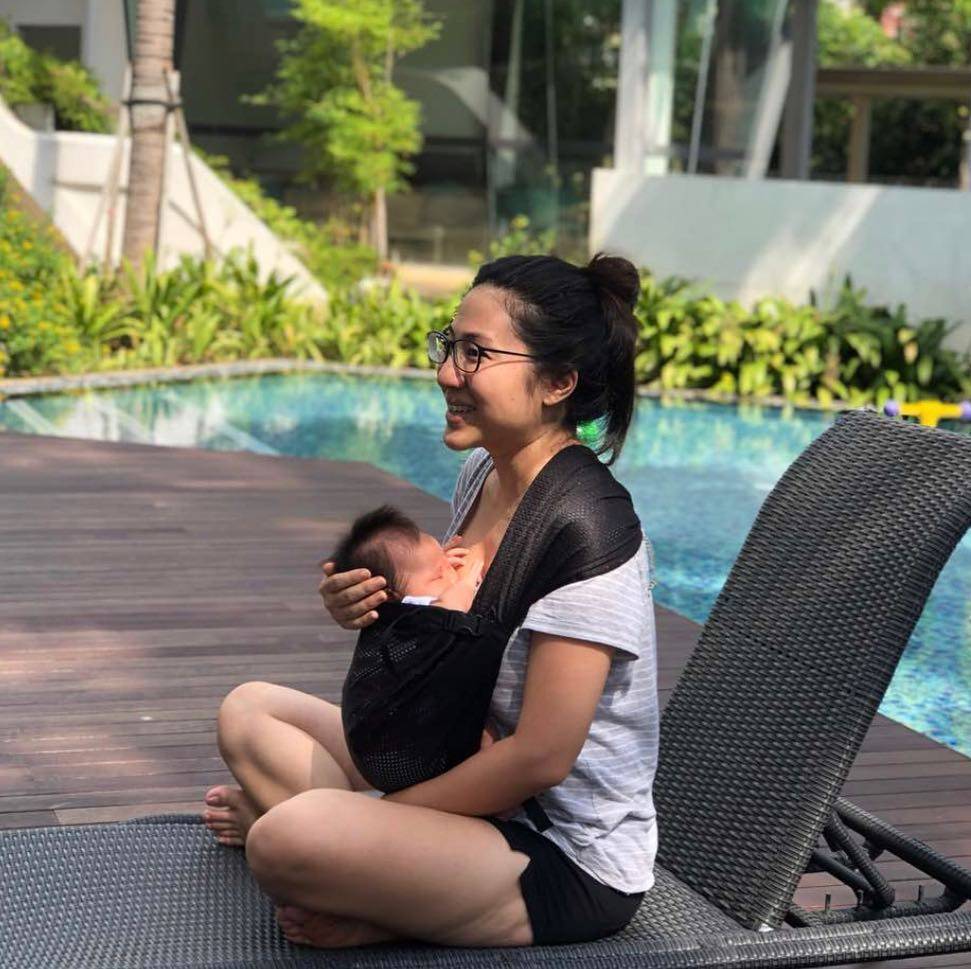 Lightweight and small, this super packable Mini Sling is great for Singapore's tropical weather and can carry your child up till he/she weighs 15kg.
This Mini Monkey Mini Sling ($55.20) is impressively small and lightweight at 175g. It can be folded down into a tiny pouch, and is waterproof. Additionally, the mesh fabric is cooling for both you and your baby. Suitable for newborns up to two years old or 15kg, this waterproof carrier has a couple of safety features, such as the adjustable clip and the safety loop. When done right, the Mini Sling ensures your baby's back is in its natural curve. Finally, the fabric dries quickly, within half an hour, making it ideal to use in the shower, the beach or the pool.
Customer Review
Zaharah.izat says, "Love the product! Have been searching for a sling that is lightweight and small storage so that it is easy to carry. But this cant be used for too long."
How to Wear it
Similar to the MOBY Sling, slide the sling on one shoulder, ensuring the buckle is on your back. Spread out the fabric on your shoulder and tighten the black strap so the buckle and carrier are at armpit height. Next, carry your baby and slide one leg through the lower loop. After this, spread out the fabric across your baby's back and neck, then close the buckle and tighten the strap. Finally, fold away the extra clip and then tighten everything with the black strap on your back.
Infants
10.   MOBY 2 in 1 Carrier + Hip Seat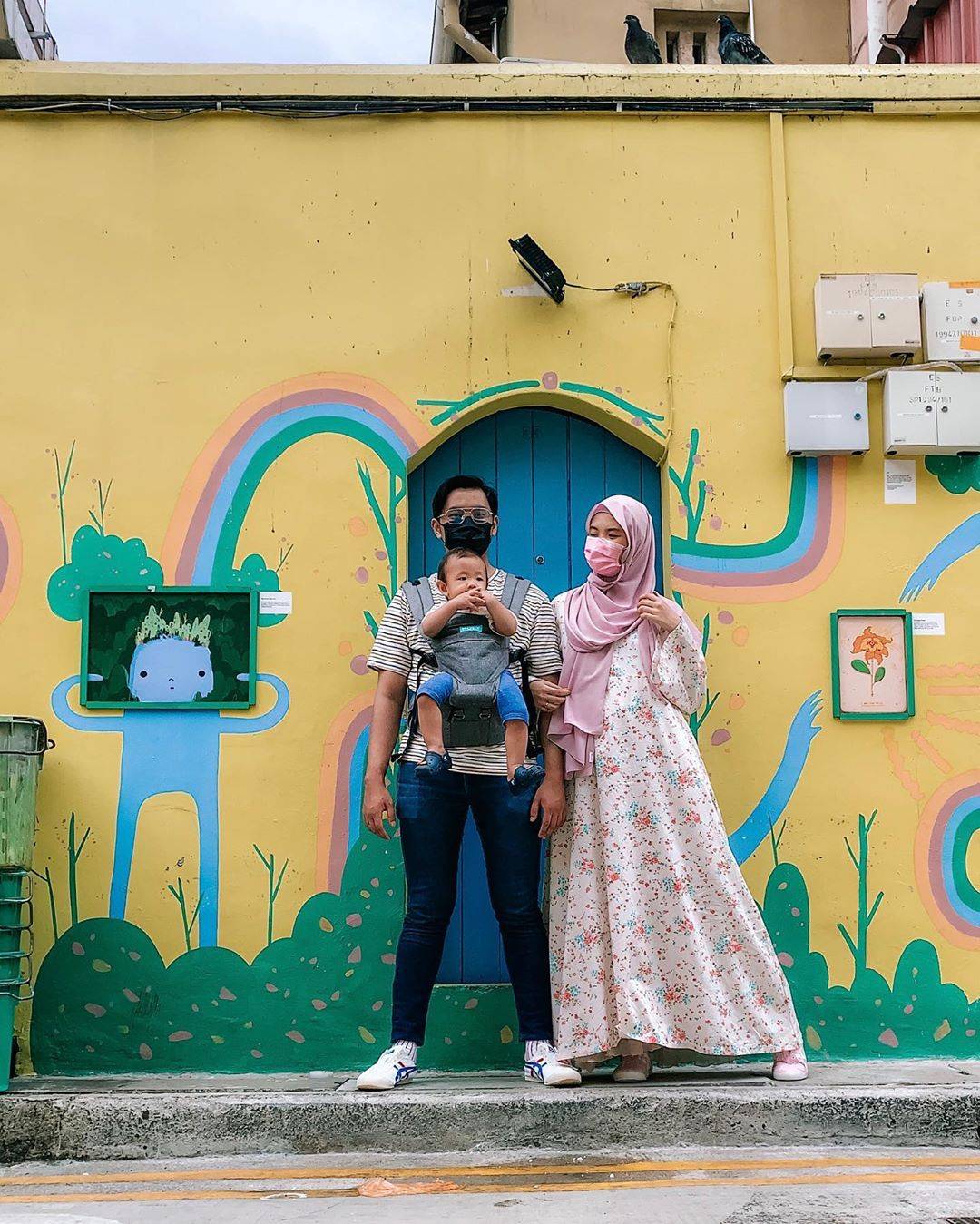 Easily bring your infant or toddler around in this 2-in-1 carrier and hip seat - you can quickly remove the hip seat to let your little one crawl or walk.
The MOBY 2 in 1 Carrier & Hip Seat ($198) helps parents easily carry their infants and toddlers while functioning like a traditional four-position carrier. Additionally, the hip seat is designed to be quick to remove and fasten. Hence, your energetic toddlers can walk or crawl on their own, and then be carried when they're tired. Moreover, the carrier is suitable for your little one from four to 48 months. Aside from the four carrier options, there are also three hip seat configurations. Examples of these include front-inward and outward and hips, which should be used from six months onwards. Also, the carrier has a hood that's rated UV45+ for sun protection.
Customer Review
A Lewis says, "This carrier is awesome! It's so easy to convert back and forth from a full carrier to the hip seat! Cannot wait to take it with us to Disney World in November (2019) for our one year old!" This carrier is rated 4.4 out of 5 stars, across 87 ratings, and 149 in Soft Baby Carriers.
How to Wear it
Buckle the hip seat and turn it to the side. Next, attach the removable panel, and then position your child in the seat facing you and then pull the carrier straps up one at a time. Tighten the webbing straps so your baby is secure. You can also opt to pull the hood over your baby's head if it's too warm.
11.   Hugpapa Dial-Fit 3 in 1 Hip Seat Baby Carrier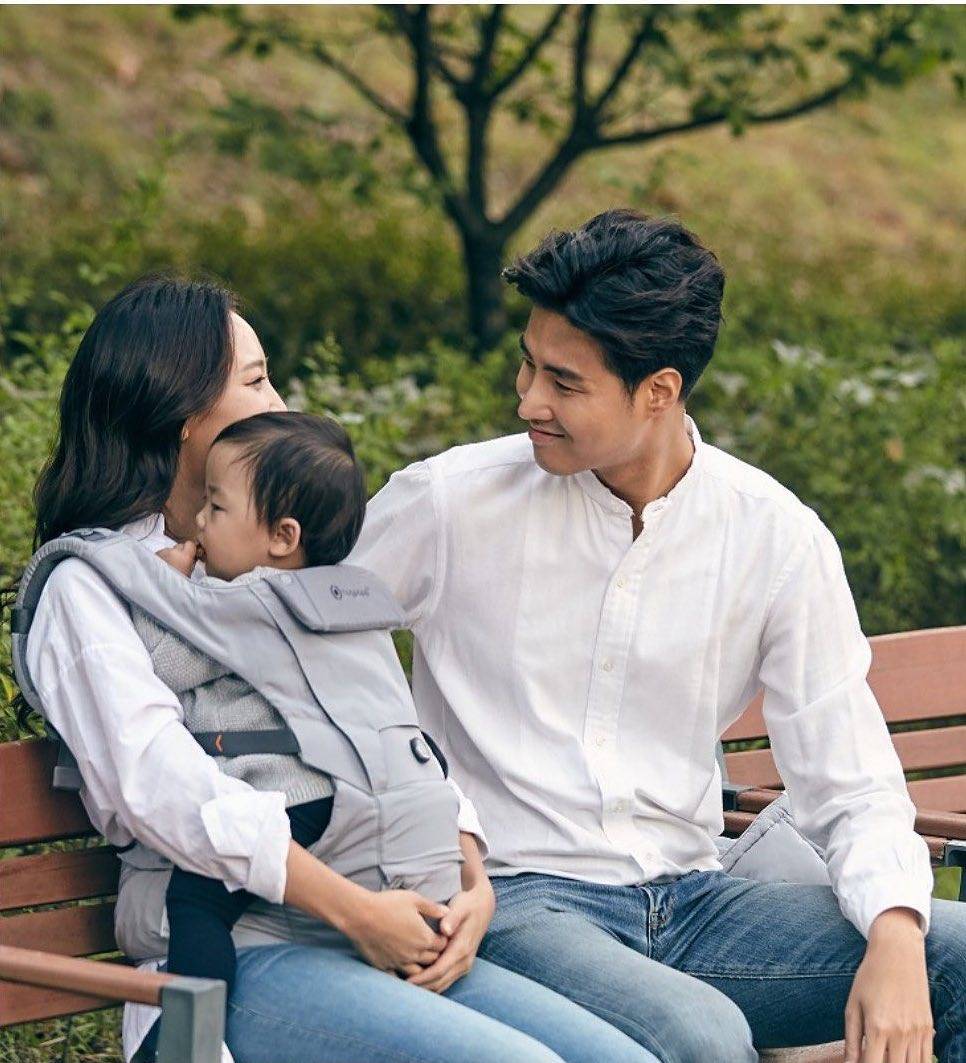 This carrier uses the micro-adjustment BOA Closure System, so you just need to turn the dial to adjust the fit.
Powered by the BOA Closure System, this Dial-Fit 3-in-1 Hip Seat Baby Carrier by Hugpapa ($299) features the world's first micro-adjustment sizing baby carrier. This ensures you can customise the fit for you and your baby, and other caregivers just by a few turns of the dial. Additionally, the BOA Closure System comes with a lifetime warranty. Suitable for your little ones from three to 36 months, this carrier has several positions available such as facing inward and outward on the hip seat, hip seat and the baby carriers. Last, carry him/her on your back in the baby carrier.
Customer Review
Martina Chun-Hsing Manley says, "Great quality and strong carrier. Awesome for forward facing. Very comfortable to wear as well as for my baby."
How to Wear it
Adjust each side of the webbing to fit yourself and your baby. Push the dial in and turn to the left to tighten. After this, place the waist belt above your hips, fasten with the Velcro and snap the buckle into place. Tighten, then roll any excess and tuck into the elastic band. Next, snap the baby waist belt hook straps to the carrier, attaching the baby waist belt. Form a loop by snapping top and bottom snaps together on both sides.
After this, you'll want to attach the infant insert to the carrier with the snap tabs. Insert the removable pillow, and then zip up the base of the carrier. Place your baby on the seat, and then strap him/her into the seat with the infant belt. Holding your baby close to you, put on the straps one arm at a time, then fasten at the back. Tighten the straps and turn the Dial-Fit to ensure a comfortable fit.
12.   Phil & Teds Parade Carrier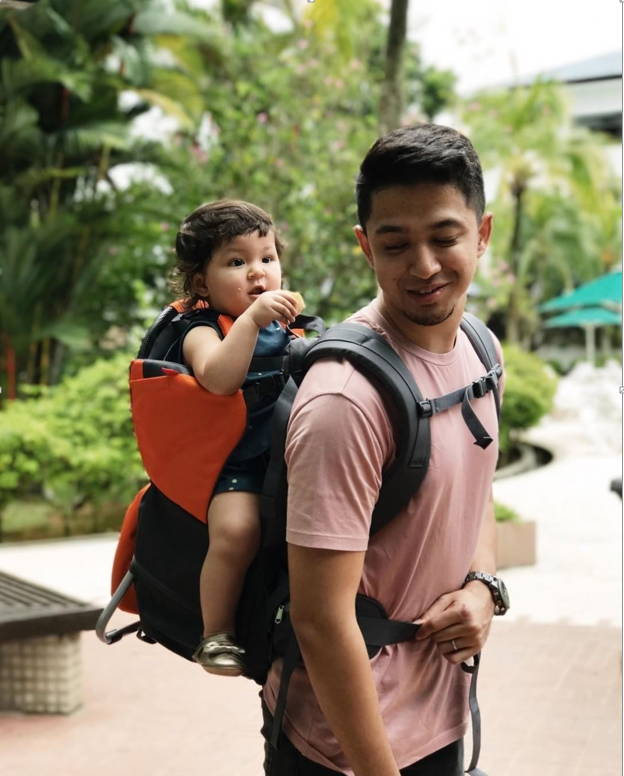 Designed with loads of pockets to store your essentials, as well as toy loops to entertain your child, the Phil & Ted Parade carrier is perfect for children up to 3 years old.
Similar to traditional hiking packs, the Phil & Ted Parade™ carrier ($239) can carry a weight of up to 18kg. Better yet, the 2.1kg carrier folds flat so you can easily bring it on a plane. Next, the ventilated and moulded back panel keeps you cool while fitting your spine with premium padding. Additionally, Parade also has a detachable mini pack for your child to carry their stuff. The carrier is also safety certified with a three-year guarantee, and comes with toy loops, drink bottle storage and key pockets to ensure all your essentials are at hand.
Customer Review
Nicole Albright says, "I use this pack to go carry my two year old son while hiking. I love this pack! I love that it has a good amount of space in the pack below for diapers and wipes, toys, snacks, water, and an extra coat. There is a little zipper pouch on the waistband that is perfect for your chapstick and a small knife. The kickstand is nice for loading my son, and there is a little handle on the top that makes it easy to lift the pack up to swing it around onto my back. I am a small woman, 4'11 (about 1.5m) and thin, and I have trouble finding packs that fit my small frame but this one is great!"
How to Wear it
Adjust the straps around your waist and at your shoulders to your preferred comfort level, then take off your carrier and put your little one in. Buckle him/her in on the sides, slide his/her arms through the straps and then fasten across his/her chest. Next, strap yourself in, fasten all the buckles and lift your little one and the carrier off the ground.
13.   Stokke My Carrier Front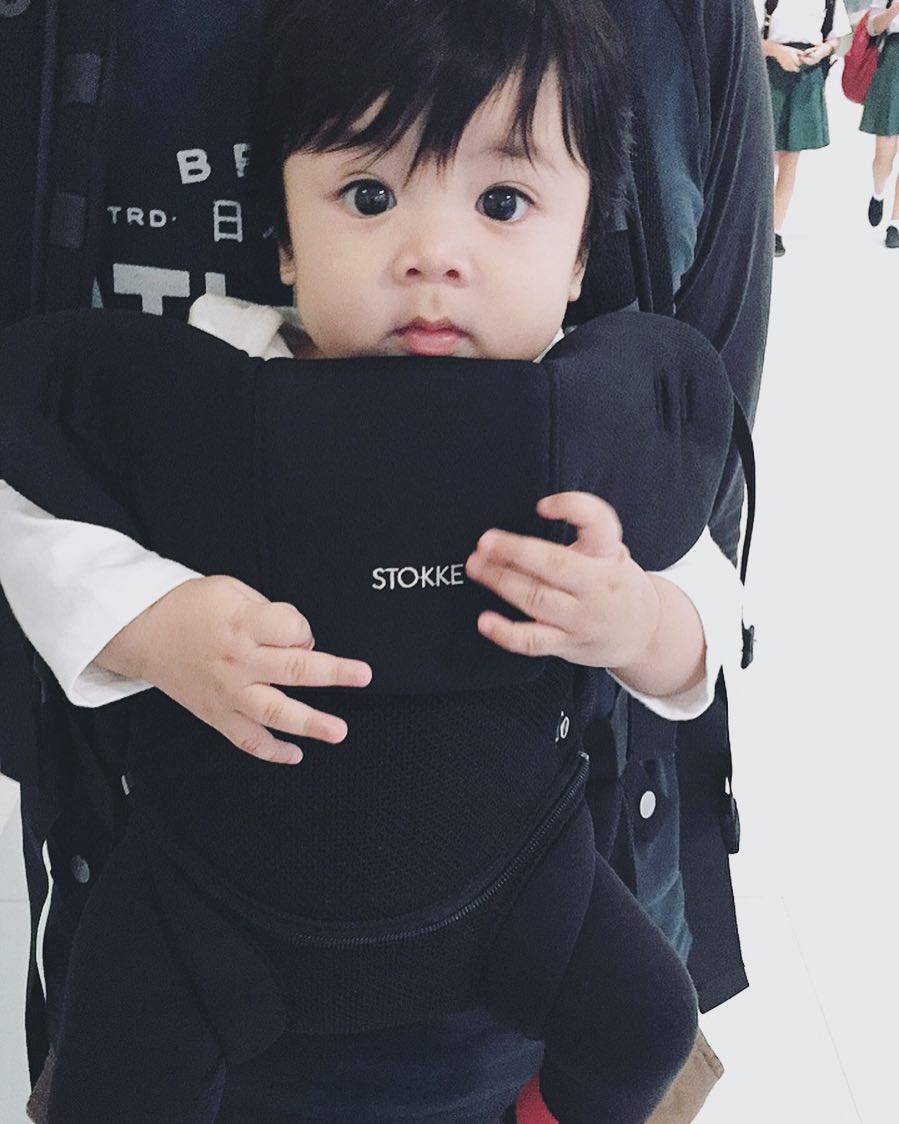 The Stokke carrier allows your baby to sit in various positions, including raised above your head to take in the world around him/her.
Carefully designed and ergonomically designed, the Stokke® My Carrier Front ($209) can be tailor-made to fit parents of all sizes and your growing baby with easy and quick adjustments. From four weeks onwards, carry your baby in the front carrier, followed by the back carrier from nine months onwards. At about 18 months, raise the height so your child can have a panoramic view of everything. Whichever the position, your child will still be safe and comfortable, and correctly seated to ensure their healthy development.
Additionally, your carrier is made of soft cotton fabric that's gentle for your baby's delicate skin. All textiles are Oeko-Tex® Standard 100 approved, and all the components pass European and US safety standards.
Customer Review
Tanisha.S says, "Absolutely love our Stokke carrier as a family that is always on the go, go, go with our three little ones. Our youngest loves to see outward in it watching everything that's going on. When we don't feel like packing up our Stokke Crusi this is a much easier solution."
How to Wear it
Slip the baby carrier over both shoulders and buckle it up at the waist and the shoulder straps. Tighten to secure, and then tuck the ends of the loops into the slot at the waist. Next, choose a loop that's armpit level, then slide your baby into the carrier and buckle up. Tighten the straps at his/her legs and shoulders.
Relevant Reads: Baby Carriers - What You Should Know, and 13 Baby Carriers Part 1
Credits: phil&teds, Minimonkeym, Mareenah A. Ghani, syarif.igm, etrangle