Posted on October 02 2020
In this first part of the series, explore the various types of baby carriers, such as the soft sided and the Mei Tai options. Keep your little one close to you with baby carriers like the MOBY Move. Babywear your newborn and infant in these soft-sided and Mei Tai baby carriers.
In the first part of this baby carriers series, we'll explore the different types of carriers, such as soft-sided and Mei Tai options. Additionally, learn how to wear them and secure them for the perfect fit, and check out some customer reviews.  
Newborns
Soft-Sided Carriers


1.   Baby Tula Explore Coast Carrier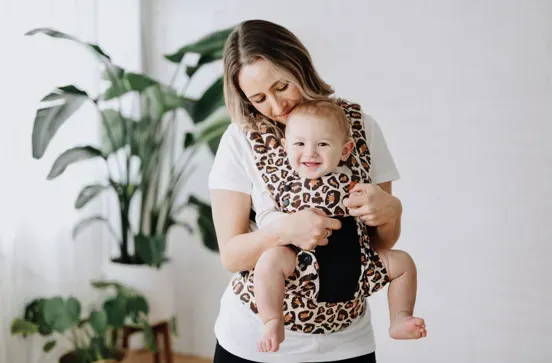 Aside from being easy to wear, this carrier is also highly versatile and comes with lots of padded support to make babywearing comfortable for you and your little one.
This versatile, easy-to-use Baby Tula Explore Coast Carrier ($299) allows you to use it in three different positions. Additionally, this carrier features adjustable widths, heights, head and neck supports. Moreover, the carrier also comprises a padded neck support pillow, supportive shoulder padding and extra padding around the leg opening.
Customer Review
The baby carrier is rated 4.5 out of 5 over 228 ratings, and #45 in Soft Baby Carriers. Jennaleeski18 says, "I had hemmed and hawed for a long time about getting a backpack style carrier...I'm so glad I took the plunge and got the Explore for its versatility. The carrier is secure, lightweight, and pretty darn easy to put on. I also like that the hip alignment looks the best of any carrier for a front facing out carry."
How to Wear It
First, adjust the width of the carrier to the narrowest setting. Next, secure the support pillow in place by tucking each end into the interior flaps. When your baby is facing inwards, ensure the thigh support is buttoned onto the topmost outer panel button.
Position the waist belt so the panel is centred on the front of your body. Now, hold your baby against you with his/her legs in an "M" position. With one hand, support your baby and use the other to smooth the panel up his/her back, then slip an arm into the strap. Switching hands, repeat the same step. Reach behind your neck and clip the shoulder strap connector buckle shut. Finally, tighten or loosen the webbing, and adjust each shoulder strap.
2.   BabyBjörn Carrier Move Anthracite and Grey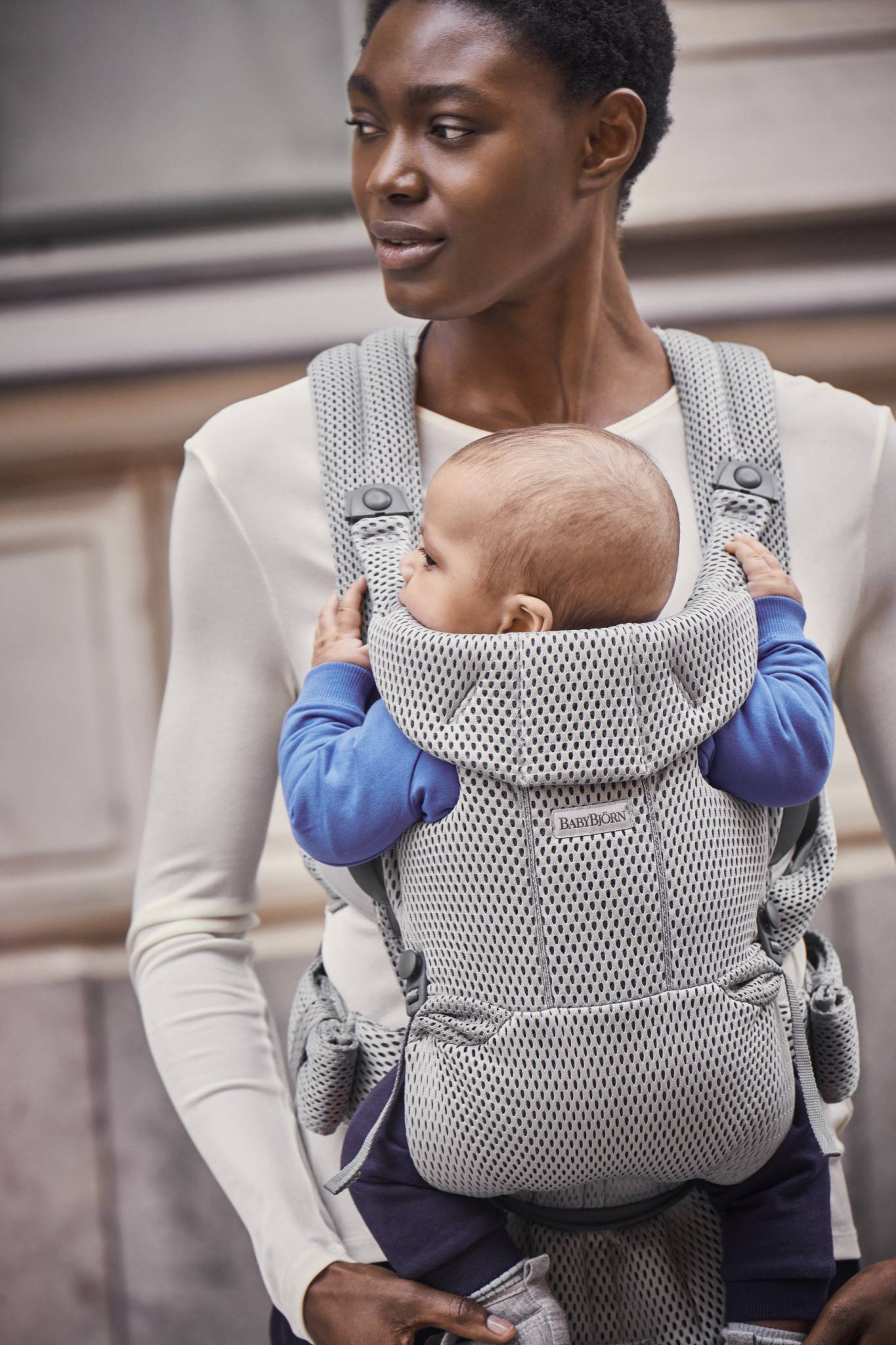 The carrier, completely made of polyester 3D mesh, is suitable for newborns up to 15 months.
The ergonomically-designed 800g BabyBjörn Carrier Move ($229) supports the back, legs and hips for your baby. Suitable for newborns up to 15 months or 12kg, the carrier complies with both the European EN 13209-2:2015 and the American ASTM F2236 safety standards. The carrier comprises 100 per cent polyester 3D mesh, OEKO-TEX Standard 100, Class 1 fabrics, and is machine washable.
A similar model is the 950g BabyBjörn Carrier One Air 3D Mesh ($289), made from cooling and airy mesh. Additionally, it helps you ensure you're carrying your baby properly, with their back in a C curve. Other features include switching between front and back babywearing options, adjusting the size, seat area and head support. Moreover, this carrier supports newborns up to three years old.
Customer Review
This carrier is rated 4.6 out of 5 over 367 ratings, and #33 in baby carriers. Mar-cin says, "Very easy to use and feels very safe and secure. The mesh is great for summer. We have tried other carriers but found this one to be the most straightforward to use and it's easily adjustable if sharing with your partner!"
How to Wear it
First, place the carrier's straps over the shoulders, and adjust the carrier to your child's length. Afterwards, fasten the harness to the baby carrier's front and lock the double buckle until you hear a click. Next, fit the back support to your body and tighten the waist belt. Insert the hook into the slot to fasten the side latch on one side, lock it firmly and then tighten the shoulder straps.
Once done, put your baby in the carrier facing you, then fasten the other side latch, and the head support buckle on both sides. After this, adjust the head support, fasten the loop around the button, then adjust your baby's legs in the carrier. The fabric should support the thighs and cover the back of the legs.
3.   Ergobaby Omni 360 All in One Carrier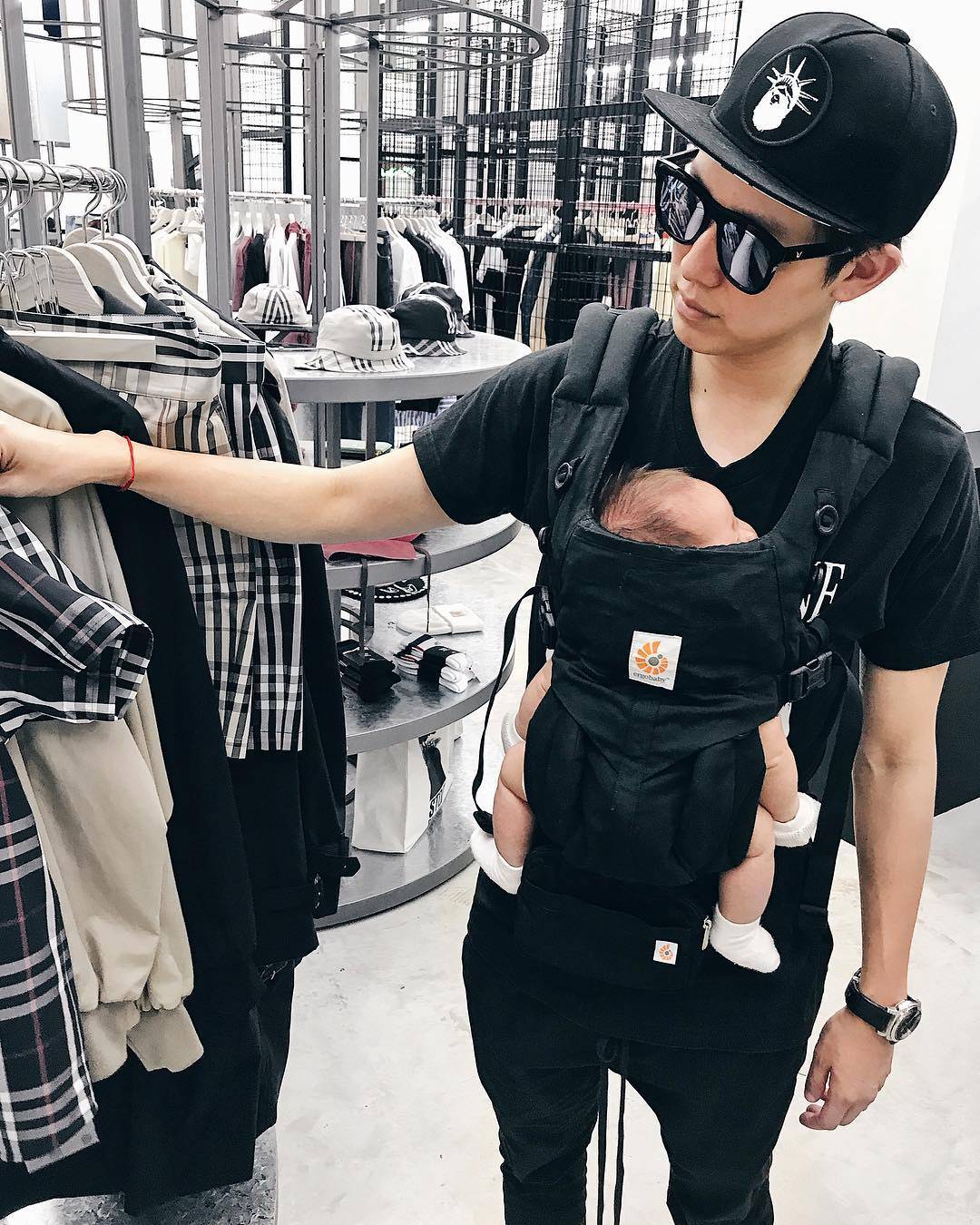 Customise your fit with the crossable shoulder strap with the Ergobaby Omni 360 Carrier, and store your essentials in the pouch.
Out of all the carriers, these Ergobaby carriers can be used probably for the longest time - from newborns until they're three to four years old. Starting with the Ergobaby Omni 360 Carrier ($255.20), this carrier can be used with all the positions. Additionally, you can use the crossable shoulder strap for a personalised fit. Of course, the carrier also has great lumbar support to make carrying your newborn or toddler a comfortable experience. A useful addition is the detachable storage pouch, where you can easily store some of your essentials while babywearing.
A similar option is the Ergobaby Omni 360 All in One Carrier ($255.20), which has all the same features, but can hold your little one for longer. Instead of three years, you can carry your toddler until he/she turns four. Both options allow you to breastfeed your baby in the carrier. For more ventilation, you could get the all-mesh Ergobaby Omni 360 All in One Cool Air Mesh Carrier ($271.20).
Customer Review
Fourth in Soft Baby Carriers, this carrier rates 4.6 out of 5 across 1,511 ratings. A-L says, "I've tried all Ergos (original, 360, Adapt, and now the Omni 360) and I'm so glad I have because I can now say the Omni 360 is the only one you'll ever need which is such a relief. It's so comfortable and easy to wear. I've worn it for two plus hours walking around with my eight month old and I'm 5'4. It also fits my 5'8 husband and 5'10 brother (163, 173 and 178cm respectively). We are all average weights for our heights.
Baby is super comfy facing in or out, or on our backs. I use it in the airport so I don't have to lug the stroller around and it's so convenient and easy. I highly recommend getting a carrier for your baby and Ergo is my choice! And if you're going Ergo don't waste time with infant inserts and go directly to the Omni 360. It's pricey but worth it! One and done you won't regret it! Oh, and I also recommend buying a teething pad if your baby will face out cause he/she will certainly drool."
How to Wear It
First, check that the carrier is adjusted to your baby's height. Secure the carrier around your waist to accommodate your infant. Slide the straps to your back and then tighten by pulling the straps. Next, carry your baby and put him/her facing you, and his/her bottom should be lower than your waist. His/her legs should be on either side of the seat. Holding your baby, put your arms through the straps one at a time, and then buckle the back straps and tighten as needed. Finally, tighten the shoulder straps for a more comfortable fit.
4.   MOBY Move 4 Position Carrier Charcoal Grey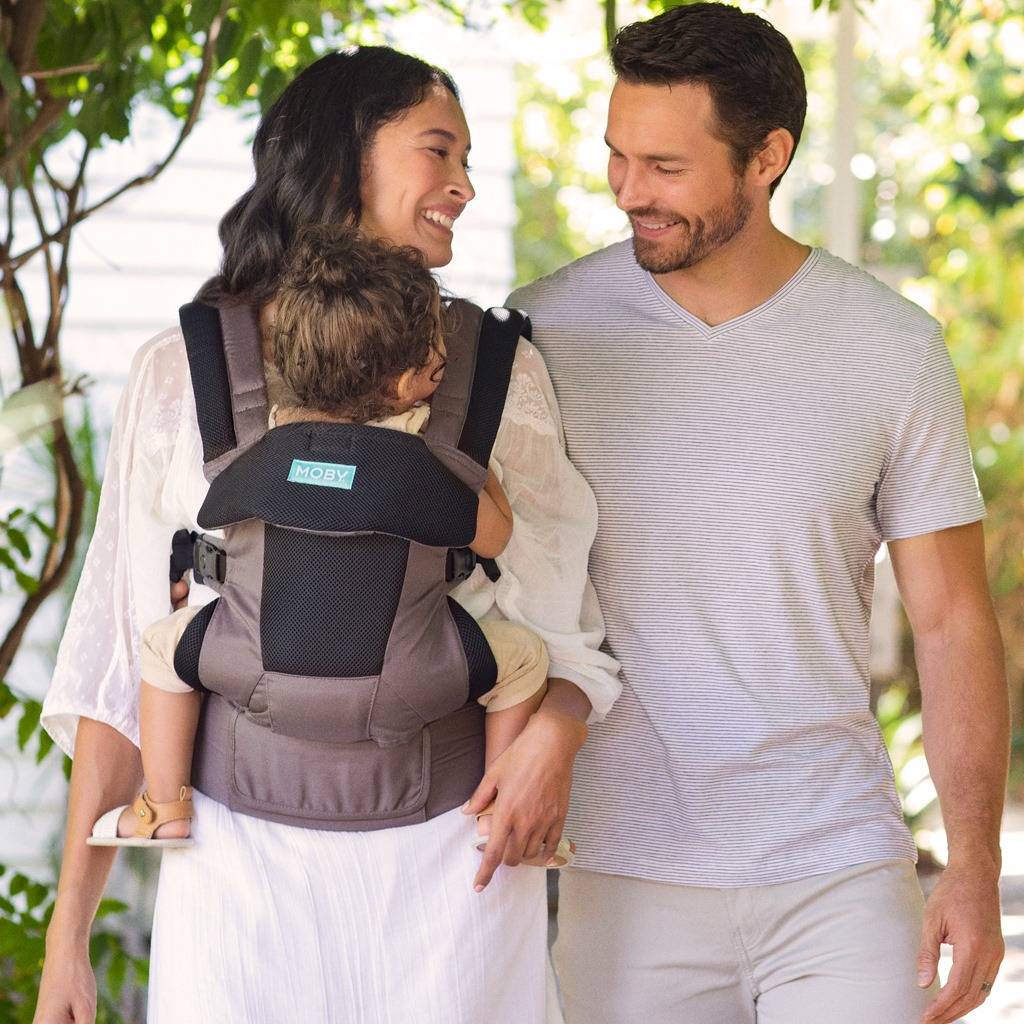 Easily adjust this carrier to suit your growing child, with the taller toddler setting.
The lightweight, breathable MOBY Move 4 Position ($179) is suitable for newborns up to a maximum weight of 20kg, and can accommodate four different positions, including hip and back carry. Additionally, the carrier can be easily adjusted to suit your growing baby, with features including the taller toddler setting. For your - and your baby's - comfort, the carrier has been designed with an ultra-comfort waist belt, with integrated lumbar support and padded shoulder straps. It also comes with two storage pockets so you can slip in essentials like your wallet and handphone.
Customer Review
Alex Lerch says, "I baby wear my second almost daily because I am running after a toddler and this carrier is great! Baby is secure and it also has good back support. The material is breathable so the baby doesn't get overheated. I also like that there are storage pockets for my phone and keys. It is a great carrier!" Additionally, this carrier is rated 4.8 out of 5, across 12 ratings and #120 in soft baby carriers.
Mei Tai Carriers
5.   MOBY Fit Hybrid Carrier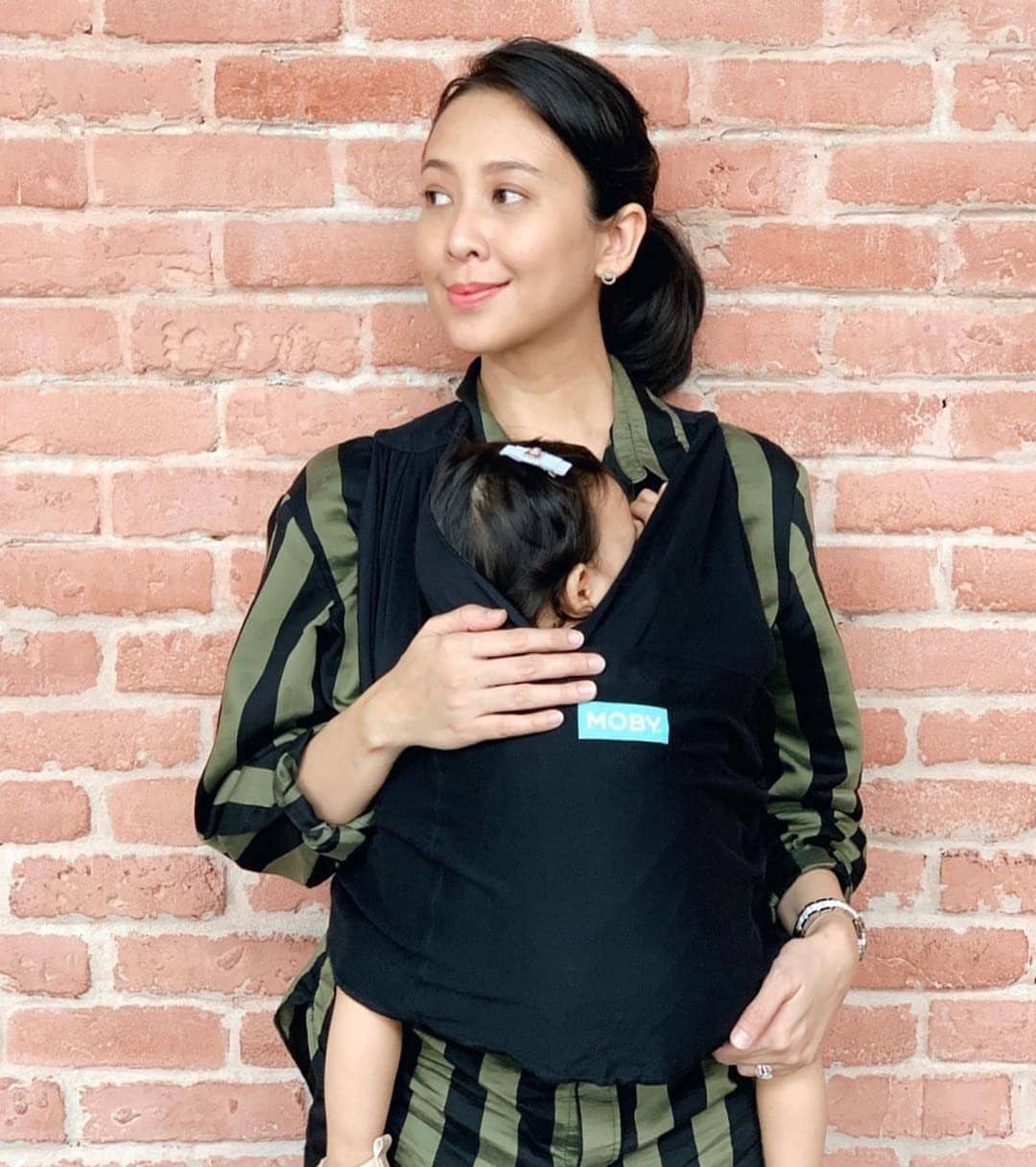 This carrier can be worn like a t-shirt, and fits everyone in the family of varying sizes.
The award-winning MOBY Fit Hybrid Carrier ($108) combines the physical intimacy of wearing a wrap and the ease of a carrier. Put it on like a t-shirt, then tug the fabric through the rings to get your perfect fit. Your baby fits through the double layer of fabric, and then secure with the safety sash. This design fits everyone in the family of all sizes, and the carrier can accommodate your baby from newborn all the way till he/she reaches 15kg. Additionally, the lightweight, 100 per cent cotton carrier weighs just 600g, and can also be machine washed.
Customer Review
Ranked 4.1 out of 5 on Amazon over 123 global ratings, this carrier is also #36 in the Child Carrier Slings. LA Warren says, "I love this carrier! It is so comfortable for me and comfortable for my little one! She always falls asleep in it and loves to be cuddled up and close to me. I can get things done around the house knowing she is happy and comfortable attached to me, but I am able to have my hands free to get things done! It's the best! It would be a great gift for any new mom, or a seasoned mom with a fussy little one, that needs to be held. I don't know what I would do without my MOBY Fit!"
How to Wear It
Starting with the rings in one hand and the tails of the fabric in the other, pull the fabric over the top ring and under the bottom ring. Tighten to remove any slack and then slip your arms through each loop, with the base of the carrier on your chest. Hold the straps at the top of the carrier (where the logo is), widen the gap and then slide your arms through it so the carrier goes behind you and an X forms in the middle of your chest. Next, pull on the fabric to tighten, making sure there's room for your little one.
Hold your baby against one shoulder with one hand, and slide the opposite leg through the top of the X on the corresponding side. Then, spread the fabric across your baby's back and slide your baby's other leg into the fabric. Finally, tie off the fabric to keep it out of the way.
6.   MOBY Double Tie Baby Carrier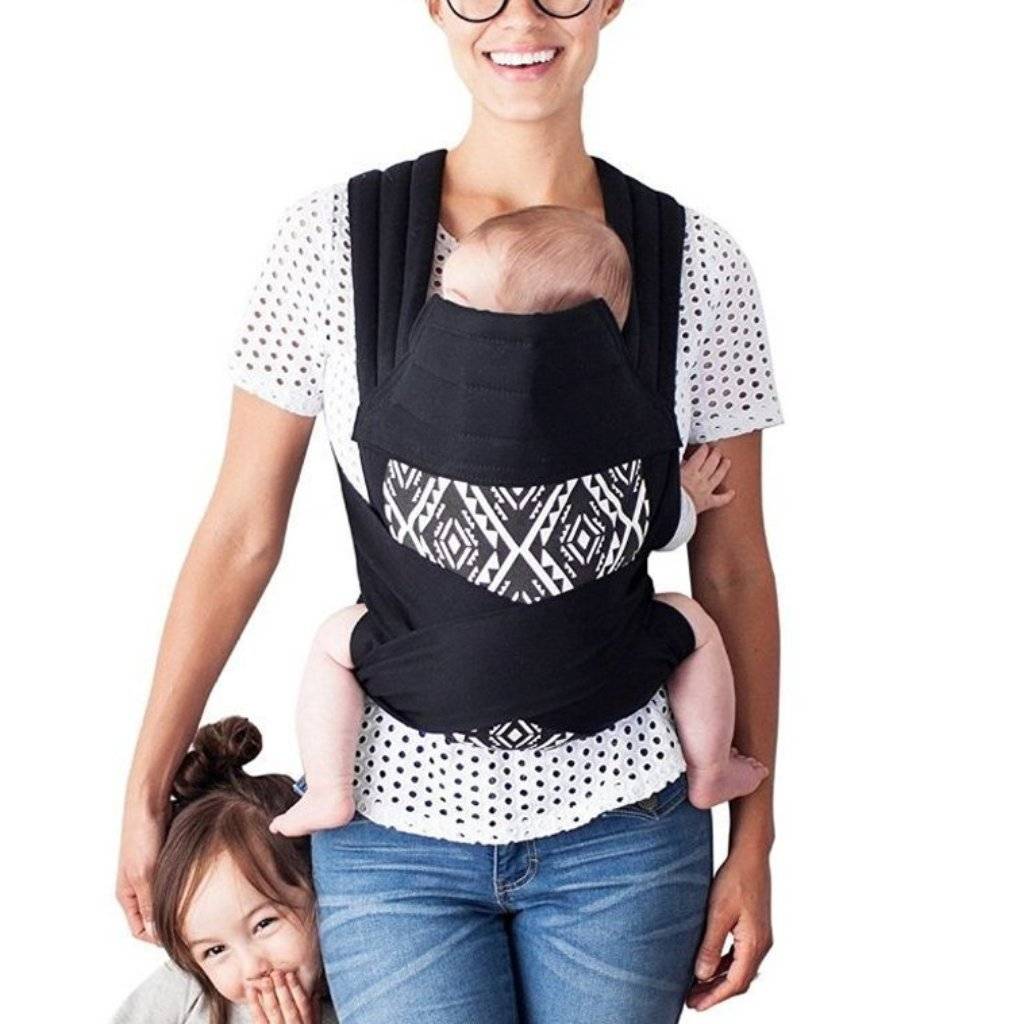 This Asian-inspired MOBY Double Tie Carrier uses soft and breathable fabric and is easy to tie.
Similar to the Hybrid Carrier, the MOBY Double Tie Carrier ($94.40) is an Asian-inspired soft structured baby carrier. It features straps that tie around your waist and shoulders, and can be used across multiple caregivers. Made of 100 per cent cotton, you can wear this for extended periods of time as the fabric is soft and breathable. Of course, it's also machine washable.
Customer Review
K Hughes says, "Absolutely love this! Very comfortable and easy to tie. Much easier to use than the original MOBY wrap, which I had thought was too much fabric. Love the fun prints as well! I purchased the Secrets of Salvador colour."
Relevant Reads: Baby Carriers: What You Need to Know and 13 Baby Carriers Part 2
Credits: lianmeiting, pyohanez