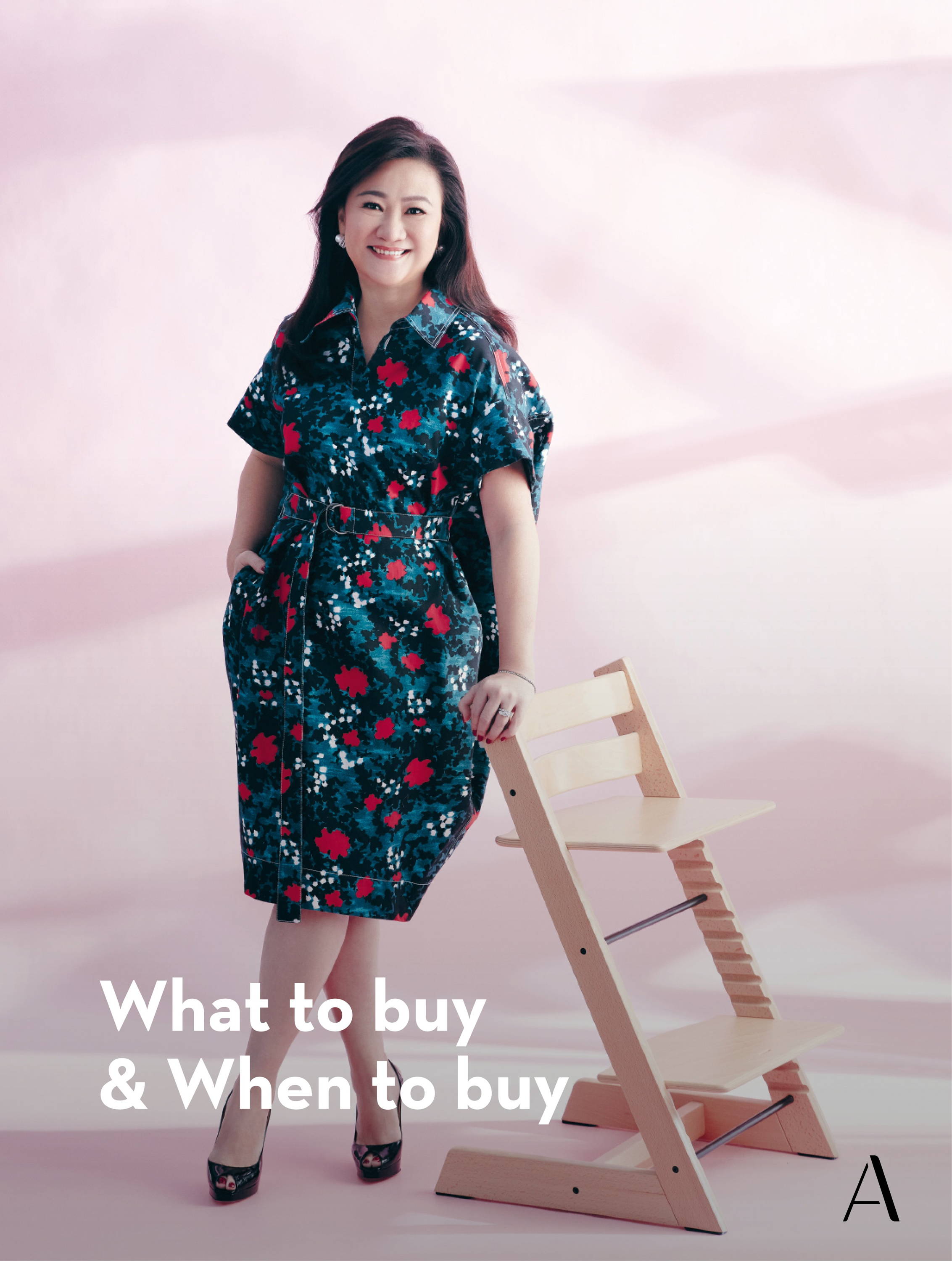 Sharon Wong
CEO & Founder of motherswork
Sharon Wong is the CEO, founder, creative director and most importantly, the passion behind motherswork. Her dedication to searching for the best baby products to provide the best environment to keep her babies safe and happy whilst balancing career and quality time with them led to the creation of motherswork, over 20 years ago.
motherswork is an extension of Sharon as a mother of 3. motherswork was created to partner women as they journey through motherhood; from the moment they discover their pregnancies and hold their babies for the first time to sending their children off to school, and all the little adventures in between.
When she's not busy searching the world for the next best baby product, Sharon travels with her husband and their 3 children, Alexandra, Nicola and Timothy. As a parent, Sharon strongly believes that exposing the children to different cultures open minds and stamps out ignorance. The young Wongs know they are loved unconditionally, are taught to be kind, have courage and are asked to be the best they can be, not more but no less.
Sharon graduated from Monash University, Melbourne Australia with a Bachelor of Economics and Graduate Diploma in Taxation Law. She was trained at Coopers & Lybrand, one of the Big 4 accounting firms in Melbourne and later in the Singapore office.
After 10 years as the Regional Tax & Treasury Director for a USA multi-national company, Sharon create her own brand – motherswork.
Having lived in Malaysia, Australia, Hong Kong, USA and Singapore, she has broad experience and perspective of lifestyles and parenting that feeds her passion to continuously create retail experience for parents as they journey into parenthood.
"I would like to be that woman who is there for other women, that woman who recognizes the needs of other women and providing a platform for them to lift up so we can all soar higher together, whether it's their journey as a woman entrepreneur or their journey to be the mother they want to be. I would like to be the mother who raised 3 children, who are kind, have courage and that they would find their passion to be true to themselves and write their individual song."
Sharon Wong
As an entrepreneur and a mother, Sharon is an avid advocate for the empowerment of women on their journey to be the mothers they strive to be as well as their journeys as entrepreneurs. She is a mentor for CRIB Society, a social enterprise that supports women's entrepreneurial work and Design Orchard, an integrated retail and incubation space that puts Singapore's designers and their creative pieces in the limelight.
Sharon started the Motherswork gives back program to give back to the community in 2009. First by organizing events in the stores to create awareness and raise funds for various charities.
In 2015, the program expanded to supporting local Singaporean baby businesses. "Staying true to our founding principle, we want to continue our partnership with mothers by providing a platform for them to showcase and grow their businesses right here at Motherswork." says Sharon Wong.
The motherswork giving tree program is an initiative launched in 2016 that brings all of us together to help spread joy of the season and make more Christmas wishes come true. The giving tree is an initiative by Timothy Wong, our founder's son. Since he was little, Tim and his sisters would keep their most wanted presents from their Christmas and Birthday stash of presents (limited to 3) and donate the rest. As they grew older, they get lesser presents hence lesser to give. So he thought it would be a good idea if he can get more people to give.
To celebrate the 20th anniversary in 2018, motherswork gives back launched 'empowering entrepreneurs' program. "If you are willing and able and passionate about being your own boss we will share our retail experience," says Sharon. "We also launched a new concept, motherswork express in China for mothers and parents who are inspired to be retailers as part of the motherswork family."
Do you intend to breastfeed? If yes, then invest in a good breastpump. Don't waste your time and money on a cheap pump. They do not work very well, are noisy, break down without warranty, and some not only affect your milk flow but also cause nipple damage.
How do I choose which breastpump to buy?
Some of the questions you need to ask,
Do I need to pump quickly?
Do I need a hands-free option?
Is the pump easy to assemble and are most parts removable for sterilizing?
Is the suction adjustable?
Are there different fit options?
Do I need to travel with the pump?
Do I need both an electric and manual breastpump?
A manual pump is as important as an electric one, as it allows moms to have better control of the device to slowly activate her milk supply. Start with the manual pump and when milk flow is established, progress to the electric pump. Also, its best to use the manual for the last pump before bedtime to fully clear the milk ducts.
Is it ok to use hand me down, used pumps?
Using a pre-loved pump is like using somebody else's toothbrush. I rest my case.
Are nursing pillows essential?
Nursing pillow has many uses.
During pregnancy – support your back and your tummy when you sleep.
Lifts the baby to the perfect height for Breastfeeding.
Supports the baby during bottle feeding.
If you had a C section, it takes the pressure off your scar.
Props up your baby and provide support as baby learns to sit.
Relive baby reflux
What types of swaddles are the best?
Most popular with moms these days are muslins cotton and bamboo. In our warm and humid climate, Muslin cotton and Bamboo swaddles are cooler for the baby.
How many swaddles should I prepare?
Usually comes in packs of 3 or 4. Changing a few times a day is not uncommon so you may start with 4 swaddles, if you wash daily.
How many sets of clothes do I have to have?
4-6 sets per age group as the baby grows very quickly.
Do I need to buy a bath tub or should I just use the hospital ones?
The one from hospital is a basic tub. You may like to have a bathtub with a stand as it is better for your back. Another feature you may like is a newborn support that allows you to give the baby a bath, hands free.
What's the difference between cots and co-sleepers?
I'm not a big fan of co sleeper. Co sleeper is a small cot pushed next to the bed. It's for short term use (from newborn to 3 months) and can be dangerous if not installed properly. The baby may be caught in the gap between the bed and co sleeper.
Choose a reputable brand so they meet all safety standards, like the wood, the paint, the slats spacing, warranty and mattress sizing.
Should be height Adjustable and Convertible to cater to your growing baby.
Is a baby bouncer good to have?
A good baby bouncer can be a godsend to new parents. Baby bouncers are light weight, foldable to be moved around the home. It keeps the baby in an elevated position to help with gastric reflux and the bouncing movement calms the baby.
What is the best kind of prams that I can buy that will allow me to use for the longest?
The best depends on your lifestyle.
Most strollers are from newborn to 18kg (4years old)
To decide which stroller suits you best:
Do you drive and take grab a lot – If yes, travel system is best.
Do you take public transport and hang around malls? If yes, choose Light weight and easy fold.
Do you go for walks and active outdoor lifestyle? If yes, choose a Comfort stroller with carrycot, bigger wheels and better suspension.
A travel system is a compatible infant car seat that clips into the stroller.
This has great advantages over a normal stroller and a carseat as you can leave baby in the infant carseat while moving from the home to the car to the mall without disturbing them.
Aside from the standard safety features like 5 point harness, a good carseat should have side impact protection, adjustable headrest, a click-and-go installation to provide assurance that the seat is installed properly.
Do I need a carseat for my baby when travelling in a car?
Yes, it is mandatory in Singapore for any child below the height of 1.35m.
You can choose between a rear facing infant car seat (newborn to 12 months approximately 13kg) or a convertible carseat that is both rear and forward facing (from newborn to 4 years old)
Do I need a carseat for my baby when taking taxi? What about grab cars?
Not according to the law in Singapore, but we recommend an infant car seat which is the safest option for your baby to travel in taxi until the baby is 12 months old. Carseats are mandatory when taking grab cars. You can order a grabcar with carseats.
Do you recommend a used carseat?
I don't recommend buying a preloved car seat as you compromise your babies' safety since you don't know if the seat has been involved in an accident. Although most brands come with a manufactures warranty, it doesn't transfer to the second user and replacing parts can be more expensive than buying a brand new carseat.
Should I buy a carrier before I give birth or should I wait?
I recommend to wait. So not on my top 9 must haves. But you can. Most stores have a baby mannequin to test the fit of the carrier on you. If you are buying a carrier after your baby is born, the best time to try the carrier is after the baby is well rested and well fed. This way your baby will not fidget and you will be able to test he fit of the carrier better.
Would you recommend a wrap or a carrier?
Currently in Asia, carrier is more popular with moms. Because carriers are easier to use and offers an ergonomic carrier position. A baby wrap offers a comfortable cocoon position for a newborn baby however it is not simple to put on like a carrier without some guidance.
Do I Need a Baby Carrier?
The baby carrier provides hands free option and allows you to do other things while keeping your baby close.
You have physical contact with your baby, promotes bonding and can help improve postpartum depression and anxiety.
It's easier to navigate through crowds using a baby carrier.
Research shows that babies who are carried three hours a day cry less.
With these benefits, many parents say the baby carrier is one of their top baby gear.
How do I choose a baby carrier?
Get help – Test the various baby carriers to try the fit and comfort.
A good carrier provides:
Comfort: for both you and your baby. The seat of the carrier should allow a clear, comfortable space for your baby with no fabric blocking the baby's airways and your baby's legs in the hip-healthy "M" position. For mom, you'll need to think about your back and shoulder support. If you plan on wearing your baby for hours at a time, padded shoulder straps and lumbar support is important.
Fit: Some carriers can easily adjust to different bodies while others need to be perfectly sized. So it's important to decide if both mom and dad are sharing the carrier.
Ease of use: A wrap involves a multi-step process, soft structured carriers and ring carriers are easier to put on. Wraps and slings can be easily stored inside a diaper bag while soft-structured carriers are bulky.
Climate: Depending on where you live, you have options to choose Lightweight fabrics and breathable mesh for warmer weather like Singapore while heavy knits and padding are perfect for colder temps.
Care: One golden rule for anything you put near your baby is that it should be washable and washing machine-friendly.