Posted on August 18 2022
"It was not easy juggling between dealing with my cancer and motherhood as I had to undergo chemotherapy once every three weeks with side effects. There are days that I wallow in self-pity."
Faith Lim is a proud mum of two girls. While her first pregnancy was smooth-sailing, her second was a struggle as she was diagnosed with Stage 2 breast cancer. Faith opens up about her incredible journey, in this edition of The Motherhood Diaries, and how she braved through both chemotherapy as well as a mastectomy. This is her inspiring story.
About The Girls – My Mum, Kids, And Me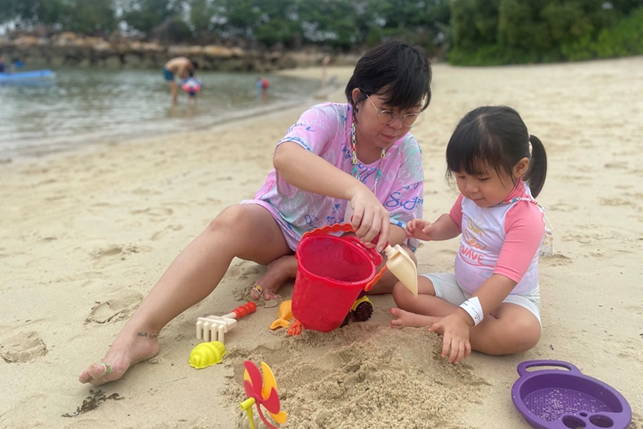 I am a mother to two lovely girls, the eldest, Allyson, is four year-old this year and the youngest, Ellysia, is a preemie born on the 32nd week of gestation in January 2022. I'm working full time as a fundraiser, but am currently taking a break from work to focus on my health.
I would say that like most kids, I had my fair share of happy and sad moments during the whole of my childhood. It wasn't a bed of roses but I am thankful that the circumstances in my childhood has helped shaped me to become who I am today.
Single-handedly, my mother worked tirelessly to raise my sister and I as my father passed away when we were quite young. Her hard work was the reason we were not deprived of a carefree childhood. My mother's love for us was so sacrificial and still is! I can finally understand her selfless love so much more now that I am a mum myself. She is definitely my greatest role model.
First Pregnancy Then, The Second
​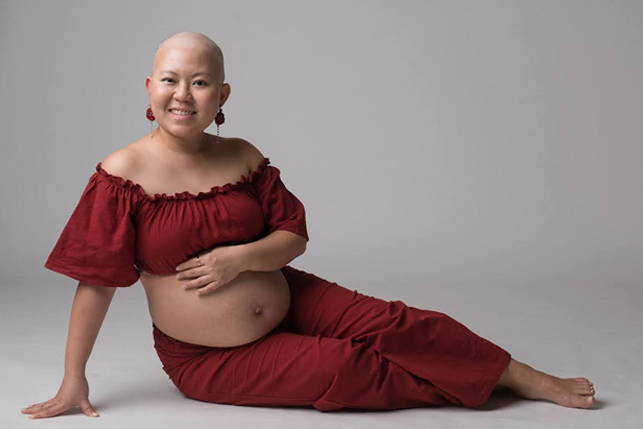 Shortly after getting married, my husband and I found out we were pregnant. To be honest, I totally wasn't ready to be a mother yet then because I wanted us to enjoy our honeymoon period as newly-weds. I was very upset and even angry for a while because it felt like being pregnant so soon had "ruined" my plan. It took me a while to come to terms and truly feel happy about my pregnancy. This came after much self-reminder that children are a gift from above as well as realising that there are many couples facing fertility issues. Funny thing is, it was as if God knew how I felt as my first pregnancy was very smooth-sailing. There are zero regrets and I love Allyson to bits.
I discovered I was pregnant with my second child around mid-2021 and this time round, I was excited from the get-go. Coincidentally, this was the same time that I started weaning off my eldest girl from breastfeeding. That was when I found out that there are lumps in my breasts. I did not think much of my lumps as it was rather common to have lumpy breasts during breastfeeding. I have had my fair share of mastitis and there was no unusual discharge or pain. For ease of mind, I decided to inform my obstetrician during my first appointment. Shortly after, an ultrasound scan of the breasts was scheduled and I was asked to do a biopsy after that. Little did I know the drama that would ensue.
Fast forward to August 2021, I was diagnosed with Stage 2 ER+/HER2+ breast cancer during the first trimester of my pregnancy.
Braving Through My Second Pregnancy And Cancer Treatment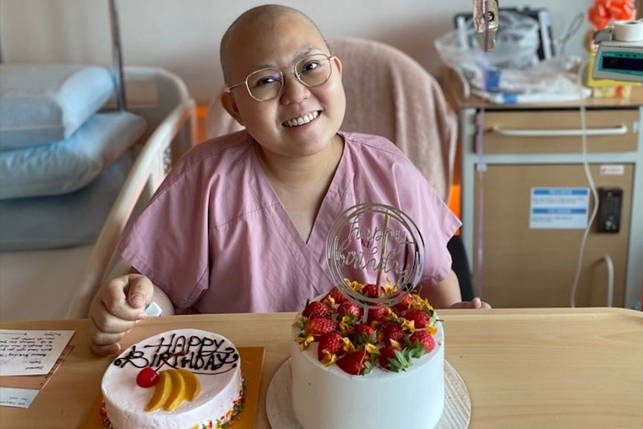 Before my biopsy's results, I already told myself to brace for the worst. Still, I was inconsolable and bawled my eyes out the moment I heard the bad news. Many questions ran through my mind and the two most important questions were, "Will I be okay?" and "What about the baby I am carrying?" I was at a loss. Even though I was told that the survival rate is high and breast cancer is highly curable, I was still terrified as the cancer cells were aggressive.
The recommended treatment was to undergo mastectomy first followed by chemotherapy. However, surgery was not the best option as general anaesthesia would put my baby at risk. I was certain about keeping my baby no matter what. I was offered an alternative treatment plan which was to undergo four sessions of AC chemotherapy once I hit second trimester as the drugs used in this case are considered safe during pregnancy. Nevertheless, I was told that there might still be possible risk of miscarriage.
I was in a dilemma but in the end, I decided to go ahead with both my pregnancy and cancer treatment simultaneously.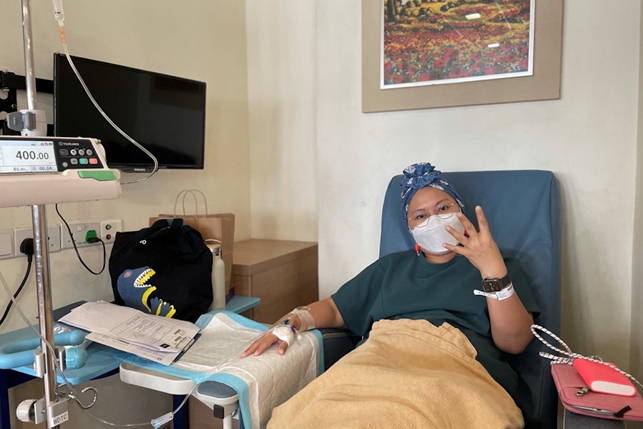 Thankfully, my side effects were generally manageable and physically, I was doing okay for the most part. What really affected me was when my hair began to drop soon after my first chemotherapy session. Seeing my hair fall out in chunks while showering and on my pillow disheartened me. I decided to shave my head after much thought, and my supportive husband did the same.
Baby Ellysia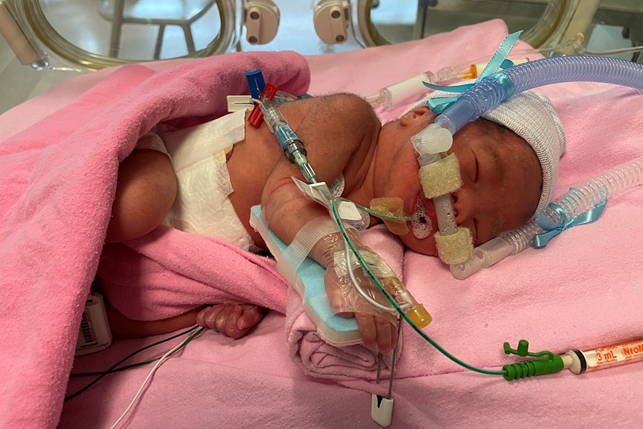 My baby girl was growing well and thus, my oncologist and obstetrician decided that I would be induced at week 32 of my pregnancy to make room for more targeted chemotherapy thereafter.
Soon after I gave birth to my premature baby, she was transferred to the Neonatal Intensive Care Unit (NICU) for oxygen support and close monitoring. I didn't even manage to catch a glimpse of her until the next day. After I was discharged, I spent most of my confinement period travelling back and forth between home and hospital to visit her. I always felt a sense of guilt when I visited my baby as I could not breastfeed her; I have put her through so much because of my cancer. Unlike my eldest girl whom I was able to breastfeed for three years, I felt like I was really short-changing my second child.
One of the worst fears of preemie parents with babies in NICU is receiving phone calls from the hospital. I remember receiving my first call from NICU and I was super afraid that something bad had happened to my baby girl. I almost burst into tears before I picked up the call. Fortunately, it was good news - my baby girl is doing well and that they had reduced her oxygen support. I'm beyond grateful that she made quick progress and was ready to be discharged in less than a month. Because of that, my mind was at ease and I could focus on starting my treatment again.
My Support Systems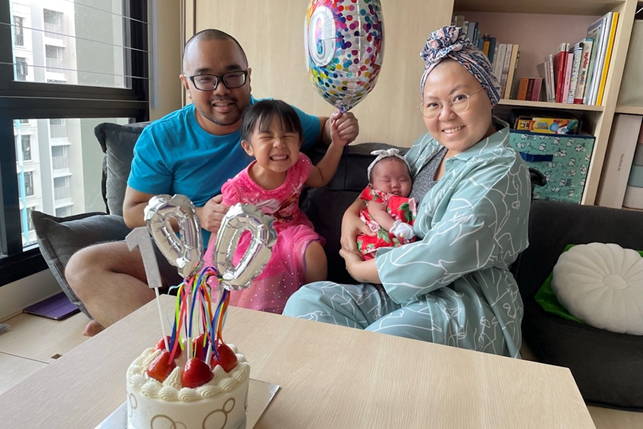 To be honest, I thought I would be a more chill mum since I am a second time parent. However, as my younger girl was a preemie and I could not even breastfeed her, I had to relearn motherhood all over again. It was not easy to juggle between dealing with my cancer and motherhood as I had to undergo chemotherapy once every three weeks with side effects. There are days that I wallow in self-pity. I have to practise mindfulness and remind myself to think positively. And without a doubt, with the help and support from my ultra-hands-on husband, I was also able to better cope and rest when needed to. Teamwork indeed makes the dream work.
My mastectomy in May 2022 made it impossible to take care of both girls. I couldn't carry my children or move about freely. My in-laws stepped in to help look after our youngest girl. It really takes a village to raise a child and I am super grateful to them. As for my eldest girl, I must say she was very understanding and sweet throughout and even took care of me.
I am a work-in-progress mother who is far from being perfect. I make a lot of mistakes and regrettably raise my voice a little too much. I will always tell my eldest girl that everybody make mistakes including daddy and mummy. We just need to learn and become better. Motherhood to me is really about being present with our children and journey together to become better versions of ourselves.
To The Future – "We Are Stronger Than We Think!"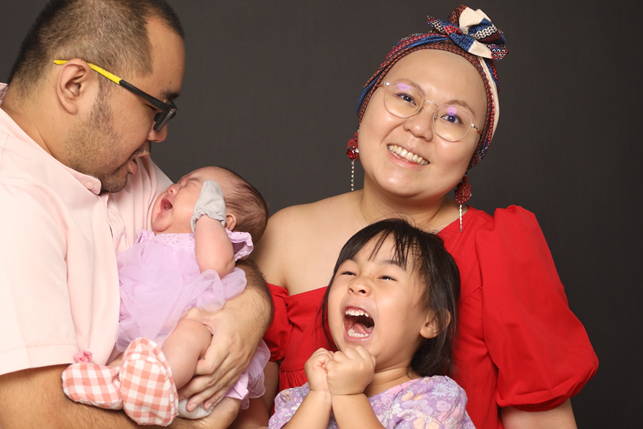 I know I am not fully out of the woods yet but I am hopeful; I am looking forward to my future despite the uncertainty. I don't think what I am going through is easy and many people have called me brave. I just want to humbly share that it is really not me but my faith that gives me a hope for the future; it is my anchor through good and bad times.
To fellow mummies who might be going through and have gone through cancer or difficult times, thank you for being so brave even when you are feeling lonely and wonder why it had to be you. Thank you for not giving up on yourself and being so strong for your family. I want you to know that you are never alone and there are many who will be there for you if you allow them to. Please also remember, we are stronger than we think! Don't ever lose hope!
Credits: @therealrabbitmommy