Posted on April 15 2021
Most children get their baby teeth by three years old - soothe swollen gums with pacifiers, soothers, or teething biscuits.
If you notice your baby drooling a lot, being more irritable than usual, chewing on solid objects and rubbing his/her face, he/she may be teething. He/she may also drink less than usual and cry a lot more, heart-rending especially for first-time parents. These symptoms may start as early as two to three months, but his/her first tooth usually appears around six months old. Your child should have all his/her baby teeth by about three years old. Teething should not cause fever - above 38°C - a runny nose, diaper rash or diarrhoea.
Soothing Sore Gums
Lightly massage your baby's gums with a clean index finer or damp washcloth, but be warned that he/she will likely chomp on your finger. Otherwise, chill a soft-tipped baby spoon or a clean washcloth dipped in water or breast milk in the fridge.
Natural, Food-Safe Teethers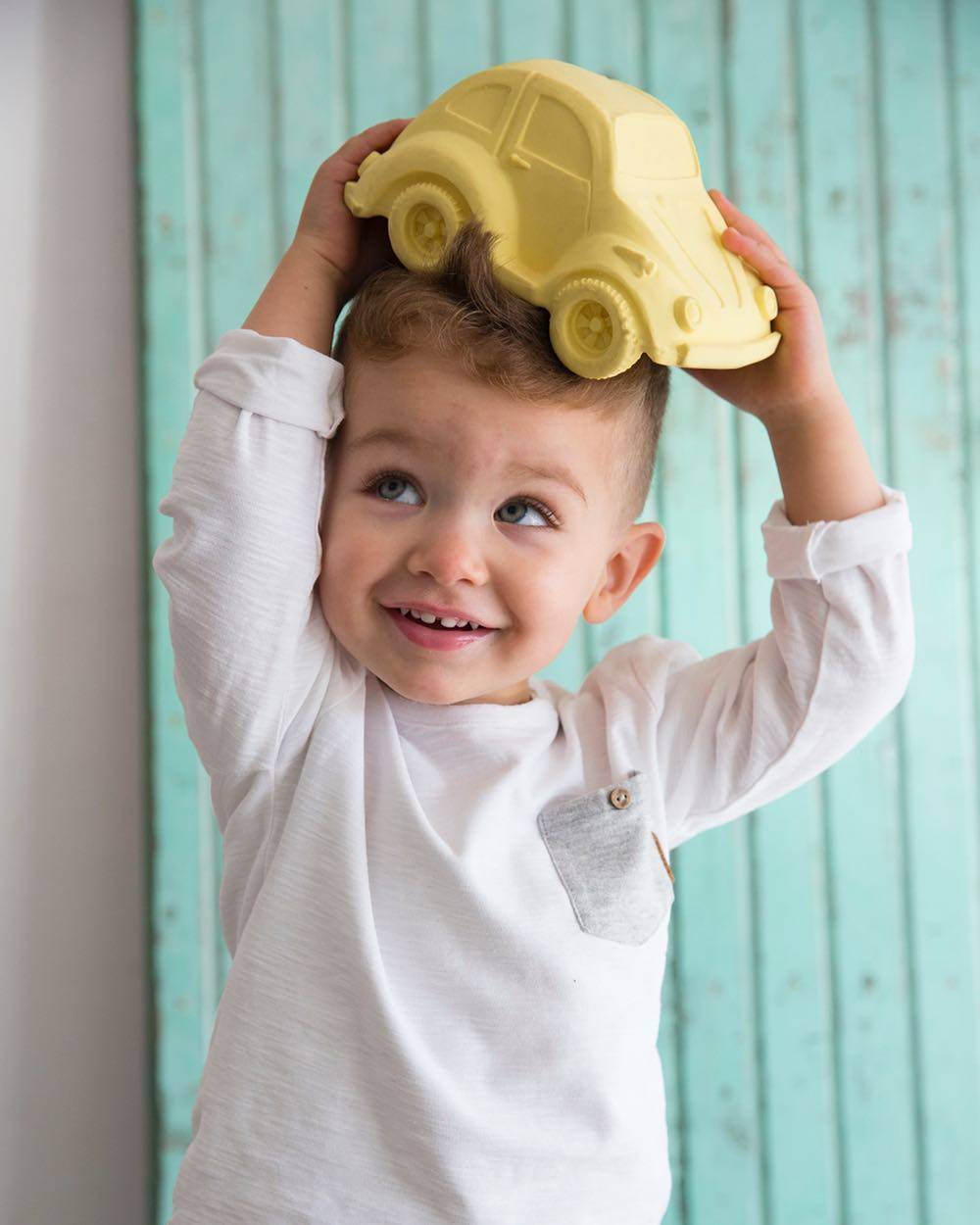 Made of 100 per cent natural rubber, the Oli&Carol XL Car is completely safe for gnawing on.
Two to three-month old babies may prefer pacifiers, bottle nipples or nursing to soothe their gums. Teethers are perhaps better reserved for older babies with better hand-eye coordination. Whichever their preferences, these should be BPA, phthalate and latex free. One option is the Mushie Silicone Pacifier Clip ($22.90), handmade by mums in the USA. Available in chic, vintage-inspired colours, the beads are made of premium quality 100 per cent food grade silicone. This is completely non-toxic, odourless, BPA and lead free.
If your child prefers gnawing on his/her toys, try Oli&Carol's multipurpose toys, such as the XL Carl the Car ($39.90). Made of 100 per cent natural rubber from Hevea trees, it's completely safe for babies and kids. Use this as a baby teether, for sensory play and even in the bath. Furthermore, these toys are highly hygienic, mould-free, biodegradable, and environmentally friendly.
Nursing
Apart from using the soothers above, your little one may prefer nursing on demand, which may be time-consuming, and he/she may gum on your nipples. Hence, have nipple cream on hand just in case. You'll likely need to switch between the above options in rapid succession until your baby finally calms down.
For Older Children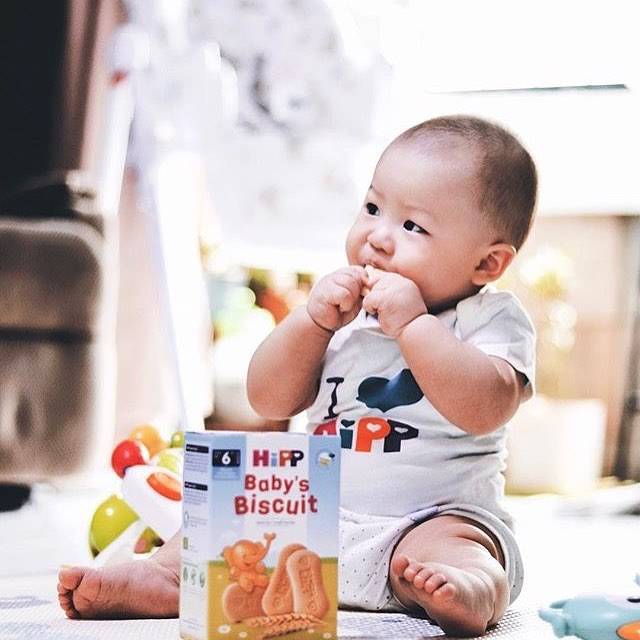 Older babies who have started on solids can also relieve their gums with these organic baby biscuits.
If your baby has started eating solids - the recommended age is 6 months onwards - let them gnaw on teething biscuits or crackers such as the HiPP Organic Baby's Biscuit ($7.50). In shapes that little hands can easily manage, these biscuits are made with organic ingredients like wheat flour and starch and skimmed milk powder.
Otherwise, place some chilled or frozen fruit into a feeder like the Naturebond Baby Fruit & Food Feeder ($16.90). The lollipop shape is easy for your little ones to grasp and they can get essential nutrients from the fruit while soothing their gums. Sterilise this to ensure it's free from bacteria and germs.
Finally, if your baby has graduated from the bottle, try a hard tip sippy cup for them to chew on. One such example is the B.Box Spout Cup ($13.90), with an ergonomically angled silicone spout and easy-grip handles. Switch between the spout, sippy cup and training lids to match your baby's growth.
Other Teething Solutions
If your baby is really feeling a ton of discomfort, consult your paediatrician for medicated topical treatments that you can rub on your baby's gums. Playing with your baby can also distract him/her from the discomfort.
Dental Hygiene for Your Baby
Practice good dental hygiene by cleaning your little one's gums and teeth with a finger brush.
Before Teething
Start by wiping your baby's gums and tongue after each milk feed. Massaging the gums gently can relieve teething discomfort, and your little one may be more willing to let you clean his/her mouth. Try using gum wipes ($5.52 to $11.12), or the Jack N' Jill Silicone Tooth & Gum Brush ($12.90).
Brushing Teeth
Other options are finger brushes ($9.52 to $13.90) to soothe your child's gums and keep their baby teeth clean. Doubling as teethers, these cute banana infant toothbrushes ($10) made of 100 per cent food grade silicone, are ideal for teaching your child how to brush his/her teeth. From six months onwards, the Pigeon Training Toothbrush Set ($7.92) progressively helps your little one practice this skill.
Even your little one can use an electric toothbrush. The Foreo ISSA mikro Baby Electric Toothbrush ($149) is rechargeable, and uses Sonic Pulse Technology with the brush and massage modes. The ISSA mikro clears away food fragments and precisely cleans your baby's teeth from all angles. Other toddler-friendly toothbrushes include the Pearlie White Kids Enamel Protect Extra Soft Toothbrush Triple Pack ($6.32) and Kids Toothbrush ($4.12). More sustainable options are the Jack N' Jill toothbrushes ($12.90), made of corn starch and rounded nylon bristles.
Pair the toothbrush with a baby-friendly toothpaste, such as the Pearlie White All Natural Enamel Safe Kids' Toothpaste with or without fluoride ($6.32 each), and the Jack N' Jill Flavor Free and Natural Toothpastes ($14.90). Another all-natural option is the Nuk Baby Toothpaste and the Starter Toothbrush ($13.52), with a protective ring so the toothbrush doesn't get pushed too far into your baby's mouth.
Good Sources of Calcium