Posted on September 09 2020
Children can learn and improve their skills with these activity sets and aids, whether it's math, creativity, drawing or engineering. With assorted activity sets, fun games and toys, your children can pick up essential skills and improve others.
Let your children learn and improve vital skills with exciting and interesting games, whether it's building a race car, becoming a proficient swimmer or learning how to draw.
Hone your children's skills with these fascinating games, puzzles and activity kits for four to six years old. Aside from developing math, engineering and creative skills, they can also build up their fitness, coordination and endurance by playing outside.
STEAM Learning
Another way children can learn while playing is with the Educational Insights Design & Drill Race Car ($39.90). After snapping the pieces together to build their Design & Drill® Power Play Vehicles™, they can add the bolts with the motorised mini-drill. Next, they can dress up their vehicles with colourful stickers. Simultaneously, they're building skills like patterning, counting and matching, as well as construction and fine motor skills. This set also encourages them to explore their creativity and imagination while helping to build up their confidence.
Children five and up can create a Oribel Vertiplay STEM Marble Run ($79.90) with a few simple ramps. These can be extended and customised according to your children's imagination by adding curvy tracks ($15.99), end caps ($12.99), and see-saw tracks ($12.99). Some skills that they may learn include logical thinking, creativity, math and engineering, and basic STEM principles. Even better, because it's vertical, there's no clutter on the floor.
For Younger Learners 3 and Up: Oribel Vertiplay Old Macdonald, Jack & Jill, Slidey Spidey, Enchanted Garden ($59.90 each) and the Jack vs Giant ($69.90).
Other options are the range of puzzles from Smart Games, suitable for 5 and 6 years and up. Five-year-olds can try the Smart Games Penguin Parade ($16.90) or the Colour Code ($36.90), where they can solve a multitude of challenges with the given pieces, within the constraints. Six-year-olds have a wider range of themed puzzles they can solve, from dinosaurs ($36.90), the IQ series, pirates, squirrels ($19.90 each for these), and ghosts ($26.90).
Learning Through Books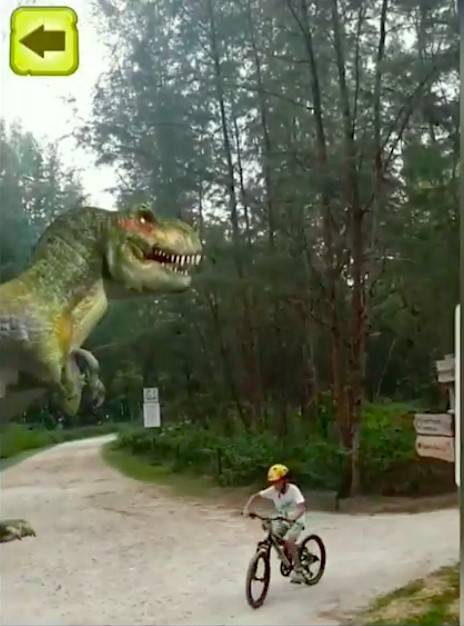 Bring dinosaurs to life with this augmented reality book!
Using augmented reality, or the same technology in Pokemon Go, your kids will be delighted to see dinosaurs come to life with the Melissa Josh Augmented Reality Book ($39.90). Aside from learning amazing facts about dinosaurs, with the accompanying app, your children can also feed and walk them and hear them roar. Additionally, bring the book and app outside and let the dinosaurs loose around the city. Great for families, it gives children an immersive look into the Jurassic, Triassic and Permian periods without needing a time machine.
Set the stage at night for an immersive bedtime story. With the Moulin Roty storybook set ($12.90 each), and assorted torches, let your child work his/her imagination and creativity and make up stories with each set of discs.
More books for children four years and above here.
Puzzles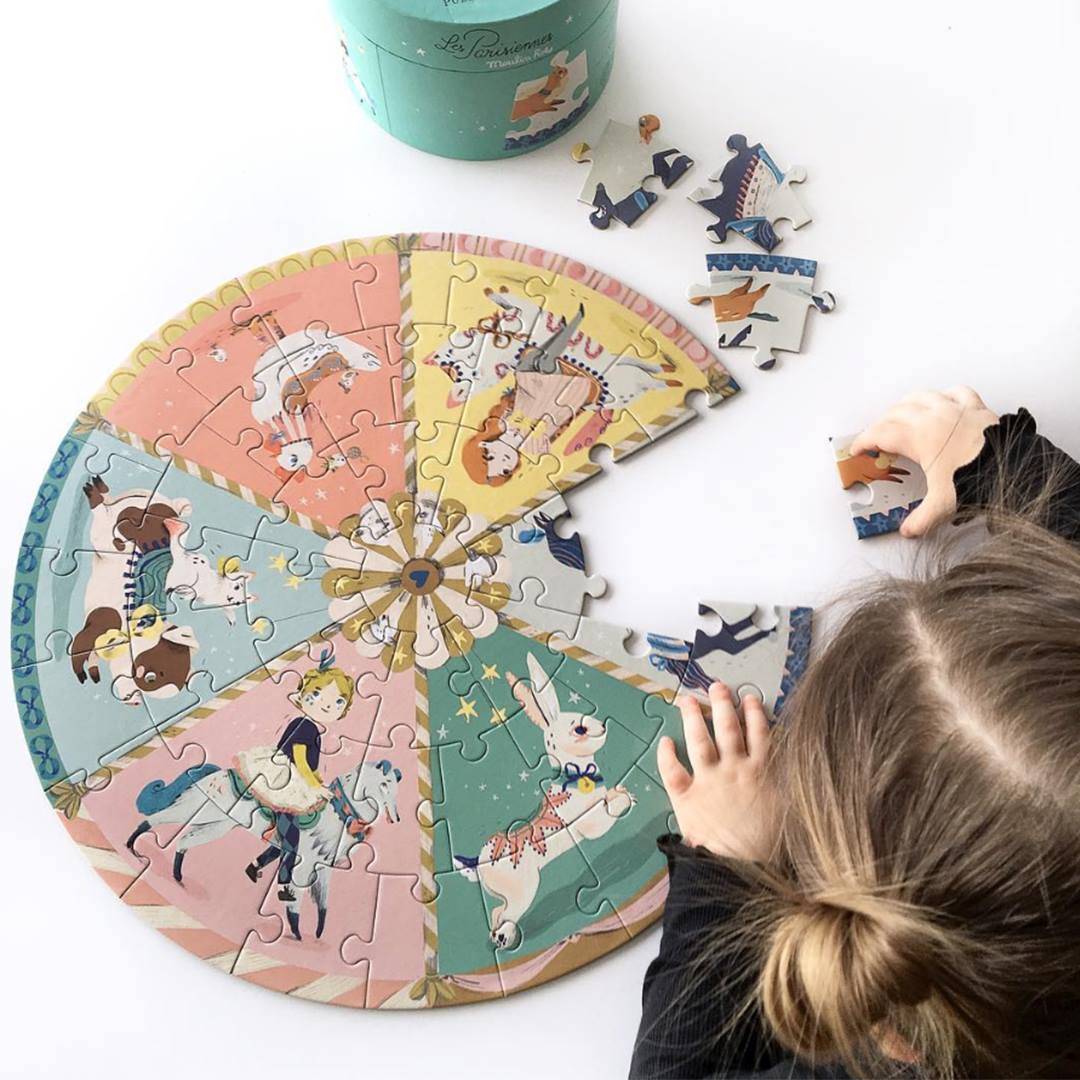 This delightful circular puzzle depicts six characters on a carousel, and helps your child foster concentration, observation and problem solving skills.
Develop your child's skills of observation, concentration and problem solving with this 45-piece Moulin Roty Horse Carousel Puzzle ($38.90). Presented in a round box and illustrated by Lucille Michieli, it depicts the Parisienne characters in a nicely decorated carousel. Inside, each character takes up an equal amount of space on the round puzzle, which your children will have to piece together.
A fun twist on the classic Battleship game, take this Moulin Roty Magnetic Games Battleships ($35.90) with you on the go. The playing field consists of two grids, one numbered from one to five and the other with five colours. Your child will have to place his/her ships strategically while guessing where his/her opponents' ships are and sink those. Aside from encouraging critical thinking, and strategy, it also trains your child to play fairly and help him/her emotionally deal with losing or winning.
Creativity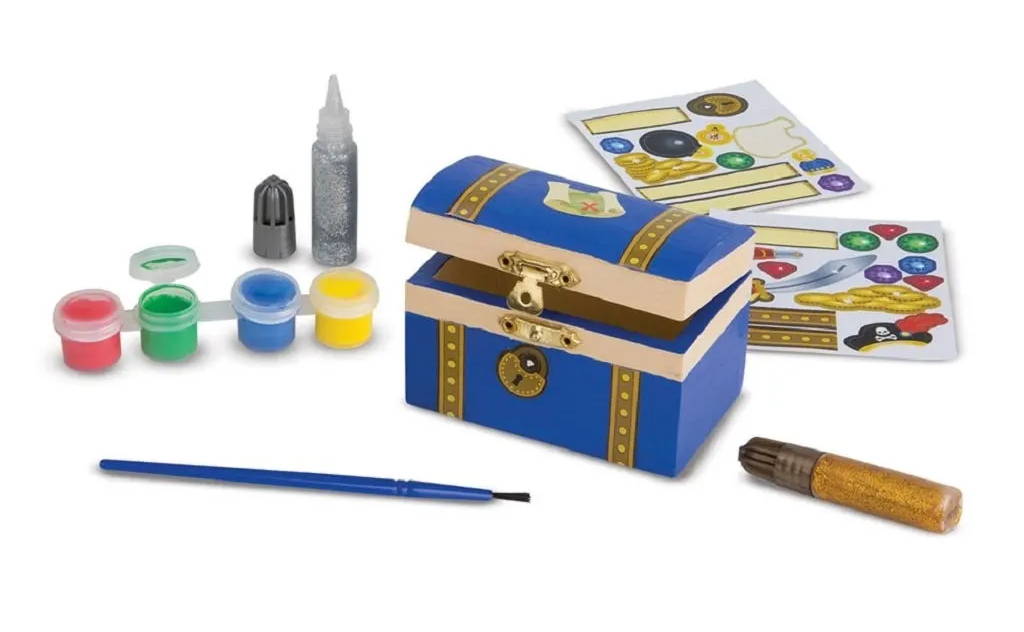 Your little ones can decorate their own pirate chest, as well as stash their little treasures within.
Stash your own pirate treasure in the Melissa & Doug Created by Me! Pirate Chest Wooden Craft Kit ($12.90). With a wooden pirate chest that your kids can decorate with paint, stickers, and glitter glues, this helps promote fine motor skills, hand-eye coordination and creative expression. It's also great for parties or treasure hunts, and the latches shut so your kids can store their own treasures within.
Draw, trace and stamp designs with the Melissa & Doug Shop Chalk Set ($43.90), and create wondrous scenes. Your little ones can draw on the signboard, trace shapes on the stencil sheets or make perfect rainbows using the multi-colored cake slice. Not sure what to draw? Use the "menu" of drawing and games ideas to get your child started. Comprising 33 pieces, these can be used on the double-sided sign, sidewalks, driveways or chalkboards. While your child is busy creating, he/she is also improving his/her fine motor skills, colour recognition and creative play. This is perfect for children as young as three up to 12 years old.
For those inclined to make their own jewellery, try the Created by Me! Butterfly Beads Wooden Bead Kit ($17.90), also by Melissa & Doug. More than 120 wooden beads and five colour-coordinated cords are packed in a handy wooden tray, allowing your child the creativity to design, string and create beautiful patterns for necklaces, bracelets and more.
Otherwise, try these activity sets for boys and girls ($65 and $39 respectively).
Drawing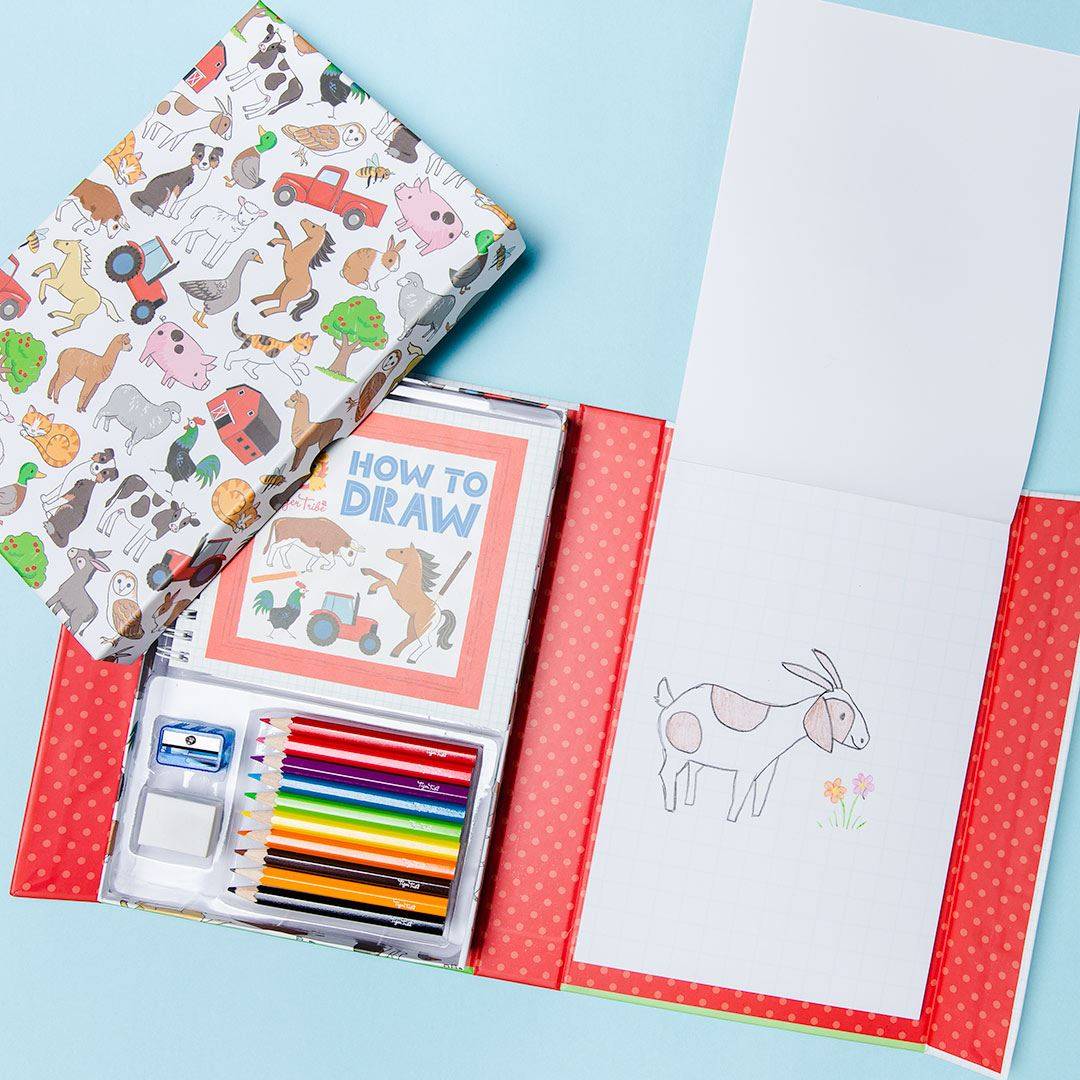 Your child can improve their drawing skills with these drawing books.
Let your little ones improve their drawing with the Tiger Tribe How-To-Draw ($24.80). Included in the set are the book, nine colour pencils, a 50 page sketchpad and a pencil sharpener and eraser. Additionally, the packaging also contains storage compartments so stationery and artwork can be easily stashed away. These sets have five different themes to choose from, so your little one can try his/her hand at drawing various animals and fairies.
Otherwise, try the Tiger Tribe Drawing People Kit ($29.90), where your child can learn how to draw people, in various poses and positions. Children can also draw different eye shapes, and hands, and practice these skills in the 40-page drawing pad. In this kit, you'll find a dual-tip fineliner pen, a HB grey-lead pencil, and double-ended red and blue pencil. Additionally, the kit includes a 24-page drawing guide, eraser and sharpener, all in a handy storage box.
Finally, they can create their very own comic with the Tiger Tribe Comic Book Kit ($25.80). Comprising a duo pen, HB and three double-ended colour pencils in six colours, a 16-page blank comic strip booklet as well as a 24-page "how to" guide, this kit has everything your little one needs to bring his/her characters and stories to life. Key components they'll learn include lettering, balloons, staging, perspective, and promotions. Finally, put these together to finish the Toby the Tiger comic. After which, they can start on their very own comic in the booklet.
Vocabulary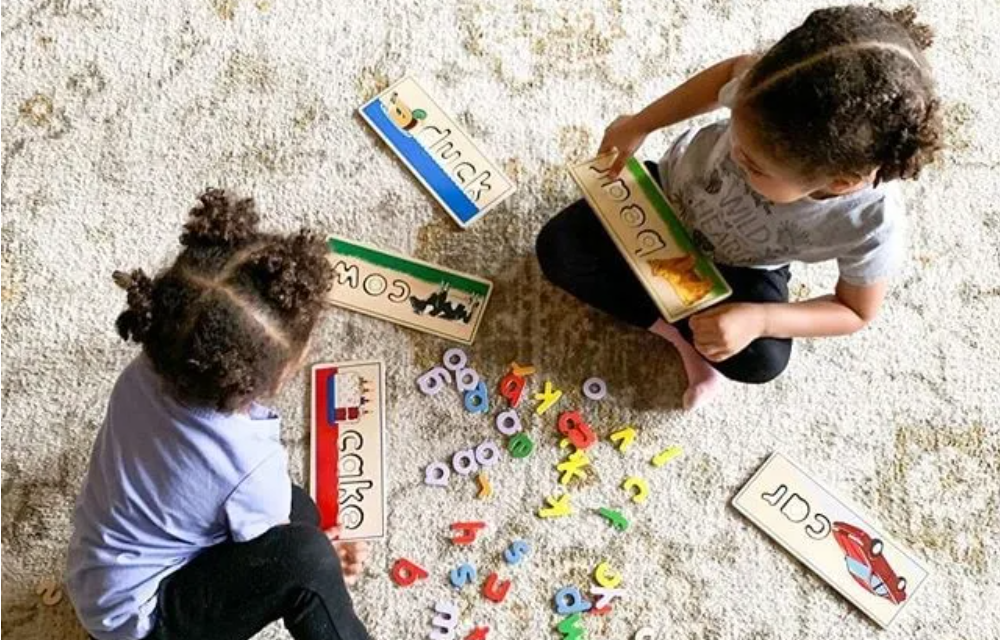 Your child can learn to spell three and four-letter words with these letters, fitting them into the puzzles.
Next, build up your child's sight reading vocabulary with the Melissa & Doug See & Spell Learning Toy ($32.90). In this wooden puzzle set, children can learn to spell three and four-letter words, fitting the correct letters into the eight two-sides cutout boards. Otherwise, the Melissa & Doug ABC Picture Boards ($32.90), with 13 double-sided boards and 52 colourful letters can also help them work on their word recognition, with illustrations to help them associate the words with the pictures. Aside from word recognition, it also promotes their matching, memory and fine motor skills.
Other age appropriate word puzzles: Melissa & Doug ABC Dot-to-Dot Coloring Pad ($8.90)
Outdoor Sporting Activities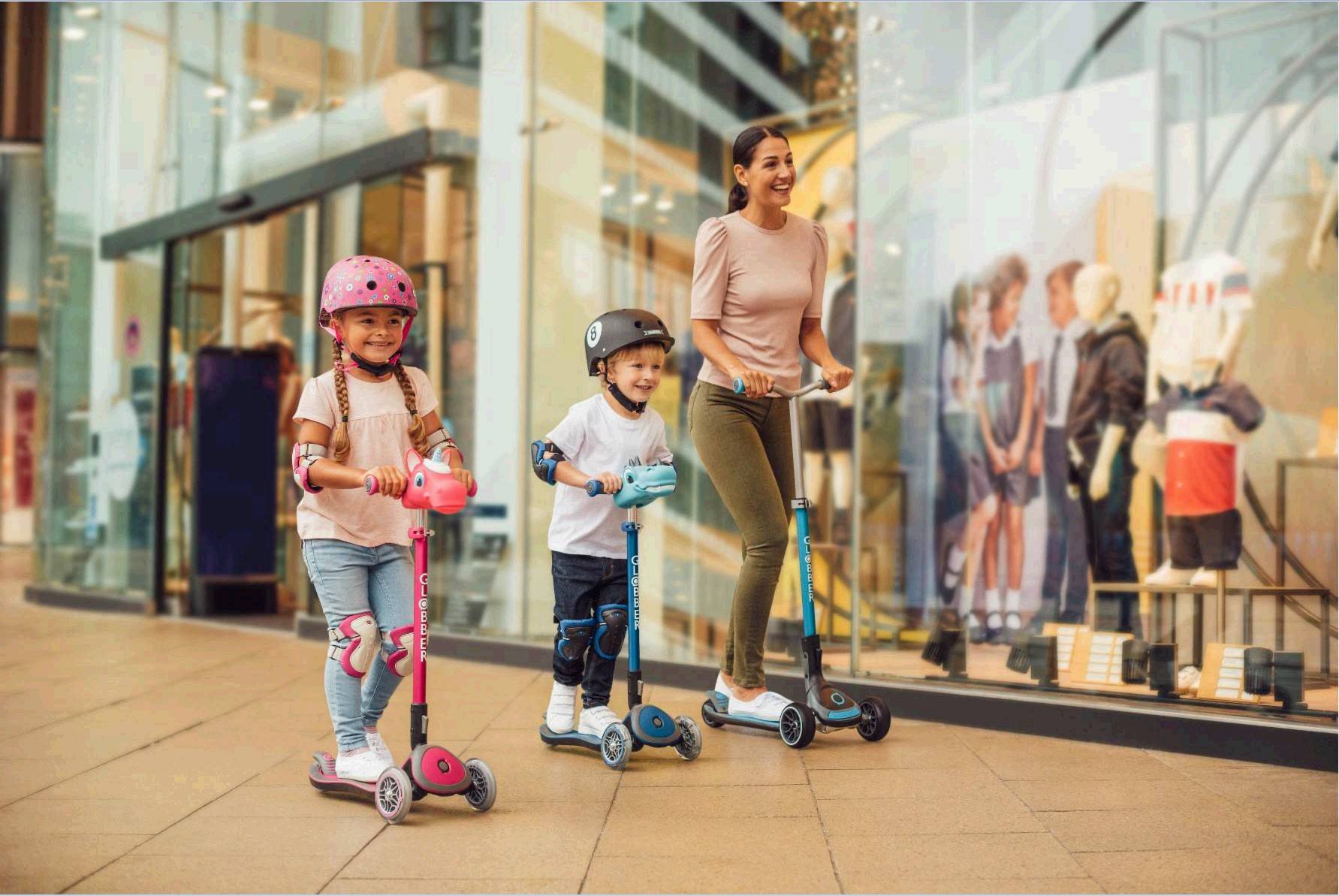 Your children can improve their sense of balance, and finetune their motor skills by riding on scooters.
When outdoors, your little ones can develop important skills when riding a scooter. In particular, scooting around helps your child develop his/her sense of balance. Additionally, children will also learn how to steer and balance at the same time. It also helps your child use his/her arms and legs to fine tune his/her motor skills, since one foot kicks while the other balances, and the hands on the handlebar to steer. Other skills your little one can develop include muscle development, coordination, their decision making skills, and cardiovascular endurance.
Choose from a variety of scooters, such as the Globber Primo Foldable Lights ($99), Elite Deluxe Lights ($139), and the Micro Scooter Maxi Deluxe LED ($240). These are suitable for children from three years old onwards, to a maximum weight of 70kg. Of course, ensure your children are safe with protective gear like elbow and knee pads ($45 for both options), and helmets ($80 to $95).
In the pool, learning swimming can help children improve their social skills as they swim together with other children. Moreover, they can develop strength and endurance while swimming, improve their flexibility, balance, lungs and hearts. Regular swimming may also help children reduce their likelihood of getting childhood obesity and its related health problems. Aside from its health benefits, children can keep safe in water or at the beach by learning how to swim. Of course, you will still have to supervise your kids in the water. Other benefits include aiding their mental development and relieving their stress. Some swimming accessories they may need include goggles ($9.90 to $29.95), a kickboard ($12.90) for older swimmers above four, swim vests ($14.90 each), or a float jacket (up to $14.95).
Another way they can develop their motor skills and coordination is through jumping rope, which burns calories, and also improves their cardiovascular system and bone mass. This eco-friendly option, Green Toys Jump Rope ($17.90), is available in pink or green, and is made from 100 per cent cotton rope and 100 per cent recycled plastic. Additionally, the packaging uses recycled and recyclable materials, and is printed with soy inks. Finally, it's adjustable to suit your child's height as he/she grows, it reaches a total length of around 2m.
Relevant Reads: Developmental Milestones - Newborn to 1 Year, Activity Sets for Your Toddler, and Essential Life Skills for Children
Credits:
Melissa & Doug, Melissa and Josh, freepik, Tiger Tribe, Globber Scooters UK, Moulin Roty.