Posted on April 01 2021
Reading with your kids not only stirs up their interest but also builds their comprehension and vocabulary.
Motivating kids to read is one thing and instilling the love of reading in them is another! Encouraging children to enjoy reading has been a challenge that goes way back and we as parents all know that it is one of the most important things you should invest your time and energy in. Once kiddies are off to school, reading is almost engrained in them and much as we'd like to associate reading with pleasure, reading in school is often associated with work. Work = tedious = dread. As Nancy Carlsson-Paige, Ed.D., author of Taking Back Childhood so poignantly puts it, "We want to get kids reading, but they are under increasing pressure to do so, and it can overshadow the joy of this wonderful shared activity." So what can you do to get them all riled up when you suggest a bedtime story? Or for the older kids, when you bring them on an outing to the library? How can you inspire them to be voracious readers and love reading?
First things first, don't parent their reading! Meaning, don't harp on the technicalities, don't fuss about learning vocabulary from books (initially at least). Just read – read with your kids, have conversations with them about it, keep it light and fun. Books should spark joy and make you smile, set your imagination free as it transports you to distant lands, transform you into superheroes or dragon-slaying sleuths, and make you all touchy-feely.
1. Swap paperbacks/hardcover books for animated books or audiobooks
Yes, animated books (still using a screen no less) and audiobooks count as reading and for some kids, they can help them progress better. Much as we try to take our kids' time away from the luring screen, it really depends on the learning style of the child. Some children process information better through auditory means so audiobooks will sustain their interest longer. While others might be more visual and tactile, so watching books come to life through animations will help them grasp the content better. There are also those who are kinaesthetic learners so acting out a story enables them to understand the story.
Suggested Resources:
Vooks – Vooks is a kid safe, ad-free streaming library of read aloud animated storybooks.
Storytel – Audiobook subscription with a good children's literature section.
Audible – An Amazon audiobook platform where Amazon Prime members get more.
2. Model your reading
You read, they read – kids are quick to take cues from you. It's great to make them a part of your reading journey as much as you'd like to be a part of theirs. As they see you reading, draw them in and share with them about your book. Be excited and point out something that intrigues you in the narrative because you also want to show them that books ignite a positive vibe in you and will do so in them too. Some children's books can also be an enjoyable read for you and it'll be great to discuss about the content and also the author together.
Suggested Resources:
Little People, Big Dreams: Bruce Lee by M. Isabel Sanchez Vegara
Forever Young by Bob Dylan
Fantastically Great Women Who Made History by Kate Pankhurst
What a Wonderful World by Bob Thiele
Here We Are: Notes For Living On Planet Earth by Oliver Jeffers
Every Little Thing: Based on the song 'Three Little Birds' by Bob Marley and Cedella Marley
Stories For Boys Who Dare To Be Different Books 1-3 by Ben Brooks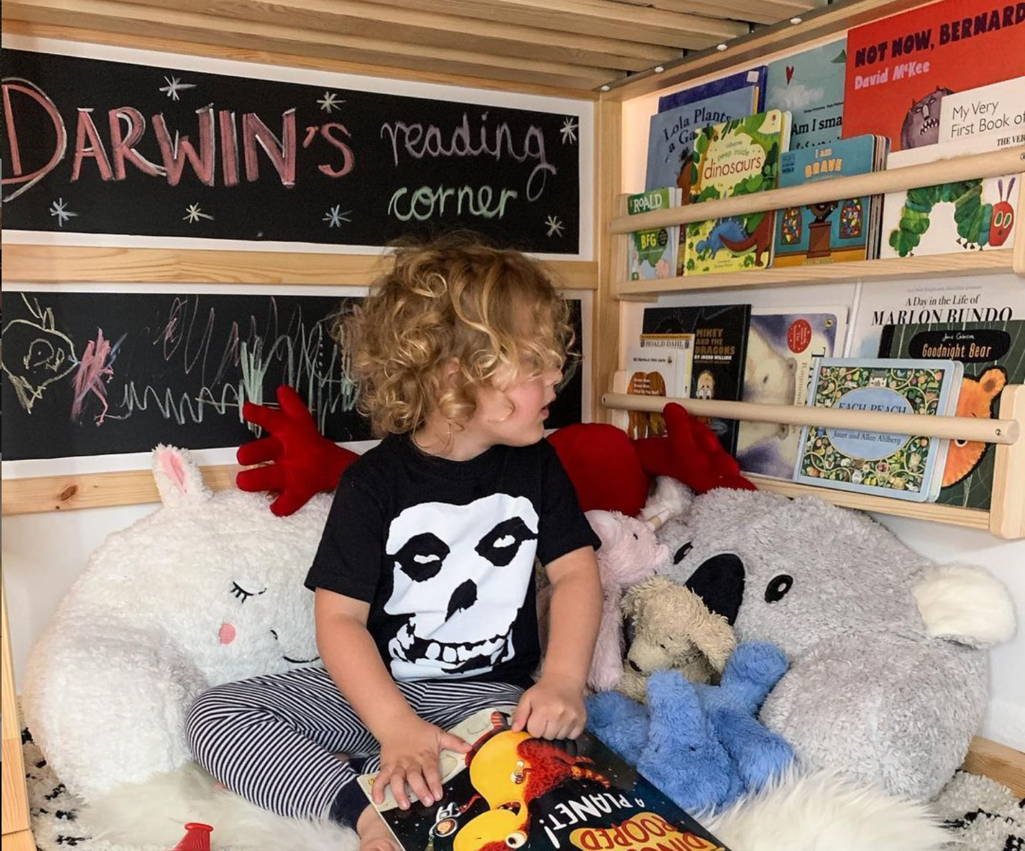 A cosy reading corner gives kids a little space to call their own and entices them to pick up a book anytime.
3. Set up a cosy reading nook that's filled with all kinds of books
Having a little reading corner is always a good way to entice kids to chill out, lounge, and read. As with every library that you've come across, there's always a comfy reading niche so recreating that at home will likely encourage your kids to pick up a book. Get them involved in decorating their nook – head out to pick up cushions, bean bags, shelving, and invite them to offer ideas on how to organise the space. You can even up the ante by creating a theme for the space or better yet, have a bi-monthly rotation of the theme! There are tons of books about organisation and décor too that you can reference with the kids!
Suggested Resources:
Building Books by Megan Wagner Lloyd
Thomas Jefferson Builds A Library by Barb Rosenstock
I Will Judge You By Your Bookshelf by Grant Snider
I Have An Idea by Hervé Tullet
4. Bring books to life through a myriad of activities
For kids who love the drama of it all, planning activities around books or tapping on ready resources is a sure fire way to get them interested. Books like "The Hungry Caterpillar" by Eric Carle and "Gruffalo" by Julia Donaldson have tons of activities – both online and hard copies. You can also start off with the Happy Meal Readers books by Cressida Cowell and have the kids read along with the Happy Meal App to bring all the adventures alive!
Suggested Resources:
Amazing Machines Series by Tony Mitton
Don't Let The Pigeon Drive The Bus by Mo Willems
We're Going On A Bear Hunt by Michael Rosen and Helen Oxenbury
5. Sprinkle books all over the house
If you're surrounded with books, you'll most likely pick up one or two sometime or other. Make the books visible and opt for a library book display unit instead of a conventional bookshelf. Place them in a magazine holder by the sofa, dining table, and kitchen. Waterproof books for the bathroom might even do the trick! Kids will get curious if you've stashed books in the side pockets of the car and would eventually pick them up.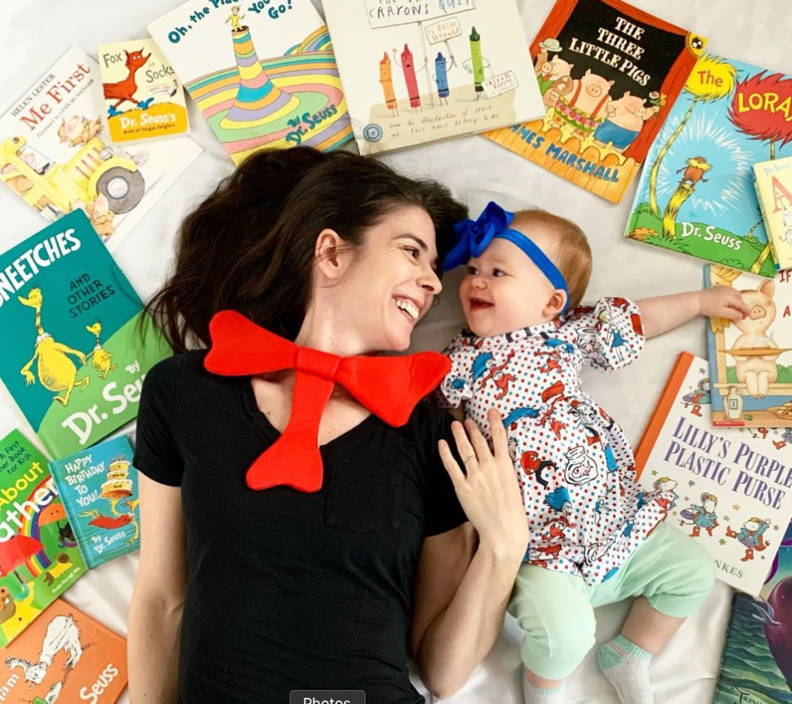 Surround little ones with all kinds of books everywhere in the house including the bathroom!
6. Read the book then watch the movie
Grab the popcorn and bring on Family Movie Night! But first, read the book together especially for the younger ones, a few chapters at a time. This works best when you pick a classic like "Charlie and the Chocolate Factory" or for the older kids, perhaps "To Kill A Mockingbird". Watching a film together is a great way to encourage reluctant readers.
Suggested Resources:
The Chronicles of Narnia: The Lion, the Witch, and the Wardrobe by C.S. Lewis
Matilda by Roald Dahl
The Jungle Book by Rudyard Kipling
Anne of Green Gables by L.M. Montgomery
7. Celebrate writers
What better way to intrigue your child than to find out more about a renowned author. What about Dr. Seuss, Enid Blyton or Roald Dahl? Compile a whole information sheet on him/her, craft activities or read one of their lesser known books together.
Suggested Resources:
The Tiger Who Came To Tea by Judith Kerr
Mr Pink-Whistle Series by Enid Blyton
The Stratford Zoo Midnight Revue Presents Macbeth by Ian Lendler
The Giraffe And The Pelly And Me by Roald Dahl
I Wish That I Had Duck Feet by Dr. Seuss
Romeo and Juliet: A BabyLit Counting Primer by Jennifer Adams, illustrated by Alison Oliver
8. Cuddle, read aloud, cuddle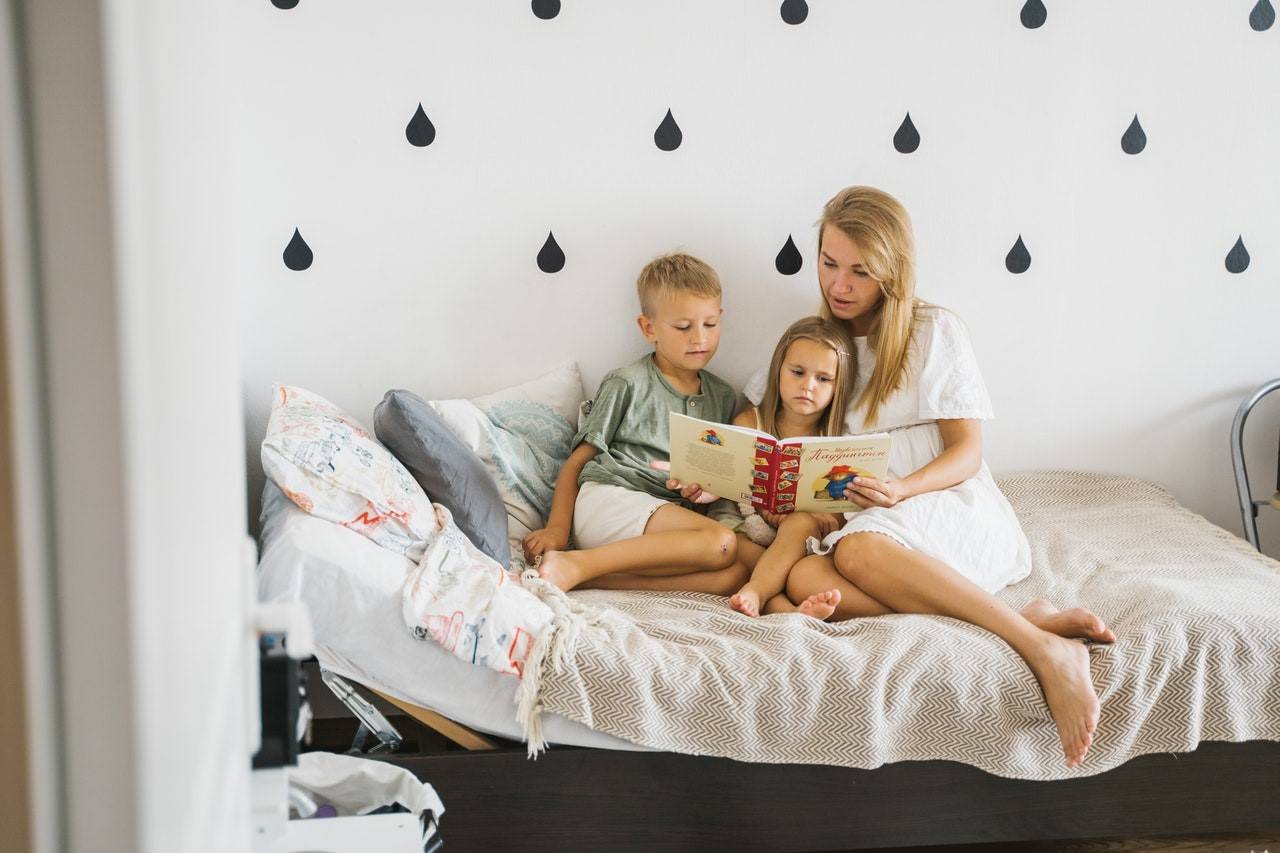 A little cuddling at naptime and bedtime is also the best occasion to pick up a book and read with your kids.
This is fabulous especially for younger kids as they learn best when they feel secure and all cuddled up on mum's lap. Kids tend to associate reading to a positive context like spending time with mum and/or dad at bedtime and when practised consistently over the years, it not only develops the bond between parent and child but also ignites their love for reading.
Suggested Resources:
Guess How Much I Love You by Sam McBratney
Monkey Puzzle by Julia Donaldson
Dear Zoo by Rod Campbell
Goodnight Moon by Julia Donaldson
9. Go on an adventure at the library
For sure this is one of the best ways to start the ball rolling from a young age and there are always tons of activities for kids at the library. The 27 libraries under the National Library Board (NLB) have programmes catering to babies, children and teens. Baby Lapsit for little bubs under 12 months old is a 30-minute session where you are introduced to simple songs, action rhymes, and finger play that you can incorporate with your interactions with your little one at home. There are also storytelling sessions conducted by library staff or volunteers just for 4 to 6 year olds. Visit NLB's Eventbrite site for the full schedule of programmes at the libraries.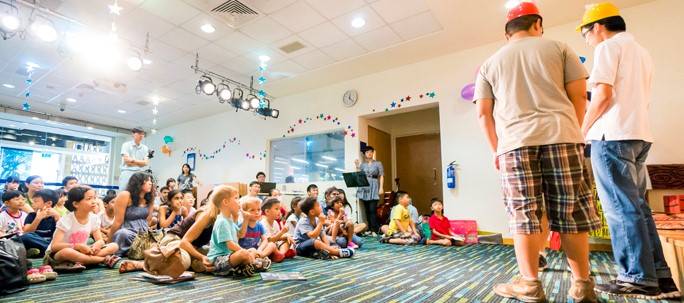 Who doesn't love a good story? It's so much better when it's animated by these storytellers at the National Library.
10. Have a book to mark every milestone or portray everyday scenarios
First it starts off with an emerging new tooth, then perhaps welcoming a baby brother/sister, getting a first pet, or just acknowledging the presence of different emotions. Having a book to mark each of these milestone events sends a signal that books can help us navigate through almost everything.
Using books to portray everyday scenarios for school-going kids is super important as they are out in the big world, facing other kids, grown-ups, and experiencing all kinds of situations. It might be that they are just starting school and feeling all anxious or that they've interacted with classmates who are dyslexic or autistic. Introducing books that address these circumstances helps kids to manage their social interactions and enable them to understand these conditions better.
Suggested Resources:
Rainbow Fish by Marcus Pfister – on the importance of sharing
Hank Zipzer Series by Henry Winkler – about the adventures of a bright boy with learning challenges
Much Bigger Than Martin by Steven Kellogg – on sibling rivalry
Slug Days by Sara Leach – about a girl who has Autism Spectral Disorder
Penguin Problems by Jory John – about having a grumpy, negative attitude
Swimmy by Leo Lionni – dealing with adversity and bullies
The Tenth Good Thing About Barney by Judith Viorst – the loss of a pet
All Too Much for Oliver by Leila Boukarim – about kids who are sensitive to noise, crowds, and chaos
11. Introduce recipe books and cook/bake together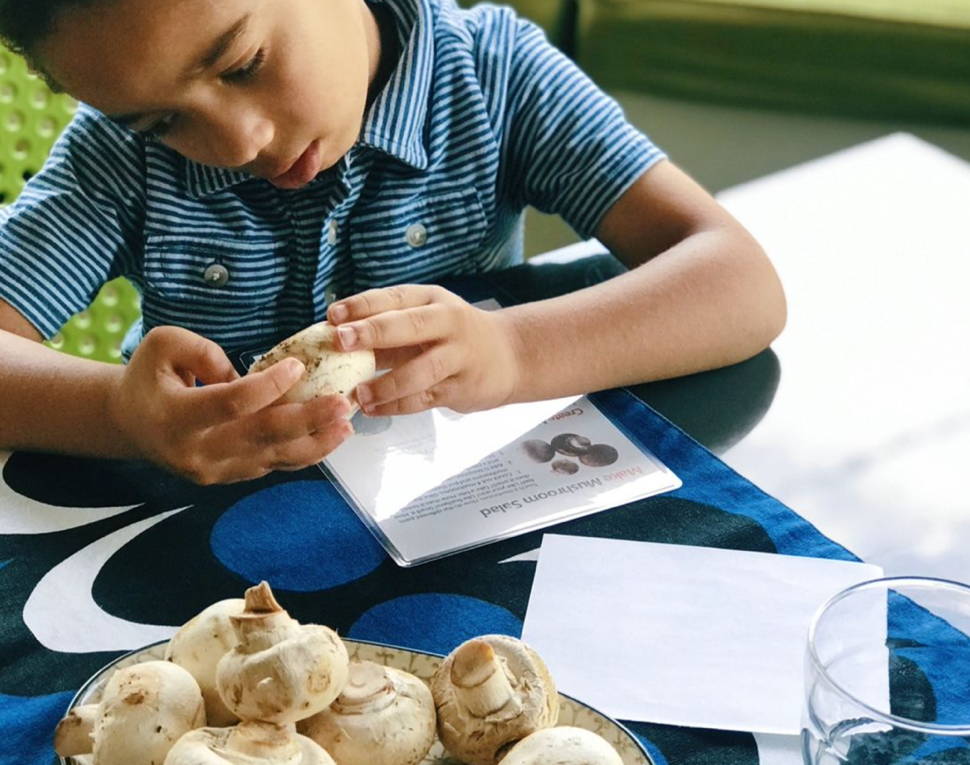 Tap on your kids' reading skills and get their hands to work by having them choose recipes and plan a meal for the whole family.
Can't get enough of the Gruffalo? Get a hold of the Gruffalo Crumble and Other Recipes by Julia Donaldson and Axel Scheffler cookbook! Inspired by the story of the Gruffalo, there are 24 specially designed recipes for you to cook with your kids with a little help from the mouse, the fox and of course, the Gruffalo. If your kids are generally adventurous in the kitchen, you can ask them to plan a whole meal and find recipes to accomplish that task. Reading recipes introduces them to a new genre of writing plus it improves comprehension skills.
The Eatable Alphabet by ChopChop Family for kids age 2-6 is a great resource to have for budding chefs and also shows little tots that reading is interactive and not just a mundane task of sitting down with a novel.
Suggested Resources:
The World in My Kitchen: Global Recipes for Kids to Discover and Cook by Sally Brown and Kate Morris
Foraging with Kids by Adele Nodezar
Let's Bake a Cake! by Anne-Sophie Baumann
Superfoods for Superkids Cookbook by Noelle Martin
The Ultimate Kids Baking Book by Tiffany Dahle
The Toddler Cookbook by Annabel Karmel
The Complete Cookbook for Young Chefs by America's Test Kitchen Kids
Fun with Asian Food: A Kids' Cookbook by Devagi Sanmugam
Cooking Rocks! Rachael Ray 30-Minute Meals for Kids by Rachael Ray
12. Start a book club
This one's easy! Gather friends with kids, cousins, the whole gang and invite them over for a meal and chat over a famed book (you can start off with that first and then see the response before planning another). Kids can also come together during playdates to swap books and talk about their favourite authors and titles.
Suggested Resources:
Thea Stilton Series
Geronimo Stilton Series
Mallory Towers Collection by Enid Blyton
Gruffalo Series of Books by Julia Donaldson
Famous Five Collection by Enid Blyton
Magic Treehouse Series by Mary Pope Osbourne
The Magic School Bus Series by Joanna Cole
The Adventures of Sophie Mouse Series by Poppy Greene
13. Read, re-read and re-read again!
Although you might be getting tired of reading the same old book again, but younger ones do learn best through repetition. Books with rhyming patterns are also good for little tots to recognise sounds. Dr. Carlsson-Paige says, "Kids love rhymes because they learn what comes next and can chime in." You can even introduce poems too!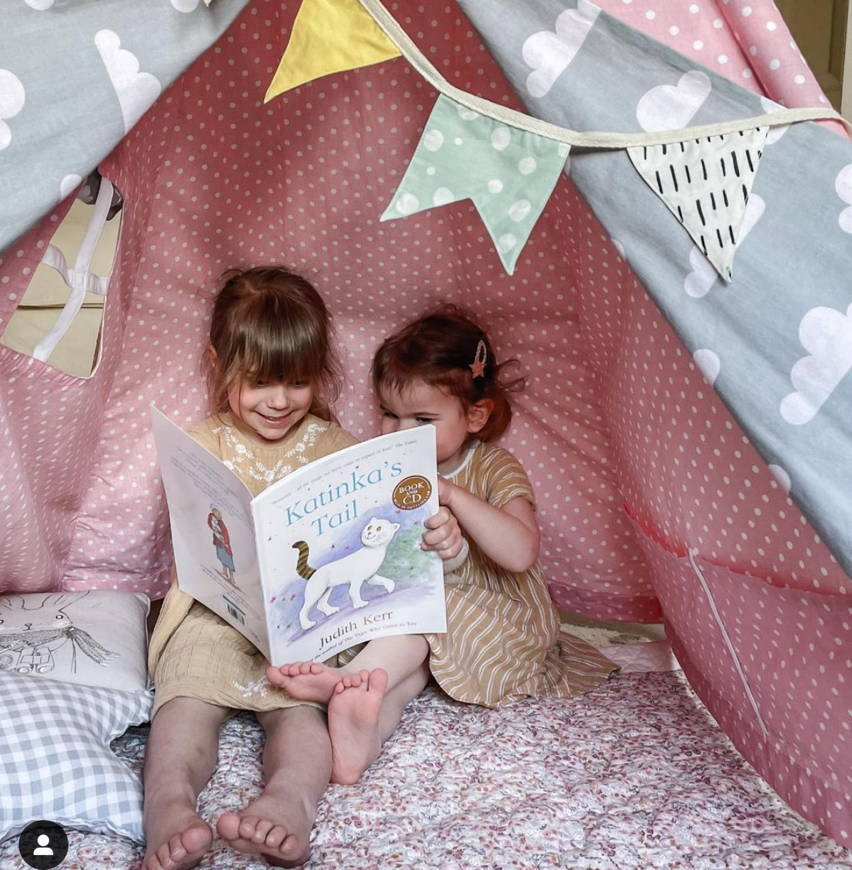 Kids simply love to read a favourite story over and over again and that's perfectly fine! It helps to fine-tune their comprehension skills.
Suggested Resources:
Here's A Little Poem: A Very First Book of Poetry by Jane Yolen and Andrew Fusek Peters
How Do Dinosaurs Say Goodnight? by Jane Yolen
Room on Broom, Snail & Whale by Julia Donaldson
Brown Bear, Brown Bear, What Do You See? by Bill Martin, Jr.
Behowl the Moon and The Wild Waves Whist by William Shakespeare, adapted by Erin Nelsen Parekh
The Pout-Pout Fish by Deborah Diesen
Is Your Mama a Llama? by Deborah Guarino
14. Make use of magazines
While books introduces kids to classics, magazines are good for keeping them up-to-date. Graphics in magazines are particularly useful for visual learners and more often than not, kids pivot towards images first before moving on to words. If your kids love animals, it might be worth subscribing to NatGeo Kids magazines that are filled with stories and gorgeous images of wild animals, enchanting places, and fascinating worldwide phenomena. Young Scientists and Reader's Digests are also great for older kids.
15. Gift books or book subscriptions
When grandma or grandpa asks what would your kids like for their birthday, suggest books or even a book subscription. Check out Josh & Cherie, The Little Book Box by NLB, or One Happy Book for specially curated book packages. Subscription is also available for audiobooks from Storytel. Book subscriptions make great gifts to friends and family too!
Relevant Reads: House Bound Activities for Your Kids to Enjoy

Credits: Lina Kivaka,@earthgirlrosa,@pagereads, Tina Miroshnichenko, National Library Board, @chopchopkids, @littlebugtogs,