Posted on July 04 2022
Get your little ones interested in cooking and baking by giving them tasks like pouring and measuring ingredients.
Let your little one pick up a new skill at home and teach them how to prepare a meal. As they become proficient in reading recipes and measuring out ingredients, let them try these 10 recipes that are great for beginner chefs under six years old. Just be sure to watch them closely!​​
Teaching Children to Cook
Making a meal such as pizza together, helps children understand the effort it takes and can be a great bonding experience between parent and child.
While trying new recipes with your little budding chef may not be an easy task, there are several benefits in doing so anyway. First, it gives both parents and children quality bonding time, where even the most reticent children might be more inclined to share about their lives. Additionally, it's an essential life skill that will serve them well into adulthood - and provide a great alternative to takeout or relying on meal delivery services all the time.
Furthermore, it gives children a sense of appreciation for their parents as they understand the time and effort it takes to make a meal, as well as lets them be more willing to try the meal - after all, they made it! Other great reasons include teaching them skills like reading comprehension as they decipher and follow recipes, as well as learning how to purchase items at a grocery store.
Before You Get Started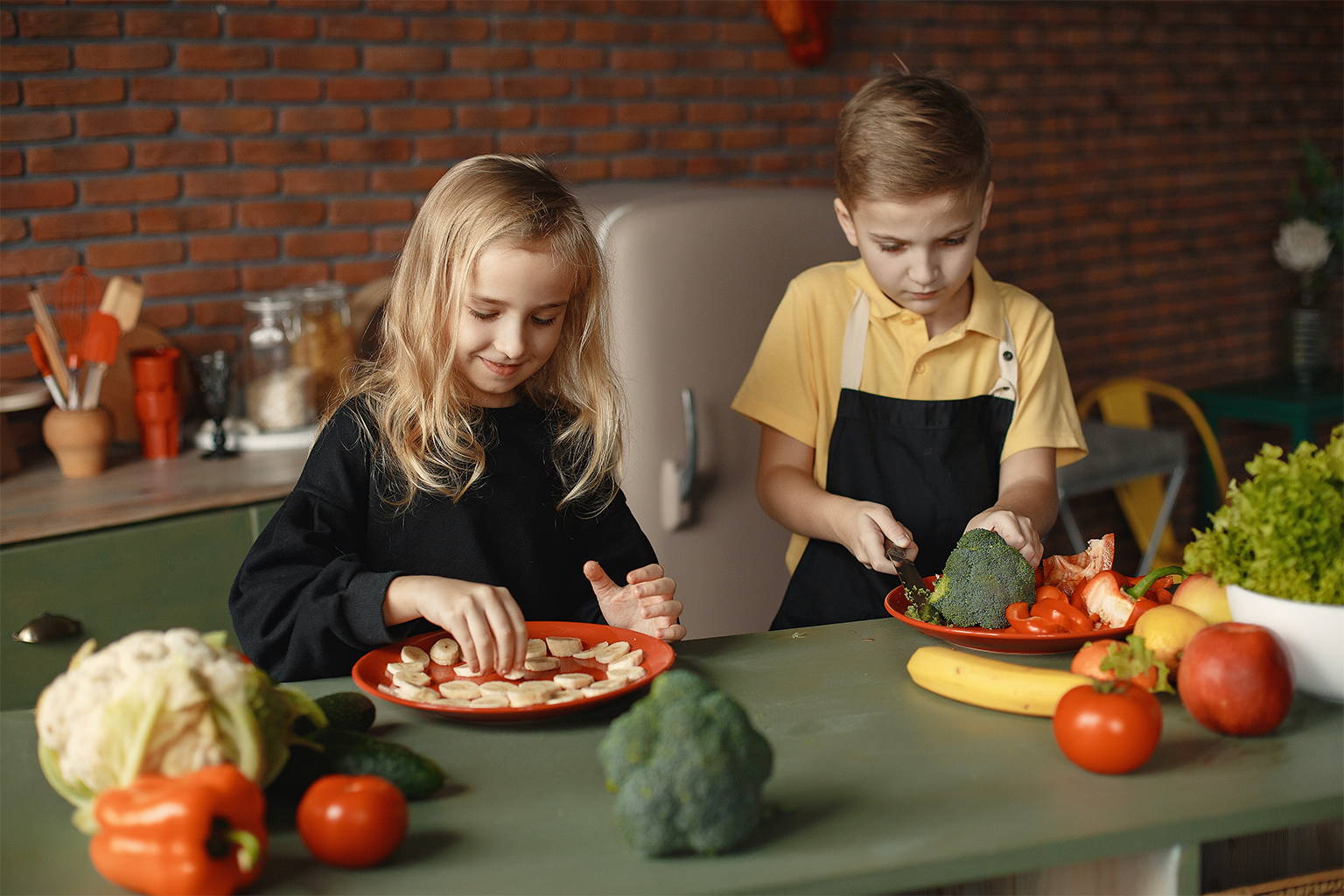 Start your little ones on basic knife skills with blunted, kid-friendly knives, where they can learn how to slice fruits and vegetables.
Ensure your kids always heed the following rules. First, they have to make sure an adult is present at all times for their safety. Next, they have to wash their hands thoroughly before they start cooking for food safety, and they also have to clean spills and messes as they work in the kitchen. Of course, they should use a potholder or towel when carrying hot items, and practice good knife safety. Start them off with blunt butter knives till they've learned the proper technique. Rounding off the list is to get kids to ask you before they lick stuff so they don't consume raw ingredients that could get them sick. Finally, listening to you is of utmost importance so they don't get hurt in the kitchen.
1. Berry Cherry Popsicles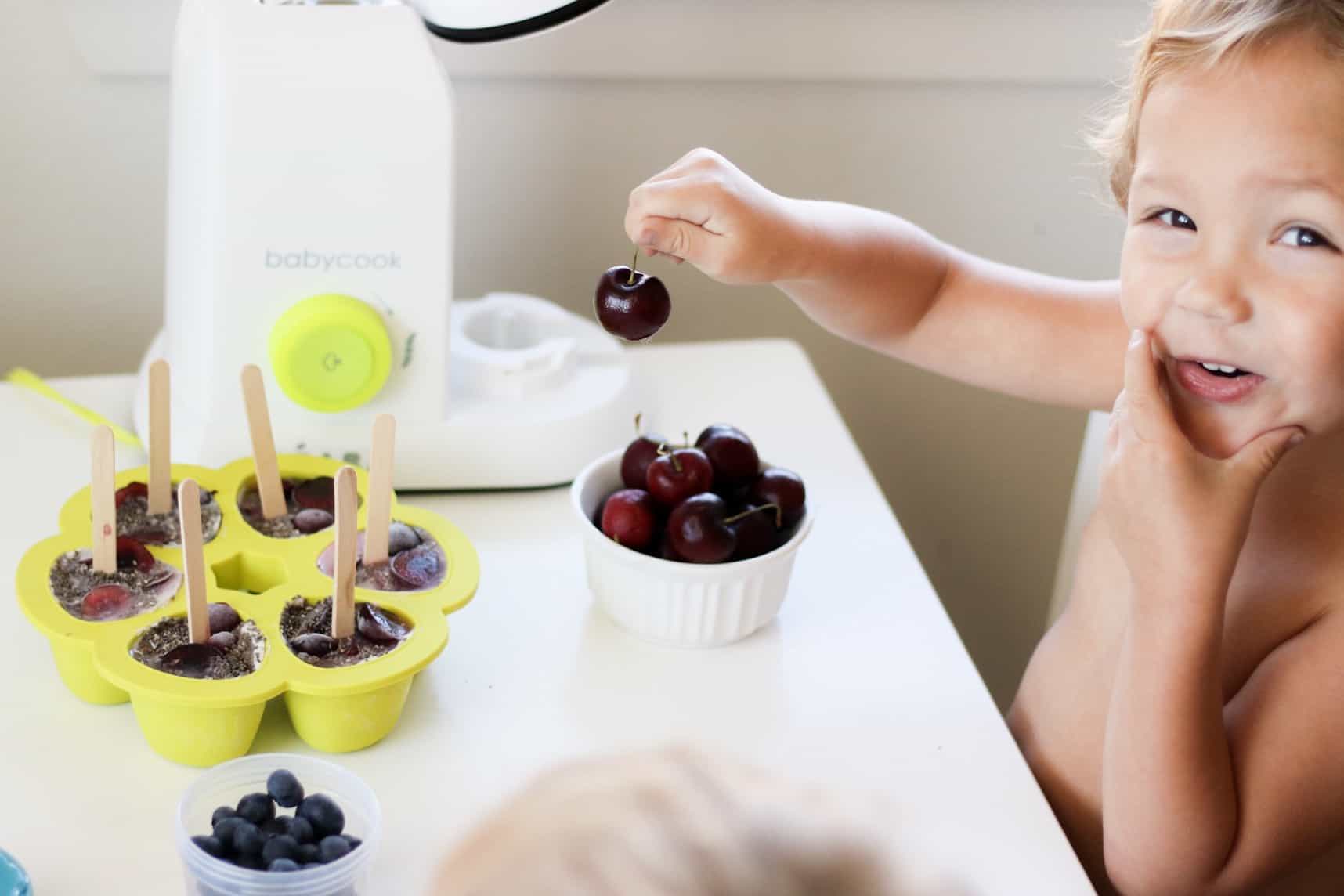 Start your little one off with quick and easy recipes like this refreshing popsicle.
Cooking Essentials You'll Need                                                                      
Béaba Babycook Solo and Multiportions
Popsicle sticks
Ingredients You'll Need
1 cup cherries pitted (learn how to do that here), and also a cup of fresh or frozen strawberries
1/2 cup fresh or frozen blueberries
2 tablespoons fresh lemon or lime juice
2 - 4 tablespoons honey or agave
1/2 cup milk or water
Make This Recipe
Put all the ingredients into the blending bowl.
Pulse to blend everything up.
Pour the mixture into Multiportions containers.
Place the Multiportions containers into the freezer.
Half an hour later, insert the popsicle sticks and continue freezing for another six to eight hours.
Here are more quick and nutritious popsicle ideas for you and your kids to make. Otherwise, opt for the Béaba Babycook complete starter set ($309). This set includes the Béaba Babycook Solo ($259), Multiportions ($33.50 to $39.90), clip portions and silicone meal set.
2. Acai, Berry and Banana Smoothie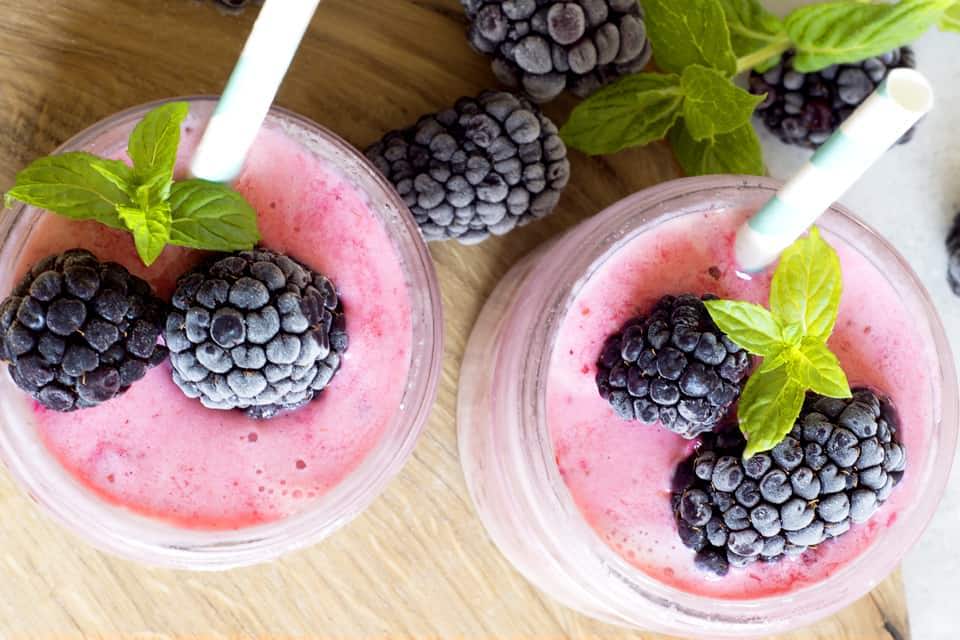 Children can make and indulge in this easy smoothie recipe that can also be made with the Babycook.
Cooking Essentials You'll Need
Béaba Babycook Solo
Ingredients You'll Need
1/2 - 1 cup milk of choice
1 cup bananas, sliced
1/2 cup blueberries or blackberries
1/4 cup acai berries
Make This Recipe
Put all ingredients in the blending bowl.
Blend until it's smooth. Do add more milk if necessary and then serve immediately.
More smoothie ideas here.
3. Two Ingredient Home Made ice cream
This yummy ice cream recipe requires just three ingredients (including the flavouring), as well as a hand or stand mixer.
Cooking Essentials You'll Need
Hand or stand mixer
Ingredients You'll Need
2 cups or 450ml heavy whipping cream, cold
400ml or sweetened condensed milk (fat-free or regular), cold
1 teaspoon vanilla extract (optional)
Make This Recipe      
Make sure the condensed milk is in the fridge to keep it cold.
Use a hand or stand mixer with a whisk attachment. Whip the cold cream on medium or high speed until soft peaks form.
After turning the machine off, pour the condensed milk into the whipped cream.
Turn the speed up to high and whisk until the mixture is thick and stiff peaks form. You can stir in vanilla extract once the machine is turned off.
Add in the flavours! For example, for cookies and cream ice cream, mix in 2/3 cup of crushed Oreos into two cups of ice cream base. Next, for chocolate ice cream, mix in the same amount of melted chocolate into two cups of ice cream base. For more ice cream flavours, click here
Once you've created your flavours, transfer the ice cream mixture into an airtight container. Make sure to freeze for a minimum of six hours or overnight before eating. It can be stored in the freezer for up to six weeks.
4. Three Ingredients Nutella Brownie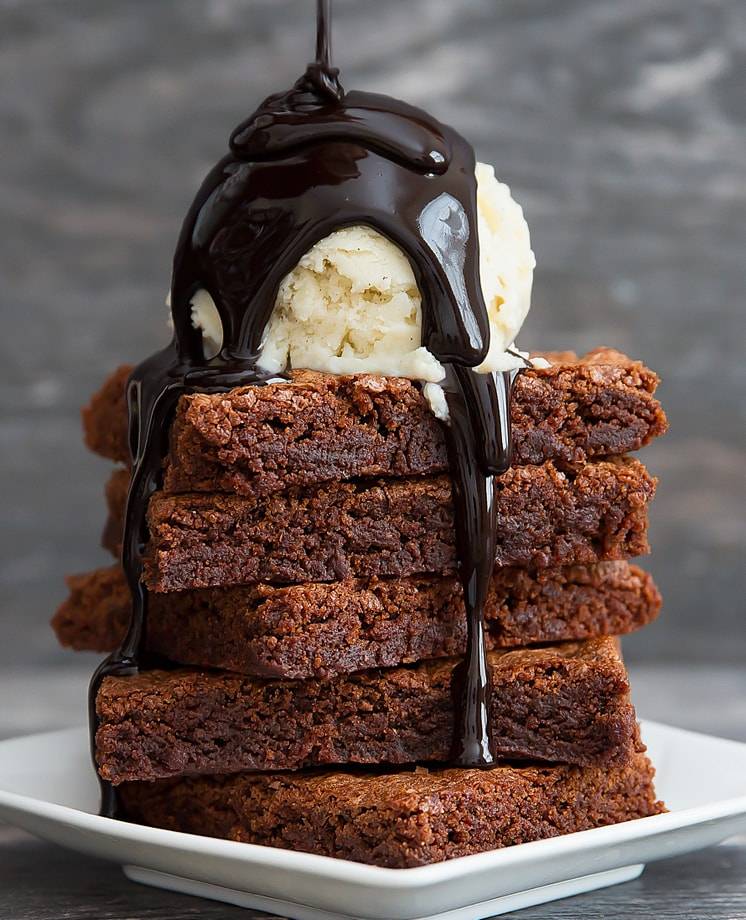 These Nutella brownies are easy to make with just four steps and three ingredients.
Cooking Essentials You'll Need
An oven
A 9 by 9 inch metal baking pan
Butter or oil to grease the pan.
Ingredients You'll Need      
1 1/4 cup Nutella
2 large eggs
1/2 cup all purpose flour (plain flour)
Make This Recipe
Preheat the oven to 177°C. Grease the metal baking pan.
Next, add all the ingredients into a large bowl and mix until the batter is smooth.
Pour into the baking pan and smooth out the top with a spatula.
Bake for about 15 minutes, then insert a toothpick to see if it comes out clean. Don't bake these for too long otherwise the brownies will dry out. Next, let brownies cool and set before cutting and serving.
5. French Toast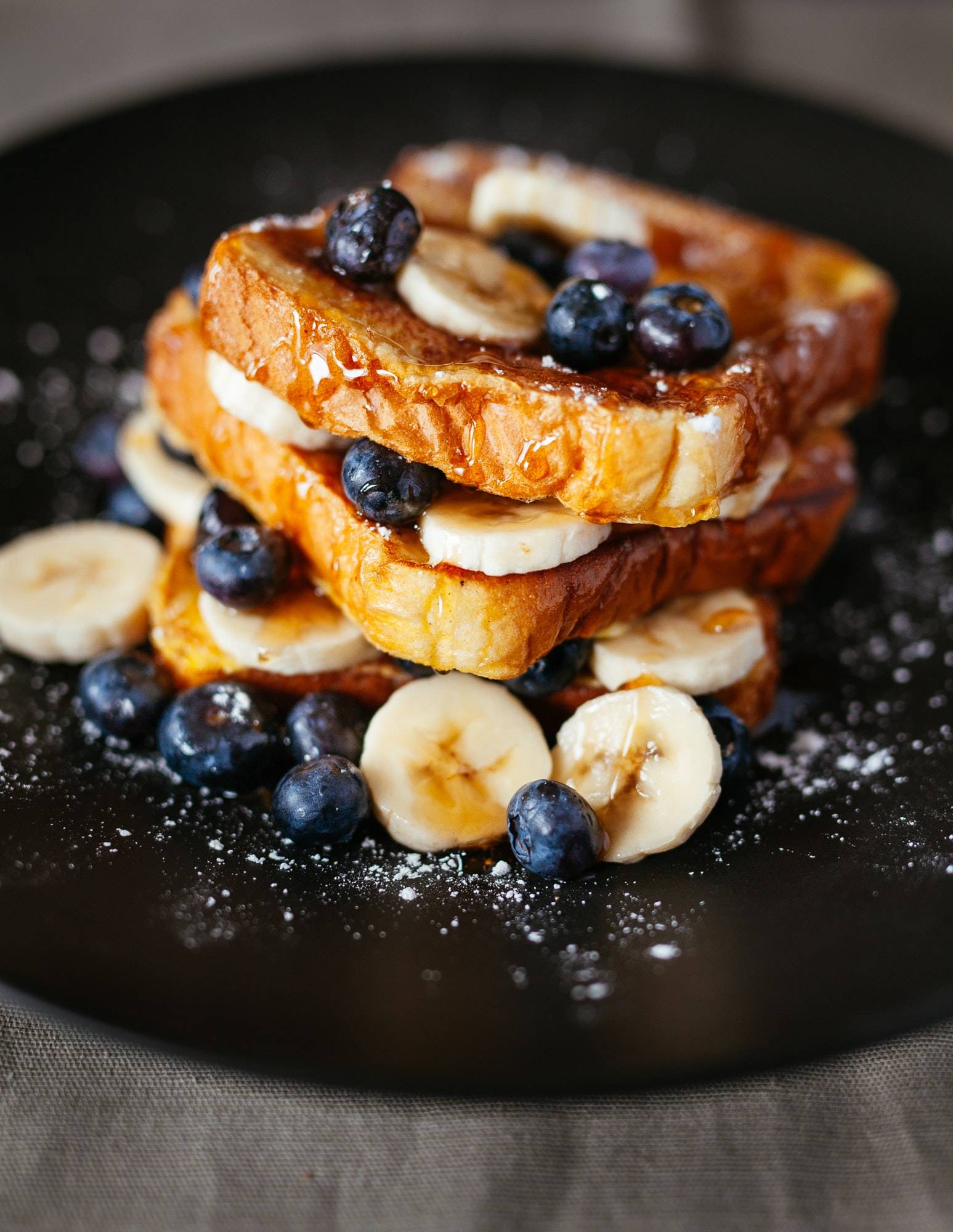 An easy breakfast recipe to get kids excited about cooking and preparing their own food.
Cooking Essentials You'll Need
A bowl, fork, plate and frying pan and skillet to turn the bread
Ingredients You'll Need
4 slices of bread
1/3 cup of milk
1 egg              
1/4 teaspoon of mixed spice such as cinnamon, nutmeg and allspice, and 1/4 teaspoon of brown sugar
35g butter
Banana, maple syrup or honey to serve with
Make This Recipe
Cut your bread slices or trim off the crusts. You can use cookie cutters to make fun shapes too.
With a fork, mix your egg, milk, spices and sugar.
Dip each piece of bread in the mixture, making sure it's completely coated, and allow the excess to drain off. Put each of the pieces on a plate.
Melt butter in a frying pan over medium heat until foaming, then cook bread in batches, for about two to three minutes each side or until golden. Adults: Depending on your child's age and skills, you may have to take over from her/him at this stage.
Transfer to a plate, and cover to keep them warm.
Finally, serve with some sliced bananas, sprinkle with spice, and drizzle honey or maple syrup.
6. Toddler's Chicken Noodle Soup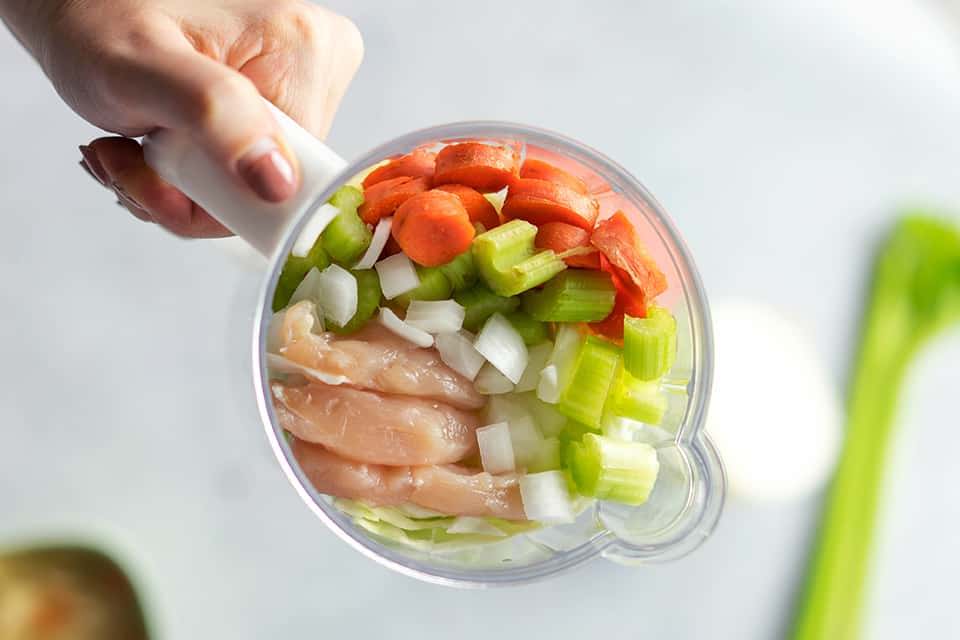 While the cooking process for this is fairly easy, watch your children's knife skills to ensure they don't hurt themselves.
Cooking Essentials You'll Need
Béaba Babycook Solo
Rice/Pasta cooker
Ingredients You'll Need
1/2 cup chicken breast, cubed
1/4 cup baby carrots and celery, cubed and 1/4 cup white onion, diced
Salt and pepper to taste
1 pinch garlic powder
1 cup chicken broth
3/4 ounce noodle of choice
Make This Recipe      
Adults: Prepare the chicken breast, baby carrots, celery and white onion. You can also teach your toddler basic knife skills by cutting the more solid (i.e., less likely to slip) items like carrot and celery with kid-safe knives.
Steam your noodles in the rice/pasta grain insert on water level 3 for 15 minutes.
Next, using the same settings, cook the carrots, chicken breast, celery and onion.
Once done, place the chicken, carrots, celery and onion into the blending bowl. Depending on your child's age you may need to blend till a soft puree consistency or not at all.
Mix the noodles, chicken broth (make sure this is hot), and the mixture, add seasoning to taste, then serve.
Other Béaba soup recipes here. Some nutritious noodle options include Piccolo Pasta ($9.90) Quinoa Ramen, and the various mee sua from Harvest ($3.60), Try these seasoning powders for a healthy, additional burst of flavour.
7. Scrambled Eggs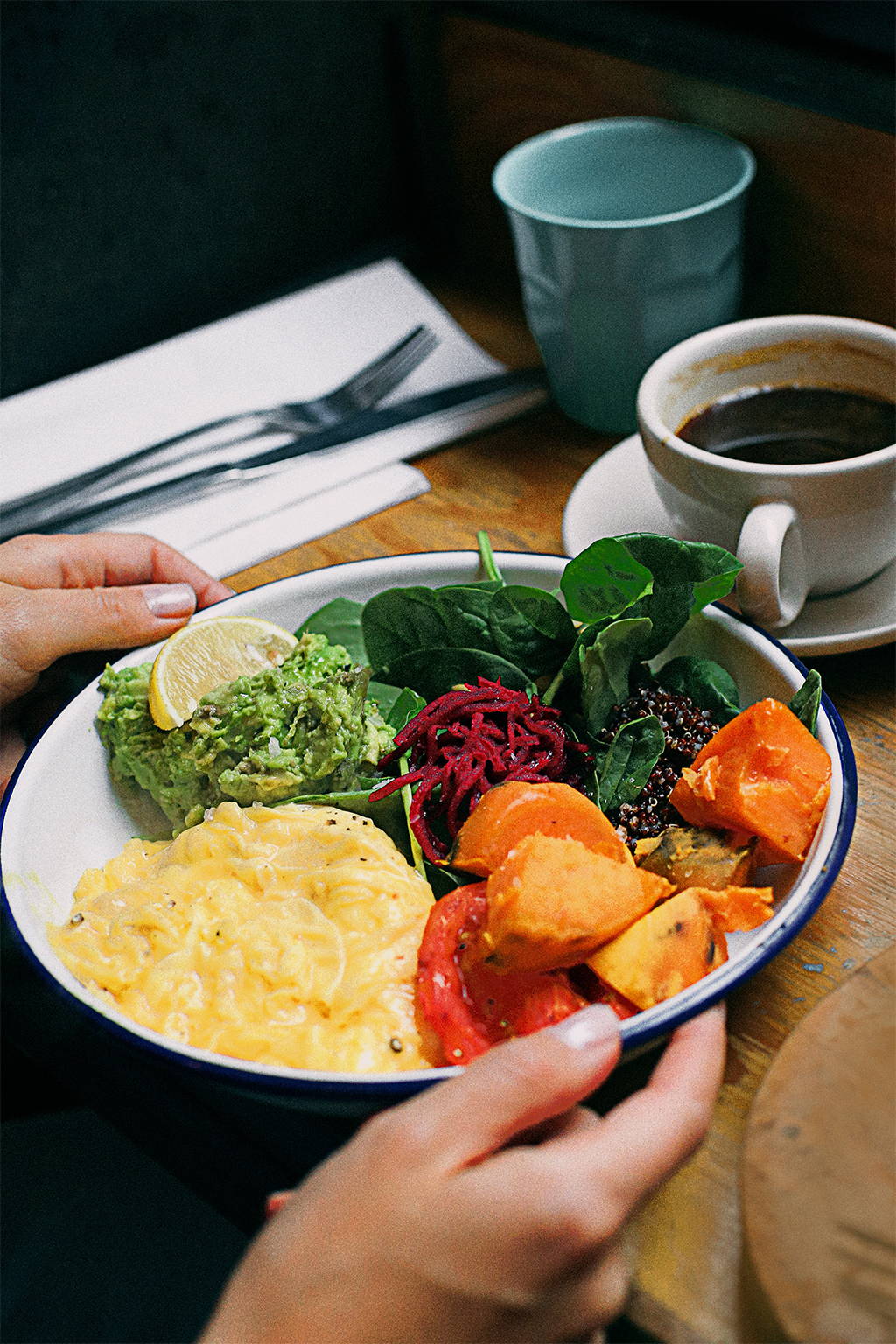 Scrambled eggs is an easy essential recipe for beginner cooks to try and master.
Cooking Essentials You'll Need
Non-stick frying pan
Whisk or fork      
Wooden spoon
Ingredients You'll Need
2 free range eggs
1/4 cup cream
Pinch salt
1 teaspoon butter
Make This Recipe
Whisk eggs, cream and salt until light and fluffy.
Heat a non-stick frying pan over medium heat. Melt the butter.
Pour in egg mixture. Next, let the eggs cook for about 20 seconds.
Once the edges are starting to set, use a wooden spoon to push the egg on the outside to the middle and all around the pan.
Cook for another 20 seconds, repeating the pushing motion.
Once the eggs are almost set, remove from heat.
Serve with Toast: Right before you pour the eggs into the frying pan, put your bread in the toaster.
8. Easy Pancakes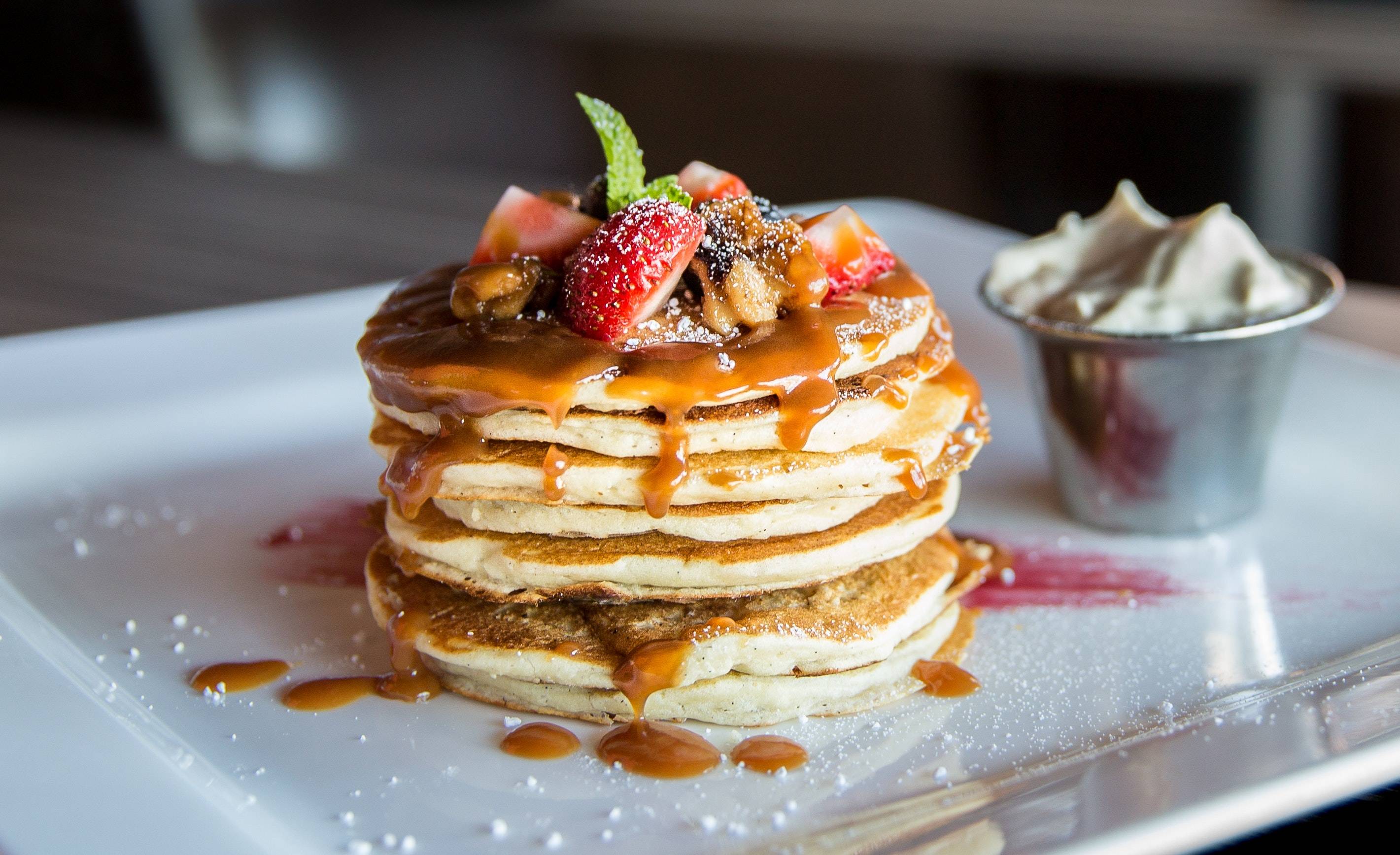 You'll need just three ingredients for these simple yet delicious pancakes - just keep a close eye on your little one as he/she tries to cook the pancakes.
Cooking Essentials You'll Need
Medium sized bowl
Whisk
Non-stick pan
Slotted or solid turner
Ingredients You'll Need
1 egg
1 cup each of self-raising flour and milk
Make This Recipe
Mix all your ingredients together in a bowl. Whisk till everything is combined.
Next, pour 1/4 cup of pancake mix into the centre of a hot non-stick pan.
When large bubbles form on the sauce, flip over. Cook until the other side is lightly golden.
Finally, top with butter, lemon and sugar, maple syrup, honey, jam and whipped cream, or fresh fruits.
9. Turkey & Apricot Wraps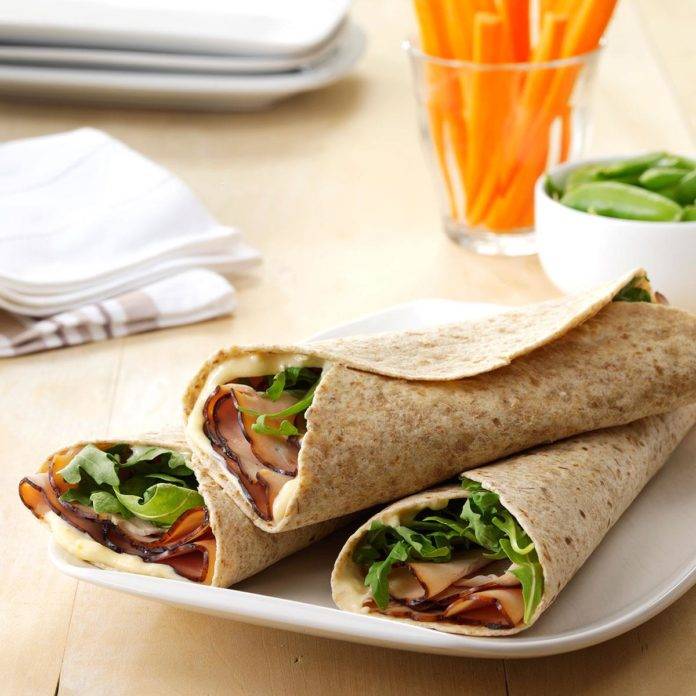 These wraps just need assembling - no cooking necessary - which makes it a great recipe for little ones to try.
Ingredients You'll Need
1/2 cup reduced-fat cream cheese
3 tablespoons apricot preserves
4 whole wheat tortillas (8 inches), room temperature
1/2 pound sliced reduced-sodium deli turkey
2 cups fresh arugula or baby spinach
Make This Recipe
Mix cream cheese and preserves in a small bowl.
Spread about two tablespoons over each tortilla, keeping within 1/2 inch of the edges.
Next, layer the tortilla with turkey and the arugula or baby spinach.
Lastly, roll up tightly and serve.
If prepping in advance, wrap in plastic and refrigerate until serving
10. Microwave Egg Muffin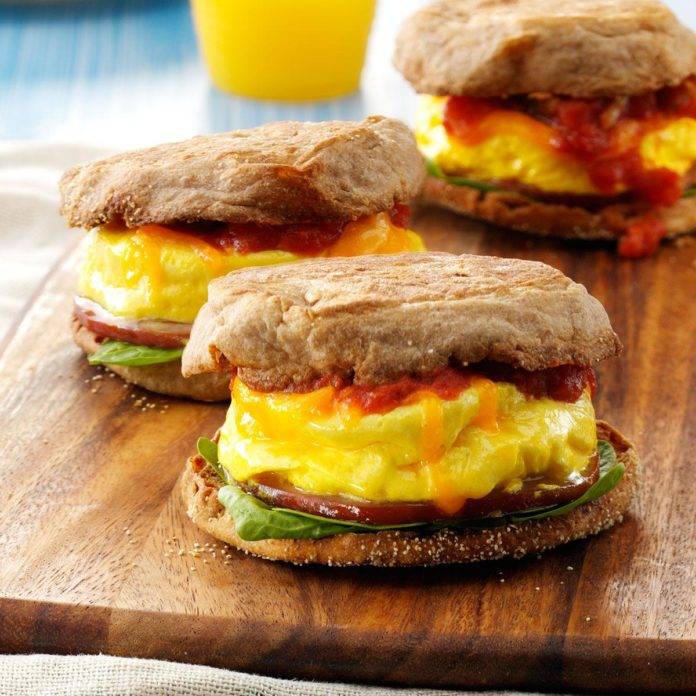 Under close supervision, children can make this healthier version of an Egg McMuffin.
Cooking Essentials You'll Need
A six-ounce (177ml capacity) ramekin cup
Cooking spray      
Microwave
Ingredients You'll Need
1 piece bacon
1/4 cup of eggs, cracked and beaten, or egg substitute
A tablespoon each of salsa and shredded, reduced-fat cheddar cheese
1 whole wheat English muffin, split and toasted
3 spinach leaves
Make this recipe:
Coat the ramekin with cooking spray, and then place the bacon at the bottom, and egg/egg substitute over.
Next, microwave uncovered on high for 30 seconds, and stir. Continue microwaving for another 15 to 30 seconds or until the egg is almost set.
Following this, top with salsa and sprinkle with cheese.
Microwave until the cheese is just melted for about 10 seconds.
Line the bottom of the English muffin with spinach, and then place the egg and bacon over spinach, before adding the top of the English muffin.
Get recipe inspiration from EZPZ Making Meal Time Fun Cookbook ($34.90) and Danielle Pieta Graham Kitchen Essentials & Cookbook ($119). In particular, the latter includes a parent and child knife set, Danielle's cookbook On The Table At Home, kitchen scissors and a chef's cloth bag to keep the kitchen essentials.
Credits:
Gustavo Fring, congerdesign, Gustavo Fring, Bigger Bolder Baking, Kirbie's Cravings, Joseph Gonzalez, Shevtsova, Ash, Taste of Home
Zanne Goh is the face and chef behind @simletseat, a popular Instagram account showcasing creative gourmet home cooked meals for toddlers. Zanne embarked on her creative toddler food journey as she had a picky eater who needed much persuasion to finish meals. A dedicated mum of two, Zanne began experimenting and developing foolproof recipes to whet the appetite of little ones, including her discerning foodie baby. Using the Philips Avent 4-in-1 healthy baby food maker, Zanne created these three recipes especially for Mummyfique.