Posted on January 19 2021
Raising kids with cultural understanding helps to instill values of acceptance and develop a sense of belonging. In our part of the world, many Asian traditions celebrate values such as filial piety, respect and charity which are worthy of passing on to our kids, whilst helping them to better understand and have an appreciation for culture and heritage.
With Chinese New Year fast approaching, here are some interesting customs you can share with and get kids involved from young. Making it fun and assigning age appropriate responsibilities may even help them to learn responsibility and help them feel like a very important member of the family!
And if you are not Chinese, teaching kids about the traditions related to Chinese New Year, which is the most important festival for Chinese all around the world, is a great start to culture diversity and help kids expand their horizons.
1. What and when is Chinese New Year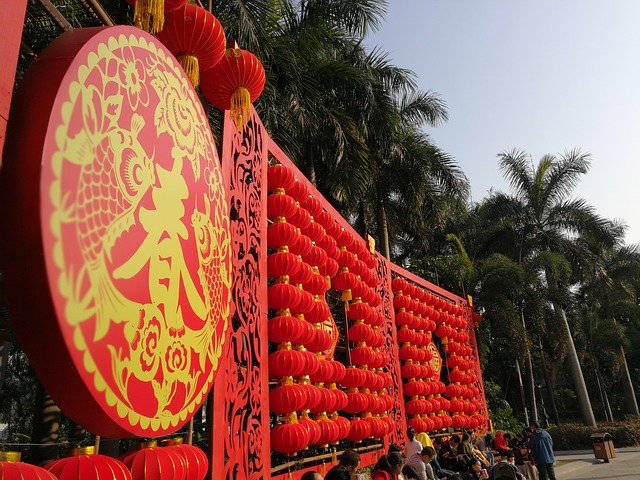 Chinese New Year is celebrated at the start of the New Year according to the lunar calendar. That is why it is also known as the Lunar New Year. As the lunar month lasts 15 days, Chinese New Year festivities typically last for 15 days with each day meant to honour an important aspect in Chinese life.
For example, on the first day, Chinese welcome the deities and visit their elders to pay their respects and ask for blessings for the year. On the second day, married daughters return with their husbands to pay their respect to their parents. This tradition instills filial piety and respect for our elders and explains why most Chinese are usually preoccupied with visiting relatives and extended family on the first two days of the new year. This provides the opportunity to share your heritage with your child and allow them to bond with your extended family.
Help Tip: If you will be visiting a few places with kids, remember to get the appropriate car seat for their safety. Traffic can be chaotic so be sure to buckle kids up even on short rides. Read our tips, Car Seats – All You Need to Know and Where to Get Them, to get one that suits your needs.
2. Lucky greetings
Chinese culture has many superstitions and one of the key things is to greet family and friends during this time with auspicious greetings to wish one another good luck and good fortune. Even when meeting strangers during this time, Chinese will greet one another with a "lucky" greeting to wish one good luck in the year ahead.
Here are a few common greetings you can teach your kids to use
恭喜發財 (Gong Xi Fa Cai) which means "wishing you prosperity and wealth"
新年进步 (Xin Nian Jin Bu) which means "wishing you a better year"
身体健康 (Shen Ti Jian Kang) which means "wishing you good health"
年年有馀 (Nian Nian You Yu) which means "wishing you abundance every year"
Help Tip: Start kids early on their first Chinese words with Usborne – Listen and Learn First Chinese Words Book (Price Unavail.) with recorded Chinese words spoken by a native speaker to help them familiarise with Mandarin.
3. Spring cleaning and bad luck to sweep the floors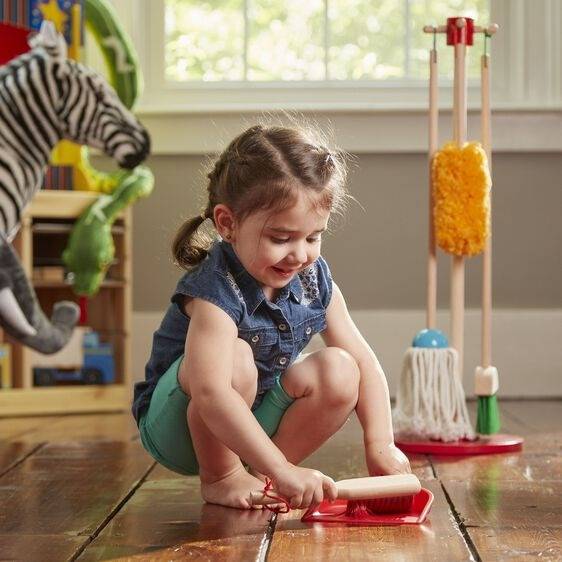 According to Chinese superstitions, sweeping on the first day is a taboo as it represents sweeping away one's luck and fortune that will enter the home in the New Year! This explains why families are busy spring cleaning before Chinese New Year to avoid having to sweep or clean during the first few days. What a great excuse to get everyone to help spruce up the house and be ready to receive guests!
Help Tip: Get kids involved in packing or cleaning the house, starting with their rooms by making their own beds and putting away their toys and books. Maybe teach them about household chores with Melissa and Doug Play House – Dust, Sweep, Mop ($49.90).
4. All things better in red and new
Anyone would have noticed an explosion of all things red during Chinese New Year – home décor, clothes and even food have a touch of red during this period. It is customary for elders to give kids money wrapped in red packets ("ang bao") as a gift and a symbol of blessing for the year ahead.
People seldom wear traditional Chinese clothing such as cheongsum for women or tang suit for men these days. Yet some labels like to put a modern spin to Chinese traditional clothing and put out "Chinese-inspired" limited collection during this period when Chinese go out to buy new clothing for good luck!
Some families also choose to dress in co-ordinated outfits during this time for picture-taking, in shades of red preferably!
Help Tip: Check out Maison Q's CNY2021 collection (from $45.00) in soothing shades of peach and scallop launched on Motherswork now.
5. Exchange of mandarin oranges and ang bao etiquette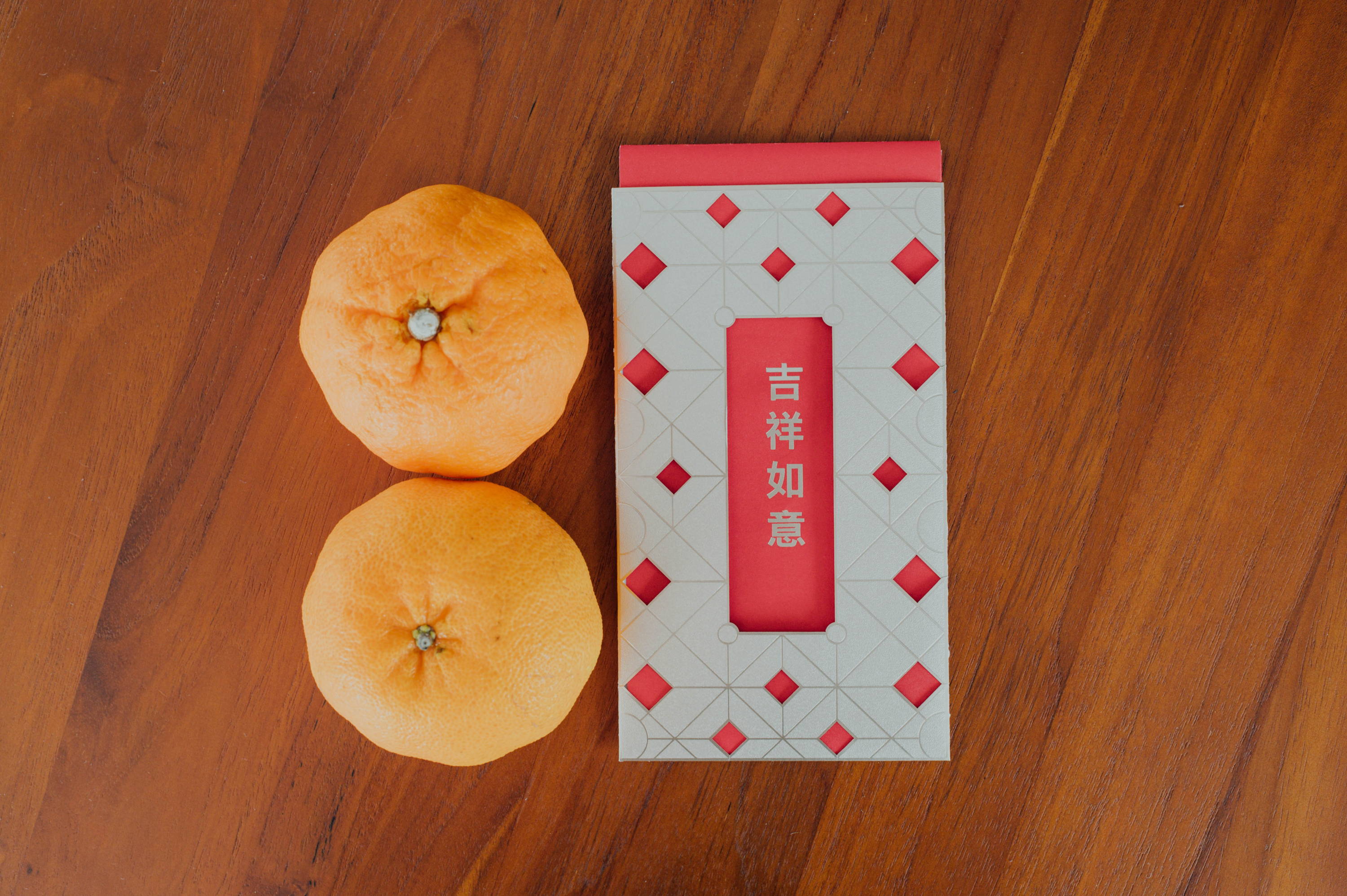 The Chinese word for mandarin oranges sounds similar to the Chinese word for "gold". Hence, it is customary to gift mandarin oranges as they signify riches and prosperity.
When visiting homes, bring a pair of mandarin oranges to present to the owner of the house and don't forget to wish him good fortune with lucky greetings in mandarin. In exchange, the host will gift you a pair of mandarin oranges when you leave, signifying the exchange of blessings and good fortune to both.
Only married couples give out red packets or "ang bao" as a gesture of blessing. There is no rule to the amount inside the red packet although Chinese believe that good luck goes with even numbers and odd numbers are associated with funerals. Some also choose to gift an amount with "8" as the number sounds like "prosper" in Chinese, and avoid "4" as the number sounds like "death".
With digitalization, people are gifting "electronic ang baos" these days. So some may do away with physical red packets. Nonetheless, here are some ang bao etiquette rules to follow:
Use red packets as a symbol of good luck. White is used for funerals.
Remind kids that it is rude for recipients to open red packets in front of the giver.
Remind kids that ang baos are not transactional and it is rude to ask for ang baos.

Only those who are married are expected to give red packets which are usually given to unmarried singles including kids.

 
6. Reunion dinners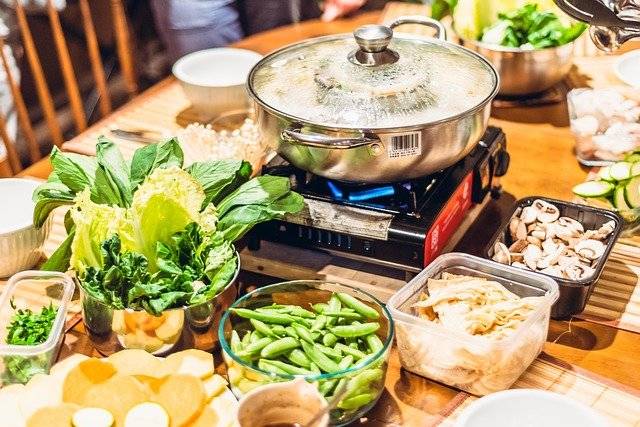 Reunion dinners are the most significant event for Chinese families, where they have it on the eve of Chinese New Year. It is an annual elaborate dinner which typically lasts longer than usual and where special dishes are prepared for good luck and blessings.
Families usually prepare excess food, as well as a fish dish, to signify an abundance of blessings for the year ahead. Dinners may also stretch to midnight so everyone can countdown to the New Year and set off fire crackers together.
According to superstitions, you should also never leave your plate empty during this dinner, as this would mean your abundance would "run out" in the year.
As many Chinese rush to travel home to make it in time for their reunion dinners, travelling will be at its peak during this period, so be sure to make your travel bookings early.
Help Tip: Involve kids during the preparation for reunion dinners. This is a significant event which is as important as birthdays to the Chinese and it creates an occasion where families make extra effort to get together no matter how far apart they live due to work or school. It can also be a time for reconciliation since it is bad luck to bring any negativity into the New Year.  
7. Lo Hei
This custom is actually more popular amongst Singapore and Hong Kong Chinese, where dining out is more common as the limited living space in cities usually may not accommodate large extended families at the dining table. As restaurants seek to lure more customers, Lo Hei became a popular festive dish touted during the Chinese New Year period.
Literally, Lo Hei means "tossing up good fortune". It is a dish of various vegetables with variations of fish or abalone and garnishes including pomelo, peanuts, plum sauce, pepper, and sesame seeds. Typical of Chinese customs, every single ingredient has an auspicious symbolic meaning. For example, sesame seeds symbolises hope for flourishing businesses, green radish for eternal youth, pomelo for luck and raw fish for abundance and prosperity.
Diners have to toss the ingredients together using chopsticks and lift the ingredients as high as possible, calling out "lucky greetings" during the toss. The higher you toss, the more luck you will have. Yes, this will be a messy affair.
The idea is to have an "overflow of abundance", so having some ingredients being tossed out of its dish and onto the table is actually a good thing! In fact, some superstitious Chinese prefer to leave the "overflow of abundance" on the table for the entire meal.
Help Tip: Let kids join the fun of lo hei with Pigeon Disney Training Chopsticks ($12.90) if they don't yet know how to use chopsticks.
8. Lion and dragon dance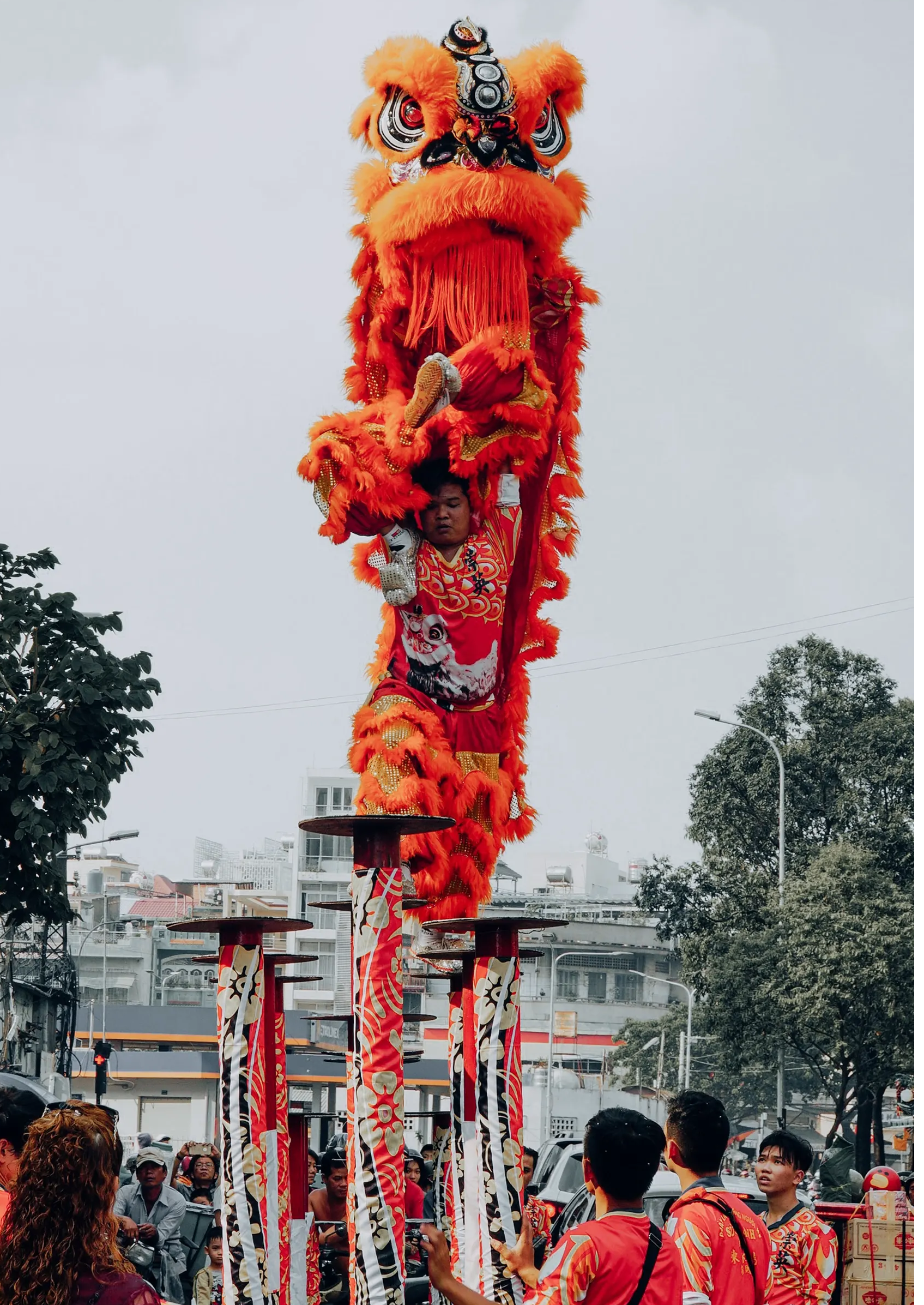 What's a festival without some dance and music? The lion dance is a traditional Chinese dance blended with some jaw dropping martial arts moves. As the king of the jungle, the lion symbolises power and prosperity.
Two men are required to don the lion costume with a huge elaborate head and they move according to the beat of the drums, clashing cymbals and gongs with lion-like movements and ferocious kicks and twirls to chase away evil spirits and bad fortune.
Depending on the scale of the event, you may get many "lions" performing together and depending on the skill of the troupe, you may get to see many amazing martial art moves as the dancers co-ordinate their steps and may even leap from tall structures.
The dragon requires more people. As odd numbers of the dragon's joints are regarded as auspicious, people usually have 9-jointed or 13-jointed dragons. The dragon costume is long where people are required to hold rods to prop up the segments of the dragon's "body". The dance will see the dragon weaving in and out, over and under its body and similarly is a striking display of amazing footwork and coordinated moves by the dancers.
Help Tip: You can usually catch a performance in Chinatown or in a big temple where the performance is held in honour of the deities. If you are bringing kids to a live performance, be warned of the loud music.
We hope this list will help your kids get acquainted with Chinese New Year. There is always a palpable buzz in the air around cultural festivals which gets people excited and cheerful. It is the time when we are reminded of the goodness in the world and to share our blessings.
From our desktops, we wish you恭喜發財, 新年进步, 身体健康, 年年有馀 in the year of the Ox! Happy Chinese New Year everyone!
Relevant Reads: Our Favourite Mums Share their Most Cherished Chinese New Year Traditions

Credits: CHUTTERSNAP, Tony Pham, Kikky, Macau Photo Agency, lsachelny