Posted on January 08 2020
Looking for easy bento lunch box or snack ideas?
We ask our favourite mums to share their go-tos
Elaine Woo
Better known as sugar73 on Instagram, Elaine Woo not only posts gorgeous pictures but is also a domestic goddess. Mummy of Elroy, four, and Elric, two, she frequently prepares meals for her family, and here are her top easy recipes for snacks for preschoolers.
Ham, Egg and Cheese Sandwich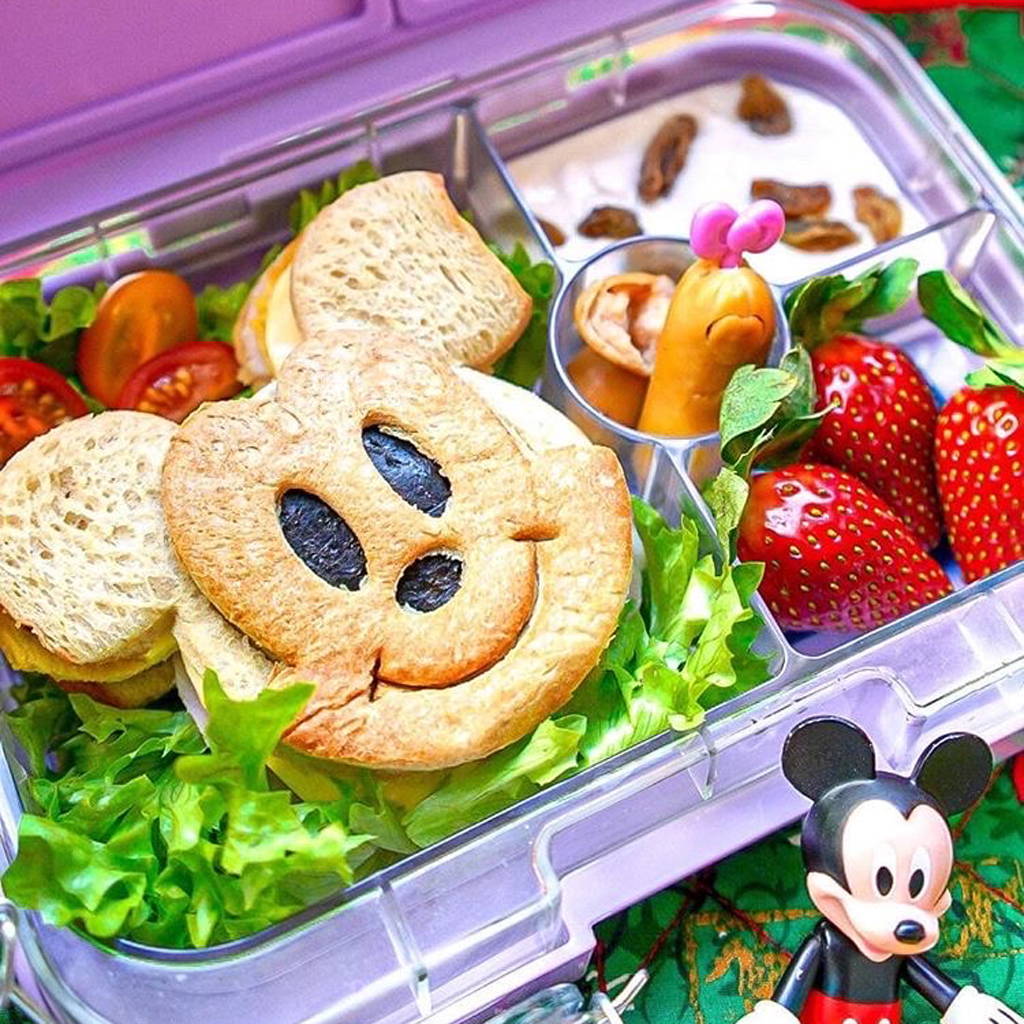 from Elaine, mum of two with super cute recipes for her boys.
You'll need:
1 slice of ham
1 slice of cheese
Lilo ikan bilis powder
Lilo mushroom Powder
Sesame oil
1 egg              
2 slices of bread
Additional Garnishings:
Lettuce
Cherry tomatoes, halved
Yoghurt
Raisins
Fresh strawberries
Method:
First, make an omelette, seasoning the beaten egg with Lilo ikan bilis and mushroom powder and some sesame oil.
Next, wedge the ham, cheese and omelette between slices of bread and use the Mickey Mouse-shaped cutter to create the super-cute shape.
Put this on a base of lettuce and halved cherry tomatoes.
Accompany this with a sweet treat of yoghurt and raisins and fresh strawberries.
Juicy Hamburg Meat Patties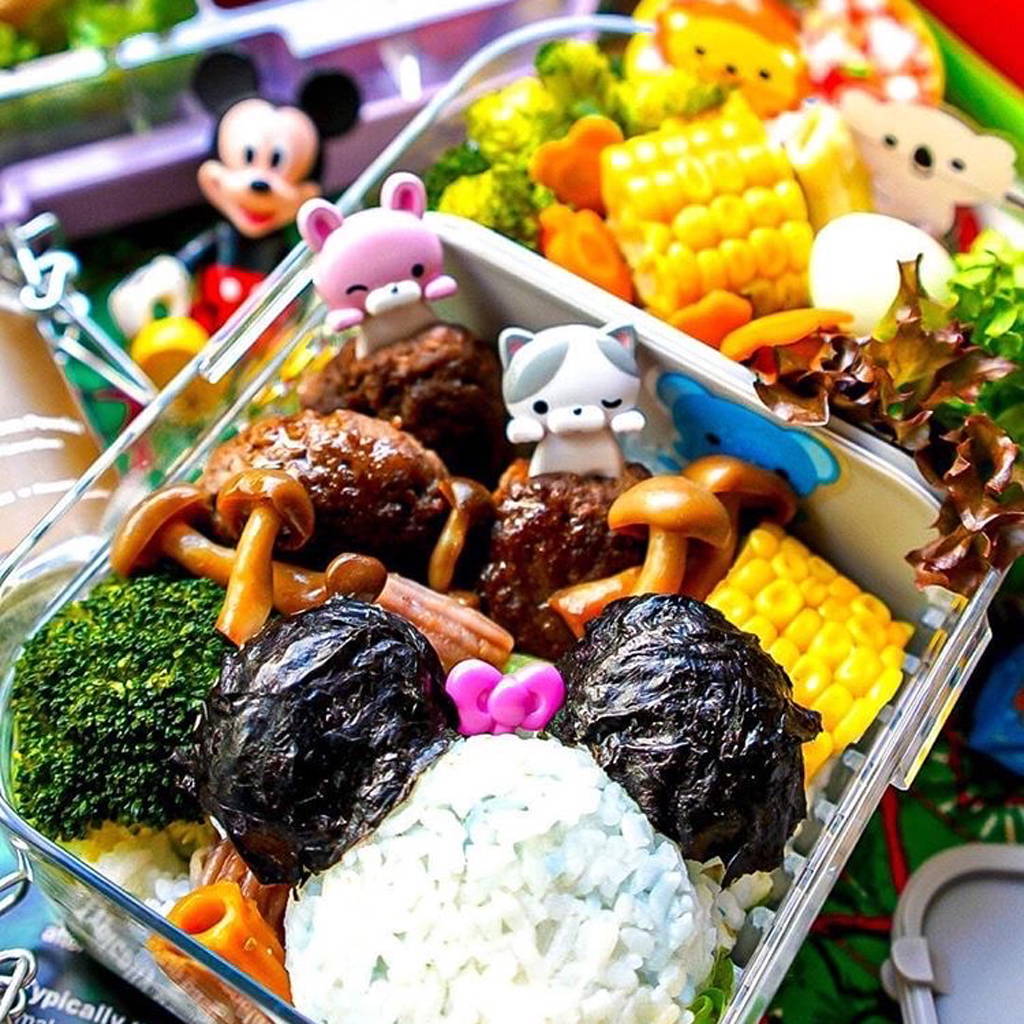 Make a super-cute lunch box for your kids with these meat patties, surrounded by a bed of lettuce and ball of rice shaped like a panda. Additional garnishings include mushrooms. Image courtesy of Elaine.
You'll need:
Japanese panko breadcrumbs
Minced meat
1 egg
Lilo mushroom powder
Lilo scallop powder
Ketchup
Shimeji mushrooms
Ground pepper
Additional Garnishing:
Lettuce
Sweet corn
Rice
Sliced carrots
Method:
To create this, mix a small amount of Japanese panko breadcrumbs with minced meat and a beaten egg.
Season this mixture with the mushroom, scallop powder and ground pepper. Make four of these and then fry in pan.
After removing the patties, stir-fry some shimeji mushrooms.
Next, made a sauce with ketchup and more mushroom powder.
Pack the sauce and patty separately - get your child to pour the sauce over before eating.
Finally, add a side salad with sweet corn. Additionally, for a more filling lunch, add a ball of rice, with a tad of blue pea dye for a tinge of colour. Other garnishes could include prettily cut vegetables like carrots.
Zoe Wong
Zoe Wong, or Mother Queen Z's Facebook page is popular with mums looking for recipes for their toddlers. This culinary maven, mother of adorable girls Leia, 2, and Arya, 5 months old, surely knows how to get her little ones to eat their greens. For instance, she cooks carrots or spinach and puts them in muffins, which happens to be Leia's favourite food. Here she shares some of her favourite recipes.
Carrot Cake Mini Muffins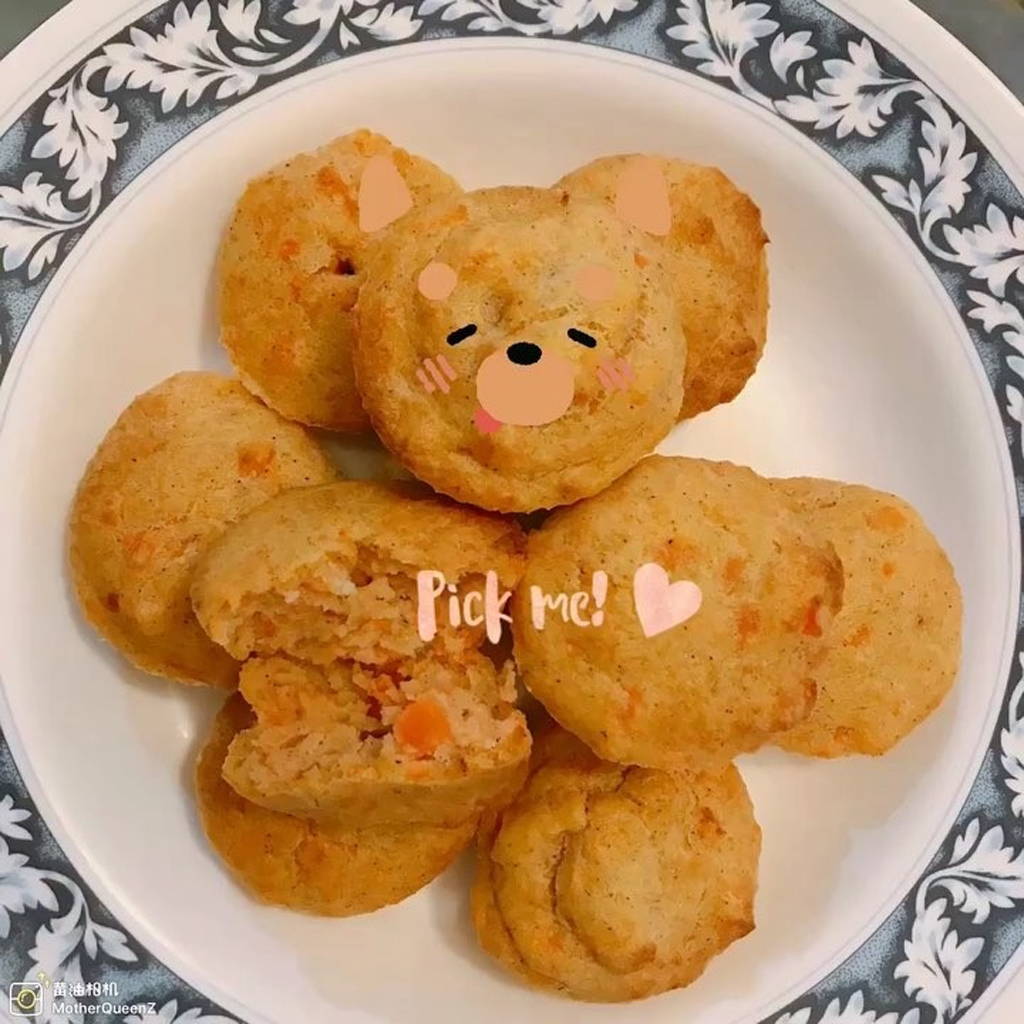 Mother of two adorable girls, Mother Queen Z, makes healthy and naturally sweet muffins for them.
You'll need:
200g of carrots, cooked and pureed
1 egg
1 teaspoon of cinnamon
50g of melted butter or coconut oil
80g self-raising flour
2 teaspoons of milk kefir/buttermilk/Greek yoghurt
-Recipe makes six standard muffins or 15 mini-muffins.
Method:
Mix carrot puree with eggs in a large bowl.
Add butter or oil in batches and stir.
Next, beat these wet ingredients with a hand-held beater until it reaches a smooth consistency.
After this, add the flour, and beat for another 30-60 seconds till the batter is well-mixed.
Add the milk kefir to make the batter moist.
Into an oiled muffin tin, or a non-stick silicone tray with oil, divide the mix into six portions.
Bake at 180 degrees Celsius for 15 minutes in the oven, otherwise 160 degrees Celsius for 10 minutes in the airfryer for mini muffins.
Wait for the muffins to cool, and then pack in the lunch box.
Spinach Banana Muffins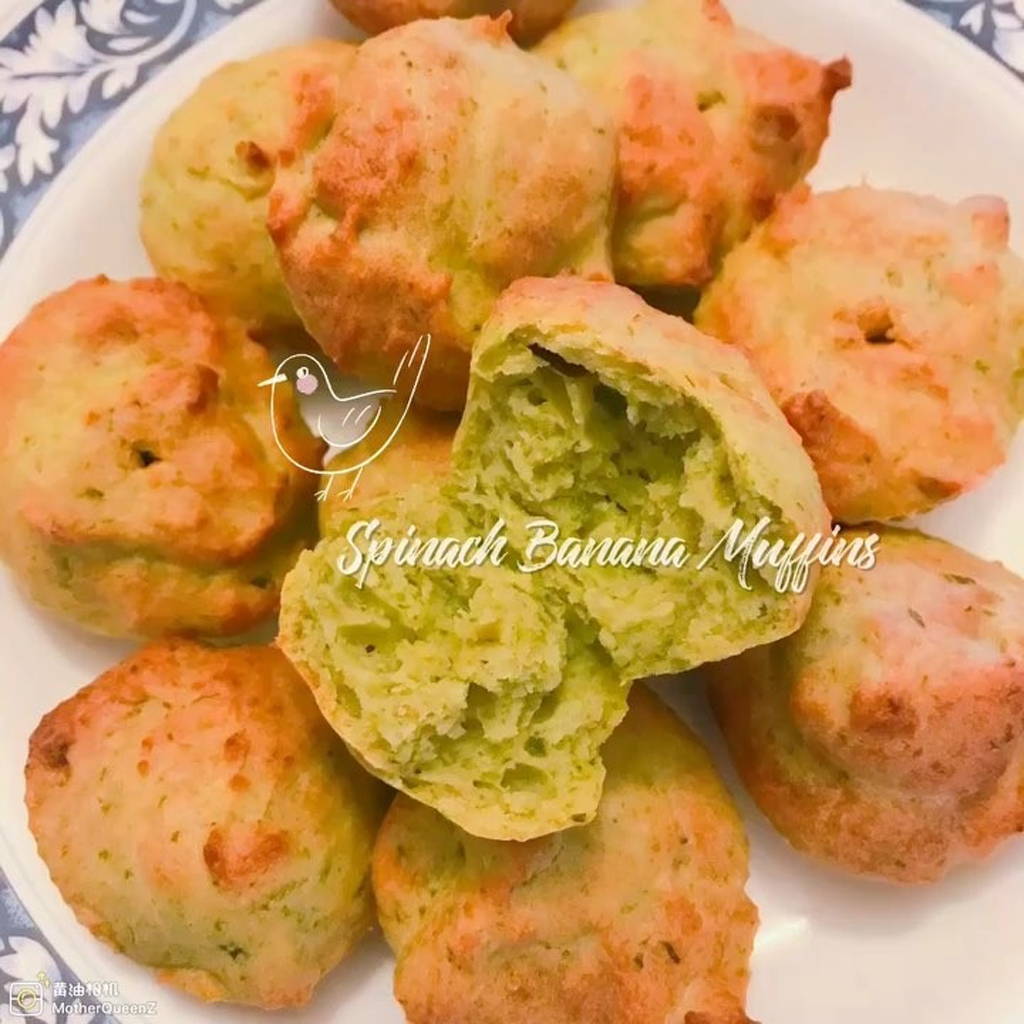 Try hiding vegetables inside yummy muffins, image credit: Mother Queen Z.
You'll need:
128g plain flour
1 teaspoon baking powder
1 cup of baby spinach leaves
1 medium ripe banana
1 egg
60g melted butter
2 teaspoons Greek yoghurt
2 teaspoons of lemon zest
Method:
Whisk the egg until light and fluffy, and add melted butter, Greek yoghurt and lemon zest.
Next, blend the spinach leaves and banana - it will look quite gross!
After this, add this mixture to the egg, mix well.
Then, sift the dry mixture (plain flour and baking powder) and mix well till it becomes a smooth batter.
Fill in the silicone muffin cups and then bake at 170 degrees for 20 minutes in the oven, or 140 degrees for 20 minutes with an airfryer.
Easy Peasy Apple Pie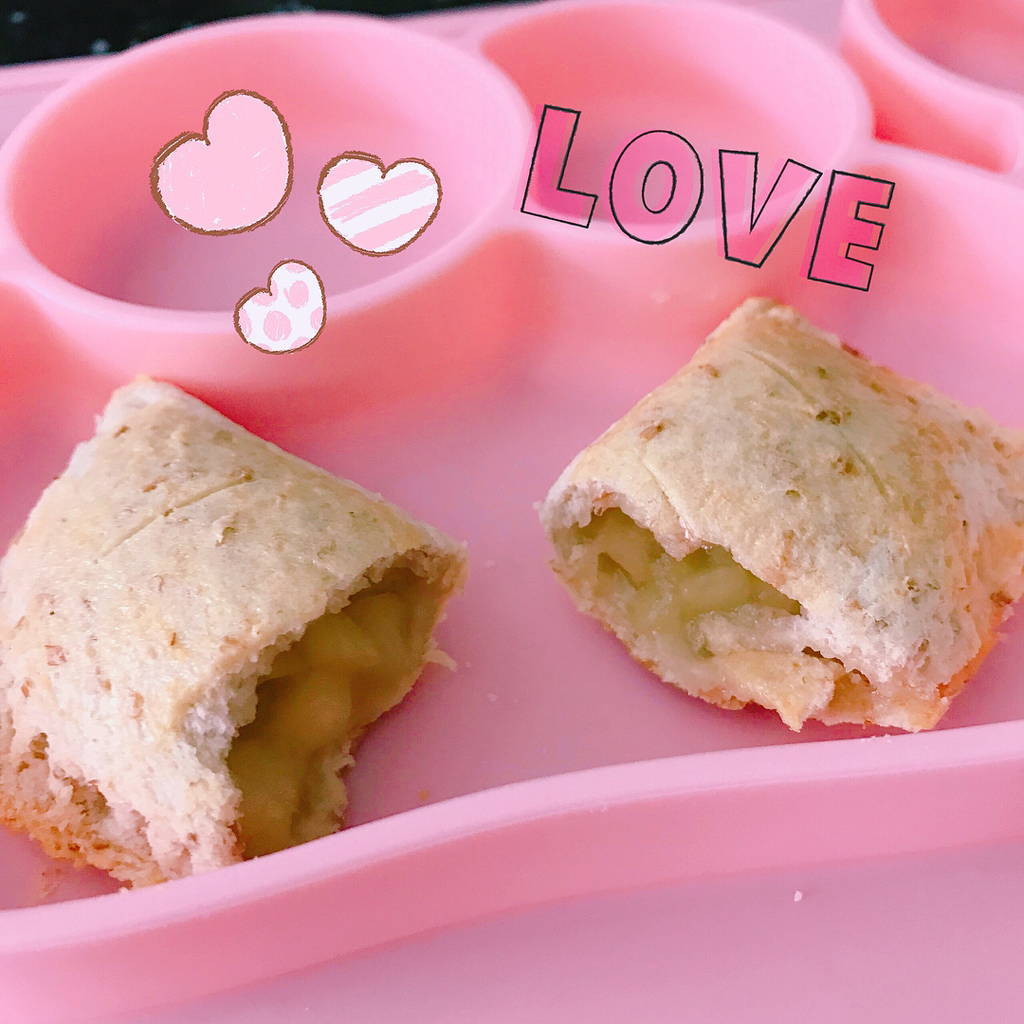 A twist on McDonald's apple pie, this one from Motherqueenz makes hers with ingredients she already has on hand, such as slices of brands.
You'll need:
4 slices of bread
1 apple
100ml of water
5g of corn flour
15g of butter
1 egg                
Method:
Cut off the edges of the bread and flatten it with a roller.
Next, cut the apple into cubes, pan fry with butter for two minutes.
After this, add water and corn flour mix, and simmer on low heat.
The apples should become soft and the sauce should thicken.
Add the apple filling onto the bread, fold it, and stick together with the lightly beaten egg, and press the edges with a fork to seal them.
Next, brush the bread with the egg, then pop it into the oven and bake at 180 degrees for 20 minutes till they're golden brown.
Great for breakfast or a snack for the little ones.
Sharon Wong
Aside from overseeing the operations in the Motherswork stores in Singapore and China, Motherswork founder Sharon Wong and mum of three, also has an avid passion for baking. One of her favourite recipes is this banana cake, taken from the famously complicated and labour-intensive banana layered cake from Momofuku Milk Bar. But, don't worry, your kids will be sufficiently wowed by the delightful banana cake that is actually fairly easy to make.
Banana Cake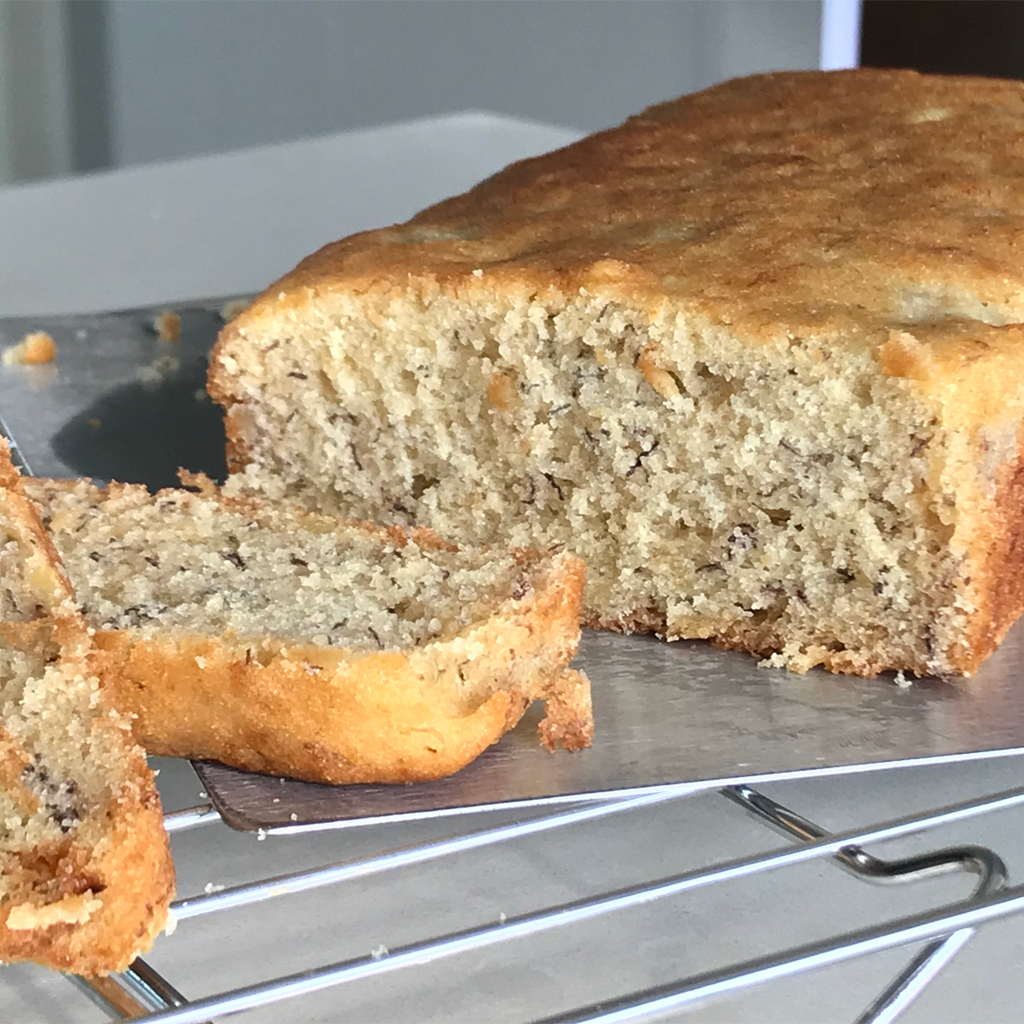 Banana Bread Made by Sharon Wong. Enjoy this glorious banana bread in just a few easy steps. Image credit: Sharon Wong
You'll need:
85g butter
1 cup sugar*
1/2 cup buttermilk
1 egg
2 tablespoon grape seed oil
2 super ripe bananas
Dry Ingredients:
1 1/3 cup flour
3/4 teaspoon baking powder
1/2 teaspoon baking soda
1/2 teaspoon salt
Method:
Preheat the oven to 165 degrees.
Mix all dry ingredients
Mix sugar and butter in stand mixer.
Add the egg with the sugar and butter, and stream in the buttermilk and oil.
Next add the mashed banana.
Add in the dry ingredients.
Line square cake pan base and grease the side of pan.
Bake for 25 minutes or until the pick comes out clean.
(Keep the cake moist by freezing for 45 minutes once it's out of the oven.) *Add half a cup first and see if the batter is sweet enough. If not, then add the other half.
Pack your gorgeous, tasty creations in these lunch boxes, or snack bags. You can also pack additional snacks from Kiddylicious, Kiwi Garden and Piccolo. Otherwise, check out our recommendations for preschoolers' essentials.