Posted on May 12 2023
In today's fast-paced urban lifestyle, parents need a stroller that can keep up with their needs while providing maximum comfort and convenience for their little ones.
Bugaboo, the iconic parenting brand known for its innovative strollers, has once again raised the bar with their latest launch, the Bugaboo Dragonfly. Designed to meet the needs of modern families, the Dragonfly combines compactness and comfortable strolling like never before.
Let's take a closer look at its innovative features that are set to redefine the future of city strolling.
Pre-order is now available both at motherswork stores and online.
Patented One-Hand, Stand-Up Compact Fold:
The Bugaboo Dragonfly takes convenience to a whole new level with its patented one-hand, stand-up compact fold. With a simple action, you can effortlessly fold and unfold the stroller using just one hand, without the need to bend down. The Dragonfly folds into an upright, self-stand position in all configurations, making it perfect for tight spots in the city. It's lightweight and easy to carry with the built-in shoulder strap, weighing between 7.9 to 9.9 kg depending on the configuration.
One-Handed Functionality:


Bugaboo understands that parents often have their hands full, so they have designed the Dragonfly with one-handed functionality in mind. All essential functionalities, including bassinet removal and handlebar adjustment, can be easily completed with just one hand. This feature allows parents to multitask and adapt the stroller to their needs effortlessly.
Unmatched Comfort and Versatility:


Comfort is key for both parent and child, and the Bugaboo Dragonfly delivers on all fronts. The extendable UPF 50+ canopy with a pop-out visor provides added protection from the elements, ensuring your child's comfort in all weather conditions. For toddlers, the reversible and ergonomic seat offers a padded easy-buckle harness for guaranteed comfort. With the right adapter, you can even connect a car seat to the chassis for on-the-go versatility.
Spacious Bassinet with Built-in Breezy Panel:


Babies can stroll in ultimate comfort with the Bugaboo Dragonfly. The stroller features a spacious bassinet that provides a cozy and secure space for your little one. It also comes with a built-in breezy panel that enhances air circulation, ensuring optimal ventilation and comfort, even on warm days. The Dragonfly grows with your child, offering three optimal seating positions – fully flat for napping, relaxed for a comfortable ride, or fully upright for an interactive view of the surroundings.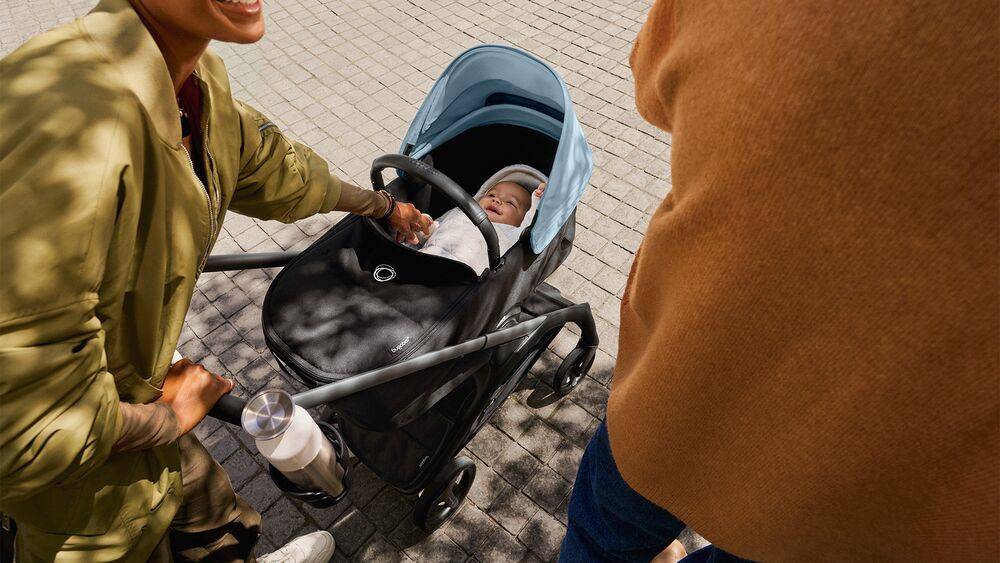 Exceptional Driving Experience on Urban Terrains:


Navigating through busy city streets and uneven surfaces is a breeze with the Bugaboo Dragonfly. It offers parents an exceptional driving experience with its precision steering, full suspension, and high-performance urban wheels that provide enhanced traction. The sturdy central joint absorbs bumps, ensuring a smooth ride for your little one, whether they're napping or taking in the sights.
Iconic Bugaboo Design for the City:

Bugaboo's signature attention to detail is evident in the design of the Dragonfly. It features a seamless infinity loop design that creates a continuous flow from front to back, giving the stroller a sturdy yet stylish appearance. The front grill and emblem on the rear wheel cover add a touch of sophistication, while the straight handlebar line connects the materials for a cleaner and more elegant look.
Smart and Flexible Storage System:

The Bugaboo Dragonfly combines performance with practicality by offering a smart and flexible storage system. The expandable rear pocket can be moved to wherever it's needed most – front, back, or handlebar – providing convenient storage options. The lightweight design of the stroller surprises with its capacity, offering a maximum weight of 10 kg in the XL underseat basket and an extra 2.5 kg when the rear pocket is moved to the handlebar.
Built for a better future:
The new Bugaboo Dragonfly has been designed in line with Bugaboo's Push to Zero commitments to reach net zero by 2035.
Reduced Carbon Footprint
Bugaboo's dedication to sustainability is evident in the materials used to construct the Dragonfly. By incorporating mass-balanced bio-based materials, the stroller's carbon footprint has been reduced by an impressive 21%. This reduction amounts to approximately 62.82 kg CO2, equivalent to driving an average gasoline-powered car for 156 miles or 251 kilometers. By choosing the Bugaboo Dragonfly, parents can contribute to a healthier planet for future generations.
Premium Materials and Longevity:
Bugaboo understands that sustainability extends beyond reducing carbon emissions. The Dragonfly is built to last, using premium materials that ensure durability and longevity. The stroller features 100% vegetarian leather handlebar grips, providing a luxurious touch while eliminating the use of animal-derived materials. Additionally, eco-friendly water-repellent fabric coatings enhance the stroller's resistance to the elements, extending its lifespan and reducing the need for replacement.
Responsible Manufacturing and Shipping:
Bugaboo takes a holistic approach to sustainability by considering the entire lifecycle of their products. The Dragonfly is designed in the Netherlands and manufactured in Bugaboo's own factory, ensuring strict quality control and ethical production practices. To minimize carbon emissions during transportation, the strollers are shipped to the warehouse via carbon-neutral ocean freight. This commitment to responsible manufacturing and shipping showcases Bugaboo's dedication to reducing their environmental impact.
Modular Design and Extended Warranty:
Bugaboo understands that children quickly outgrow their strollers, resulting in frequent replacements. To address this issue, the Bugaboo Dragonfly features a modular design that supports easy refurbishment, if needed. This design approach extends the stroller's lifecycle, reducing waste and promoting a circular economy. Furthermore, Bugaboo offers customers the option to extend the standard 2-year warranty to a remarkable 4 years, providing peace of mind and further reducing the need for premature replacements.
Bugaboo Flex: Sustainable Stroller Leasing:
In selected markets, Bugaboo offers the Bugaboo Dragonfly through Bugaboo Flex, their sustainable, circular, and flexible stroller leasing service. This initiative allows parents to enjoy the benefits of the Dragonfly without the long-term commitment of ownership. By leasing the stroller, families can reduce their carbon footprint and actively participate in Bugaboo's sustainable vision.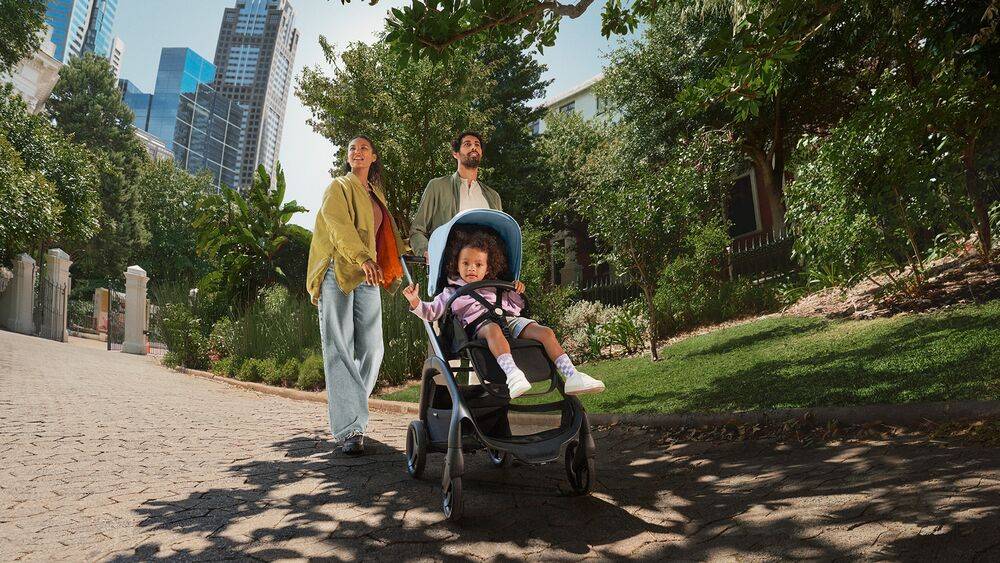 Pre-order Bugaboo Dragonfly at motherswork
Be ready to embark on the journey of modern parenting as the eagerly awaited Bugaboo stroller becomes available for pre-order starting May 16th, 2023, both at motherswork stores and online. Mark your calendars for the grand launch on June 7th, 2023.