Posted on September 07 2020
Dress your baby in light, breathable fabrics and avoid ingredients that might irritate your baby's sensitive skin. Take care of your infant's delicate skin with these baby skincare products, as well as tips on what to do and what to avoid.
Protect your baby's sensitive skin from potential irritants and allergens - learn how often to bathe and change your baby. Additionally, we've included a list of possibly harmful ingredients to watch out for in your little one's skincare products, as well as materials that may irritate your baby's skin. Moreover, we've also included some picks for safe baby skincare.
Caring for your Baby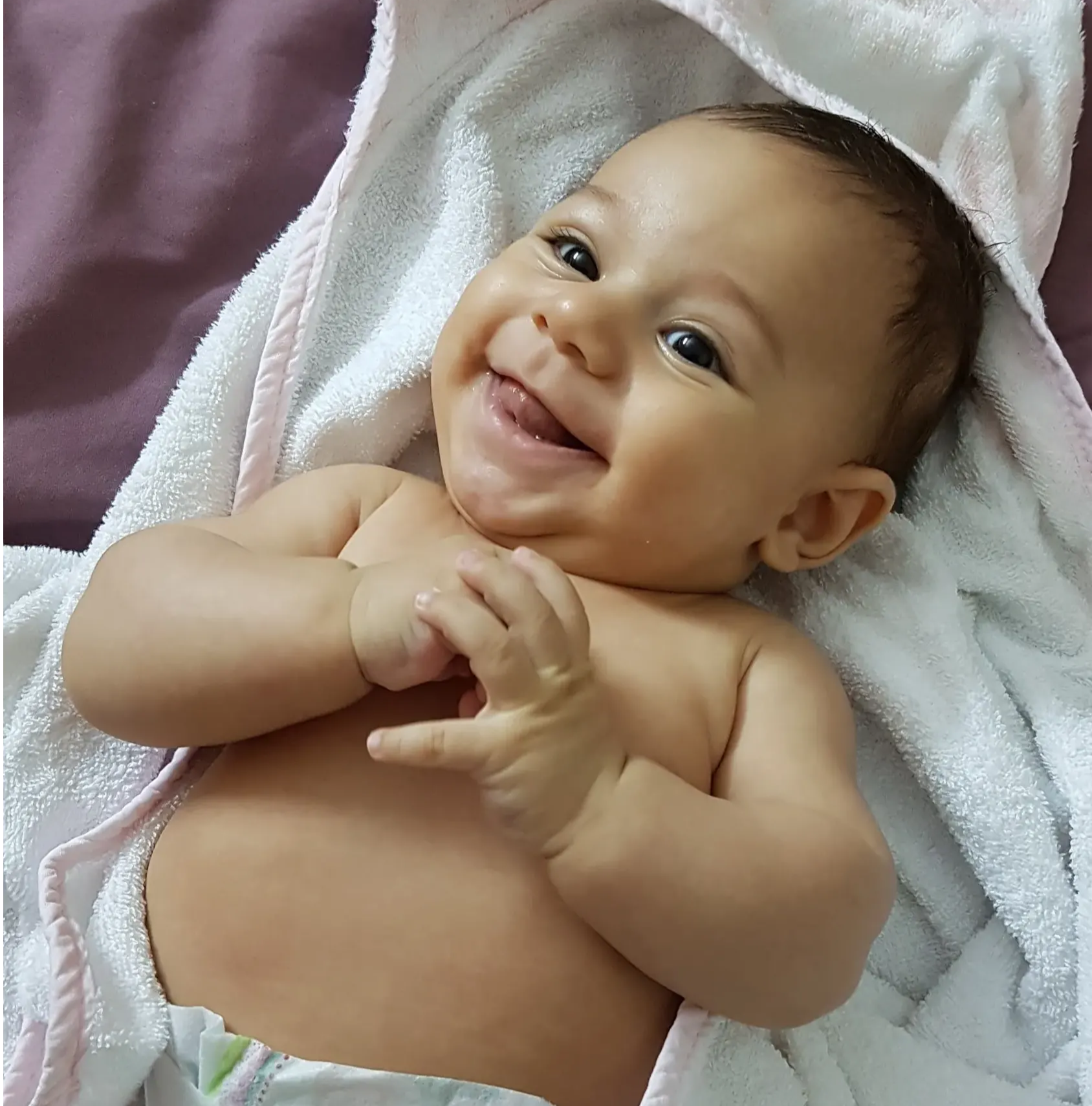 Bathe your little one thrice a week to preserve his/her natural oils in the skin.
Bathing
Reduce the number of baths your baby gets to about thrice a week during his/her first year. This helps preserve the natural oils that protect your little one's skin. Bathing your baby too frequently can leave your baby's skin dry and exacerbate eczema. Starting from the first month, you can sponge bath your baby twice or thrice a week, and in between, clean your baby's mouth and diaper area with water or a cleanser. If your baby still has his/her cord attached, you can even bathe him/her once a week or less. Dry your baby off with natural cotton and smooth towels.
Essentials You'll Need: Body Wash - try these from Gaia, Pigeon, Erbaviva and Twinkle Baby, and these from California Baby. Get towels from Cambrass, Crokcrokfrok, Red Castle, Skip Hop, Raph&Remy and Little Palmerhaus (prices from $14.90 to $98.50).
Changing Diapers
As babies are prone to getting diaper rash, usually due to contact with urine and faeces, it's best to change their diapers often and soon after they're soiled. For disposable diapers, there's often a wetness indicator that will change colour, hence you'll know when to change your baby. You may also consider using a cream with zinc oxide so there's a barrier between your baby's skin and the dirty diaper. Such products include the Naif Diaper Cream, California Baby Super Sensitive™ Diaper Rash Cream, and the Mustela Vitamin Barrier Cream (prices start from $13.50 to $28.90).
Moisturise, Moisturise, Moisturise
As your baby's skin is prone to dryness, you'll want to moisturise his/her skin as often as necessary. After bathing your baby, pat him/her dry and then apply the moisturiser immediately. These moisturisers help to prevent the existing moisture from evaporating. If necessary, you may also want to invest in a humidifier. Try some of these creams and lotions for your little one's sensitive skin. While moisturising your baby's skin, you can also incorporate a baby massage, which improves your bond with your baby, as well as reduce crying and help your baby fall asleep.
Not sure how to massage your baby? Join Lin Yan Ping, founder of Physio+ and certified Infant Massage Instructor with the International Association of Infant Massage (IAIM) and learn all about baby massage. Every Tuesday in September, classes ($320) will be held at Motherswork at Great World City from 10 to 11am. Only four slots are available for the bundle of four sessions.
Choosing Baby Products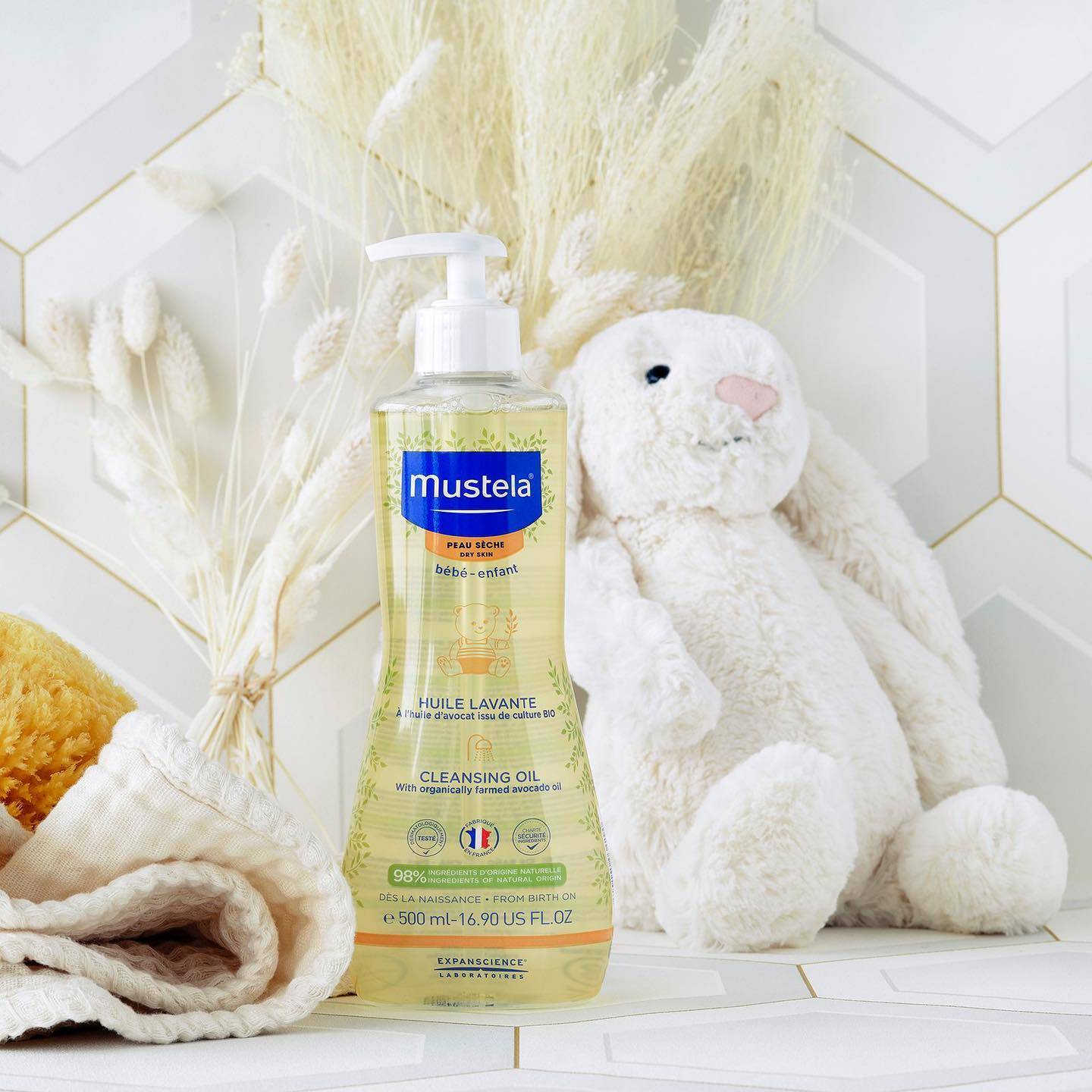 Use baby-safe brands like Mustela, where their baby skincare range has no parabens or phenoxyethanol.
Baby Skincare Products to Use
Choose baby skincare products that are specially formulated for newborns and infants until they're about one year old. These should be non-toxic, with no or few dyes, deodorants, alcohols and other ingredients. Examples of these should include tear-free formulas, or natural and organic products. Do look out for any skin reactions your baby might have to the products you use and change them if necessary, or seek medical attention when needed. Some examples of brands include Mustela, California Baby, Naif, Gaia, Pigeon, Erbaviva, Twinkle Baby, Aromababy and Original Sprout.
Ingredients to Avoid
When choosing baby skincare products, the ingredient list can be overwhelming and confusing. We suggest looking out for these products and avoiding them where possible to help narrow down your search. These include mineral oil, parabens, phenoxyethanol, sodium lauryl (ether) sulfate and polyethylene glycol.
Mineral Oil
On the labels, look out for mineral oil, petrolatum, paraffinum and parrafinum liquididum. This is a petroleum by-product that may be present in diaper creams, baby wipes, oils and lotions. Slightly controversial, some research believes that mineral oil is bad while others feel this ingredient is perfectly fine. To be on the safe side, avoid this ingredient. Some products that are free from mineral oil include Gaia Baby Massage Oil and Nipple Balm, and California Baby Therapeutic Relief Eczema Cream and Super Sensitive™ Diaper Rash Cream (prices from $20.90 to $62.93).
Parabens
On your labels, check for any ingredients ending in -paraben. As they prohibit microbes' growth, they are used widely as preservatives in the food and cosmetics industry. Additionally, they can also irritate your baby's skin. Other concerns include disrupting hormone function, leading to increased risk of breast cancer and reproductive toxicity. It's best to avoid this in your baby's skincare to prevent any damage to his/her developing endocrine system. Try these paraben-free products for your baby instead.
Phenoxyethanol
When looking at your labels, there are a few ways this ingredient might be listed: ethylene glycol monophenyl ether, 2-Phenoxyethanol, PhE, or dowanol. Other names include aerosol, phenoxetol, rose ether or phenoxyethyl alcohol, beta-hydroxyethyl phenyl ether and euxyl K® 400. This has been restricted in Japanese cosmetics, and can impact the nervous system or irritate the skin. In high enough concentrations, you might also have vomiting and diarrhoea. Most popularly, Mom's Blisse Nipple cream which contains this ingredient has been deemed unsafe for breastfeeding infants by the FDA. All these Mustela products do not contain this ingredient.
Sodium Lauryl (ether) Sulfate
When reading the labels, look out for SLS, SLES, sodium dodecyl sulfate and sodium PEG lauryl sulfate. Usually used in shampoos and wash products for its detergent and foam-building abilities, this can cause eye irritation, skin rash, hair loss, scalp scurf and allergic reactions. Some products that are SLS free are Jack N' Jill Flavor Free and Natural Toothpastes, the Naif Relaxing Bath Foam and the Nuk Baby Toothpaste with Starter Toothbrush (prices start from $14.90 to $27.90).
Polyethylene Glycol
Labels with this ingredient will include PEG followed by a number. These help to moisturise and keep products stable, and also enhances other ingredients' penetration. Do note that while usually inert, PEGs can also irritate sensitive baby skin.
Dressing Your Baby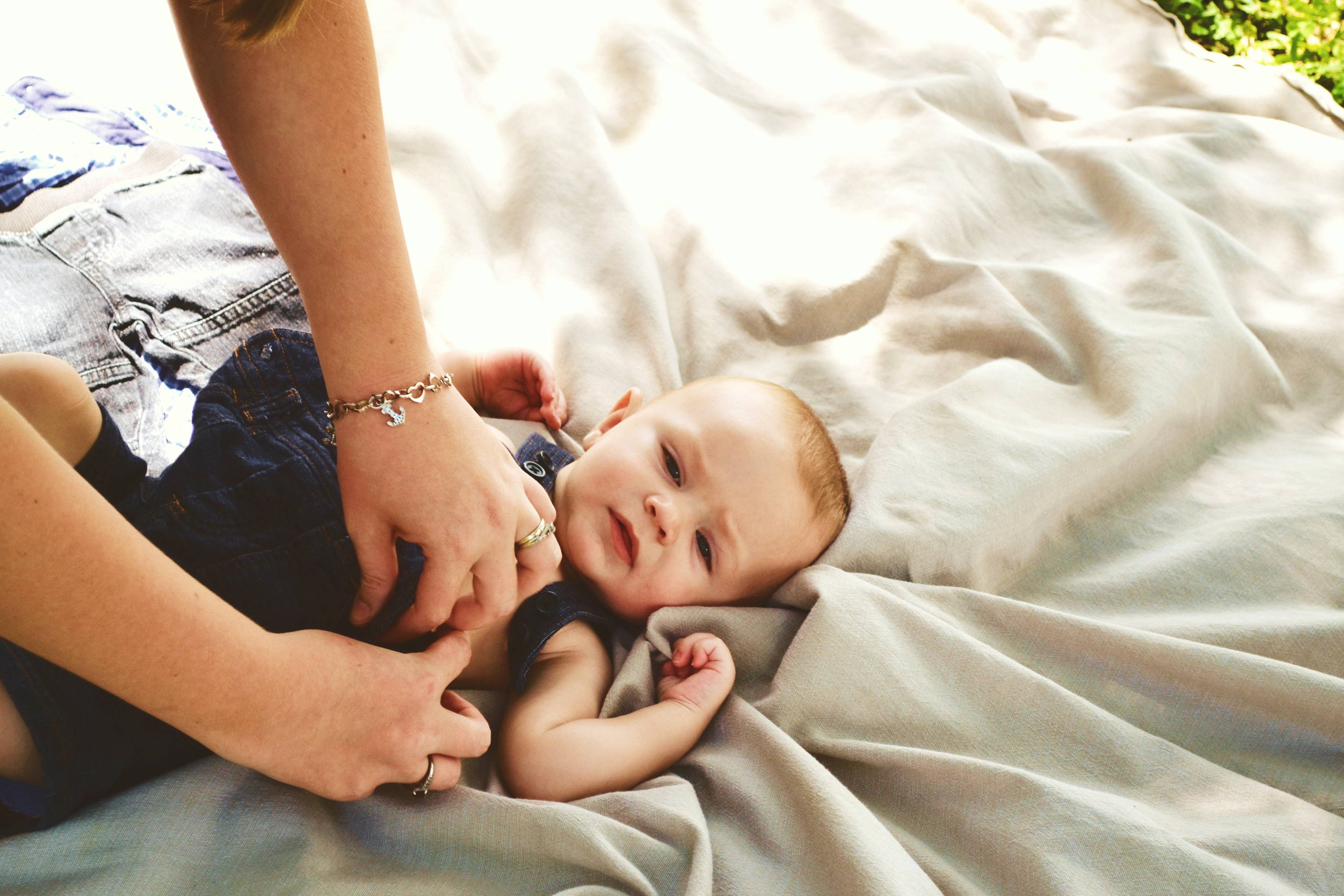 When dressing your baby, try to choose more breathable and soft fabrics like organic cotton and bamboo.
Materials to Avoid
Try to avoid materials like polyester, wool and fleece. First, polyester contains synthetic polymers which may irritate your baby's skin, and it may also contain chemicals in creating the fabric that might be dangerous. Additionally, the material also contains flame retardant chemicals, which may not be safe for your baby, especially since he/she likes chewing on his/her clothes.
In Singapore's hot weather, avoid wool and fleece. In particular, wool may be very itchy on your baby's skin, and its rough fibres may cause itching and skin irritation - even for people who don't usually have sensitive skin. Hence, we recommend skipping this for your baby's sensitive skin. If you're bringing your little one out into the air-conditioned malls and need a warmer outer layer, you may consider fleece. Just be sure that these are thin and as an outer layer so you can easily remove this if your baby's skin gets irritated.
Some fleece options - not clothing - include Drybib Bandana Bib, Bandana Bib Twin and the Little Palmerhaus Wonder Pad, which can be used on a changing table or in a crib. It's 100 per cent waterproof. Lastly, the Red Castle Babynomade Lightweight White is available in four different materials, so you don't have to choose the single or double fleece options. Prices range from $15.90 to $119.
Choose These Instead
Alternatively, choose fabrics like organic cotton, microfibre, bamboo, or even silk if you can get it. Starting off with organic cotton, this breathable fabric is great for anyone with sensitive skin, and lets your little one's skin breathe. Additionally, organic cotton is made without any residual chemicals so your baby's sensitive skin will not be irritated. Another option is bamboo, with antimicrobial properties. It's also eco-friendly and non-toxic.
Two other unconventional options include microfiber clothes, since they wick moisture well and cleans easily, and silk. The latter option is great for individuals with sensitive skin, or babies with eczema. Naturally antimicrobial, this material reduces the chances of your little one getting a secondary skin infection.
Organic cotton clothes for your little one: Coq en Pate, Sea Apple and Ergopouch
100 per cent cotton options: Jellycat, Love to Dream Sleep Suit, Cambrass Playsuit, Nursing Covers and Blankets, Weegoamigo Cotton Single Muslin Pack, Elegant Baby Bath Wrap and Minky Dot Blankie, Oeteo, Moby, Maison Q, The Elly Store, and Lil Fraser 

Bamboo options: Crokcrokfrok, Raph&Remy, Weegoamigo, Baa Baa Sheepz, Jazzy Toes Boys Newborn
Must Do: Pre-Wash Clothes and Bedding
Definitely wash your baby's clothes and bedding before letting your baby wear them or sleep on them. Regardless of whether you've got them from your friends and family, or brand new, all these should be washed beforehand, with a gentle, baby-safe laundry detergent.
Relevant Reads: Common Skincare Conditions and Newborn Care
Credits:
regina_zulauf, Walaa Khaleel, Mustela Singapore, : Shelly Miller