Posted on June 07 2022
"I know things will change, but for now, it's about giving them a childhood they will never forget."
This month, we take a break from The Motherhood Diaries to celebrate all dads and highlight those who also take on the role of a mother. Meet Sam Nai, daddy to twin boys and video producer with a passion in music as well as design work. He opens up candidly about his fast-paced career, fatherhood journey as a single dad and how he juggles work plus parenting his energetic boys.
"I am always trying to be better than the version yesterday."
Growing up, my mum was always strict with my sister and I. I always felt the pressure to always be on top of everything she made me responsible for, be it my finances, how I was managing my studies or how much time I was spending on leisure and friends. Then, there was a time when our family encountered some financial difficulty and I saw how Mum's discipline and resolve all these years came into play. She stepped up in a big way to make sure everything was still alright, that we all had our pocket money, and day to day processes at home didn't break down or stop. She dug into her savings selflessly and kept things going.
I have the utmost respect for Mum for showing me what it meant to be brave for the family, for always showing up. That value was ingrained in me for life. I carry that with me in my fatherhood journey as well as looking after my team at work. That's my other family! Mum also taught me everything I needed to know about looking after my kids when they were infants, from carrying, feeding, bathing, and burping!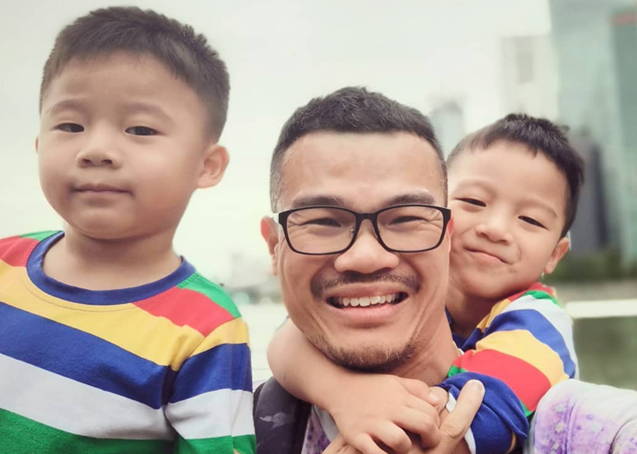 "I think I like the visual medium of things because from very young, I was told I was good at it."
We only had free-to-air television shows back then and I loved watching them! I was also the kid who would put up shows for my friends. In addition, I watched lots of theatre in my teens so that also really influenced me. I also love music and composing for fun.

Thereafter, I studied communications in university and was playing small roles for shows on television like Growing Up, First Touch and Moulmein High to make some pocket money. Apart from that, I did freelance design work for companies and that was when I got interested in what went on behind the scenes. Eventually, I landed a job at MediaCorp.
My first major show with MediaCorp was a sitcom and I'm always grateful to my industry mentors for helping me build the foundation of my career progression. I remember one of my Executive Producers telling me on my first day of work, "Sam, don't think you are this big shot director just because you directed a student film. Here, even if your job is to find a chair from the prop store to bring to the set, you make sure you pick the best chair you can find!" No role was too small, and I carry this value close to my heart in whatever I do.

As a lot of the shows that I've worked on are comedies, that sense of having a laugh at work has always been ingrained in me. In another life, I would also have liked to be a Disc Jockey because I love music so much!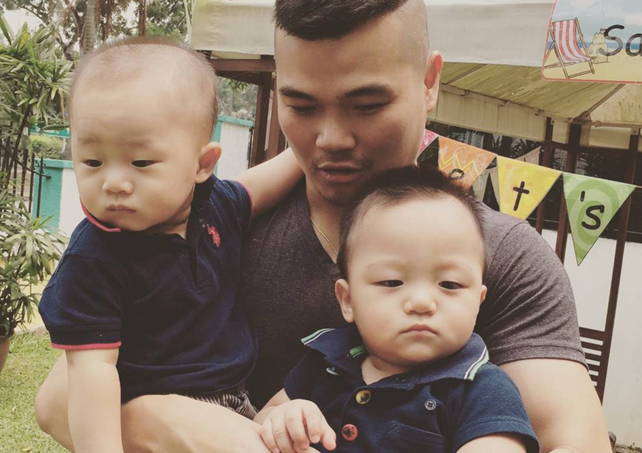 "I think the beginning is always the most difficult."
I was a sole proprietor for four years and subsequently started running our video production company Edit and Play. I think the beginning is always the most difficult especially when nobody knows you or trusts you. In my early years I was very fortunate as I was hungry and took on whatever job my one-man-show could manage! After which, word spread from one person to another, one company to another. Till today, that's happening, and I believe word of mouth is truly still more powerful than any kind of social media marketing.


The next hardest part is how to be as hungry as you were when you started out since everyone gets tired? And it's not just me we're talking about, but also my clients and teammates. So, delivering work that constantly delights clients and retains talent are things that I'm constantly thinking about. But you know what, Edit and Play is in our seventh year now (we are thankful the pandemic didn't kill us). Furthermore, our first hire is still on our payroll and our first client still calls us for projects!
To me that says a lot.

Our company mantra is "Doing Every Day Work" which has a few meanings, but it all revolves around being "useful" - useful to our clients, useful to our colleagues. Many our clients are regional, so when they call to tell us how everyone loved what we did or if a teammate told me they appreciate what I'm doing for the company, I get goosebumps. In short, no amount of money can buy this kind of feeling and it makes every sleepless night worth it.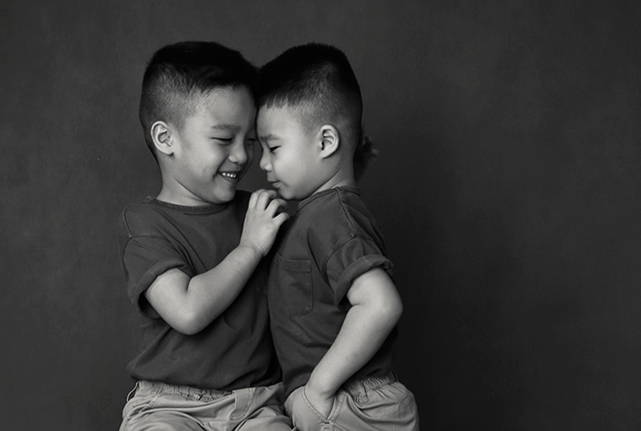 "The last thing I want is for my kids to be unhappy!"
I have two boys, Jet and Kris and they are the world to me. But they are also so different in that they never like the same things, except if it's Roblox.

I love that they still skip and not walk when we go out - this means they are happy kids!
I love that they still tell me they love me.
I love that they still hold my hand.
I love that they still look at me with their heart.
I love it too that they have a great sense of humour and irony (not sure if it was from my sarky wisecracks!)


I have no illusions, I know things will change, but for now, it's about giving them a childhood they will never forget. I mean, I wished that everything would be perfect, but clearly that has not been the case.
From getting calls about my boys' misdemeanours from teachers at school, to a preschool teacher chiding my son saying, "A child with no mother does not have a good upbringing.", we've been through quite a bit together, but we take it in our stride.

Right this moment, we are all still finding our way in the big world of systems and now it's trying to manage Primary School life!
"It was hard when I was learning to give up bits of my old life."
Frankly, the first few months of my fatherhood journey saw a lot of learning about caring for the boys and adjusting to a new way of life. They have become the centre of everything, rightfully so, but it was hard when I was learning to give up bits of my old life. I wouldn't say I struggled because I was prepared to work from day one. Truth be told, this continues to be a journey of discovering my kids and myself. What's the toughest part? I think it's that I can't completely shut out that part of my life even as when I'm going about other things.
I love it when my kids show their affection towards me, like saying words of love or showering me with acts like hugging because at home, I play both good and bad cop. I hope this means they get what I am doing. Just the other day, one of my boys asked me why my clothes were wet and I told him it was because I was trying to quickly wash the dishes after breakfast and get the shower ready for them. He walked forward and told me something totally unexpected, "Papa. You are special, to me." That completely made my day!

And right now, I also feel mighty pleased when school teachers tell me the boys are doing well in school. I also think my kids teach me things about myself and life. It's a two-way street.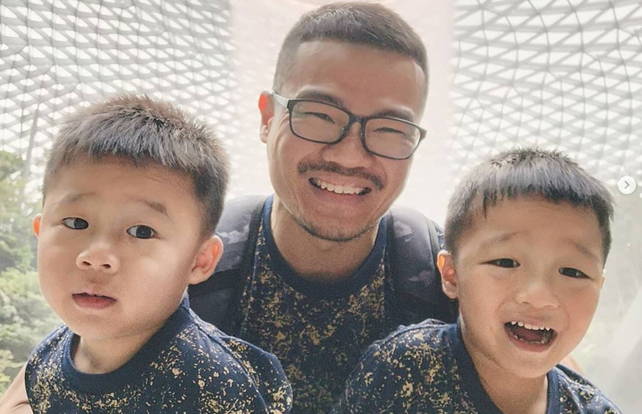 "I feel a constant theme in my life is that I'm always juggling, always changing roles."
The most challenging moments as Dad tend to be those times when things are unexpected. And I get flustered of course. Like that time when both boys fell sick and they did the "merlion" on me one after another! There was once the teacher called to inform me that my son got hurt in school and I needed to leave work immediately to care for him. There was so much fear and anxiety racing through my mind!


I always worry that I can't deliver – that the problem is too big for me to make it right. Also, more so as the kids go about their lives and I go about mine, I feel a constant theme in my life is the fact that I'm always juggling, always changing roles. The pandemic probably merged some of these roles when I worked at home. It's tough switching roles from being a video producer in an intense meeting to daddy troubleshooting at home as to why my child is unhappy.
Keeping it together in spite of how I'm feeling and not let it slip into another role, is challenging! That and probably school mornings where I'm hustling all of us to eat, shower, dress up (and nowadays revise for spelling later in class), be out of the house and into the car by 6:30 am to get to school before the morning jam builds up!
"They are my 'tribe'."

As a single parent, I truly relied on my special network of family, close friends and caring colleagues who would step in to fill in the gaps whenever I can't. I learnt everything from my mum and my friends reminded me that I also need to go out. My colleagues step in whenever I have an emergency call from school and need to make a sudden exit. They are my 'tribe'. I love them all and if not for them, I wouldn't have been able to manage.

With that said, there is still not enough time and patience for everything I want to do in my life for my kids and then, everything else! I'm so greedy; I want my time with the kids, but I also want to work on growing my business and my drinks night!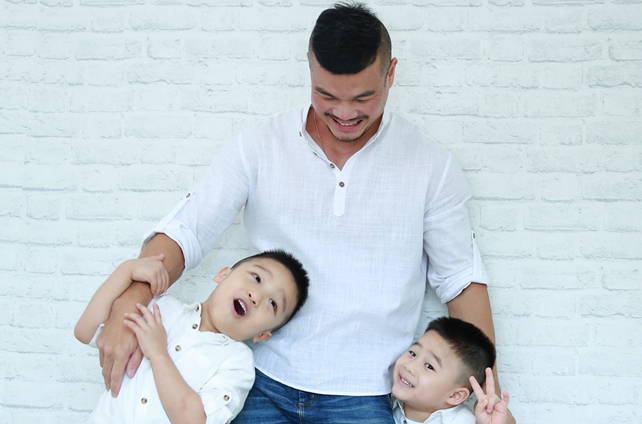 "If you show your kids love, it will be okay."
There are all kinds of dads in this world, and I probably need advice from them! But if I need to share something, it will be this, if you show your kids love, it will be okay. Love will overcome impatience, anger, frustration, anxiety, and these do come up very often for me because I'm always under pressure at work. There is too much to do and too little time at home. It is cliché, but I cling onto this, that love will find you a way even if you are stuck.
 
There was a time when the boys started preschool and I was so very concerned about milestones. Why weren't they hitting these milestone like their classmates? But time and time again, I'm made to remember that they will get there, in their own time and way.  
My motto to myself and my kids are, "Be the best person you can be. If you have already tried your best, the universe will take care of the rest."
Photo Credit: The Beauty Box Studio