Clek Olli Booster Seat
Olli is an award-winning belt-positioning backless booster. It says to your 6-12 year-old that it's still cool to be safe in the car.
Olli boosts your child's height ensuring that the vehicle's seat belt fits them just right while an additional layer of padding eliminates numb-bum syndrome.
Easily transportable from vehicle to vehicle and especially handy while traveling from airport to rental car or even the taxi.
Seat Dimensions and Weight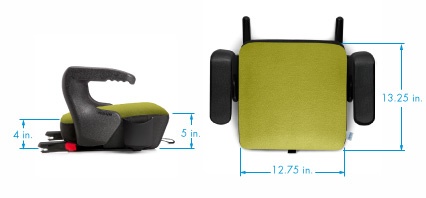 Height of the Rear of the Seat: 4 in.
Height of the Front of the Seat: 5 in.
Depth of the Seat: 13.25 in.
Width of the Seat: 12.75 in.
Weight: 5 lb
Package Dimensions and Weight
Dimensions: 18 in. x 16.375 in. x 10.25 in.
Weight: 7 lb